In a 2017 NFL rookie class that was crowded with stand out defensive players, one of the guys who flew under the radar was Los Angeles Chargers cornerback Desmond King. King finished the season ranked 14th among 121 qualified cornerbacks with an 86.5 overall grade and he was our third-highest graded rookie cornerback this season despite being the 20th corner selected on draft weekend.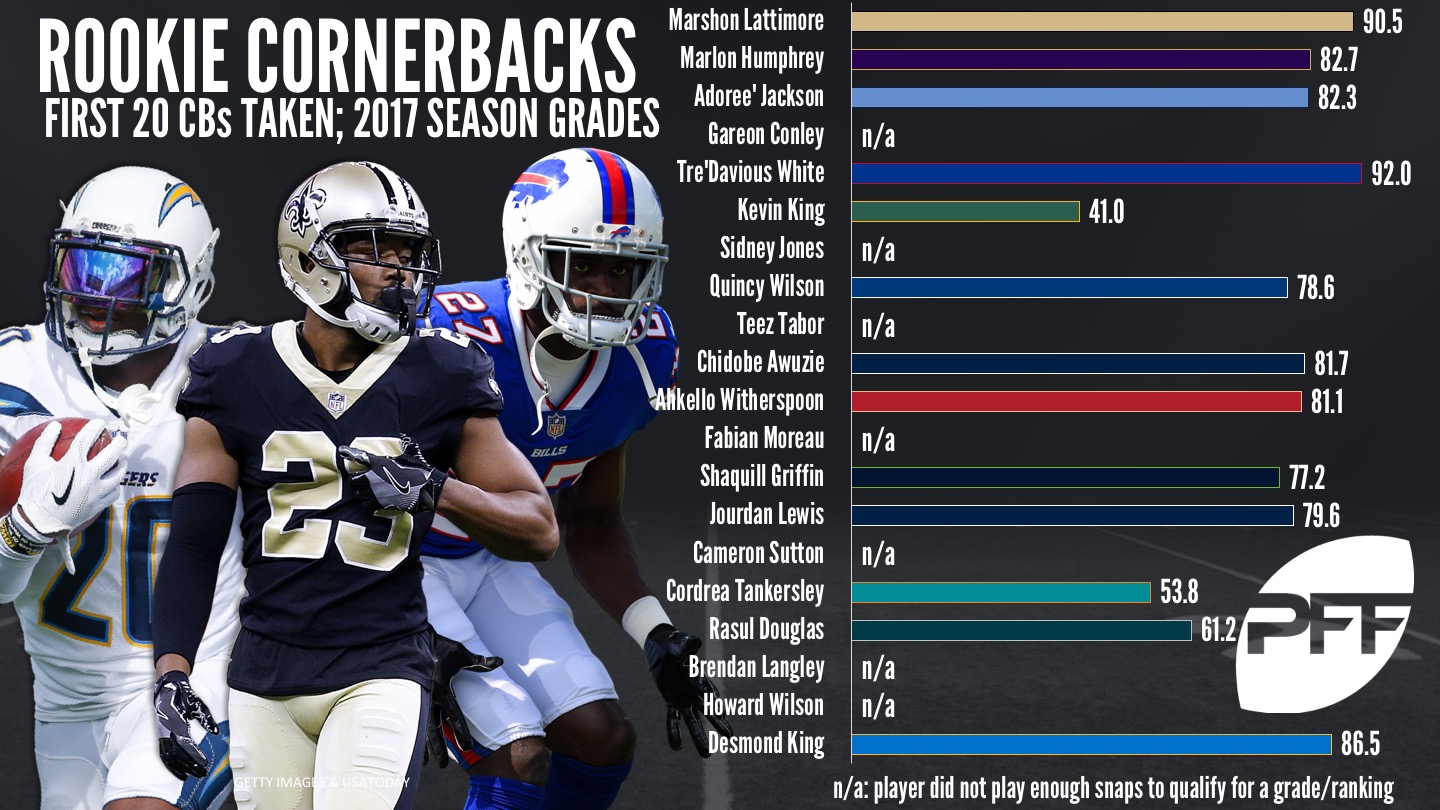 King obviously outperformed his draft slot as a rookie, and by doing so, begs the question: how was he able to achieve so much success as a rookie and is that performance sustainable for 2018 and beyond.
King was a star in the Big 10 at Iowa, finishing every year between 2014-2016 as a top-30 cornerback in terms of overall PFF grade. However, draft analysts (and team scouting departments, reportedly) saw deficiencies in both size and speed as a detriment to his ability to play cornerback as a professional. Some pundits concluded in their pre-draft evaluations that King would ultimately have to transition from corner to safety if he wanted to make it in the NFL. Other analysts though (including us here at PFF) felt like those deficiencies were something he'd be able to overcome – as a cornerback – if he was drafted to a team that ran a zone-heavy scheme.
Here is an excerpt from our scouting report on King from before last year's draft:
"On one hand, he looks like a top-tier corner when in zone coverage, breaking on balls and laying big hits on opposing receivers. When he's asked to cover man-to-man downfield though, the flaws in his game are evident. That's probably a big part of the reason why NFL teams reportedly view him as a safety at the next level… More so than many other cornerbacks in this class, it's going to be really important where King lands on draft day when it comes to determining his success."
Those size and speed deficiencies were most likely the reason that King slipped in the draft to the fifth round, where the Chargers selected stole him with the 151st overall pick.
Well, the Chargers defense dropped into zone coverage 73.4 percent of the time in 2017 – the second-highest rate among all defenses – and King showed all throughout the season why that's such a good fit for him, as he thrived when it came to limiting production after the catch. King allowed just 9.2 yards per catch this year, the 10th-best rate among all cornerbacks and he led all corners with 23 coverage stops (solo tackle that constitutes as a 'win' for the defense given the situation).
King also benefited from playing the slot (he spent 95.5 percent of his snaps from either a slot corner or linebacker position) which allowed him to show off his skills against the run (he had 29 run stops over his last three seasons at Iowa). He finished his rookie year with the 16th-best run-defense grade among cornerbacks at 81.6, was third among corners with a 5.9 run-stop percentage and had the third-most run stops among the same group.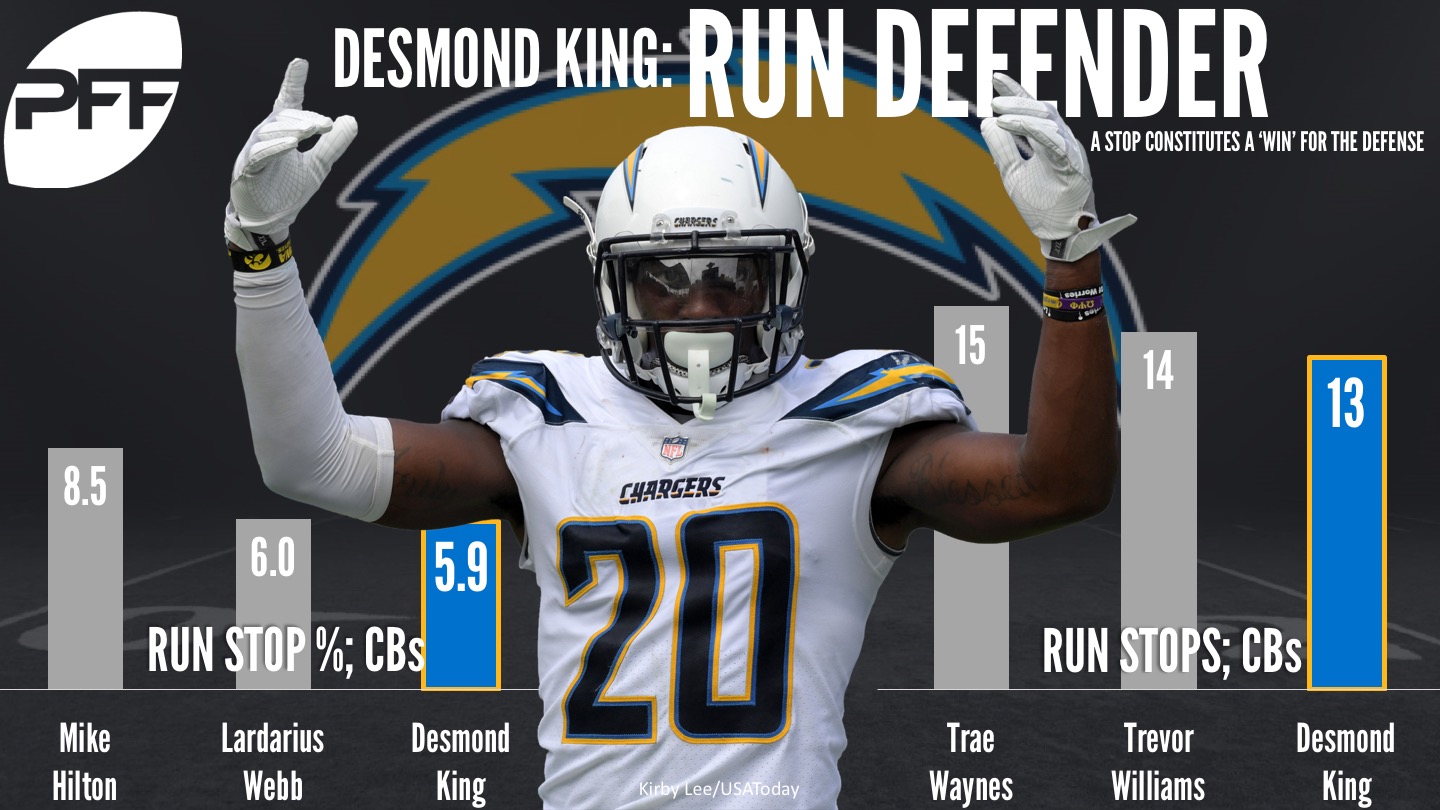 So, can King duplicate this success in Year 2?
It's tough to argue that he won't.
The Chargers are bringing back their same coaching staff from last season, so King should once again be working out of a zone-heavy scheme and since they already have two outstanding outside cornerbacks in Casey Heyward (No. 5 in the PFF Top 101) and Trevor Williams (88.5), it seems that King is primed to be in the slot role once again, where he thrived.
The only question is what the Chargers are going to do with Jason Verrett, another cornerback who had an outstanding year in 2015, when he was last healthy. However, with the success that King had covering receivers and against the run, the Chargers would be smart to keep King in the same role he had this past season. King should be able to pick up right where he left off in 2018 and as Senior Analyst Steve Palazzolo pointed out on last week, if he can add to his game the ball skills that he demonstrated at Iowa there's a good chance he cracks next seasons addition of the PFF 101.