All week, we've released the PFF Top 101, highlighting the top 101 performances from the 2017 NFL season. With any list of top performances, there are bound to be players who missed out or who were on the cusp of reaching the group. With that in mind, here are the top 10 players who are poised to make a run at the Top 101 for the 2018 NFL season.
1. QB Jimmy Garoppolo, San Francisco 49ers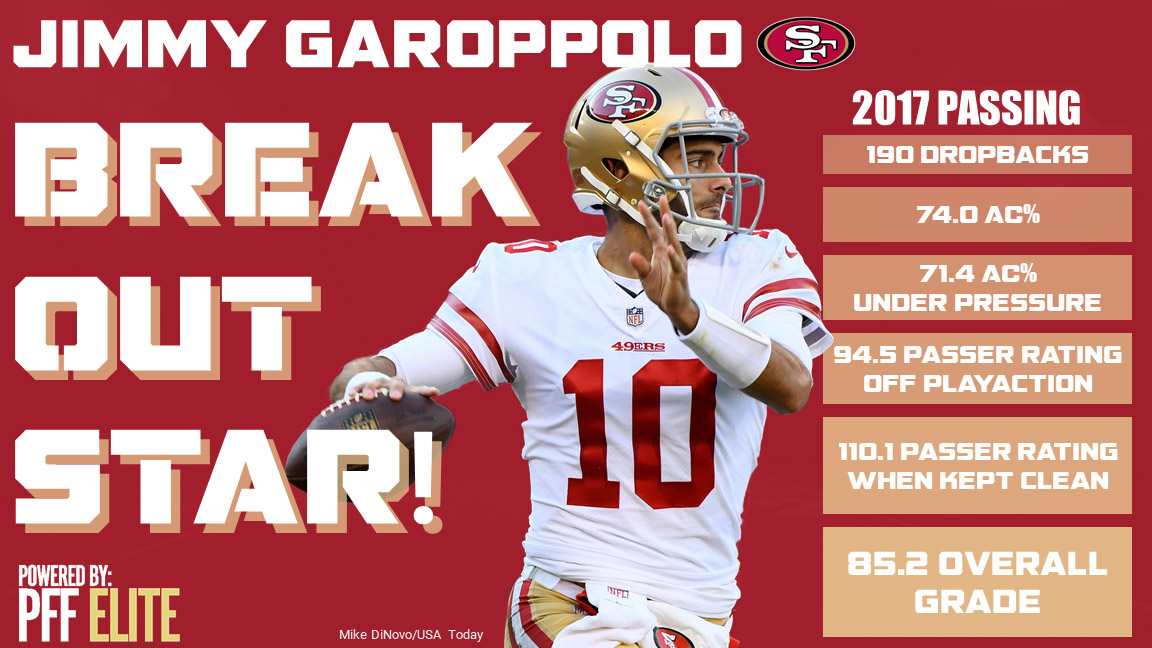 Jimmy Garoppolo was spectacular after taking over as starter in Week 12, finishing 10th overall among quarterbacks with an 85.2 grade. He immediately looked like a perfect fit for head coach Kyle Shanahan's offensive system, sprinkling accurate passes all over the field with his quick release and good decision-making. Garoppolo had the highest percentage of positively graded plays during his few weeks as starter, all while ranking sixth at avoiding turnover-worthy plays. If he can maintain that efficiency and improve upon his deep ball, where he ranked only 28th in the grading, Garoppolo will be a star and an easy candidate for Top 101 status.
2. Deshaun Watson, Houston Texans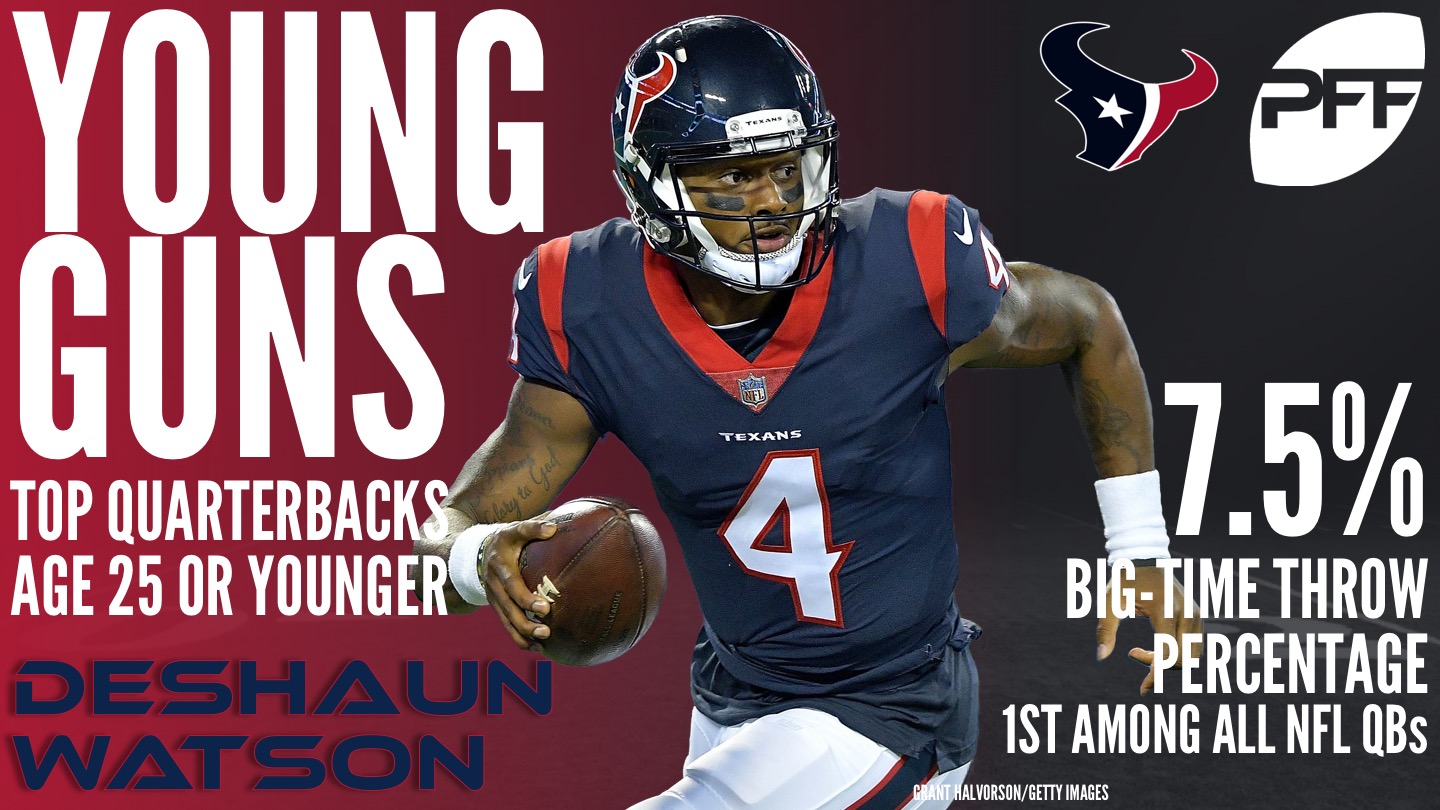 Before going down due to injury, Deshaun Watson was the talk of the league as he brought an aggressive, playmaking approach to a Texans offense that looked lost once he was out of the lineup. Watson led the league in big-time throw percentage at 7.49, as he created chunk plays both inside and outside of the offensive structure. Overall, he wasn't as good as his 103.0 passer rating and 19 touchdowns suggested, but Watson showed that he can create big plays through the air and on the ground. If he can cut down on the turnover-worthy plays (4.49 percent, 33rd in the league), he'll live up to the superstar brush everyone was painting him with during the first two months of the season.
3. T Ryan Ramczyk, New Orleans Saints
Part of one of the best rookie classes in recent history, Ryan Ramczyk almost made it three Saints rookies to make this year's Top 101. Expect another step forward next season after he stepped right in as an excellent run-blocker (84.8 grade ranks sixth in the NFL) and solid pass protector (81.5 grade ranks 14th). Ramczyk's rookie season backed up his status as PFF's No. 1 offensive tackle coming out of the 2017 draft after a breakout 2016 campaign at Wisconsin. He has all of the tools to rank as one of the league's best tackles over the next few years.
4. LB Myles Jack, Jacksonville Jaguars
After missing all but 239 snaps as a rookie in 2016, Myles Jack played 97.5 percent of the Jaguars' snaps in 2017 and showed off the coverage ability that nearly made him a top-10 pick. He finished eighth among linebackers with an 85.3 coverage grade, highlighted by an impressive stretch during the playoffs that saw him pick off QB Ben Roethlisberger and force a key fumble against RB Dion Lewis in the AFC Championship. In the run game, Jack flew to the football and often finished the play when he got there, as he missed only 10 of his 118 tackle attempts on the year while adding 13 pressures (four sacks, three hits, six hurries) for good measure. Jack is a capable three-down linebacker, and he's only scratching the surface on his potential.
5. Edge Carl Lawson, Cincinnati Bengals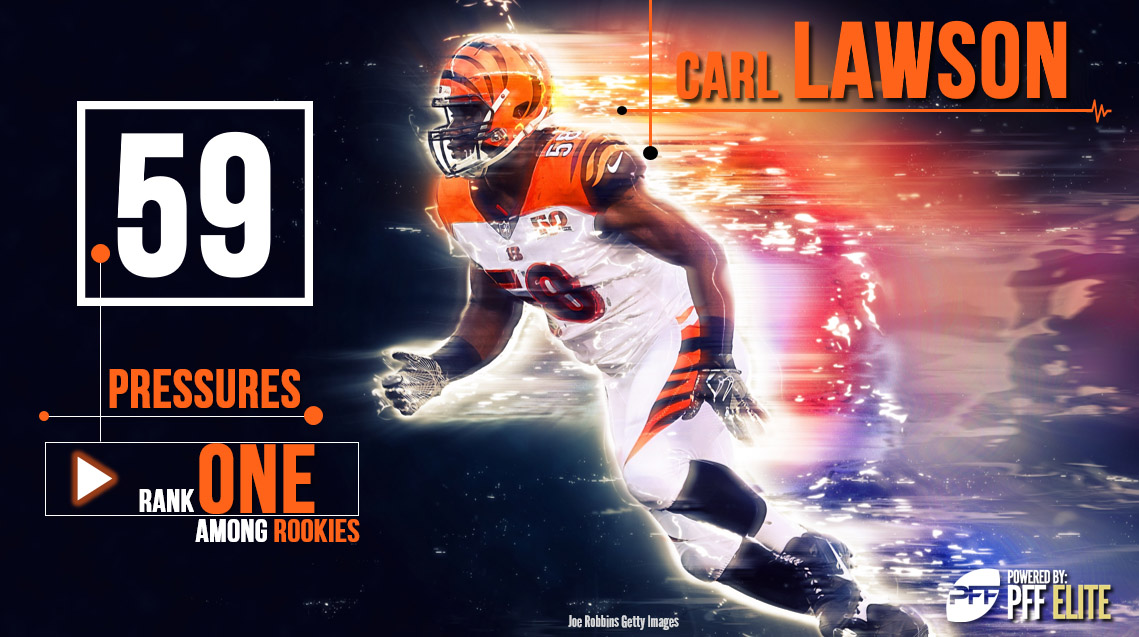 One of the 2017 draft's biggest surprises was Carl Lawson's fall to the fourth round, as he played like a first-round talent at Auburn and that talent showed up on the field as a rookie. He led all rookies with 59 total pressures (10 sacks, 11 hits, 38 hurries) and his 83.9 pass-rush grade ranked 20th among all edge defenders. Lawson may never be an excellent run defender, but he's already shown what he's capable of when rushing the passer and with a few more opportunities next season, he could sneak into the Top 101 as a pass-rush specialist.
6. WR Davante Adams, Green Bay Packers
Coming off the best season of his career at 83.4 overall, Davante Adams is poised to become the top option in Green Bay for the foreseeable future. While the numbers weren't as strong as his 2016 campaign, Adams had a more impressive season in 2017, especially down the stretch with QB Brett Hundley running the show. From nifty route-running to cutting down to only five drops on the year, Adams took the next step in his development and posted the best all-around season of his career.
7. CB Desmond King, Los Angeles Chargers
A PFF favorite coming out of the draft, Desmond King looks like a steal as a fifth-round pick in last year's draft. He stepped into the Chargers' slot corner role and excelled immediately, ranking 14th among all cornerbacks at 86.5 overall. He did a fine job of keeping the ball in front of him in coverage, allowing only 9.8 yards per reception when targeted, good for 10th in the league. Throw in the No. 16 grade against the run at 81.6 as well as four sacks, two hits, and two hurries as a blitzer, and King made an impact in all phases on his 717 snaps. If he has more opportunities to show off the ball skills he displayed in college, look for King to crack the top 101 in a year's time.
8. S Marcus Williams, New Orleans Saints
One play does not make a career, and Marcus Williams' 2017 season was much more than a botched late-game deep pass against the Minnesota Vikings. After a strong showing in college at Utah, Williams was one of the better young safeties in the league last season, finishing the year tied for 11th among all safeties with an 86.8 overall grade. He missed only five tackles during the regular season while intercepting four passes despite having only a handful of opportunities to make plays in his free safety role. That one poor play in the playoffs is more of an anomaly for Williams, and he should be right in the Top 101 mix for years to come.
9. RB Christian McCaffrey, Carolina Panthers
The Panthers did their best to feed Christian McCaffrey the ball in the pass game, and he generally came through, as his 90.5 receiving grade ranked third among running backs. Whether catching the ball out of the backfield or lining up out wide, McCaffrey is a mismatch-creator and should duplicate his 80 receptions and more in the coming years. For him to take the next step, he'll have to be more efficient as a runner after grading at 72.3 and averaging only 3.7 yards per attempt, but he showed the patience and cutting ability to run in any scheme, so a better all-around effort could be in the cards next season.
10. QB Patrick Mahomes, Kansas City Chiefs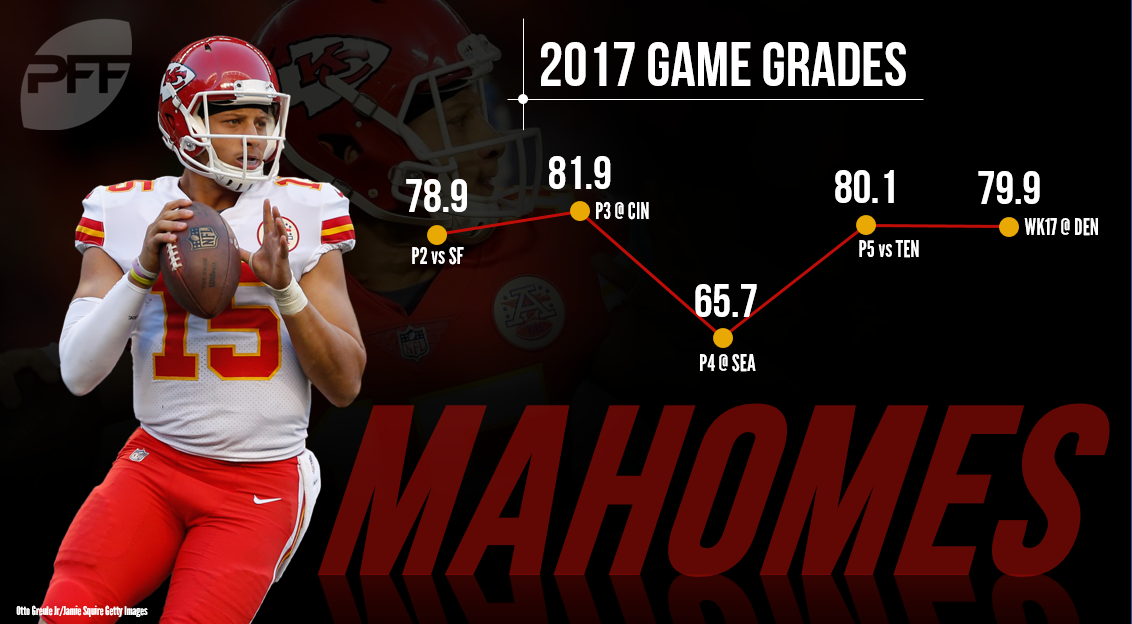 There's some projection here as Patrick Mahomes has only one game under his belt in the NFL, but he showed off his playmaking ability in his Week 17 start. He ranked second in the FBS in big-time throws in 2016 and the special plays were already on display, both during the preseason and in his one regular season start. The question will be if he can avoid the poor decisions, as he also ranked second in turnover-worthy plays in 2016. But with Kansas City's playmakers and a solid scheme that helped elevate QB Alex Smith to his best statistical season in 2017, Mahomes has the right environment that should pair with his natural playmaking to create a star.