Carson Wentz became the first of the 2016 rookie QB class to see the field in regular-season action on Sunday, and produced by far the most promising performance. His grade of 86.6 was the third-highest mark among Week 1 NFL QBs through Sunday night—trailing only Andrew Luck and Drew Brees—and he finished the game with a passer rating of 116.4.
Week 1 quarterback grades (Monday Night Football games not included)

For those that judge their QBs that way, he also finished the game with a win on his first NFL start. The Browns spoke during the week about how the flaws in Wentz' game would allow them to get after him and disrupt his play—and to an extent, they were right—but it wasn't enough to overcome his positives, which had probably not been receiving enough credit.
Wentz has a tendency to hold the ball longer than he should and take too long to progress through his reads before the release. That's a common trait among most young QBs, which is why you often hear about the game needing to "slow down for them," or more accurately, them needing to speed up to the pace of the game. Even in that context, though, Wentz tends to struggle in that area. His game against Cleveland was no different—when he held the ball for 2.6 seconds or more, his passer rating was just 65.8, and he completed only 45.0 percent of his passes.
On the flip side, when he got rid of the ball quickly and in rhythm, he was exceptionally good. On passes that were out in 2.5 seconds or less, he completed 76.5 percent of his attempts and had a passer rating of 142.3.
The story was the same under pressure. Last season at North Dakota State, when pressured, Wentz's passer rating dropped by 33.7 points, and his completion percentage plummeted from over 70.0 to just 42.6 percent. Wentz will struggle under pressure, and when the Browns were able to apply the heat, his numbers did the same thing in his first NFL action. Under pressure, his passer rating dropped to just 52.9, and he completed only four of 10 (40 percent) passes for 42 yards.

The important part of the equation, though, is that Cleveland only pressured him on 13 of his 40 dropbacks, and on the plays they failed to do so, Wentz lit them up. He completed 66.7 percent of his passes on un-pressured dropbacks for 236 yards, two scores, and no turnovers.
Wentz only completed 59.2 percent of his passes overall in the game, but nine of his 15 "misses" were not a result of inaccuracy or poor decision-making. His targets dropped four catchable passes (which alone would adjust his completion percentage to 70.2), threw two away, and had an unusually high three batted at the line. Even if we assume that all three of those batted passes were on him—and that's a very debatable assertion—his accuracy and efficiency was better than his completion percentage alone suggests.
Carson Wentz's passer rating by direction versus Browns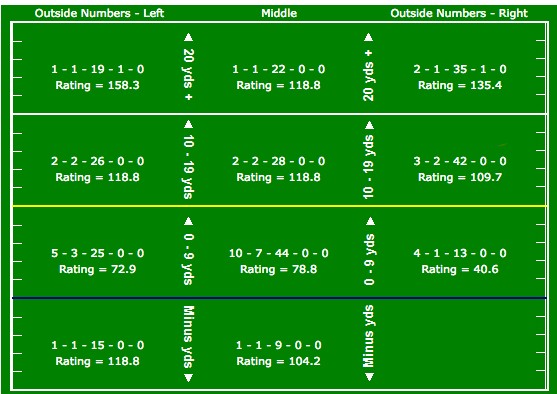 There has never been any doubt that Wentz has every throw in the book, and he may have the best arm talent of any QB in this class, but the question mark was whether he could do it consistently, or whether his negatives would be enough to hold him back at the NFL level.
To the first point, at least in this game, he was able to. Both touchdown passes were beautifully placed touch throws, and as we have just seen, his accuracy was high overall in the game. In fact, he only flat-out missed his target twice on Sunday, both with overthrows.
As to whether his negative traits would hold him back at the NFL level, the answer is that, at least when playing the Browns, they will not. Whether that remains the case when he faces a better team will be the real test, because those negative traits did still show up, and when put in those situations, he revealed the same problems that had evaluators concerned. Cleveland wasn't good enough to put him in tough spots often enough for it to matter, but other teams likely will be.
Wentz showed some excellent play and extremely encouraging signs, but don't go checking out Super Bowl ticket prices just yet.