Through three weeks of the 2016 NFL season, Philadelphia Eagles' No. 2 overall pick Carson Wentz isn't just the highest-graded rookie QB in the league, but he's the best-rated QB period, with a PFF grade of 90.2 on our 0-100 scale.
That is the best grade we have ever recorded for a rookie quarterback, dating back to the start of our grading system in 2006.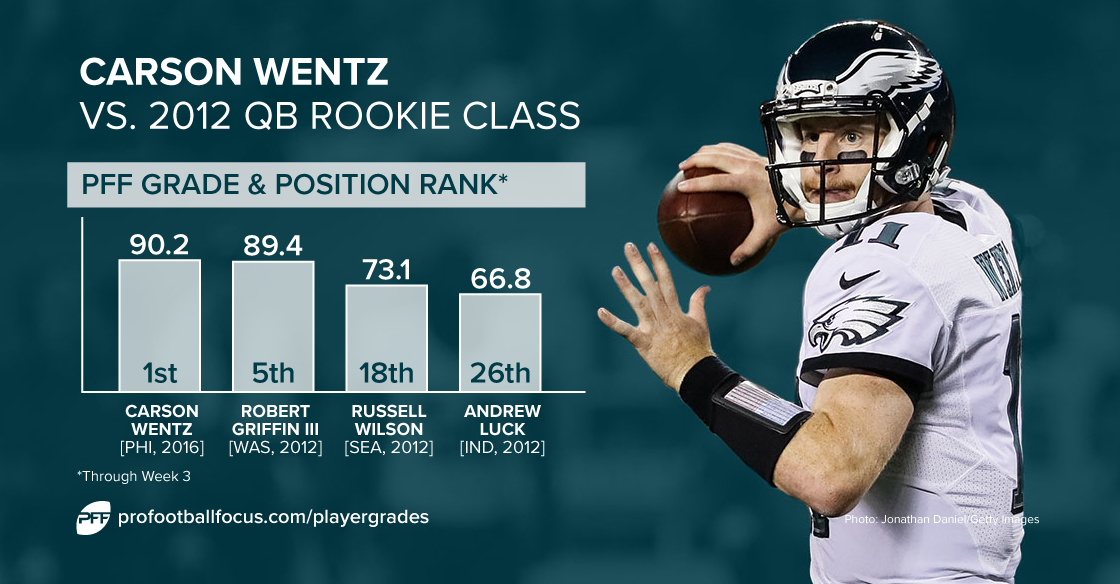 Until this week's 34-3 win over the Steelers, that came with something of a caveat. Yes, Wentz was 2-0 with nice stats, but they came against Cleveland and Chicago. Those two teams are likely to make a lot of QBs look better than they really are, and neither defense was able to put Wentz in the kind of tough spot that might highlight his weaknesses.
Pittsburgh is a different animal, however, and Wentz once again looked assured, comfortable and effective.
Perhaps the most encouraging sign for Eagles fans from this week was how the game plan changed heading into the Pittsburgh game. Wentz had been given pretty much full control of an expansive offense against Cleveland and Chicago, but the Steelers game saw the team focus much more on generating him free yardage and quick, easy throws to keep him out of trouble against a defense that can get pressure and disguise its coverages.
Over the first two weeks Wentz had an average depth of target of 8.8, but that dropped by more than three and a half yards to 5.1 this week. Screens accounted for 34 percent of his pass attempts, compared to just 16 percent in the first two weeks of the season.
Those manufactured yards flattered Wentz a little this week, allowing him to rack up big stats without making big-time throws, like he did on this big gain to running back Darren Sproles: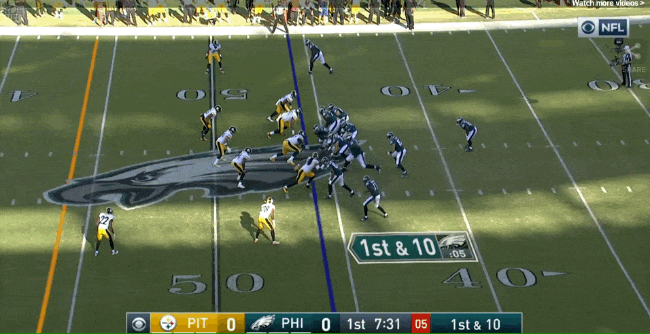 It's not a knock on Wentz, and he does nothing wrong on this play – selling the fake well and delivering an accurate pass to Sproles – but this is a pass you expect every NFL QB to make 100 percent of the time, and it turns into a huge play for the offense.
The reason why that's a positive sign, however, is that the Eagles coaches are clearly in tune with how best to help out their rookie QB, and he has shown through the first two weeks of the season that he is very capable of helping the team out himself. That kind of in-tune partnership can only mean good things for this team in the future.
Wentz was pressured on just eight dropbacks against the Steelers, in part because of these manufactured plays designed to get the ball out of his hands quickly. On those eight pressured plays he was 4-for-7 for 77 yards and a score, plus he took off scrambling to pick up 10 yards on the other dropback. Against the blitz Wentz had a passer rating of 136.8, and four of his eight incomplete passes were either dropped, thrown away or as a result of being hit as he threw.

Wentz has a PFF grade far better than what we've recorded from most rookie QBs after three weeks of play, even ones who had success early in their careers. After three weeks in the league during his 2012 rookie season, Andrew Luck's PFF grade was 66.8. Russell Wilson's was 73.1, and Robert Griffin III – the previous owner of the best mark – earned a grade of 89.4.
RG III, of course, remains the great cautionary tale for fast starts by a quarterback. His rookie season in Washington was genuinely outstanding, and the team did a lot to help him out schematically, but of course between injury and attitude things unraveled over the subsequent seasons.
Right now, Wentz may be the best-performing rookie QB of the past decade, but greater tests lie ahead, not the least of which is the ability to simply stay on the field and in one piece. If there's a critique to find in his game so far it's that he's taken quite a few hits, and despite the fact that he has a much sturdier frame than the frequently injured Griffin, it's an area for him to work on as the season progresses.
But regardless, Wentz couldn't have had a much better start to his NFL career than what he's done these first three weeks.