The 2015 season saw a number of NFL veterans break out after underwhelming over the course of the first several years of their careers. While the reasons for these performances are plentiful, the key for their teams (many of them new) going forward will be to continue the momentum gained from last year with individual development and support from the rest of the defensive personnel.
Below are seven players who have a strong shot at carrying over career-high showings in 2015 into the rest of their careers.
1. Andy Dalton, QB, Bengals
Prior to 2015, Andy Dalton's best NFL season was 2013, which was decidedly average. He threw 34 touchdowns with 22 interceptions, ranked 23rd in accuracy percentage under pressure, and 13th in QB rating when having less than 2.5 seconds time to throw. Overall he received our 16th-highest QB grade.
Keeping in mind that 2013 was by far the best year of his career before last season (he ranked 25th overall in 2011, 24th in 2012, and 21st in 2014), it should come as no surprise that his contract extension signed in August of 2014 was largely team-friendly. With criticism mounting on the eve of the 2015 season, Dalton finally took his game to the next level.
While he was knocked out of action nine plays into Cincinnati's Week-14 matchup with Pittsburgh due to a right thumb injury that ended his season, Dalton's improvement in virtually every major category was staggering. He threw 25 touchdowns to just seven interceptions, ranked sixth in the league in accuracy percentage (up almost 12 percentage points from his 2013 total of 56.7, to 68.5), and owned the highest QB rating in the NFL when faced with less than 2.5 seconds to throw in the pocket.
How will that translate this year? Losing receivers Marvin Jones and Mohamed Sanu to free agency in exchange for Brandon LaFell is likely a downgrade, and TE Tyler Eifert's injury situation is certainly a concern, but with last year's offensive line essentially back (with the exception of 64th-ranked tackle Andre Smith), as well as one of the top receivers in the league in A.J. Green, Dalton will have a shot at duplicating last year's success. Obviously the Bengals need to start translating regular season success into postseason wins, but Dalton at the very least quieted his doubters with his 2015 campaign.
2. Delanie Walker, TE, Titans
Delanie Walker enjoyed a career year in 2015, as he ranked second among TEs in overall grade, trailing only New England's Rob Gronkowski (and while playing 257 less snaps than the star Patriot). He had his usually productive season in terms of run-blocking, finishing with the third-highest grade in the category at his position, his fourth-straight top-eight finish.
The main catalyst of his break-through season, however, was his receiving. Last year he caught 94 balls (number one in the league for TEs) for 1,088 yards, and his first top-10 finish in drop rate (5.05 percent).
His performances in two games against Jacksonville are a huge reason for his big grade in 2015. +9.9 of his +22.0 cumulative overall grade was earned against the Jaguars, as he ripped them for a combined 16 catches, 201 yards, and a touchdown, not to mention his two best run-blocking outputs of the season.
By drafting defensive back Jalen Ramsey and LB Myles Jack, the Jaguars may have the tools they need going forward to limit Walker's production against them, but other indicators remain promising for Walker. During his final year in San Francisco, he was targeted 48 times, a career-high to that point. Out of Vernon Davis' shadow and in Tennessee starting in 2013, he has seen a steady increase in his usage. His targets have increased every year, from 79 in 2013, to 100 in 2014, and 130 this past season.
While Tennessee's second-year starting QB, Marcus Mariota, is likely to start utilizing other weapons like WR Dorial Green-Beckham more so than he did last year, Walker's usage isn't likely to drop of significantly, and there is certainly room for improvement. In particular, Mariota only threw catchable balls to Walker on five of 17 deep targets (throws 20 yards or more from the line of scrimmage). Mariota finished dead-last in the category, throwing accurate balls on only 20.4 percent of his deep throws, and if he can increase his output just to the league average of around 40 percent, Walker should be one of the main beneficiaries.
3. Jeff Allen, G, Texans
The Chiefs certainly had high expectations for Allen when they drafted him in the second round in 2012, but his career got off to a disappointing start. He started at left guard for the majority of his first two years in the league, finishing both season with negative grades in run- and pass-blocking, and grading no higher than 68th overall at his position. 2014 was a complete loss for Allen, as an elbow injury ended his year just 40 snaps into Kansas City's Week-1 matchup with Tennessee.
Allen started last season on the bench, but when finally called to action in Week 7 against Pittsburgh, he played well starting at right tackle, and the following week moved back inside to his traditional left guard position. Despite injuring his ankle against Oakland in the first quarter of their Week-13 matchup, which caused him to miss two more games, his play as a whole was significantly improved.
He graded as the 19th overall guard in the league last season, with his first positive grades in every major categories. In his first two seasons, he gave up eight sacks, 11 hits, and 37 other pressures, but last year he did not yield a single sack or hit, while allowing just 14 hurries.
As is often the case with late-developing early-round picks, Allen left the Chiefs in free agency and signed with the Texans this offseason. In Houston, he'll possibly start at right guard, replacing Brandon Brooks, who is now with the Eagles. While he'll line up with rookie center Nick Martin next to him, both of Houston's tackles graded in the top 20 last year (Derek Newton was our fourth-graded right tackle, while long-time standout left tackle Duane Brown had a down year by his standards, finishing 12th), while none of the Chiefs' three tackles finished better than 39th (left tackle Eric Fisher).
Health will certainly be a key factor in Allen's production, but better play around him suggests he can continue his positive performance—as long as he stays on the field.
4–5. Olivier Vernon, DE, Giants, and Derrick Shelby, DE, Falcons
Defensive ends Olivier Vernon (third-round selection) and Derrick Shelby were both part of Miami's 2012 rookie class, and while both had shown brief glimpses of their potential during the first three years of their careers (Vernon flashed pass-rushing ability in 2013 and 2014, while Shelby graded well in the run game during 2014), neither was a consistent player on an every-down basis.
2015 started similarly for both, until the veteran star of the Dolphins' defensive line, Cameron Wake, was lost for the season after suffering a torn Achilles in Miami's Week-8 game against the Patriots.
Both players were again ineffective in the following week's loss to the Bills, but with increased pressure to perform in the absence of Wake—and the end of the contract years approaching quickly—both Vernon and Shelby turned the corner and played outstanding for the remainder of the season.
Starting in Week 10, Vernon exploded over the final eight games with eight sacks, 24 hits, and 25 other pressures to go with 33 stops. His combined 40 sacks and hits for the season tied a PFF-era (since 2007) record set by Tennessee's Kyle Vanden Bosch in 2007, and equaled by Dallas' Anthony Spencer in 2009, essentially meaning Vernon's second-half was the most dominant stretch of pass-rushing productivity in at least a decade.
Olivier Vernon's 2015 season game grades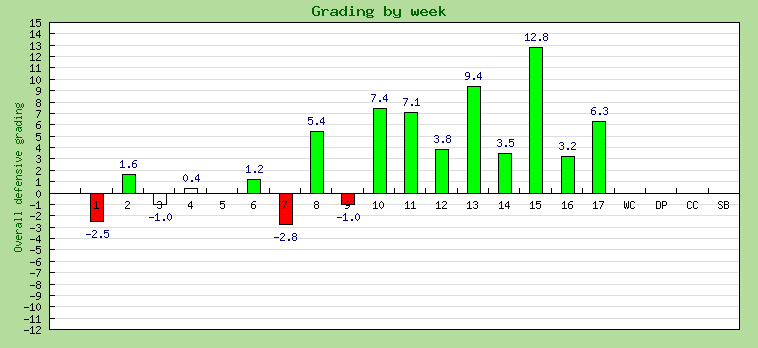 Shelby had his own success down the stretch, albeit not to the same extent as Vernon. His four sacks, three hits, and 19 other pressures over the last eight games may not sound overly impressive, but when compared to the six sacks, eight hits, and 31 other pressures from his first three years, it's clear that he too saw a significant spike in productivity.
Not surprisingly, considering the amount of money Miami invested in Ndamukong Suh the year prior, the Dolphins opted to let both players walk away via free agency. Vernon inked a four-year deal with the Giants with $52.5 million in guarantees; Atlanta signed Shelby to a four-year deal with $7.5 million in guarantees.
While New York simply cannot reasonably expect Vernon to continue playing at a historic level, the amount of money they were willing to bring to the table certainly comes with the belief he can continue to be one of the NFL's elite pass-rushers. He won't be rushing next to a player of the caliber of Ndamukong Suh anymore (although Johnathan Hankins' healthiest season did put him in PFF's Top 101 of 2014), but his steady increase in production year-to-year suggests he's gone through real development, and won't be just a "contract-year wonder."
While Shelby didn't enjoy much pass-rushing success at all in his career before the end of 2015, his run defense has steadily improved, and is a strong indicator he'll enjoy future success. With Vic Beasley and Adrian Clayborn both entering year two with the Falcons, the onus of pass-rush performance will not fall squarely on Shelby's shoulders. His reasonable contract suggests he may not consistently be on the field in obvious passing situations, but the Falcons would still do well to continue developing Shelby's rushing skill-set.
6. Linval Joseph, DT, Vikings
Through the first five seasons of his career, Linval Joseph showed glimpses of being a strong run defender, but could never consistently string together multiple positive games without posting a sub-par performance. His second year in Minnesota, however, was a real breakthrough for him, as he graded in the top seven in both run defense and pass-rushing among defensive tackles, accomplishing this while missing four of the final five regular-season games with a foot injury.
He graded positively in every game of the 2015 season beyond Week 1's matchup against San Francisco, peaking in Weeks 9 and 10 when he dominated the line of scrimmage against the Rams and Raiders by posting 12 stops and two sacks.
While in general he wasn't a dominant pass-rusher, he earned a career-best grade in the category, an area he'd barely been above-average in since his second season in 2011 with the Giants.
What suggests he can maintain this level of production going forward? The level and continuity of talent around him in Minnesota is very good. The Vikings got positive pass-rush outputs not just from Joseph in 2015, but also defensive ends Everson Griffen and Brian Robison, as well as defensive tackles Sharrif Floyd and Tom Johnson. Joseph was the clear catalyst of the run defense, but the Vikings also saw a significant positive contribution from DE Danielle Hunter, who steadily improved throughout his rookie season and should have a bigger role going forward.
It will be tough to match the consistency of his 2015 season, but Joseph certainly has the physical tools, as well as the talent around him, to maintain his status as one of the best interior defenders in the league.
7. Jerrell Freeman, ILB, Bears
Like Miami's defensive-end duo last year, Indianapolis Colts inside linebacker Jerrell Freeman didn't begin to truly positively produce until well into the 2015 season. Through six weeks, he graded just 38th on our ILB list, due in large part to poor games in coverage against Tennessee and New England (he yielded a combined 13 catches for 134 yards and two touchdowns).
While his play in the secondary improved throughout the rest of the season, it was his performance against the run that saw the biggest turnaround. During his final eight games, he amassed 36 run-stops and missed just two tackles, a critical figure considering he hadn't missed less than 13 tackles in any of his first three seasons in the league (he missed five total tackles in 2015). In 2014, he ranked 59th out of 60 ILBs in run support, largely due to 11 missed tackles (he added five more missed tackles in coverage).
Consistent tackling will certainly be a critical area to focus on for the remainder of Freeman's career, but the significant additions the Bears have made to their front-seven beyond signing Freeman in free agency is likely to give him better support than he received with the Colts. If he continues to improve his consistency against the run and gets back to his 2014-level of defending the pass (graded second at his position in the category, behind only Carolina's Luke Kuechly), he has a real shot to solidify himself as one of the top ILBs in the game.