With Dallas Cowboys quarterback Tony Romo likely out for six to 10 weeks with a broken bone in his back, we'll now get a look at rookie backup Dak Prescott much sooner than expected. Prescott has had an outstanding preseason, especially for a rookie. Perhaps more impressive than the gaudy stats is the comfort level at which he's playing the position, standing in to make throws and handling pressure extremely well (he's faced pressure on 47.3 percent of dropbacks, fourth-most in the NFL).
The stat line looks like Prescott just opened his new Madden game and started playing on rookie mode the last few weeks, and while his No. 2 overall PFF grade among QBs backs up that performance, we may need to pump the brakes on the hype train just a bit. He's completed 39-of-50 passes for 454 yards to go with five touchdowns and no interceptions, good for a passer rating of 137.8 that leads all quarterbacks with at least 20 attempts. It's been an impressive start, but the line is inflated by a negated interception against the Miami Dolphins and a pass thrown directly at Seattle Seahawks linebacker K.J. Wright that was caught for a touchdown. We're talking two lucky passes that would bring that 137.8 rating down to 109.7, which is still strong, but not at the "Dakmania" levels that have taken over Cowboys Nation. That's not to take away from what he's done well—a beautiful deep ball on a post route against the Dolphins, or an overall adjusted completion percentage of 89.4 percent, including an 80.0 percent mark against pressure, for example—but it just brings better perspective to what we've seen thus far from Prescott this preseason.
Beyond that, after grading 885 of Prescott's passing attempts the last two years, it's difficult to put more stock in a 50-attempt preseason. He made great strides as a passer last season at Mississippi State, but still finished No. 18 overall in our rankings among Power-5 quarterbacks. When compared to the other quarterbacks in the 2016 draft class, Prescott was near the bottom of the list when it came to accuracy. The following chart credits a quarterback with an "accurate" pass only if it hit the receiver within his frame, in stride, or designed away from coverage. This number will differ from the percentage of "catchable" passes a quarterback throws.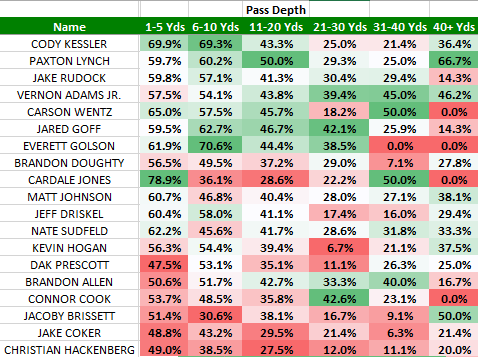 In addition to accuracy, Prescott recorded 23 turnover-worthy plays last season, a high number when compared to the rest of the nation, though it didn't show up on the stat sheet, as he had only five interceptions on the year. These two areas are major concerns for Prescott as he heads into the season as the Cowboys' starter.
Prescott deserves credit for the strong preseason he's put together to this point. He's outperformed the rest of the rookie class by a large margin, and showed what he's capable of at the NFL level. All that said, 50 throws does not a career make, and there's a larger sample of data that suggests that Prescott will have the usual first-year struggles—possibly causing the preseason hype to vanish rather quickly. It's an encouraging start for Prescott and the Cowboys, but there's still more to prove, and we now have the opportunity to see if he can carry his development into the regular season.