Tampa Bay Buccaneer fans were comfortable moving forward with Jameis Winston as their quarterback while letting what was formerly the hot hand in Ryan Fitzpatrick sit as the backup heading into Week 8. Winston quickly threw four interceptions Sunday as the Bucs surrendered a 34-17 lead to the Cincinnati Bengals. Late in the third quarter, Fitzpatrick rubbed the magic lamp once more and tied the game before falling victim to a Randy Bullock last-second field goal.

It is no fluke that Fitzpatrick sparked the Bucs to a near comeback victory on Sunday, as he is currently the second-highest graded quarterback in the league while only playing five games (91.8). Fitzpatrick earned a 93.8 season grade, first among all NFL quarterbacks, when he was given complete control of the franchise during Winston's three-game suspension.
Largely because of his efforts in Queen City, Fitzpatrick has been named the starter when the Bucs play the Carolina Panthers in Week 9, per CBS Sports.
The 35-year-old Fitzpatrick has taken the world by storm because of his affinity to throw the deep ball. His fourth-ranked 55.0 completion percentage towers over Winston's 25.0%. The former Florida State product has completed just four of his 16 passes of 20-plus air yards. Winston's 45.3 passer rating on deep passes greatly restricts Tampa Bay's big-play ability.
Fitzpatrick makes more tight-window throws, takes more risks… Yes, he doesn't always win his bets, but his high-risk, high-reward play is far and away better than Winston's high-risk, low-reward play. Among the 32 quarterbacks with 150-plus dropbacks this season, Fitzpatrick ranks first in big-time throw percentage (11.81) and 30th in turnover-worthy play percentage (4.86).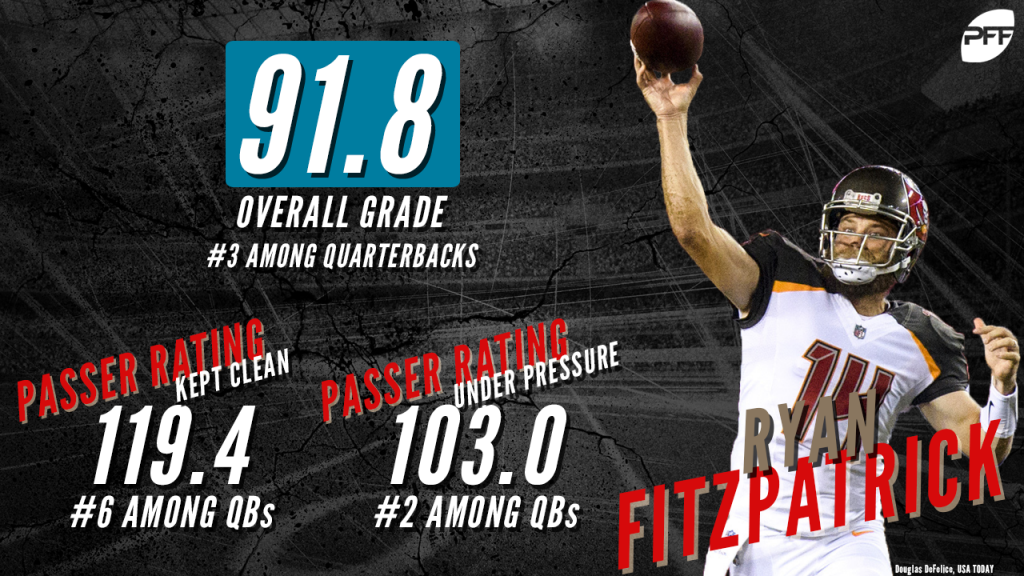 [Editor's Note: A big-time throw is a pass attempt that earns a +1.0 or higher raw grade on the PFF grading scale; a turnover-worthy play is a dropback that earns a -1.0 or lower raw grade.]
Among the same group of quarterbacks, Winston ranks dead last in turnover-worthy play percentage (8.78) and 26th in big-time throw percentage (3.38).
On throws 10-plus yards down the field (74 attempts), Winston has just five big-time throws and a whopping 11 turnover-worthy plays. Fitzpatrick, conversely, has 15 big-time throws and four turnover-worthy plays on throws of such depths. PFF has also charted 52.9 percent of Fitzpatrick's throws of 10-plus air yards as either accurate or on the frame of the intended target, ranking second among qualifiers. Winston sits at 23rd on the list at 32.4 percent.
Another area that separates the two Buccaneers quarterbacks is the ability to throw under pressure, which is crucial with Tampa's 24th-ranked pass-blocking unit. Fitzpatrick maintains the second-highest passer rating under pressure (103.0), while Winston nears the bottom of the list with his 65.9 passer rating.
Throughout Winston's career, he has averaged more than one interception a game as well as earned a below-average passer rating of 87.1. Not only has the former first-round pick struggled to minimize turnovers in the air, but he has struggled to hold onto the football more than any other quarterback. He led the league last season in quarterback fumbles, which contributed to his astronomical fumble total of 37 in his career.
DeSean Jackson, who requested a trade from the Buccaneers a day before Sunday's game, greatly benefited from the Winston suspension. Jackson earned elite marks (90-plus) in the first two games but hasn't hit the 80.0 mark since. Tampa's premier deep-threat has yet to drop a deep pass and is a match made in heaven with veteran quarterback Fitzpatrick.
FitzMagic is in the midst of the highest-graded season of his career, and the Buccaneers must ride the hot hand if they still want to contend for a playoff spot this season.