Six-year veteran linebacker Brandon Marshall, who has spent the entirety of his NFL career with the Denver Broncos, will likely play elsewhere in 2019.
Per ESPN's Adam Schefter, Denver will "most likely" opt against exercising the option in Marshall's contract, which would make him a free agent as of March 13, 2019.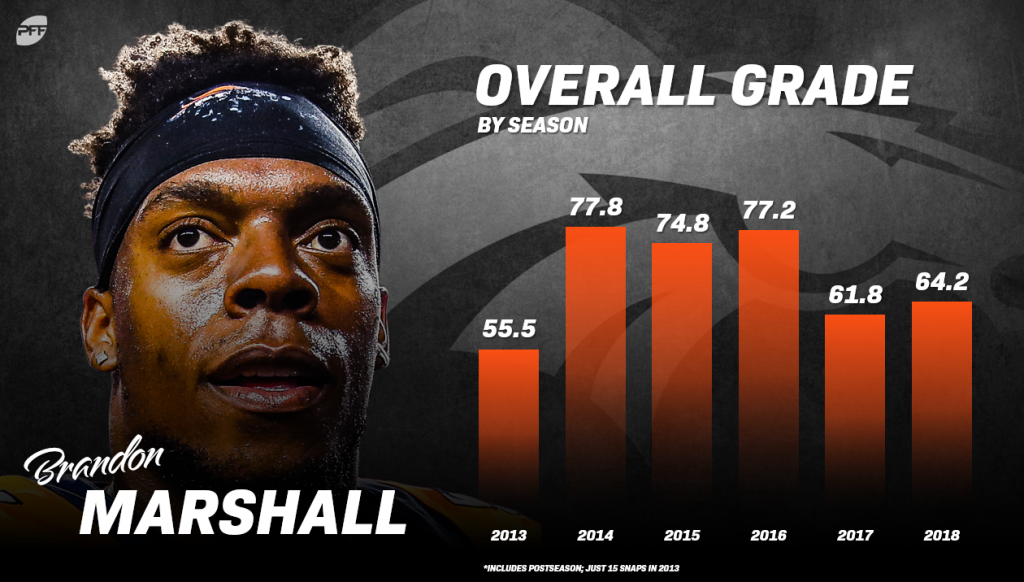 Marshall, a former fifth-round pick out of Nevada – Reno, will join a relatively weak free agent linebacker class if he is indeed pushed out of Denver. Only four linebackers (Jordan Hicks, C.J. Mosely, Anthony Barr, K.J. Wright) made our list of the top-50 free agents in 2019 prior to the Marshall news.
After earning 74.8-plus overall grades in each of the three seasons following his rookie campaign (2014-16), Marshall dropped quite a bit in our grading system. He earned just a 61.8 overall grade across his 910 defensive snaps in 2017 and another low mark (64.2) in his injury-plagued 2018 season.
Marshall's drop-off is tied to an increase in missed tackles and poorer play in coverage. After missing just 14 tackles in his three peak seasons (2014-17), he missed 18 in the following two seasons combined. He also allowed a career-high 115.2 passer rating when targeted in 2017 and a career-high 12.1 yards allowed per reception allowed in 2018.
Returning to his previously dominant form will call for better tackling and tighter coverage from the 29-year-old veteran. When he earned a career-high overall grade (77.8) in 2014, Marshall allowed just 7.2 yards per reception allowed and an 86.1 passer rating when targeted. He also logged a career-high five pass breakups and missed only four tackles on the year.
Marshall is more than capable of stepping in as an immediate upgrade at off-ball linebacker for several teams in the NFL, but improvement in his key problem areas and a clean bill of health will need to follow him to his new landing spot if that is going to be the case.