New York Giants safety Landon Collins was recently named the winner of Pro Football Focus' Breakout Player Award for the 2016 NFL season. To see the winner of every PFF award, visit our NFL awards page.
A second-year player who was a second-round draft pick and played 95 percent of his team's snaps during his rookie season is not a typical candidate for Breakout Player of the Year. However, the drastic turnaround of New York Giants safety Landon Collins from his rookie campaign to his sophomore season earned him the award. New York's defense saw big strides in improvement this season, and while the free-agent additions of CB Janoris Jenkins, DE Olivier Vernon, and DT Damon Harrison made significant contributions, Collins was also an integral part of the unit's success.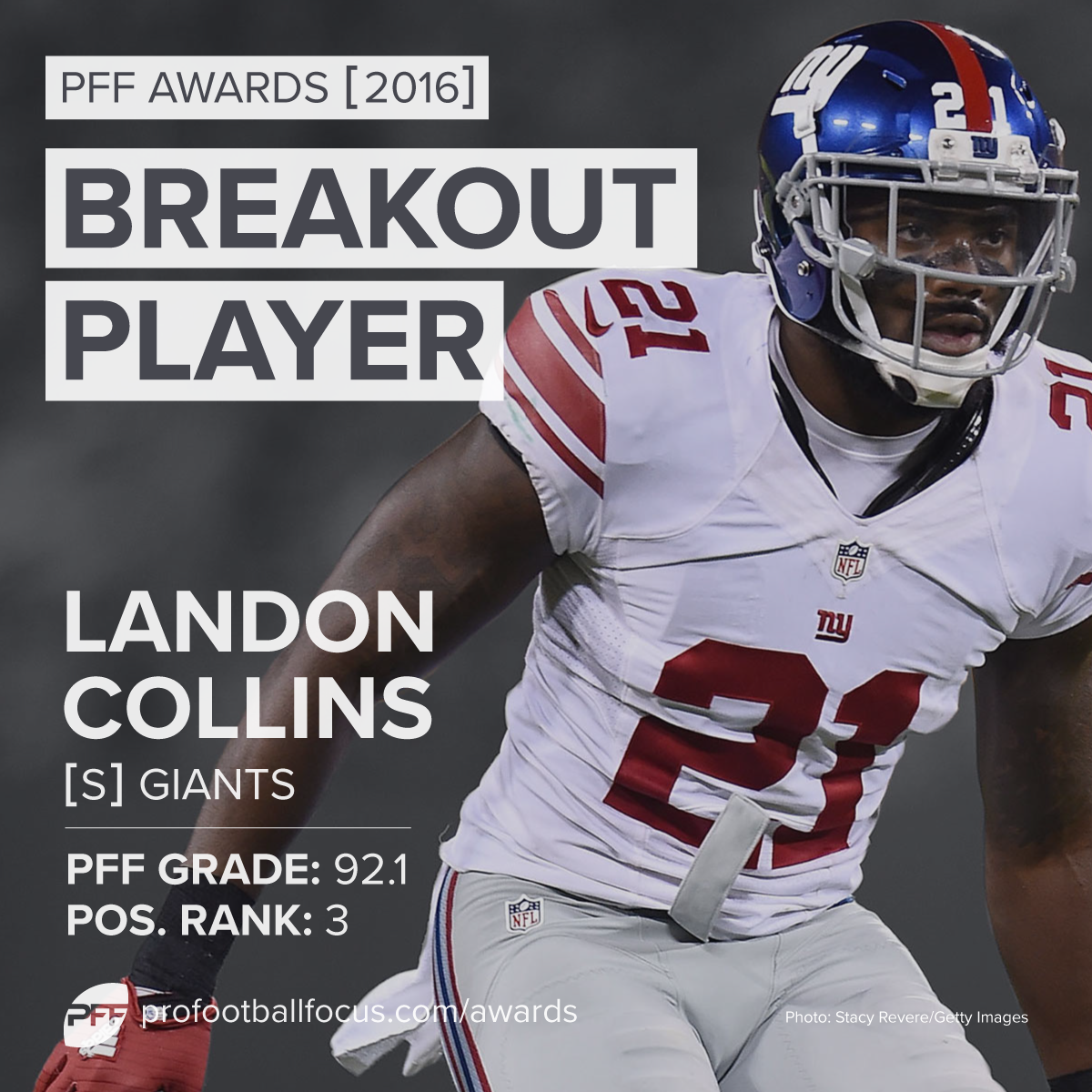 Looking back at 2015, Collins played well against the run to earn a slightly above-average run-defense grade, ranking ninth among safeties in run-stop percentage that season. The same could not be said for his pass coverage, however. Too often he fell for play-action, busted a coverage, or missed a tackle that led to big plays. Collins gave up a position-high 620 receiving yards and five touchdowns as a rookie. We saw some good plays from him, but the negatives heavily outweighed the positives, and he finished the 2015 season as Pro Football Focus' lowest-graded safety in coverage.
When evaluating Collins as he left Alabama—following our first season of grading FBS games—PFF analysts said that he was a very versatile defender, but the one area that stood out most was how he played both the run and the pass when attacking downhill. The Giants used him less as a deep safety this year—37 percent by alignment, down from 56 percent as a rookie—and it helped turn him into an elite run defender.
By moving Collins into the box more often and to more of a strong safety role than before, he helped bolster the Giants' run defense at the second level, where their linebackers have been below-average across the last several seasons. Collins found success by quickly bringing down ball carries, whether he had to take on and shed blockers or not. Collins finished the 2016 regular season ranked third in both run stops (26) and run-stop percentage (6.8) among safeties.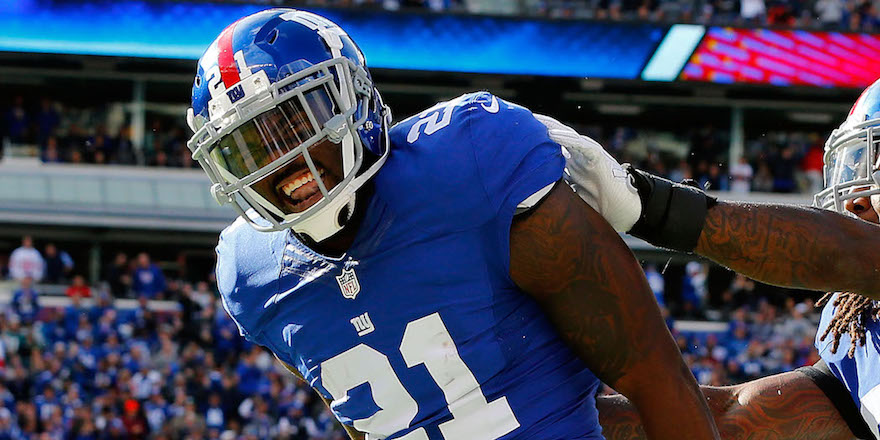 Those changes also benefitted Collins in the passing game. First, he made more of an impact on the limited snaps he rushed the passer. Collins led all defensive backs with four sacks in the regular season and ranked among the top 10 safeties in per-snap pass-rushing productivity. As for coverage, he fared much better than he did as a rookie. Collins cut his touchdowns surrendered to two (down from five) and made more plays on the ball. Opposing quarterbacks had just a 70.1 passer rating when throwing into his coverage, down from 125.7 the year before. He also cut his average yards allowed after the catch from 7.4 to 4.2. Even though he played less as a deep safety, he still showed improvements in that area as well.
Overall, Collins recorded just one above-average game grade in the 2015 season; in 2016, he recorded just one below-average game. His 49 total defensive stops this season were 11 more than the next best safety. All of that helped catapult him from the No. 75 safety in 2015 to the No. 3 spot this year (in terms of PFF grade). He still has room for improvement in coverage, but Landon Collins' growth thus far has been notable, and he looks like one of the best run defenders in the league right now.