Through the first six weeks of the NFL season, it appeared the days of the Denver Broncos' infamous 'No Fly Zone' secondary had quickly faded into mediocrity. The Broncos ranked 18th in coverage going into Week 7, and veteran slot cornerback Chris Harris Jr. was the sole member of the secondary playing at his usual high level.
Things quickly changed. The Broncos shut down rookie quarterback Josh Rosen last Thursday night in their 45-10 win in Arizona, leaving everyone thinking the legendary secondary might still have some juice. The defense held Rosen to 194 yards on 21 completions and an overall passing grade of 41.9, worst of the week among quarterbacks. The secondary was highlighted by fifth-year cornerback Bradley Roby, who badly needed a jump start to his 2018 season.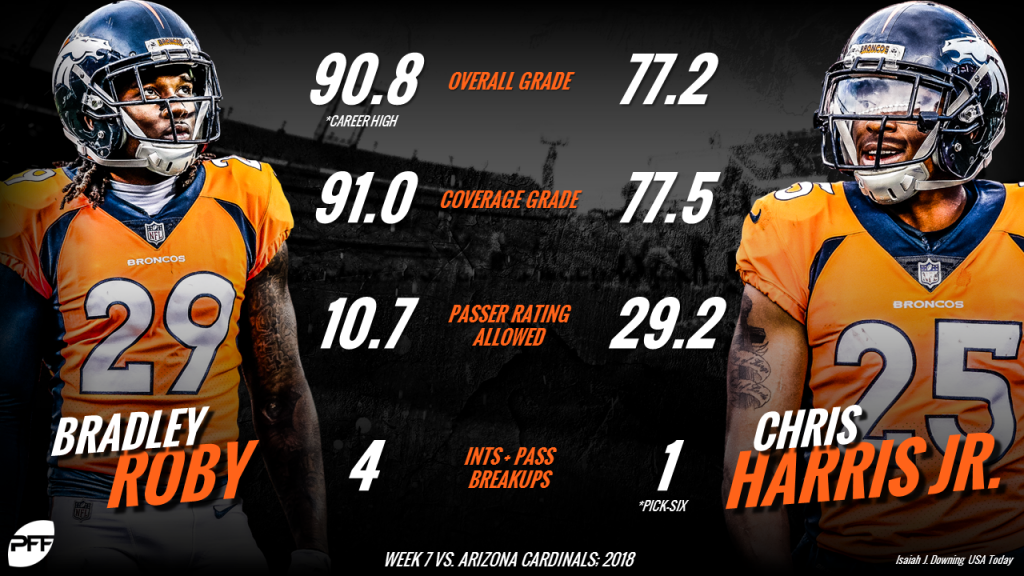 Roby allowed just three receptions for 17 yards on 45 snaps in coverage. That is impressive in itself, but even more remarkable is the fact that he also added three pass breakups. By the end of the game, he had allowed an NFL passer rating of just 10.7 on throws into his coverage, and with his performance, Roby earned a spot on PFF's Team of the Week with an elite game grade of 90.8, the highest of his career.
Going into Week 7's game against Arizona, Roby hadn't played to his 2017 level. His overall grade of 51.8 ranked 100th among qualified cornerbacks, and he had allowed a passer rating of 126.9 when targeted in coverage, 92nd overall. Those numbers surely improved after Thursday night's performance, much to the delight of the coaching staff and perhaps the front office for different reasons, as Roby has been in the mix of trade rumors throughout the past few weeks.
Harris Jr. had a typical day of the office in Week 7, allowing only five receptions on nine targets in coverage for 44 yards and a pick-six lining up against Larry Fitzgerald for most of the night. The eight-year corner has been a mainstay in the Broncos' secondary, continuing his excellence by producing an overall grade of 80.0 through seven weeks of the season and a 78.9 grade in coverage. Overall, Harris Jr.'s 54.8 passer rating allowed ranks in the top-10 at the position this season. From the slot, he's allowed only 12 receptions on 21 targets for 86 yards, and his 66.8 passer rating allowed ranks fifth among slot corners.
After Week 7's dominating performance against Arizona, Denver's season-long PFF team coverage grade increased to 10th overall at 77.2, carrying momentum into their toughest test of the season in Week 8.
The team travels to Kansas City for their second meeting of the year in what could be a make or break game for the 3-4 Broncos. While the secondary found their groove against Arizona, the NFL's second highest-graded passing attack (90.3) in the Chiefs pose a different level of challenge. If a 2018 version of the 'No Fly Zone' is beginning to form for the Broncos' secondary, a shutdown performance in a must-win game against an offense like the Chiefs' would surely put NFL circles on notice.