It is time again for the PFF NFL Team of the Week – highlighting the best individual performances from the weekend's worth of action.
The team format will match the improved All-Pro system when it comes to offensive and defensive formation, with a flex player for both sides of the ball that can be either a receiver, slot weapon, tight end or running back on offense, and anybody in the defensive secondary on defense. This gives us the flexibility to reward the player that best deserves it across multiple positions, rather than shoehorning in somebody just to fit a slot receiver or cornerback role.
We lend some weight to playing time, and a variety of factors are considered, but these will largely be the best-graded players at their respective positions throughout the league. This year, our Team of the Week will be coming out before Monday Night Football has been played, featuring the best performances from the Thursday Night and Sunday games. In the occurrence that a performer on Monday night is worthy of a spot on the team, this list will be updated and those with standout performances from the weekend will still be appreciated.
Check out all of our regular season advanced statistics and information including every player's grade with PFF Elite and Premium Stats 2.0.

Offense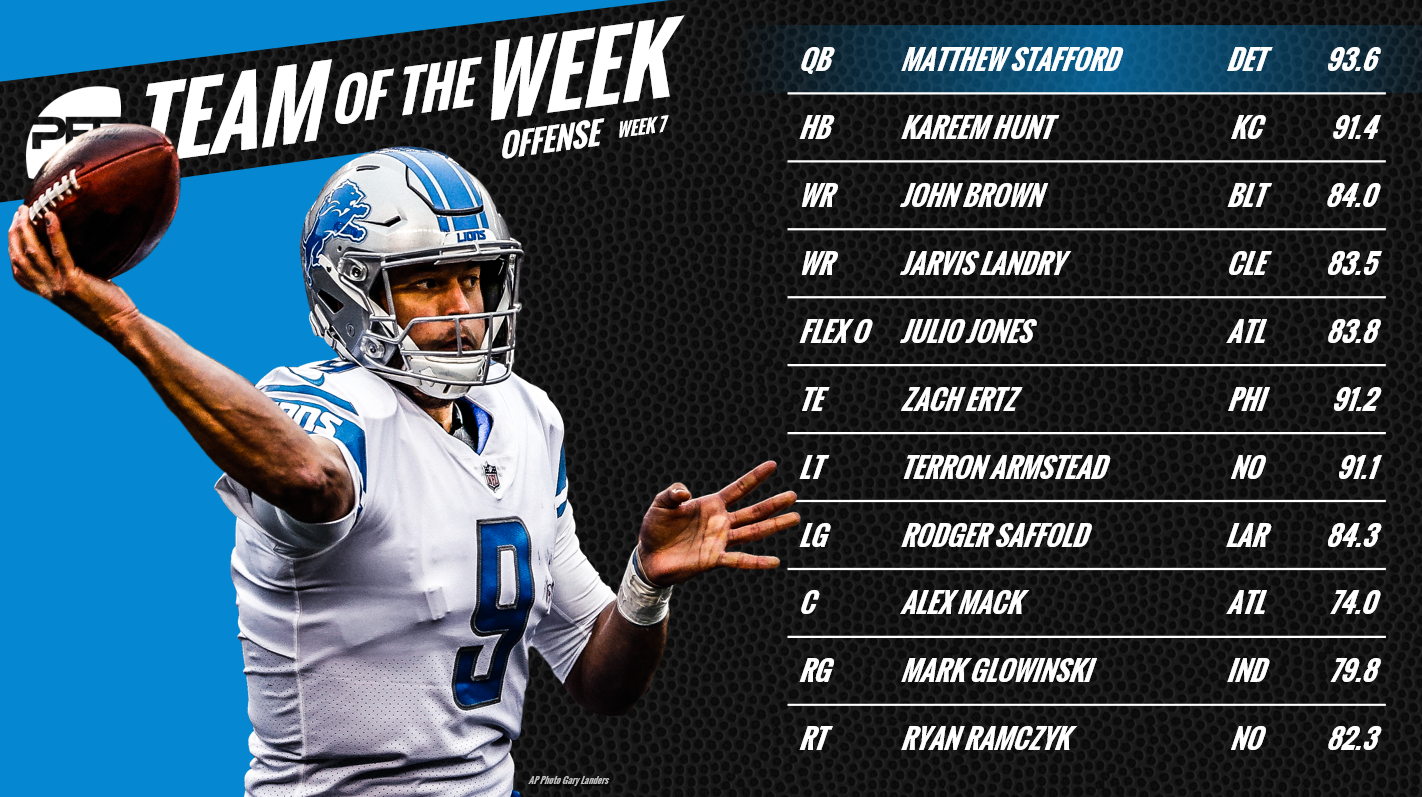 Quarterback
Stafford moved his season into the top seven quarterbacks in terms of PFF grade with a big showing against the Dolphins. His best performance of the year, Stafford had 11 throws which resulted in a first down or touchdown, and of his four incompletions, three came as a result of batted passes or drops.
Running Back
Hunt is the running back on the PFF Team of the Week for the second week in a row, after another impressive performance. Hunt forced eight missed tackles from 20 touches on offense, and found the end zone three times, taking him to nine touchdowns on the season.
Wide Receiver
Showing again why he was one of the top free-agent pickups in the NFL this offseason, Brown delivered his best performance of the season, including a would-be game-tying touchdown that wasn't to be thanks to a missed extra point. So far this season, he has been a fantastic deep threat, but Brown showed he can be much more than that, averaging 3.62 yards per route run, despite no targets on passes 20-plus yards downfield to boost his numbers.
Wide Receiver
Jones didn't find the end zone, again, but it was another efficient performance from the star of the Atlanta offense. Racking up 104 yards on nine receptions, Jones didn't drop a pass all game, forced two missed tackles and picked up six first downs on the night.
Pre-MNF selection: Jarvis Landry, Cleveland Browns (moves to Flex Offense spot)
Tight End
Another top receiving performance from the Eagles tight end as Ertz averaged 4.06 yards per route run, with 138 yards from 34 snaps on the field as a receiver. He was targeted 10 times on Sunday, meaning he has seen at least 10 targets in all but one game this year, and after two drops in the season opener, has dropped just one pass over the past six weeks.
Flex Offense
Landry had one of the most bizarre touchdowns on the weekend, sliding into the end zone without being touched after the catch, but it was a performance that deserved a score, that's for sure. Targeted 15 times, Landry picked up 10 receptions for 97 yards, on his way to his highest single-game grade since joining the Browns.
Pre-MNF selection: Adam Thielen, Minnesota Vikings
Left Tackle
The Baltimore Ravens had 11 sacks a week ago, but against the New Orleans Saints, they weren't able to register a single pressure against either offensive tackle. Armstead was impressive as a run-blocker, and in pass protection, where he produced a 100.0 pass-blocking efficiency rating, with no pressures allowed from 33 pass-blocking snaps.
Left Guard
Saffold wasn't perfect in pass protection with a hit and a hurry allowed from 27 pass-blocking snaps on the day, but he did deliver the best run-blocking performance by a guard in the NFL this week. His 82.5 PFF run-blocking grade led the league.
Center
It wasn't a great week for centers around the NFL but Alex Mack was solid in both pass protection and as a run-blocker to earn the spot in our Team of the Week. From 45 pass-blocking snaps, he allowed just one pressure and didn't commit a penalty throughout the game.
Pre-MNF selection: Cody Whitehair, Chicago Bears
Right Guard
Glowinski was solid as a run-blocker but it was in pass protection where he really stood out. From 27 pass-blocking snaps, he didn't allow a single sack, hit or hurry, giving him a 100.0 pass-blocking efficiency rating, tied for the best mark among offensive linemen in the league this week.
Right Tackle
Like his partner on the left, Ramczyk produced a 100.0 pass-blocking efficiency rating, allowing zero sacks, hits or hurries from 33 pass-blocking snaps. He too had some nice blocks in the running game and capped off his day by committing zero penalties.
Defense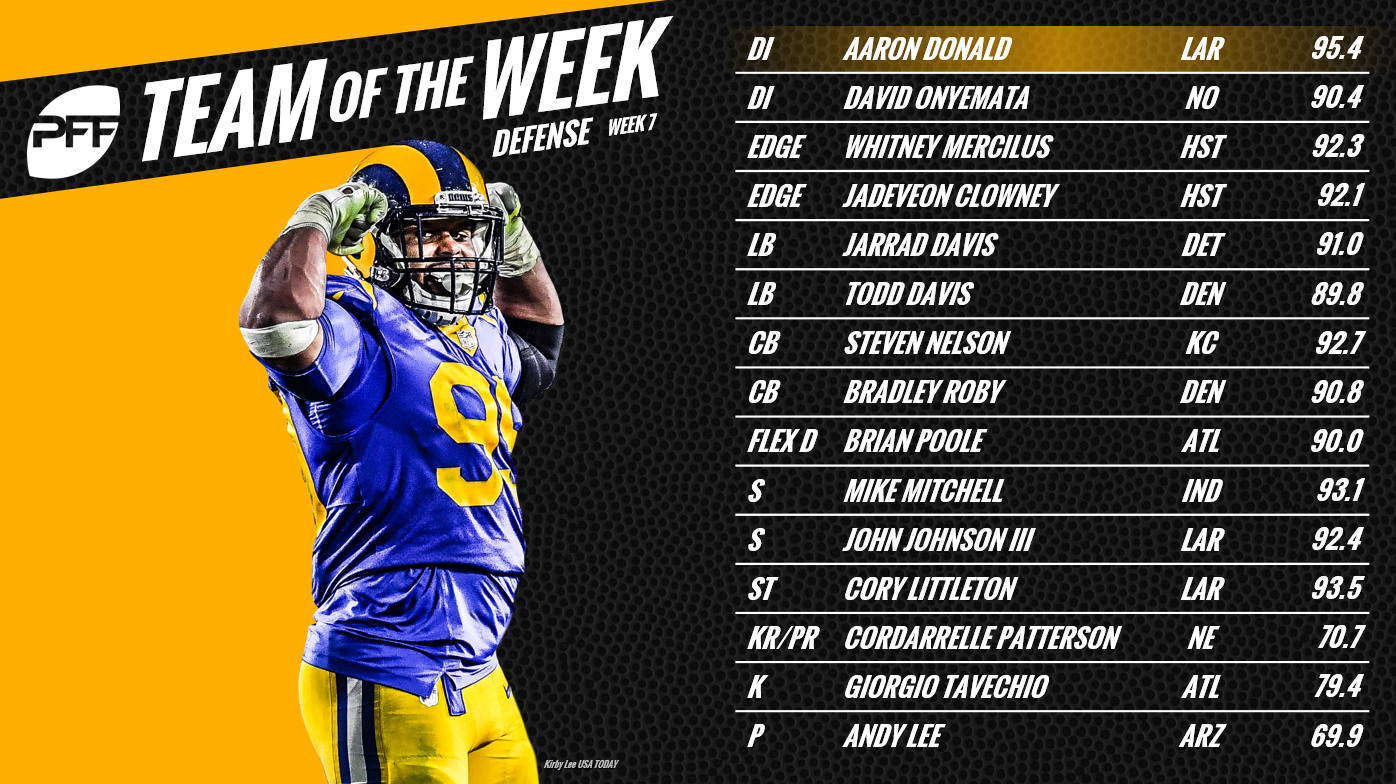 Edge Defender
The Texans edge duo was menacing against the Jaguars with Mercilus producing the best day of any edge defender in the NFL. From 34 pass-rushing snaps, he registered a sack, a hit and two hurries, and finished the day with two forced fumbles.
Interior Defensive Lineman
Nobody dominates on the interior like Donald, but his performance on Sunday was something special, even for him. From 30 pass-rushing snaps, he racked up four sacks, a hit and a hurry, while dominating against the run. He finished the game with seven defensive stops and had one of the most incredible plays of the weekend, ripping the ball loose and recovering the fumble all in one motion.
Interior Defensive Lineman
Onyemata rushed the passer 24 times in the win over the Ravens, registering two pressures on the day. He also made an impact against the run, seeing all three of his tackles result in a defensive stop. It was the third time this season he has seen at least 40 snaps on the field, and it was his highest-graded performance of the season.
Edge Defender
Like his teammate, Clowney was too much for the Jaguars to handle. As a pass-rusher, he racked up two sacks, two hits and two hurries from 45 pass-rushing snaps, and was utterly dominant against the run. By the end of the game, all five of his tackles had resulted in a defensive stop, adding nicely to his two sacks.
Linebacker
This was exactly the performance the Lions were hoping for when they drafted Davis in the first round a year ago as the former Florida Gator flew all over the field. He blitzed 13 times, accumulating a sack and three hurries, finished the game with four defensive stops and allowed just 17 yards on plays where he was the primary defender in coverage.
Linebacker
It's a Davis duo at linebacker this week with Todd's big showing on Thursday Night Football earning him a spot as well. He registered eight tackles against the Cardinals, with five of those resulting in a defensive stop, and had a big night in coverage, breaking up one pass and picking another off that he returned for a score.
Cornerback
Nelson delivered on a big night for the Chiefs, allowing just two receptions for 33 yards from six targets and 34 snaps in coverage. He also forced two incompletions with pass breakups, finishing the game having allowed a passer rating of 52.8.
Cornerback
Another standout performer on Thursday Night Football, Roby allowed just three receptions for 17 yards from 45 snaps in coverage. That is impressive in itself, but even more impressive is the fact that he also had three pass breakups. By the end of the game, he had allowed an NFL passer rating of just 10.7 on throws into his coverage.
Safety
Mitchell has looked like one of the best safeties in the NFL since taking the field last week. Following up on his Week 6 Team of the Week appearance, he once again delivered a big performance, including allowing just 10 receiving yards on two receptions on throws where he was the primary defender in coverage, and coming away with an interception.
Safety
Johnson had an incredible interception against the 49ers, outmuscling tight end George Kittle for the ball after tipping it. That was one of just three passes where he was the primary defender in coverage, and he allowed just one reception for nine yards on the other two.
Flex Defense
On the field for 45 snaps on defense, including 27 in coverage, Poole had a stat line that few will match this year. Targeted twice in coverage, he did allow a reception, but that reception went for a total of negative eight yards. He also didn't miss any tackles and registered a hurry from the seven snaps where he was a blitzer.
Pre-MNF selection: Darryl Roberts, New York Jets
Special Teams
Kicker
Tavecchio was good on all three of his field goal attempts, including two from beyond 50 yards. Not bad for his first kicks of the season.
Pre-MNF selection: Jason Myers, New York Jets
Punter
It sums up Thursday Night Football for the Cardinals well that their punter is the only player on the team to make the PFF Team of the Week, but it was an impressive performance by Lee. He averaged 4.29 seconds of hang time and 46.8 net yards per punt in the loss to the Broncos.
Kick/Punt Returner
Patterson once again displayed the speed you can't coach on his kick return for a touchdown against the Bears. He made one cut and one player miss and that was all it took. Seeing space in front of him, nobody was going to catch him once he got into the open field.
Special Teamer
Littleton played just four snaps on special teams, but found a way to still make a huge impact, blocking a punt for the Rams against the 49ers. Making a big impact on special teams is becoming something of a habit for Littleton.