For the second straight year, we at PFF are proud to offer PFF Greenline to our ELITE subscribers this fall. While the price of PFF's ELITE subscription is staying the same, Greenline is going to be adding a whole heck of a lot. Along with each NFL game, we will also have all FBS college football games on site in 2019.
[Editor's Note: All of PFF's ELITE subscribers have access to PFF College and NFL Greenline, an online dashboard that provides a real-time look at NFL and NCAA games with PFF predictions for the spread, moneyline and over/under. Subscribe to PFF's ELITE subscription to gain access to PFF Greenline and the rest of PFF's advanced stats, grades and tools.]
What is PFF Greenline?
A part of PFF's ELITE subscription, at no additional cost to subscribers, PFF Greenline is an online dashboard that surfaces the information you need to know for your weekly gambling experience, providing real-time looks at projections for the spread, totals and moneylines for all NFL games and all NCAA games between FBS schools. The goal of PFF Greenline is to leverage PFF play-by-play grading and other charting data to give PFF's ELITE subscribers not only the side of the game to be on, but some of the "why" behind each overall number. These include our PFFELO ratings, offensive and defensive ratings, key injury information and pertinent information on the quarterbacks slated to play in that game. Each of the components surfaced are in some way a part of the machine learning algorithms that go into creating our power rankings and projections for each game. 
 Using these projections, Eric Eager and George Chahrouri are writing their weekly spread picks column, which has gone 93-81-10 (53.5%) since they began in 2017 on spreads, totals, futures and props. They are also hosting the PFF Forecast twice a week beginning in September, with one episode on Sunday night/Monday morning reviewing the week's opening lines and another Thursday previewing each game in depth.
Ben Brown is back to write the NCAA spread picks column with Eager each week, providing context on mid-week games and NCAA fantasy football as well. Lastly, the newly-acquired Kevin Cole will offer weekly insight on player props with a daily fantasy slant throughout the regular season.
[Editor's Note: All of PFF's betting content for the NCAA and NFL can be found here.]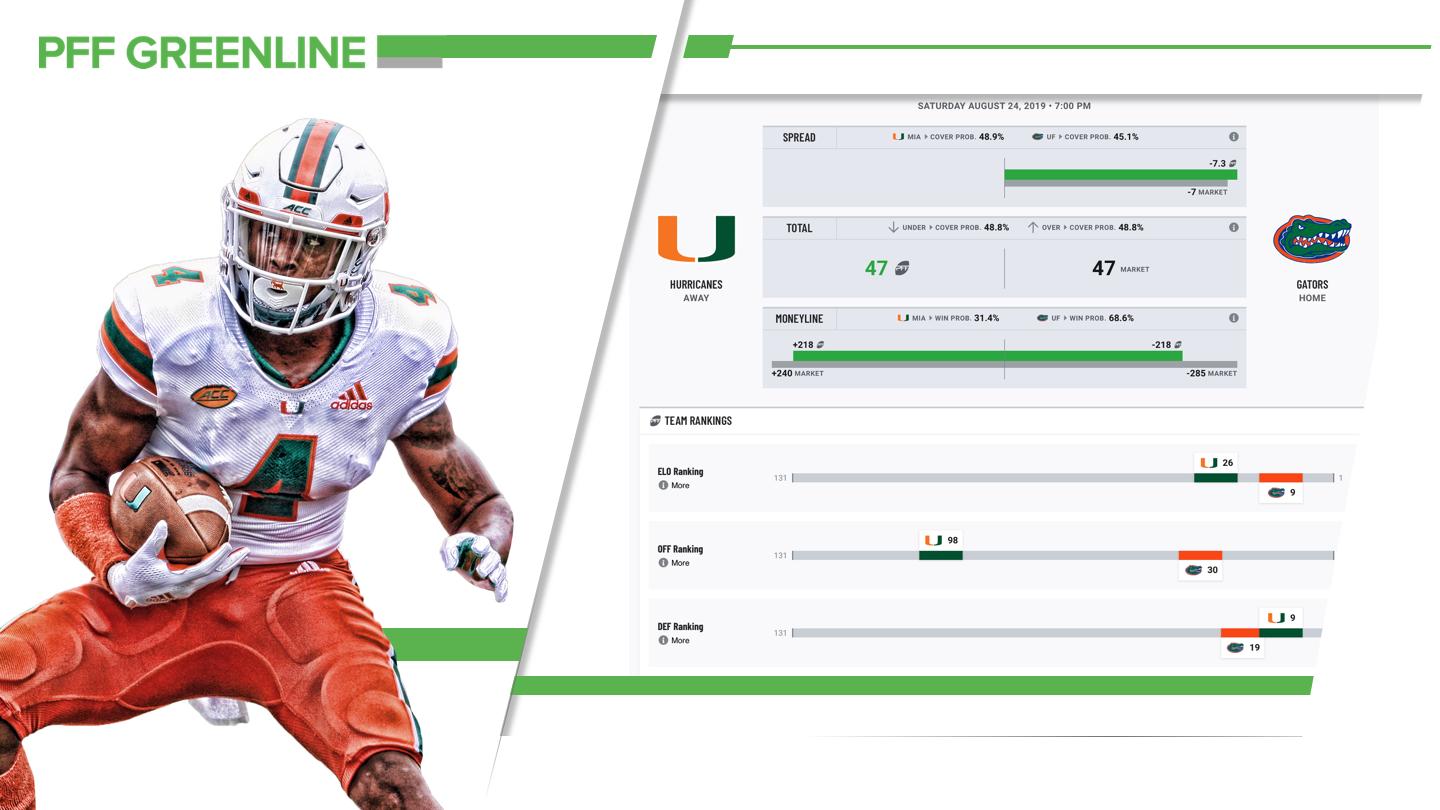 Why PFF Greenline?
If you're like most of us, you are very aware that the wins and losses and the final score of most games are a very crude and inaccurate way of determining how good a team really is. Lots of yards are meaningless, turnovers are mostly luck and the process by which meaningful scores come about are completely hidden in the box score along which the performance of a great many players (take the offensive line). PFF's goal is to do the very best to quantify just how well a player played regardless of the outcome. This opens up a multitude of ways to model player, coach and team performance and ultimately to project game outcomes. That is exactly what PFF Greenline delivers to PFF's ELITE subscribers — the opportunity to think about football as you always knew you should by watching every player on every play and accurately weighing the performance of each component of a team.
Another advantage to having PFF Greenline at your fingertips is the ability to take advantage of early-week market inefficiency, of which there is a good amount in the NFL and at the NCAA level. To illustrate this, note that last season PFF Greenline recommendations were 69-55-4 (55.6%) against the spread against Tuesday numbers (when our numbers were released), but only 62-63-3 (49.6%) against closing numbers. Even our NFL Picks column, using Friday numbers, beat the closing line in 37 of 58 line moves in 2018 and 49 of 76 such moves in 2017. As we did in 2018, each game will have a graph of the line movement versus the PFF number, so you can see the evolution of the market (and our projections) as the week progresses.
What's New in 2019?
In addition to offering numbers for the NCAA season, we have discontinued labeling games as PFF picks, as doing so led to some confusion over our risk tolerance versus that of our subscribers. Instead, we will give our model's number (rounded to one decimal point for spread and total, and regressed to the market number), along with the probability of each outcome (e.g. the probability a home team covers, the away team wins or the total goes under). While the break-even percentage for a standard -110 bet is 52.4%, some sides will have different prices at different books, and with these probabilities, you will be able to adapt and set a tolerance under which you will not bet. 
Each game that appears in PFF Greenline will be tracked with number and price at both open (Tuesday at noon) and close judged against the game's outcome.
The hope is to provide the user with more of the raw information and let you be the ultimate decision-maker, after all, you were smart enough to head to PFF.com in the first place.