The 2016 preseason is in the books, and with "real" football just around the corner, it's time for one last look back at the players who stood out over the past four weeks of action.
As always, one of the variables to preseason is that some players are plying their trade against Pro-Bowlers and starters, while others are deployed against guys who won't be playing professional football again after this week, but all you can do is beat what's in front of you, and a standout performance is a standout performance.
Here is PFF's Team of the Preseason:
Offense
QB: Ryan Tannehill, Miami Dolphins
Tannehill completed 64.2 percent of his passes this preseason, which is OK, but he also suffered from seven dropped passes, the third-most in the league. Add those drops in and his adjusted completion percentage is 77.4, and featured some excellent passes. This is a big season for Tannehill in new coach Adam Gase's offensive system, and at least in preseason the signs are good.
RB: Derrick Henry, Tennessee Titans
Henry came within a dozen yards of leading the league in rushing over the preseason, and he gained 216 yards on his 34 carries, generating 138 of them after contact. He also scored three touchdowns and forced 12 missed tackles, looking like the kind of player he was at Alabama will instantly translate to the NFL and demand a big role from day one.
WR: Allen Robinson, Jacksonville Jaguars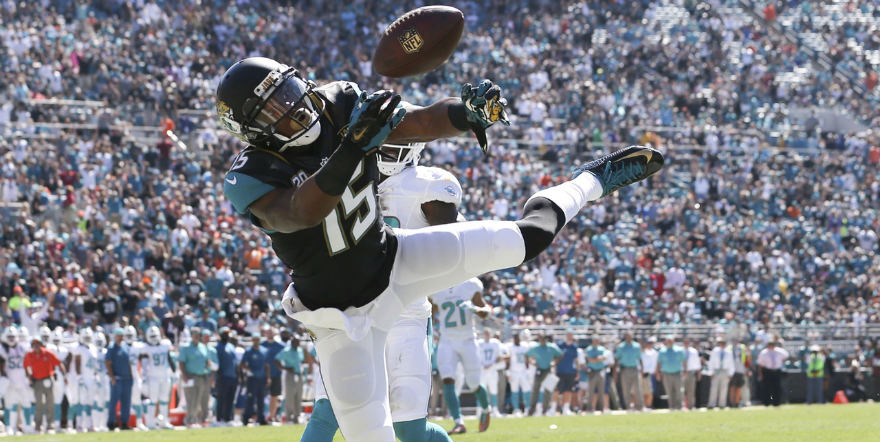 Robinson caught nine of the 10 passes thrown his way for 124 yards across his preseason action, and makes the team despite only 58 snaps of action because of his trademark highlight-reel catch ability mixed in among those catches. Robinson is on the cusp of being one of the very best receivers in the game.
WR: Robbie Anderson, New York Jets
Anderson had more than three times the snaps Robinson did, and only one receiver in the preseason was targeted more, with 25 passes sailing in his direction. The reason he saw so many was because he was open a lot, and a big play waiting to happen, catching 13 of them and gaining 20.3 yards per reception on the way to three touchdowns.
Slot WR: Jeremy Butler, Baltimore Ravens
OK, so slot receiver might be pushing it here for Butler, but he deserved a place in the team and did play 22 of his 107 snaps in the slot. Butler caught 16 of the 20 passes thrown his way (80 percent), scoring three times and forcing three missed tackles after the catch.
TE: A.J. Derby, New England Patriots
Houston's Eric Tomlinson had an excellent blocking grade over the preseason, but was barely used as a receiver, and in today's passing league, that's a deal breaker. Enter Derby, who caught 15 of the 20 balls thrown his way for 189 yards and a touchdown.
LT: Garry Williams, Chicago Bears
In 177 snaps of action, Williams allowed just one sack, one hit and three hurries out on an island for the Bears, almost all of which came in the final game against the Browns and were long-developing plays rather than quick wins for the pass-rush. Williams also had a strong run-blocking grade.
LG: Sebastian Tretola, Tennessee Titans
The Titans are starting Quinton Spain at left guard, but based on the preseason Sebastian Tretola will be pushing him hard. He allowed just two total pressures in 65 pass-blocking snaps, wasn't penalized all preseason and had the second-best run-block grade of any guard in the league. Spain wasn't bad himself, but neither was he close to matching that level.
C: Joey Hunt, Seattle Seahawks
In 121 snaps of the preseason and 73 pass-blocking plays, blocking for some of the more challenging quarterbacks to keep protected, Joey Hunt didn't allow a single pressure, nor was he penalized, and trailed only Travis Frederick in run-blocking grade.
RG: Oday Aboushi, Houston Texans
The Houston guard was one of only six guards to top 200 snaps of play (201) this preseason, and while he did allow some pressure (a sack and three hits), it totaled just four pressures over those snaps, and his run-blocking was on another level from any other guard.
RT: Brent Qvale, New York Jets
In 143 snaps, Qvale didn't allow his QB to hit the ground, surrendering just three hurries. His run blocking didn't stand out, but on an island in pass protection he was excellent, and did it without drawing any penalty flags in the process.
Defense
EDGE: Steven Means, Philadelphia Eagles
With 17 total pressures, Means tied for the league lead in the preseason, and unlike Detroit's Kevin Hyder, spread them across his four games, rather than racking a dozen of them up in a single outing. Means had two sacks, four hits, 11 hurries, a batted pass and three defensive stops in his 131 snaps of preseason action.
DI: Darius Latham, Oakland Raiders
He may not have managed to record a sack, but Darius Latham did notch a hit, six hurries and a batted pass while rushing the passer, as well as grading well in the run game, where he posted six defensive stops and one of the best grades among any interior defender.
DI: Chris Jones, Kansas City Chiefs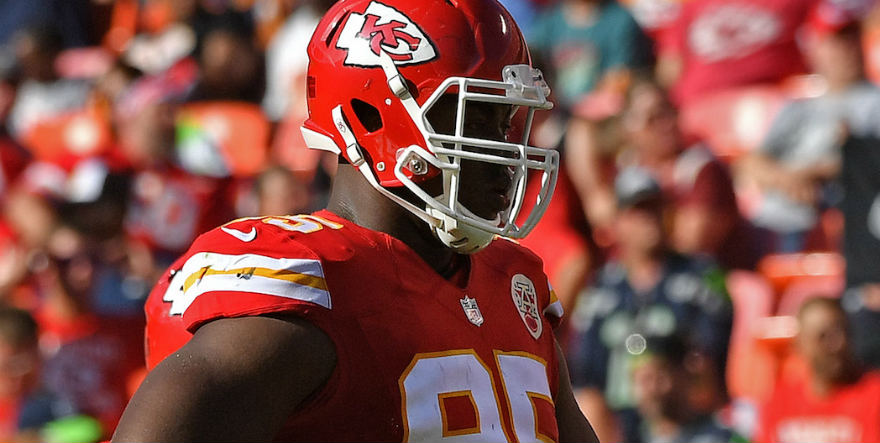 Jones only played 59 snaps this preseason, but was sufficiently dominant in those snaps to make this team anyway. He didn't notch a sack, but did have eight total pressures in only 36 pass-rushing snaps. His quickness and strength was impressive to watch and earned him dominant grades against the run and pass.
EDGE: Matt Longacre, Los Angeles Rams
Each year the Rams seem to find a defensive lineman to crush the preseason, and this year it was Longacre, overshadowing fellow rookie Ian Seau despite the latter getting more face time on Hard Knocks. Longacre had an excellent grade in both pass rush (11 total pressures) and run defense (five defensive stops).
LB: Shayne Skov, San Francisco 49ers
An excellent preseason wasn't enough to save Skov from roster cuts, but he has at least made it to the 49ers practice squad. He had fine grades against both the run and in coverage, with 12 defensive stops to his name over the preseason, the most of any linebacker.
LB: Jamie Collins, New England Patriots
At the other end of the depth chart spectrum, Collins had a very good preseason, with solid to good grades in every single game. He made eight defensive stops in just 97 snaps and looked like one of the league's best linebackers, which of course is exactly what he is.
CB: Kendall Fuller, Washington Redskins
In 170 snaps of game time, Fuller didn't allow a touchdown catch, surrendering nine catches on the 18 balls thrown his way for 93 yards. He recorded an interception and five pass breakups, and QBs throwing the ball his way had a passer rating of 42.1.
CB: Rashard Robinson, San Francisco 49ers
Robinson was always a talented prospect, and at least this preseason he has shown why. Seven of the 13 passes thrown his way (53.8 percent) have been caught for just 58 yards, 15 of which came after the catch. He didn't allow a touchdown in preseason, while picking one pass off and breaking two more up.
Slot CB: Vernon Hargreaves III, Tampa Bay Buccaneers
Hargreaves was almost entirely perfect across preseason. Thrown at eight times, he allowed just one catch, for two yards. He caught twice as many passes himself on interceptions (two) as he allowed receivers he was covering to haul in, and he yielded a passer rating of 0.0 when thrown at, almost 40 points lower than just throwing the ball into the turf.
S: Robert Blanton, Buffalo Bills
Grading well in both coverage and run defense, Blanton was arguably the performer of the preseason at the safety position. With six defensive stops to his name as well as an interception, he was a standout for the Bills.
S: Landon Collins, New York Giants
It seems Collins may actually become the player the Giants thought he would when they drafted him, it just took an adjustment to his role. This preseason his coverage has been good, not the liability it was last regular season, and he has shown up in the run game.
P: Dustin Colquitt, Kansas City Chiefs
Seven of his 18 punts resulted in the opposition starting their drive within the 20-yard line, with just one ending up in a touchback. He did also suffer from a blocked kick.
K: Steven Hauschka, Seattle Seahawks
He nailed seven of eight attempts, including three of four from 50-plus yards. His lone miss came from north of 50 yards.
ST: Rontez Miles, New York Jets
Tied for the league lead in special teams with five tackles over the course of the preseason, he graded well on both kick offs and punts.
RS: Alex Erickson, Cincinnati Bengals
He had just one kick return and brought it back 31 yards, but returned six punts for 185 yards and a touchdown, and was good enough that the Bengals felt comfortable enough to cut long-time return man Brandon Tate.