With 10 years of grading now in the database, Pro Football Focus founder Neil Hornsby recently announced the PFF All-Decade team, featuring the best players at each position across the league. Some teams were very well represented, while others, less so.
It's time now to give each team their moment in the sun by taking a look at the best player of the decade (2006 to 2015 seasons) for every NFL franchise. For some teams, this was a tough decision, with many worthy candidates to choose from; for others, the choice was obvious.
Let's take a look at each team in turn:
Arizona Cardinals: Larry Fitzgerald, WR
This was one of the easiest selections in the league. It's not that the Cardinals haven't had other quality players over the past decade—Calais Campbell, in particular, has been excellent, as was safety Adrian Wilson—but Fitzgerald has been one of the best receivers of his generation, and has played the entire decade for the franchise. His receiving work speaks for itself, but one of the best testaments to his selfless and team-first nature is the fact that he has earned a positive blocking grade in every season PFF has graded, doing what he can to aid Arizona's run game.
Atlanta Falcons: John Abraham, DE
2006—the first graded season in the PFF database—was also John Abraham's first year as an Atlanta Falcon after spending six seasons with the New York Jets. He notched 410 total pressures and 73 sacks in Atlanta before moving on to Arizona in 2013, and was one of the league's most consistently destructive pass-rushing forces. Matt Ryan is closer to this spot than many want to give him credit for, but Abraham is the best the Falcons have had over the past decade.
Baltimore Ravens: Marshal Yanda, RG
Right now, Marshal Yanda is the best guard in football, and he could well have been one of the best right tackles in the game had the Ravens kept him there, rather than moving him inside. He made the PFF All-Decade team, and including the postseason, has played 9,188 snaps for the Ravens since entering the league in 2007. Terrell Suggs was the other obvious candidate, but Yanda's peak has been higher.
Buffalo Bills: Kyle Williams, DT
His time at the top may be ending now, but Kyle Williams was, for a stretch, one of the league's most consistently-disruptive interior linemen. In 2010, he led the NFL in defensive tackle grade, notching six sacks, eight hits, and 29 additional hurries; he followed that up with excellent seasons from 2012–2014, a span over which he recorded 26 sacks on the interior for Buffalo. Marcell Dareus may have a higher ceiling, but he doesn't have the longevity of Williams yet.
Carolina Panthers: Jordan Gross, LT
Luke Kuechly is the best middle linebacker in the game and made the PFF All-Decade team because of how incredible his play has been, despite just four seasons of NFL play. He was hard to overlook for the Panthers here, but it would have been a huge injustice to omit Jordan Gross, who has almost twice as many snaps for Carolina over the decade, and was a quality left tackle over that span. Gross was the top-graded tackle in the league in 2007, and third in 2013, his final year in the game.
Chicago Bears: Lance Briggs, LB
This came down to a choice between Lance Briggs and Charles Tillman. Brian Urlacher typically received a majority of the ink, but Briggs was consistently the better of the two linebackers during most of their time together in that defense. Briggs never actually topped the 4-3 outside linebacker rankings for PFF in any single season, but was top-five in four of the first five seasons we graded, including a pair of top-two finishes. He finished his career with impressive grades in every facet of the game PFF measures, and recorded 467 defensive stops over the past decade.
Cincinnati Bengals: Andrew Whitworth, LT
There may be no more underrated player over the past decade than Cincinnati's Andrew Whitworth. The Bengal has averaged a 90.4 overall grade over his five best seasons, and since his rookie year, has been consistently one of the best tackles in the game, recording nine-straight years of impressive play. In 2014, Whitworth surrendered a ludicrously-low 10 total pressures over the entire season (1,119 snaps).
Cleveland Browns: Joe Thomas, LT
Since entering the league, Joe Thomas has been the benchmark for left-tackle pass protection. He has led NFL OTs in overall grade twice, been ranked in the top two four times, and never graded out lower than seventh-best. Thomas has produced five-straight years with three or fewer sacks allowed, and may currently be playing his best football yet heading into his 10th NFL season.
Dallas Cowboys: Jason Witten, TE
DeMarcus Ware had a very good case here, and was one of the league's most devastating pass-rushers during his time in Dallas. Jason Witten, however, has 10,847 snaps to his name as a Cowboy over the decade of PFF grading—more than 3,000 in excess of Ware's total—and has shown remarkable durability for a player who is getting hit in both the run and pass game. Witten has caught 72.9 percent of the passes thrown his way over the decade, dropping only 42 targets, or 3.5 percent.
Denver Broncos: Von Miller, OLB
Von Miller made his case during the most recent playoff run, ending the 2015 season with a Super Bowl-winning performance. It's arguable that he was the single-most important factor in Denver's advancement in both the AFC Championship game and to the Lombardi Trophy presentation ceremony. He has averaged 85 total pressures per season every year he has played a full slate of games, or five total pressures per game. That is pass-rush impact in a nutshell.
Detroit Lions: Calvin Johnson, WR
It's not going to surprise anybody that Megatron was the best player for the Detroit Lions over the past decade. 2016 will be the first season the Lions will be without their star wideout since 2006; since that time, Johnson amassed 11,918 yards (postseason included), scoring 85 touchdowns and forcing 73 missed tackles after the catch.
Green Bay Packers: Aaron Rodgers, QB
The Packers have boasted some very good players over the past decade, but they have also featured arguably the best quarterback of his generation, and the first guy to force himself into the "best in the league" argument since Tom Brady and Peyton Manning established themselves as NFL QB royalty. Rodgers owns the highest-graded QB season PFF has ever seen (2011), and just over the past decade, has thrown 284 touchdowns to only 72 interceptions for a passer rating of 103.8.
Houston Texans: J.J. Watt, DE
What more is there to say about J.J. Watt? From re-defining what we thought was possible as an interior defender, to transitioning to an edge rusher, Watt has been the best player in the league since his second season, and now has what is probably a Hall-of-Fame résumé after only five years. He has averaged 17 sacks, 30.2 hits, and 39 hurries over his career and an overall grade of 95.4.
Indianapolis Colts: Peyton Manning, QB
Peyton Manning has a good case for not only being the best player the Colts have ever had, but the best QB the league has ever seen. Just five of his Indianapolis seasons came during PFF's grading timespan, however. In fact, during the PFF era, Manning actually only had two more seasons of play for the Colts than he did with the Broncos post-surgery, but the years in Indianapolis before that injury were spectacular. The Colts did have competition though, with Dwight Freeney, Jeff Saturday, and Reggie Wayne all owning strong cases for this spot on the list.
Jacksonville Jaguars: Maurice Jones-Drew, RB
As good as the options for Indianapolis were, Jacksonville's were less appealing. The Jaguars have had players hang around for a large part of the decade, but with the team rarely competitive, most of them have not been consistently good over that time. Marcedes Lewis had a case, and had Greg Jones II simply been used more on the field, he may well have earned the decision, but Maurice Jones-Drew was the right choice in the end. MJD played 5,085 snaps for the Jags over the past decade, including his 2007 season in which he was the third-highest-graded RB in the league.
Kansas City Chiefs: Derrick Johnson, LB
Other than a poor 2008 season, Derrick Johnson has been one of the NFL's best linebackers for the entirety of the last decade, doing so even while moving between defensive schemes (Kansas City switched between 4-3 and 3-4). He lost almost his entire 2014 season due to injury, and came back with a year that was as good as any he has produced in the past. Johnson has notched 456 defensive stops over the decade, or 51.4 percent of his tackles.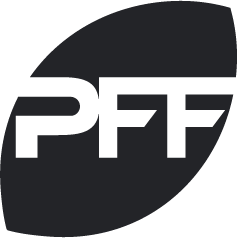 PFF All-Decade Team: The Best of 2006–2015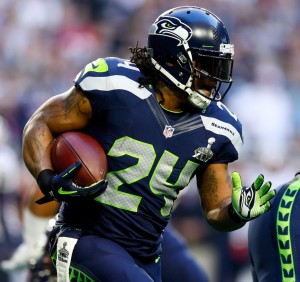 After 10 seasons of grading NFL games, PFF founder Neil Hornsby assembles our first All-Decade Team.
See the All-Decade roster here.

Miami Dolphins: Cameron Wake, DE
It seems strange to think that Cameron Wake was a guy who couldn't get an NFL shot and needed to come into the league via Canadian football. Even in 2009, he had to make do with the occasional situational-rush opportunity. Since then, Wake has recorded 421 total pressures across his NFL career, gaining consistently-elite pass-rushing grades and posting the fourth-highest grade for an edge defender we have ever seen, with a 94.6 in 2012.
Minnesota Vikings: Adrian Peterson, RB
The Vikings have had plenty of good candidates over the past decade. Kevin Williams was one of the game's best interior defenders for years, and Antoine Winfield actually posted the best cumulative CB mark over the past decade. Adrian Peterson, though, was a transformative talent for the Vikings, and has an MVP award to his name. Peterson has broken 423 tackles over that time, and averaged 3.1 yards per carry after contact.
New England Patriots: Tom Brady, QB
The Patriots had Logan Mankins and Rob Gronkowski on the All-Decade team, but not Tom Brady. Gronkowski is an all-time talent, but simply hasn't played for as much of the decade in New England as the other two, and while Brady missed the 2008 season injured, Mankins also plied the last two seasons of his career in Tampa Bay. Ultimately, the Patriots' best player over the past decade is the one everybody would expect: Tom Brady.
New Orleans Saints: Drew Brees, QB
2006 was the first season for Drew Brees in New Orleans. Coming off a torn shoulder that made him an injury concern for would-be suitors, he posted the second-highest grade of the season at QB, trailing only Peyton Manning. From that point on, he went on an otherworldly run of production that has seen him throw for more than 51,700 yards (postseason included) and 370 touchdowns. Alternatively, the Saints could have signed Daunte Culpepper.
New York Giants: Justin Tuck, DE
Chris Snee has a good case on the offensive line, and Eli Manning has been as responsible as any one player for the team's two championships over the past decade, but he has too much poor play to his name. The driving force behind the best defenses the Giants have had in that span was Justin Tuck, who may have never been the league's best defensive end, but was a strong pass-rusher, run defender, tone-setter, and a guy who could kick inside and make space for the Giants to get more pass-rushers on the field in their "NASCAR" packages.
New York Jets: Nick Mangold, C
This may have been the toughest choice in the league. CB Darrelle Revis owns one of the best single seasons at any positions we have seen, with his obscene 2009 year in coverage, but he has two seasons outside of New York, and missed the majority of another injured. Ultimately, Mangold has almost 4,000 snaps to his name more than Revis in a Jets uniform, and has been the standout center of his generation. He also owns the two top-graded seasons we have ever seen from a center, and four of the top nine. Over the past decade, Mangold has averaged just 10.9 pressures surrendered per season, fewer than one a game.
Oakland Raiders: Nnamdi Asomugha, CB
His final seasons in Philadelphia—removed from the man-coverage scheme that suited him so well in Oakland—somewhat tarnished his reputation, but for a long time Nnamdi Asomugha, was the cornerback QBs were least inclined to target. In his five years with the Raiders that PFF has graded, Asomugha averaged just 19.8 catches surrendered per season, a little more than one per game, and just 257 yards per year.
Philadelphia Eagles: Trent Cole, DE
Another perennially-underrated player, Trent Cole never had mind-blowing sack numbers, but was consistently one of the best-graded pass-rushers in the league, averaging 59.8 pressures in the nine seasons before he left the Eagles. He also had a knack for making stops, with 383 over the decade, or 76.9 percent of his total tackles.
Pittsburgh Steelers: 
Troy Polamalu, S
Troy Polamalu was a unique player. Able to bounce all around the defense—seemingly at random—he was the cog that made Dick LeBeau's defense work. Polamalu had a knack for disguising what he was doing in a way few other players could, and seemed to be able to time the snap better than the offense on occasion. In six of his final nine seasons, he earned above-average grades in coverage, run defense, and on the blitz.
San Diego Chargers: Eric Weddle, S
Eric Weddle has arguably been the league's best safety over the past decade. At his best, he was as good as it got, able to marshal the deep middle of the field, play the run, and cover down in the box, and was doing so in a San Diego secondary that often gave him little help. He has averaged 91.9 total tackles over his career, has multiple pressures on the blitz every year, and a strong coverage grade every season.
San Francisco 49ers: Patrick Willis, LB
Justin Smith was a fantastic player for the 49ers, and before J.J. Watt came along, was as good as we thought a 3-4 defensive end could be. Patrick Willis, however, was one of the league's greatest linebackers, and his career almost perfectly matches up with the PFF grading decade. Willis was either the highest- or second-highest-graded inside linebacker for six straight seasons; the year that broke his streak was 2013, when he finished third.
Seattle Seahawks: Richard Sherman, CB
Richard Sherman is well on his way to being the best cornerback of his generation—and the heir to Darrelle Revis as the league's best. From the very outset of his rookie campaign, he was shutting receivers down, and over a season, Sherman has never allowed more than 49 percent of passes thrown his way to be caught. He has three seasons to his name of yielding a passer rating lower than 50.0 when targeted.
St. Louis Rams: 
Robert Quinn, DE
The Rams were a very tough team to select. They will likely go some time without finding a player as good as Aaron Donald, but just two seasons into his career, he hasn't played enough of the decade to warrant a selection for this list. The issue is that almost none of the players that have were able to perform consistently well. Chris Long had four excellent years of pass-rushing, but never earned an above-average run-defense grade, and has four weaker years, too. O.J. Atogwe was good, but not great, for a decent span. Robert Quinn has one transcendent season like Donald, but has more than twice the playing time under his belt.
Tampa Bay Buccaneers: Donald Penn, LT
When Gerald McCoy has been at his best, the Bucs haven't had a better player over the past decade. Lavonte David is in that kind of category, as well, but neither has the length of tenure that Donald Penn did, nor were they as consistently impressive throughout. Penn was never the best tackle in the game, but always graded above-average, racking up 7,219 snaps for the Bucs since 2006. Even when Tampa Bay finally thought he was done, he continued to produce for Oakland.
Tennessee Titans: Michael Roos, LT
Over nine years, Michael Roos didn't produce a below-average season of grading. In only one season was he below-average as a pass protector, but otherwise, his decade was summed up with exemplary play in all facets of the game, averaging a 86.5 PFF grade over his best five seasons, and rarely dipping far from that level. The Titans have struggled to replace him ever since, and have yet to come close.
Washington Redskins: Trent Williams, LT
Rounding out the run of tackles to end the list, Trent Williams takes the honor for the Washington Redskins. The closest player to Williams, in truth, was his predecessor at left tackle, Chris Samuels. Both players had extensive runs of fine play, but we have just seen more of Williams' career than we have of Samuels, grading 2,433 additional snaps over the past decade. Williams' best year came in 2013, where he had a close case to be seen as the best left tackle in football, but in every other season, he has been a little short of replicating that form.