Week 13 of the 2016 NFL season is complete, and PFF's grades for every player to take a snap are in the books. Here are the top performances over the week at every position:
Week 13 offense
Quarterback: Andrew Luck, Indianapolis Colts, 92.3
This was the best game in the best season of Andrew Luck's career so far, as he simply carved up the hapless Jets defense. Luck's career to date has been marked by poor accuracy and more mistakes than an elite QB should make, but there was none of that this week, as he connected on 78.6 percent of his passes, with three of the five incompletions dropped, and another batted at the line. Under pressure, Luck's passer rating was 114.9, and he completed every pass he attempted over 10 yards in the air from the line of scrimmage.
Running back: Melvin Gordon, San Diego Chargers, 81.7
San Diego only handed the ball off to Melvin Gordon 17 times against the Buccaneers in Week 13, but he averaged 4.9 yards per attempt, gaining 59 of his 84 yards after contact thanks to breaking five tackles along the way. As a receiver, Gordon added another 54 yards from four catches and deserved better than the way this game ended up on the scoreboard.
Wide receiver: Julio Jones, Atlanta Falcons, 89.2
The Chiefs were inexplicably playing Julio Jones with defenders 8 yards off in coverage, and Atlanta didn't need a second invitation to take advantage of that fact. Jones was targeted eight times, catching seven of them, dropping the only incompletion, and putting up 113 yards at 16.1 yards per catch.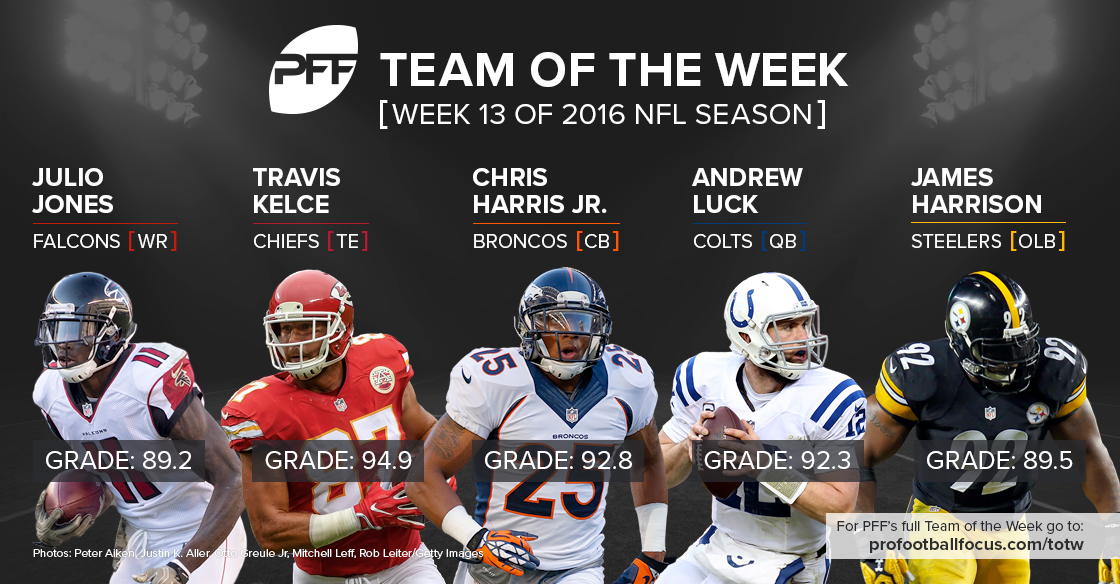 Wide receiver: Jordy Nelson, Green Bay Packers, 87.3
Aaron Rodgers to Jordy Nelson in the snow: this looked a little bit more like the Green Bay of old, and a little more like the Jordy Nelson from before his injury. He caught everything that was thrown his way against Houston, coming down with eight catches for 118 yards and a touchdown, including a jump ball down the sideline, where he took the ball away from a defender at the catch point. He beat five different Texans defenders for catches in the game.
Slot receiver: T.Y. Hilton, Indianapolis Colts, 83.7
T.Y. Hilton wouldn't be a slot receiver in the most traditional sense, but he was lined up inside on 20 of his 47 snaps Monday night against the Jets. Overall he hauled in nine of the 10 passes sent his way for 146 yards, with 80 of them coming from the slot, as he abused New York Jets defenders all night.
Tight end: Travis Kelce, Kansas City Chiefs, 94.9
Travis Kelce might be the single-most important player to the Chiefs' offense, including the QB, which is something that can't be said for too many situations outside of Kansas City. In Week 13, he was thrown at eight times by Alex Smith, catching all eight targets for 140 yards, 82 of which came after the catch as he turned modest gains into more significant ones. Simply put, Kelce is the Chiefs' biggest playmaker.
Left tackle: Jason Peters, Philadelphia Eagles, 85.3
Jason Peters had to pass block on 63 snaps this week against the Bengals, along with the rest of the Eagles' linemen, as the team got in a hole early and was left chasing the game for the duration. In that time, Peters allowed just three total QB pressures, which were all late in the game and late in developing.
Left guard: Richie Incognito, Buffalo Bills, 81.5
Oakland's defensive front is far more lightweight this year than it was in 2015, and Richie Incognito was able to take full advantage of that this week in the run game, paving the way for some nice runs from LeSean McCoy. McCoy averaged 7.6 yards per carry, and while much of that, as always, was down to him, one 29-yard carry did go right inside of Incognito's block.
Center: Alex Mack, Atlanta Falcons, 86.0
The performance from the Falcons' offensive line was very spotty this week against the Chiefs, but Alex Mack was a rock in the middle. Mack allowed just one QB hurry in 47 pass-blocking snaps, but it was in the run game that he did his best work, controlling Dontari Poe and making a few plays against assorted other Kansas City defenders.
Right guard: Zack Martin, Dallas Cowboys, 85.3
The Cowboys' offensive line was projected to have a significant test against Minnesota's defensive front on paper, but on the field, they handled the challenge easily, with Martin, in particular, dominating in the run game against the Vikings' 3-technique defensive tackles. Martin also kept a clean sheet from a pass-blocking standpoint, allowing nothing to hurry rookie quarterback Dak Prescott.
Right tackle: Marcus Cannon, New England Patriots, 84.4
The strength of the Los Angeles Rams' roster is their defensive line, so the performance of the Patriots' O-line up front deserves serious credit. RG Shaq Mason had some crushing blocks, and would have been the next man up on the team at guard, but Marcus Cannon was every bit as good beside him, keeping Tom Brady clean across 48 pass-blocking snaps and generating some significant movement at the point of attack in the run game.
Week 13 defense
Edge defender: James Harrison, Pittsburgh Steelers, 89.5
James Harrison is old enough to have played in NFL Europe, a league that hasn't existed for around a decade now. Simply still being in the league is an achievement as a 38-year old pass-rusher, but Harrison is still the team's best edge defender, and his seven total QB pressures against the Giants were three more than the tally the rest of Pittsburgh's four OLBs managed to put together combined.
Defensive interior: Akiem Hicks, Chicago Bears, 87.3
Sometime in the past month, Akiem Hicks started channeling his inner Dan Hampton, becoming a nearly unstoppable force for the Bears. He destroyed the interior of the San Francisco offensive line this week, sacking Colin Kaepernick three times and adding another two hurries, all while racking up a team-leading seven defensive stops in his 58 plays on the field. This was a dominant display from Hicks, and not his first in the last month.
Defensive interior: Calais Campbell, Arizona Cardinals, 86.9
Washington's offensive line has been one of the Redskins' strengths this season, so for Calais Campbell to have the kind of game he did against the unit is all the more impressive. Campbell notched a sack, QB hit, four QB hurries, a batted pass, and three defensive stops across his 44 snaps, and was one of the biggest impact players in the game.
Edge defender: DeMarcus Lawrence, Dallas Cowboys, 87.0
DeMarcus Lawrence was beating Vikings LT T.J. Clemmings like a drum all night back when the two teams squared off on Thursday. He didn't record a sack, but that was because QB Sam Bradford was getting rid of the ball as quickly as humanly possible, rather than anything Clemmings did to slow down Lawrence's rush. The Dallas edge defender racked up two hits and six pressures from 42 pass-rushing snaps.
Linebacker: K.J. Wright, Seattle Seahawks, 88.2
K.J. Wright may be one of the league's most underrated players, overshadowed even within the Seattle linebacking corps by teammate Bobby Wagner. In truth, though, Wright is one of the league's best at the position. Against Carolina he was exceptional, breaking up a pass in coverage and allowing just one catch for 7 yards; Wright also made his presence felt in the run game.
Linebacker: Vontaze Burfict, Cincinnati Bengals, 87.2
Any time a player records a pair of interceptions in a game, he's doing pretty well; when that player is a linebacker, though, things are going even better. Vontaze Burfict was able to prey on the poor decisions of rookie QB Carson Wentz and pick off a couple of passes, but he also racked up a team-leading 11 tackles and made some plays in the run game to go along with the impressive coverage performance.
Cornerback: LaDarius Gunter, Green Bay Packers, 92.0
LaDarius Gunter deserves some significant credit for the way he has bounced back this season. Gunter has had some games where he has simply been toast, but his highs have been excellent. This week against the Texans—and rookie WR Will Fuller, in particular—he allowed just 11 yards, and broke up two passes in the snow.
Cornerback: Tavon Young, Baltimore Ravens, 91.6
Rookie Tavon Young has been quietly coming along very nicely for the Ravens as the season has worn on. This week, he was thrown at three times and surrendered a total of 4 yards against the Miami Dolphins, breaking up the only pass thrown his way intended for a wide receiver.
Slot cornerback: Chris Harris Jr., Denver Broncos, 92.8
Chris Harris was the best cornerback in football this week, and was tested plenty by QB Blake Bortles and the Jaguars. In fact, it seemed like they planned to take advantage of his relative lack of height by giving WR Allen Robinson, in particular, a chance to make plays on jump balls. On the five targets intended for Robinson, Harris caught as many (one) as the WR did, and that catch went for just 5 yards.
Safety: Kenny Vaccaro, New Orleans Saints, 87.6
There weren't many positives for the Saints against Detroit, but the play of Kenny Vaccaro was one of them. He was thrown at eight times, allowing only four catches for a total of 20 yards, making four defensive stops in the game and not surrendering a catch longer than 11 yards.
Safety: Sean Davis, Pittsburgh Steelers, 85.7
Sean Davis has had a tough rookie campaign for the Steelers, but he was excellent this week against the Giants, playing primarily deep off the ball at safety. Davis notched an interception from New York QB Eli Manning, but also made some plays against the run and looked as good as he has all season.
Week 13 special teams
Punter: Riley Dixon, Denver Broncos
With rookie Paxton Lynch at quarterback, Denver punted the ball a monstrous 11 times this week. Despite that, Riley Dixon saw his kicks come back a total of just 17 yards.
Kicker: Stephen Gostkowski, New England Patriots
Detroit's Matt Prater made more kicks (five field goals to Gostkowski's four), but three of them were under 30 yards in length, while three of Gostkowski's were from over 40 yards, earning him the nod.
Special teamer: Michael Thomas, Los Angeles Rams
With three special teams tackles as one of the Rams' gunners on the punt team, rookie Michael Thomas had an excellent game on special teams this week.
Return specialist: Chester Rogers, Indianapolis Colts
This was far from a good week for return specialists, and Chester Rogers makes the team for his performance on Monday Night Football with just two punt returns and 36 return yards to his name. He did have to make some significant moves to get those yards, though.