Week 11 of the 2016 NFL season is complete, and PFF's grades for every player to take a snap are in the books. Here are the top performances over the week at every position:
Week 11 offense
Quarterback: Kirk Cousins, Washington Redskins, 89.4
How you like me now? Cousins had himself another signature game, this time on Sunday Night Football, carving up an injury-depleted Green Bay secondary for 375 yards and three touchdowns. The Packers barely got any pressure at all on Cousins, but when they did, he still had a passer rating of 107.6 and completed 66.7 percent of his passes for 12 yards per attempt. On deep passes (traveling 20+ yards in the air), Cousins completed three of four attempts for 167 yards and two touchdowns.
Running back: Doug Martin, Tampa Bay Buccaneers, 80.6
This wasn't the best week for running back performances, but Doug Martin is a good example of the box score stats not always telling the tale. He carried the ball 24 times, gaining just 63 rushing yards (2.6 yards per carry); however, he gained 71 yards after contact and broke four tackles along the way. On average, Martin was being hit ¼ of a yard behind the line of scrimmage, but was still consistently gaining positive yardage.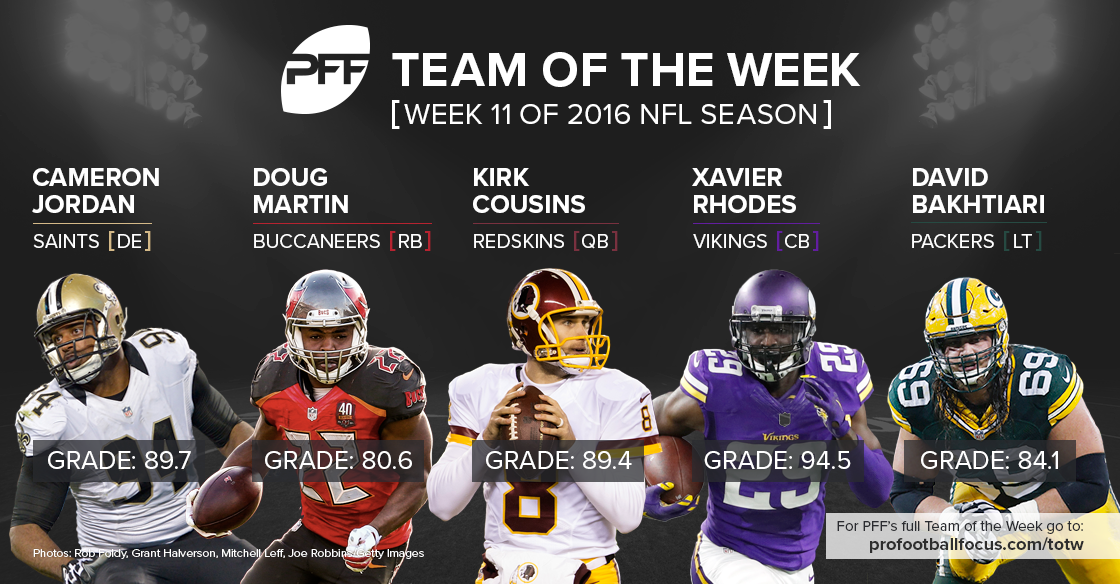 Wide receiver: Mike Evans, Tampa Bay Buccaneers, 85.4
With no Marcus Peters in the lineup for the Chiefs, the Bucs needed Mike Evans to have a big game, and that's exactly what he delivered. Evans allowed CB Steven Nelson to rob him of a touchdown early in the game, seeing the ball ripped from his grasp in the end zone, but overall he caught six passes for 105 yards, including some impressive receptions to notch yet another impressive grade this season.
Wide receiver: DeVante Parker, Miami Dolphins, 84.2
The Miami Dolphins had trouble getting anything going against a tough Rams defense in the rain at the Los Angeles Memorial Coliseum—that is, until Ryan Tannehill and DeVante Parker caught fire as a connection, scored two touchdowns late in the game as a team (one to Parker), and snatched victory from the jaws of defeat. For the game, Parker caught eight passes for 79 yards and a score, and came up big with the game on the line.
Slot receiver: Cole Beasley, Dallas Cowboys, 81.2
Dez Bryant is the big playmaker Dallas' passing attack, but the improved performance of Cole Beasley in the slot has been a huge part of the offense this season. Against the Ravens, Beasley caught all five passes thrown his way for 59 yards and a touchdown. QB Dak Prescott has lived on the underneath and intermediate passes this year, and that's where Beasley has been so effective.
Tight end: Zach Miller, Chicago Bears, 85.7
Zach Miller was only thrown at three times against the Giants, but he caught all three targets for 61 yards and a touchdown; he also earned solid run-blocking grades. QB Jay Cutler had a passer rating of 158.3 when throwing at Miller this week, and any time you can make Cutler's passer rating look perfect, you deserve some serious credit. Unfortunately, Miller's day ended with the TE on the injured reserve list, breaking his foot against New York.
Left tackle: David Bakhtiari, Green Bay Packers, 84.1
David Bakhtiari's play this season has more than justified the contract he signed in the offseason, as he's producing one of the best years of his career. Crucially, Bakhtiari's pass blocking has been outstanding, and this marked another week in which he didn't allow a single QB pressure on 48 pass-blocking snaps. Pass blocking is by far his better area, but this game saw him run block well in addition to that—not that the Packers ran the ball often enough to make use of it.
Left guard: Quinton Spain, Tennessee Titans, 83.8
Titans guard Quinton Spain was excellent this week against the Colts. On 47 pass-blocking snaps, he surrendered just a single hit and no other QB pressure on Marcus Mariota; he also run blocked extremely well. The Titans averaged just 3.6 yards per carry against the Colts, but that mark rose to 4.0 on plays that went either side of Spain's blocks.
Center: Jason Kelce, Philadelphia Eagles, 86.5
In a season that has seen plenty of struggles, Eagles center Jason Kelce reminded us—against one of the league's toughest defensive fronts—that he can still be an excellent center at his best. On zone plays against Seahawks DT Tony McDaniel, in particular, Kelce displayed the kind of movement skills that few centers possess, reaching and sealing his man inside, also making plays at the second level against linebackers.
Right guard: Marshal Yanda, Baltimore Ravens, 84.7
The return of Ravens RG Marshal Yanda just shows how much the team missed him when he was out injured. Yanda was back at his best against Dallas, keeping a clean sheet from a pass-blocking standpoint on 40 pass-protecting snaps, and run blocking extremely well against an undersized Dallas front. Yanda, at his best, is the No. 1 guard in football, and could still retain that crown if he stays healthy down the stretch.
Right tackle: Marcus Cannon, New England Patriots, 84.1
Marcus Cannon had a fine game against the 49ers this week. In 47 pass-blocking snaps, he allowed just one hurry, and while he hasn't had any perfect pass-protection games this season, he has come close; this if the fourth game in a row that Cannon hasn't surrendered a sack or hit. Against the 49ers, he also run blocked extremely well, overpowering the 49ers' defense in what has become a trend for that team this season.
Week 11 defense
Edge defender: Cameron Jordan, New Orleans Saints, 89.7
Retaining his spot on the team of the week is Saints defensive end Cameron Jordan. Jordan didn't get a sack this week, but pressured QB Cam Newton six times in 33 pass-rushing snaps, as well as batting a pass and collapsing the line to snuff several running plays. Jordan has been one of the best edge defenders in football since Week 4, and this was just another in a run of dominant games.
Defensive interior: Aaron Donald, Los Angeles Rams, 86.0
Aaron Donald is back on the team of the week yet again. With a hit and three hurries, despite Ryan Tannehill getting rid of the ball in just 2.2 seconds, on average, Donald was once again a disruptive presence all game long. He was flagged once for a foolish penalty, but was, if anything, far more dominant as a run defender, where his quick burst into the backfield ruined multiple Miami running plays.
Defensive interior: Kawann Short, Carolina Panthers, 85.3
For the past few weeks, we have seen the return of the real Kawann Short—the dominant interior defender from the 2015 season—and it's no coincidence that the Panthers have been winning for as long as they've had that guy back. Against the Saints this week, he posted four hurries and graded well against the run, affecting the play with his quick penetration and power despite running up against a very solid New Orleans offensive line.
Edge defender: Derrick Morgan, Tennessee Titans, 86.7
Derrick Morgan posted eight total QB pressures against Andrew Luck and the Colts, getting home for two sacks. Morgan tied for the team lead with three defensive stops, and was a constant thorn in the side of the Colts' offense, even with Indianapolis overcoming the disruption to secure the win. Morgan also graded well against the run, although he wasn't quite as dominant in that regard.
Linebacker: Ryan Shazier, Pittsburgh Steelers, 90.0
Every now and then you get a game where Ryan Shazier fulfills his potential and looks like the star linebacker he has the ability to become. That's what we got this week against the Browns. Shazier had seven defensive stops to lead the Steelers, but also posted a sack, hit, and hurry from his pass-rush on the blitz, forcing a fumble from QB Josh McCown on his sack and effectively killing off the game.
Linebacker: Jerrell Freeman, Chicago Bears, 85.7
The free-agent import linebackers for the Bears were excellent against the Giants this week, and while Danny Trevathan may have made more tackles and defensive stops, it was Jerrell Freeman who had the better day in coverage, surrendering just 21 yards to Trevathan's 58, and coming up for quick stops when he did allow a catch. Unfortunately for Chicago, Freeman will now miss four games due to a PED violation.
Cornerback: Xavier Rhodes, Minnesota Vikings, 94.5
The only stat you need to know about Xavier Rhodes this week is that, when targeted by Carson Palmer, he gave up a passer rating of 0.0—almost 40.0 points lower than if Palmer had just thrown the ball at the floor every play. Rhodes notched two picks, returning one for a 100-yard score down the sideline, and really was the difference in this game for Minnesota. This was one of the highest CB grades we have seen over a single game.
Cornerback: Byron Maxwell, Miami Dolphins, 90.2
Byron Maxwell's season has been anything but consistent. His best games have been excellent, and his worst have been bad enough to see him sat down as a starter. This week, however, we saw Maxwell at his best. He broke up one of the few deeper passes rookie QB Jared Goff attempted, and was in tight coverage on another couple of occasions; he also made some plays in the run game.
Slot cornerback: Logan Ryan, New England Patriots, 87.2
Coming off easily his worst game of the season, Patriots cornerback Logan Ryan had easily his best outing in Week 11. Going from the passing attacks of Seattle to San Francisco was surely a factor, but the fact remains that Ryan allowed just 7 receiving yards this week from five targets, breaking up two passes and only allowing one to be caught by the intended receiver.
Safety: Kurt Coleman, Carolina Panthers, 87.5
Kurt Coleman hasn't been nearly as good in 2016 as he was a year ago, but this was his best game of his season, and marks his second decent game in a row. Coleman made five tackles and three assists, and crucially snagged an interception of Drew Brees, surrendering very little of significance in coverage.
Safety: Landon Collins, New York Giants, 86.6
Landon Collins just keeps rolling this season, posting good game after good game; this week against the Bears was arguably his best outing of the year. Collins picked off a pass, broke up another, and didn't allow a single catch when he was in primary coverage. He notched five tackles and an assist, and did very little wrong over his 63 snaps of action.
Week 11 special teams
Punter: Chris Jones, Dallas Cowboys
Punting only four times against the Ravens, Chris Jones' performance doesn't get its due looking at yardage figures alone. He allowed no return yards, kicked with good direction and hang time, and gave his coverage team a chance every punt.
Kicker: Graham Gano, Carolina Panthers
Not a vintage week for kickers, as an all-time high 12 missed extra points might suggest, so Graham Gano going three for three on field goals on Thursday night with two from beyond 40 yards earns him this spot.
Special teamer: Sammie Coates, Pittsburgh Steelers
Busted hand and all, Sammie Coates had an excellent game on special teams, particularly as a gunner, making a league-high three special teams tackles.
Return specialist: Cordarrelle Patterson, Minnesota Vikings
The Vikings beat the Cardinals based on two return scores; one interception brought back to the house, and Cordarrelle Patterson's 104-yard kick-return touchdown. Patterson remains one of the league's most dangerous return men, and it was the only return he had in the game.