With months remaining until any real football is played, Pro Football Focus is introducing it's first-ever under-25 team. Every player selected for the list below will be under the age of 25 years old at the start of training camp. While selecting the list, there were some clear-cut victors — guys that are easily the best at their position under 25 — and also some major battles. For the more competitive spots, I tried to focus in one skill as a determining factor. All players were selected using a combination of PFF's player grades and signature stats. The list features a nice blend of promising rookies, as well as some three-year contributors.
Quarterback
Dak Prescott, Dallas Cowboys (2016 PFF overall grade: 84.9)
Seemingly a contrarian pick right of the gate, but no QB currently under 25 earned a higher grade than Dak Prescott did in 2016. Some will say he wasn't asked to do much, but I don't believe it matters, as he played nearly-flawless football. Only Patriots QB Tom Brady took better care of the ball in 2016, and Prescott's nine turnover-worthy throws were significantly lower than both Winston and Tennessee Titans QB Marcus Mariota. What's more, Prescott's 14 big-time-throws were right on par with Winston's 16.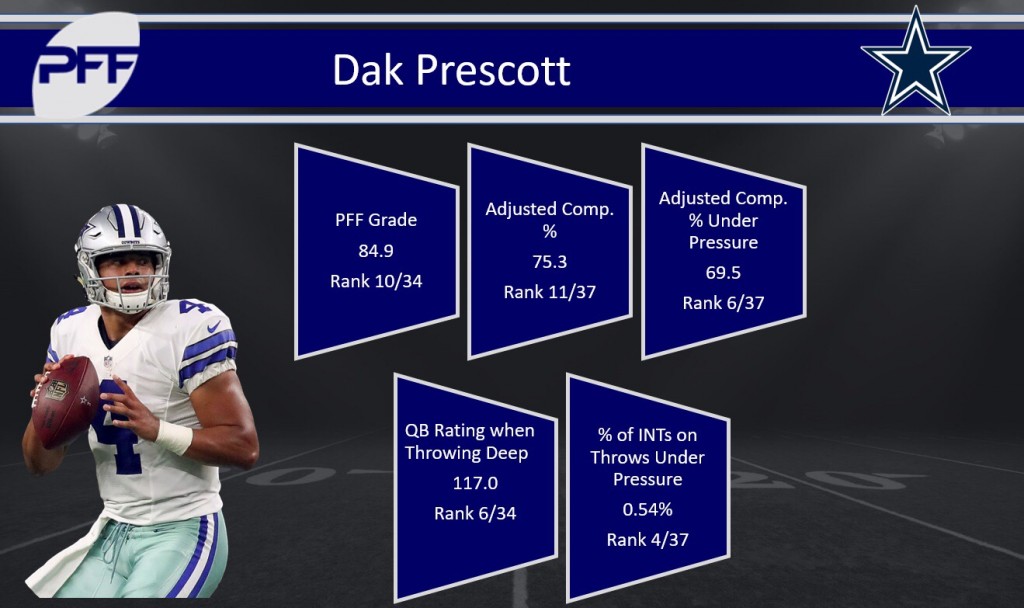 Honorable Mention: Jameis Winston, Tampa Bay Buccaneers (77.5)
Running back
Ezekiel Elliott, Dallas Cowboys (86.0)
In 2016, Elliott took the league by storm, leading the NFL in rushing his first season. His 86.0 overall grade ranked second among RBs, and he also contributed in the passing game, finishing 15th in receiving grade, at 77.0. Elliott is as close to a prototypical running back as there is, possessing size, speed, agility and power. His 2.91 yards after contact ranked seventh overall.
Honorable Mention: Jay Ajayi, Miami Dolphins (84.9)
Flex
Tyreek Hill, Kansas City Chiefs (79.1)
Hill was an unsuspected hero for the Chiefs as a 2016  fifth-round pick. Kansas City quickly learned that he could be a mismatch problem anywhere on the field, lining him up wide on 53 percent of snaps, in the slot on 40 percent, and even in the backfield on seven percent. Despite only playing 27 snaps through the first three games of 2016, Hill racked up 12 total touchdowns as a receiver, runner, and return man. Hill was also PFF's highest graded non-kicker/punter special teams player in 2016.
Honorable Mention: Ty Montgomery, Green Bay Packers (74.3)
Wide receiver
Mike Evans, Tampa Bay Buccaneers (93.3)
Evans is one of the rare players to make the list with three full seasons under his belt before his 25th birthday. His three-year résumé speaks for itself, and in 2016, he not only was the most-targeted WR, he was PFF's second-highest graded WR in the NFL. Evans' 2.28 yards per route run were the most for all players under 25 years old.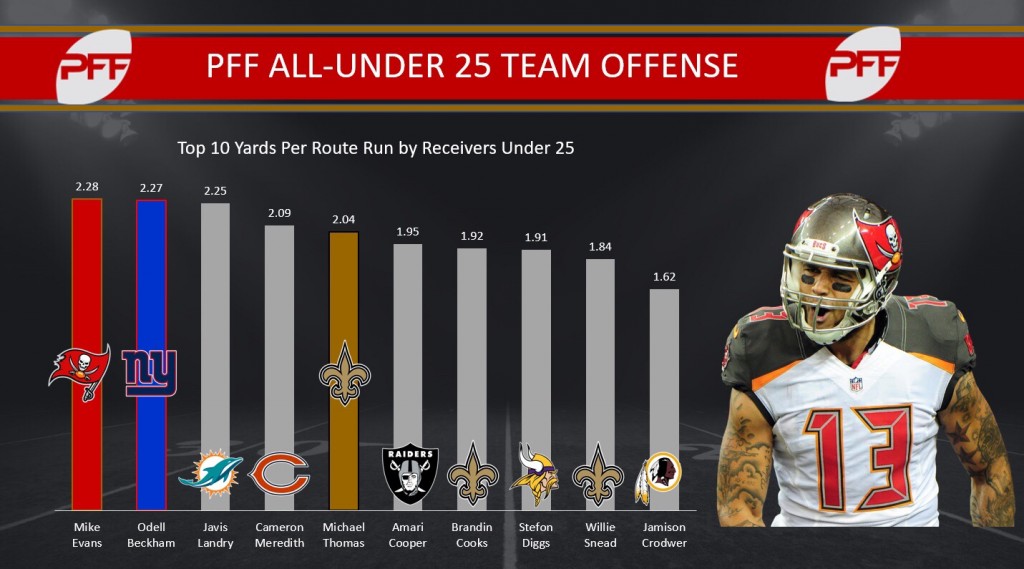 Michael Thomas, New Orleans Saints (87.1)
As a rookie, Michael Thomas was PFF's sixth-highest graded WR and quickly became quarterback Drew Brees' favorite and most reliable target. Thomas' catch rate of 77.3 percent ranked fourth in the league while being targeted more than any player on the Saints. He also was dangerous with the ball in hands, forcing the fourth-most missed tackles among WRs last season, with 20.
Odell Beckham Jr., New York Giants (84.3)
Beckham instantly became one of the game's best wide receivers when he entered the league in 2014. His rookie season was historic, despite missing significant time due to an injury. His 92.3 overall grade in his rookie season is still unmatched as the highest grade for a rookie WR in the PFF era. Beckham also leads all under-25 players in receptions, yards, and touchdowns.
Honorable Mention: Stefon Diggs, Minnesota Vikings (82.6) and Amari Cooper, Oakland Raiders (80.9)
Tight end
Hunter Henry, San Diego Chargers (78.7)
Tight end is historically one of the most difficult positions to transition from college to the NFL; former Arkansas Razorback Hunter Henry defied the trend, however, grading as the 12th-best TE overall in his rookie campaign (2016 season). His 1.99 yards-per-route-run mark was good for sixth-best among all TEs. He showed great positional flexibility, scoring five TDs while running routes out of the slot. (Only Buccaneers TE Cameron Brate recorded more.)
Honorable Mention: Austin Hooper, Atlanta Falcons (73.6)
Offensive tackle
Jack Conklin, Tennessee Titans (88.9)
Conklin's 2016 season was the highest-graded rookie campaign for an offensive tackle in the PFF era (2006 season to present). From Day 1 he contributed at a near-elite level in both pass protection and as a run blocker. As a rookie, Conklin allowed just two sacks, the second-fewest total among 61 offensive tackles that played at least 360 snaps in pass protection last season.
Ronnie Stanley, Baltimore Ravens (81.1)
Stanley is another rookie from the strong 2016 offensive line class that came in and contributed right away. As expected, he was very good in pass protection, earning the 17th-highest pass-blocking grade (84.5) out of 74 eligible OTs. Down the stretch, he was one of the highest-graded tackles in the entire league, and from Week 13 on, he surrendered just seven QB pressures and one sack.
Honorable Mention: Taylor Decker, Detroit Lions (82.4)
Guard
Ali Marpet, Tampa Bay Buccaneers (84.5)
After a decent rookie season, Marpet took a big step forward in 2016, developing into one of the best guards in football. Marpet has become a dominant run blocker, grading among the top five (84.4) at the position in that facet of play. He has also been good in pass protection, earning a pass-blocking efficiency mark of 96.9, which ranked 18th among of 77 eligible guards; he allowed just two sacks.
Shaquille Mason, New England Patriots (84.0)
After a disappointing rookie season in 2015, Mason bounced back in a big way, earning himself a top-15 overall grade at his position at just 23 years old. Like Marpet, Mason has shown a completeness to his game, grading significantly above-average as both a run blocker (83.1 run-blocking grade) and in pass protection (84.2 pass-blocking grade).
Honorable Mention: Trai Turner, Carolina Panthers (71.2)
Center
Cody Whitehair, Chicago Bears (87.2)
Whitehair was a PFF favorite during the 2016 draft season, and he didn't disappoint as a rookie, grading as the sixth-best center in the league. Whitehair was exceptional in pass protection, earning the third-highest PFF pass-blocking grade, at 87.1. His run-blocking grade of 82.2 was the sixth-best mark out of 39 eligible centers. There is no other center under 25 even close to matching the level of production Whitehair put forth as a rookie.
Honorable Mention: Ryan Kelly, Indianapolis Colts (81.0)
Want more Pro Football Focus grades for every NFL player? Be sure to check out PFF Edge for grades, fantasy essentials, and premium content.