Week 8 of the 2016 NFL season is complete, and PFF's grades for every player to take a snap are in the books. Here are the top performances over the week at every position:
Week 8 offense
Quarterback: Tom Brady, New England Patriots, 90.8
Another week, another near-perfect Tom Brady performance. Against Buffalo, he threw four touchdowns, no interceptions, and had a perfect passer rating of 158.3 when kept clean, completing 95.2 percent of his passes from a clean pocket. Brady threw four passes away in the game and had one batted at the line, but on true "aimed" passes, his QB rating was 153.1 over 28 attempts. The Patriots' quarterback has been virtually flawless since returning from suspension.
Running back: Ezekiel Elliott, Dallas Cowboys, 86.0
There were other runners that had far more total yardage, and Chicago's Jordan Howard (84.6) was a very close second in terms of grade, but Ezekiel Elliott finally showed what he can do when the line isn't paving the way for him (like it has done all season). The former Buckeye gained 96 rushing yards versus the Eagles, but 90 of them came after contact, and he broke seven tackles on 22 carries to make that happen (compared to just 11 broken tackles total heading into the game). He also dominated as a pass protector, picking up the blitz and keeping his QB safe in the pocket.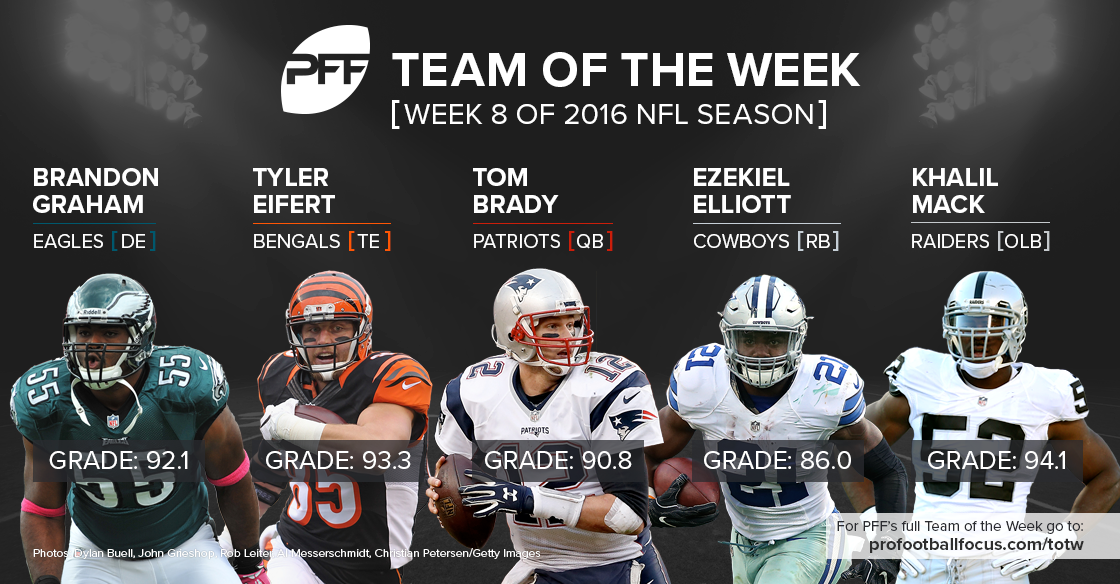 Wide receiver: Mohamad Sanu, Atlanta Falcons, 86.1
Mohamad Sanu was thrown at 10 times against the Packers; he caught nine of those passes for 84 yards and a touchdown, beating eight different defenders to make it happen. In a game where the defense went out of its way to remove Julio Jones, the Falcons needed somebody else to step up, and Sanu did that ably, proving—at least in this game—why Atlanta signed him from Cincinnati in the offseason.
Wide receiver: A.J. Green, Cincinnati Bengals, 83.4
Going up against Josh Norman for most of the game, A.J. Green racked up 121 yards on nine catches from 16 targets. He also drew multiple flags from Norman, including four illegal hands-to-the-face penalties. Green kept swatting Norman's attempted jam away from his body, causing his hands to ride up into the facemask, and the Redskins' top CB never adjusted. Overall, it was an excellent performance from Green against a very good opponent.
Slot receiver: Kendall Wright, Tennessee Titans, 81.8
It wasn't the most prolific day, but Kendall Wright caught four passes for 84 yards and a score against the Jaguars, working the middle of the field and giving Marcus Mariota a perfect passer rating of 158.3 when throwing his way. Wright has played a big part in Mariota's resurgence in recent weeks, and gives the Titans a legitimate receiving threat from the slot, short, and deep down the field.
Tight end: Tyler Eifert, Cincinnati Bengals, 93.3
Tyler Eifert makes the Bengals' offense a completely different proposition to cover. In London, he caught nine passes for 102 yards on 11 targets, notching a touchdown and 52 yards after the catch. Most of the yardage came against Donte Whitner, who just couldn't contend with the level of athlete Eifert is. He also added some positive run-blocking to his receiving day, widening his impact with that dual-threat aspect of his game.
Left tackle: Tyron Smith, Dallas Cowboys, 90.3
Tyron Smith allowed a sack, hit, and hurry on 46 pass-blocking snaps, which isn't poor by any means, especially given how long they took to develop, but he was a straight monster in the run game. The Dallas offensive line overall wasn't as dominant as it usually is, but Smith was a wrecking ball, at one point blocking a safety nearly 50-yards downfield on a run down the left sideline.
Left guard: Ronald Leary, Dallas Cowboys, 80.8
Ronald Leary allowed just one QB hurry on 46 pass-blocking snaps against an extremely formidable Philadelphia Eagles' defensive front. This was far from a vintage week for guard play, though, and Leary makes the team despite barely breaking the 80.0 mark for the game. Still, for a backup guard, that's no simple feat.
Center: Justin Britt, Seattle Seahawks, 85.2
The rest of the Seahawks' line has been a hot mess, but Justin Britt has quietly been having a very good season at his new position. Against the Saints, he allowed no pressure at all on 38 pass-blocking snaps, and was a solid run blocker. The Seahawks averaged 5.4 yards per carry on runs either side of center, albeit just five-carries worth in a game that featured more passing.
Right guard: Brian Winters, New York Jets, 83.9
The Jets' offensive line as a whole was far from good against the Browns, but Brian Winters was a lone bright spot. Winters allowed just one hurry in 39 pass-blocking snaps, wasn't flagged all game, and had some good run-blocking snaps, in particular on double-teams against Browns DT Jamie Meder up the middle.
Right tackle: Jack Conklin, Tennessee Titans, 82.2
Another impressive rookie performance, Jack Conklin was again very good against the Jaguars. He didn't give up any pressure all game, helping to keep Marcus Mariota upright (the Tennessee QB only felt heat on five snaps the entire game). Conklin has been excellent as a rookie and deserves serious ink for his performance that will have surprised many.
Week 8 defense
Edge defender: Khalil Mack, Oakland Raiders, 94.1
This was the first week we saw the 2015 version of Khalil Mack back in full swing. He tore Tampa Bay's tackles to pieces, to the tune of two sacks, two hits, and seven hurries in 35 pass-rushing snaps; Mack also racked up a team-leading five defensive stops and dominated against the run game. The Oakland OLB was one of the league's most well-rounded and dominant forces a year ago, and this was a glimpse of that player once more.
Defensive interior: Akiem Hicks, Chicago Bears, 88.7
Monday Night Football this week was a case study in disastrous offensive-line play, and Akiem Hicks took advantage of it in a major way. Beating up on Vikings RG Brandon Fusco, in particular, Hicks racked up two sacks and four QB hurries, and had some impressive plays in the run game, moving his man into the point of attack and blocking Minnesota's running lanes.
Defensive interior: Jurrell Casey, Tennessee Titans, 87.4
Another player to rack up the pressure without notching a sack, Jurrell Casey was a constant thorn in the side of the Jaguars all the way back on Thursday night. Casey had seven total pressures on 36 pass-rushing snaps, also notching a defensive stop in the run game—he was simply more than the Jaguars could block.
Edge defender: Brandon Graham, Philadelphia Eagles, 92.1
Graham tore Cowboys RT Doug Free to ribbons on Sunday night, tallying a pretty ridiculous 11 total pressures from only 37 snaps rushing the passer. Typically, Graham didn't manage to convert any of them into a sack, so the true impact of his play has been lost to many, but this was one of the more impressive edge-rushing displays of the season from a consistently-excellent player, who now ranks as PFF's No. 1 edge defender.
Linebacker: Deion Jones, Atlanta Falcons, 90.4
Deion Jones looked every bit the stud linebacker this week against Green Bay. In primary coverage, he was thrown at twice, allowing one reception, but the catch lost yardage. He also broke up the other pass and made three defensive stops in the game, flying around the field with the elite speed he possesses—actually putting it to very good use.
Linebacker: Jerrell Freeman, Chicago Bears, 90.0
Chicago's linebackers have been vastly improved via the offseason signings they made to address the position. Against the Vikings, Jerrell Freeman had another excellent game, racking up a team-leading six defensive stops, twice as many as anybody else on the Bears' roster. In coverage, Freeman made a pair of key defensive stops on TE Kyle Rudolph, snaring him before he could get the first down and keep the drive alive.
Cornerback: Lorenzo Doss, Denver Broncos, 88.9
How many quality corners do the Denver Broncos have, exactly? With Aqib Talib out, Bradley Roby stepped up and had a huge game, but he wasn't the only one. Lorenzo Doss was thrown at six times, allowing just two catches and 29 yards while breaking up two passes. He did surrender a touchdown, but it was an overall excellent performance for a player thrust into action.
Cornerback: Jamar Taylor, Cleveland Browns, 87.9
Jamar Taylor was covering Jets' speedster Robby Anderson for most of the game this week, and he held him to just two catches for 22 yards on five targets. Overall he surrendered 79 yards, but he also broke up every incompletion that came his way (four pass defenses), and almost all of the yardage came on one big gain by Quincy Enunwa.
Slot cornerback: Kareem Jackson, Houston Texans, 89.6
Kareem Jackson was thrown at 10 times, allowing eight receptions—which doesn't seem at all good, but those catches went for a total of just 42 yards—and he made four defensive stops in the game to lead the team, shutting down plays before they could move the chains. Cornerback play in the NFL isn't all about preventing catches, but about keeping offenses underneath the first-down markers and forcing punts. This was a great example from Jackson.
Safety: Tony Jefferson, Arizona Cardinals, 89.5
Tony Jefferson was a force against the Carolina Panthers this week in a losing effort for the Cardinals. He broke up two passes in coverage, recorded a forced fumble on RB Jonathan Stewart, drew a holding penalty on RT Mike Remmers, and was generally all over the field in a complete defensive masterclass.
Safety: Devin McCourty, New England Patriots, 86.5
With the trading of LB Jamie Collins, McCourty said that the Patriots had probably lost their best defensive player. I think he was doing himself a disservice, because he certainly belongs in that conversation, as he had another excellent game against Buffalo. McCourty broke up a pair of passes this week, and didn't allow a single catch on the plays in which he was the primary coverage defender.
Week 8 special teams
Punter: Bryan Anger, Tampa Bay Buccaneers
Bryan Anger punted eight times against the Raiders, with four of them resulting in Oakland drives beginning inside the 20-yard line. Two punts went out of bounds, allowing no return possible, and the four that did come back totaled just 33 yards.
Kicker: Caleb Sturgis, Philadelphia Eagles
Three-for-three was the stat line from Caleb Sturgis this week, one of which he nailed from 55 yards as the first half expired.
Special teamer: Miles Killebrew, Detroit Lions
Two special-teams tackles was the tally of Miles Killebrew, making one each on kick-off coverage and punt coverage.
Return specialist: Andre Roberts, Detroit Lions
No return touchdowns this week, but Andre Roberts racked up 134 kick-return yards on five returns, including a 42-yard run-back that gave the Lions good field position.