[As a part of our partnership with ESPN, this story was originally published on ESPN+ and can be viewed in its entirety here with your ESPN+ subscription – Rookie receivers' best routes and how they fit with their new NFL team]
Pro Football Focus not only grades every player on every play of every game in the NFL, but it also expands to every FBS game since 2014.
Using that dataset, we look at how the 13 wide receivers taken in Rounds 1-3 of the 2019 NFL draft and the four first- and second-round tight ends fit with their new teams. We identify each player's highest-graded route run in college last season and provide context of how their NFL team performs when their pass-catchers run those routes.
Best Route: Hitch concepts
Brown saw a whopping 103 targets his way in his final year at Oklahoma, yet only nine of those came on contested situations, as he was able to separate with relative ease and No. 1 overall pick Kyler Murray surely got him the ball in the open field on numerous occasions. Jumping into his route tree, his ability off of a hitch concept stands out. He was targeted on 17 of those, making 15 receptions for 223 yards with 12 first downs and a touchdown. His ability to draw a defender upfield and stop on a dime was apparent, and he forced an additional four missed tackles after the catch while he averaged 14.9 yards per reception even though the average depth of target on these routes was just 9.3 yards past the line of scrimmage.
Unfortunately for Ravens fans, QB Lamar Jackson really struggled to hit hitch routes last year, completing just 8-of-15 attempts for 72 yards and an interception. In fact, he had three of his nine total turnover-worthy plays on hitch targets last year. Maybe having perhaps the draft class' best hitch-route runner as a weapon means better things are coming for Jackson on hitch routes.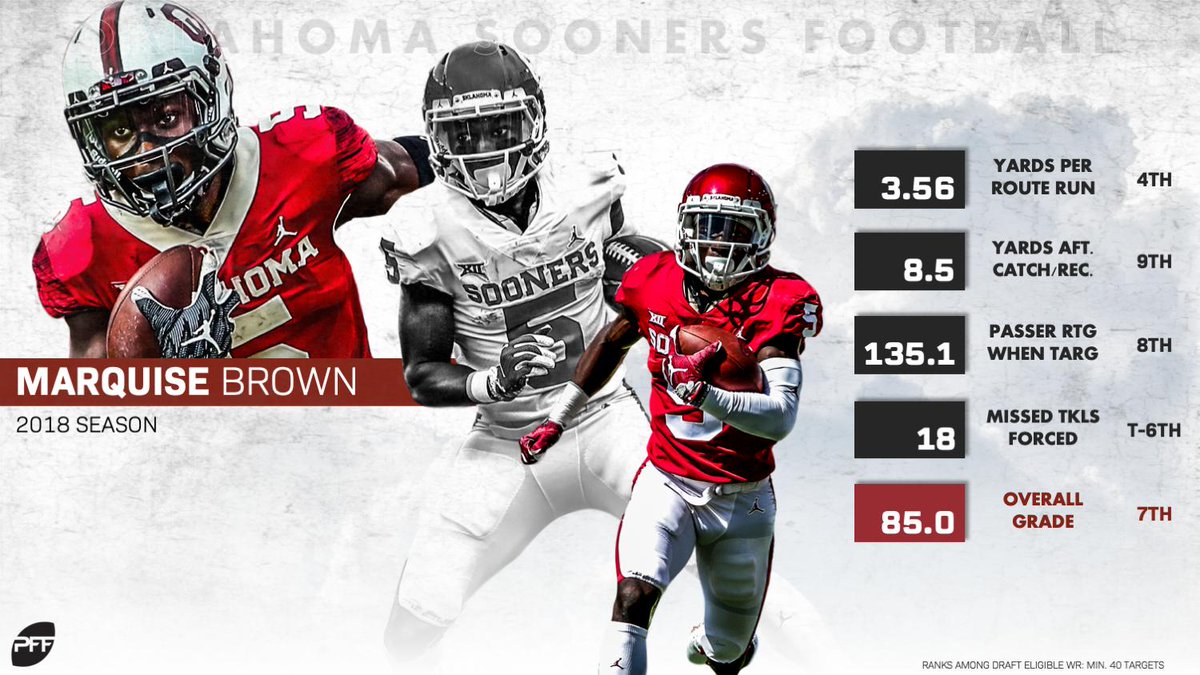 Best Route: In
While he showed a lot of promise on go routes, Harry's best route in his final year at Arizona State was certainly the in route. He was targeted on just 12 pure in routes and made nine receptions, all but one of which moved the chains for a first down or a touchdown. He not only moved his defender off at the break but when there was a contested-catch situation, he made it look easy. Of his 12 targets on in routes, Harry battled through to four contested catches and recorded a ridiculous 21.0 yards per reception.
With New England, Harry has arguably the best situation of any of the rookie receivers listed here, as he gets to haul in passes from Tom Brady in 2019. Brady completed 22-of-33 in routes last season, averaging 11.1 yards per attempt and connecting on one touchdown. It wasn't Brady's best route he targeted last season, but it was far from his worst.
Best Route: Slant
Samuel really dominated on slant routes in 2018, hauling in 7-of-11 targets and racking up the yards after the catch. He forced four missed tackles on those seven receptions and despite seeing an average depth of target of just 7.0 yards past the line of scrimmage, turned those seven catches into an average gain of 31.3 yards. He demonstrated his open-field ability on numerous occasions last year and more likely than not, it was after he hauled in a slant route.
While Jimmy Garoppolo targeted just six slant routes last season, he has shown an ability to throw his man open on slants in the past. Over his career, Garoppolo has completed 28-of-38 slant routes for 356 yards and three touchdowns. A fully healthy year and a big target like Samuel over the middle of the field should only increase those numbers.
Best Route: In
Brown's after-the-catch ability was on full display on limited in-route snaps. Although he ran just 17 in routes last year, he turned seven receptions into seven first downs and 135 yards while forcing four missed tackles in the process. He averaged a ridiculous 8.6 yards after the catch per reception on in routes.
One of Marcus Mariota's better routes a season ago, the former No. 2 overall pick connected on 11-of-17 in routes last year for 210 yards and an average of 12.3 yards per attempt. However, fittingly, Mariota didn't throw a touchdown on in routes while Brown didn't haul in one either.
Best Route: Screen
Not necessarily the most glamorous route to grade high in, Hardman's highest-graded route was on screens last year at Georgia. However, it was how he racked up the yards on screens that saw him grade so well. He turned in 133 yards after the catch on 13 screen targets. He didn't drop a single pass and finished with just 101 yards on the route, meaning he actually worked for 32 more yards than the actual stat sheet showed for his season.
Not necessarily a throw that is going to move the grade needle, Patrick Mahomes had a middle-of-the-pack grade on screen passes last year yet still put the ball where it needed to be and was able to remove some of his now-famous moxie on the ball when it called for it. Hardman is a short-area threat for Mahomes to utilize all of the field but if the play calls for it, is no slouch in space.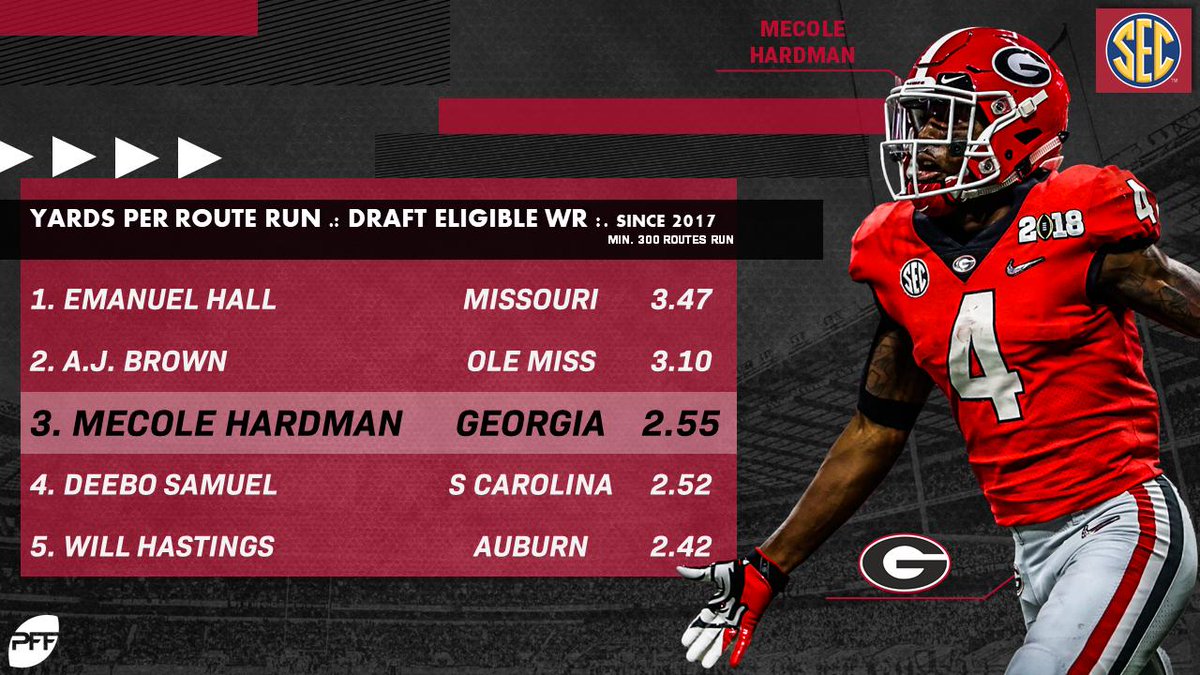 Best Route: Go
This one wasn't even close. Arcega-Whiteside was the draft class' highest-graded receiver on go concepts, including seams, back-shoulder go, end-zone fades and flys that broke off another route. On those go route concepts, Arcega-Whiteside showcased what made us here at PFF come to love him. He has an innate ability to high point the football while also dominating over defensive backs at the catch point. He made 11 contested catches on go routes last year and turned 39 targets into 14 explosive plays of 15 or more yards. All 20 of his go route receptions either moved the chains (eight) or scored six points (12).
This is arguably one of the more perfect matches made in draft heaven as Carson Wentz has been downright tremendous on go routes in his short career. Just last year alone, he threw six big-time throws and despite three dropped passes, completed 12 go routes for 271 yards and two scores. Arcega-Whiteside's ability on go routes and contested-catch situations both in the red zone and in the open field should go a long way at continuing Wentz' development into one of the league's top-end signal-callers.
Best Route: Screen
It's been widely documented that Campbell barely saw targeted passes more than 10 yards downfield and so it should come as no surprise that his highest-graded route was on screen passes. He hauled in all 24 of his screen targets and gained 337 yards after the catch. His quicks and shiftiness paid dividends in Ohio State's short-area passing attack in 2018, as he averaged 12.3 yards per reception on screen passes and 10 of his 24 screen receptions moved the chains.
Similar to Mahomes above, screen passes are hardly going to move the needle for quarterbacks in terms of grade; however, Andrew Luck completed 41-of-44 screens a season ago and didn't make any poor decisions with the ball on screen targets. He now adds one of the draft class' best at turning ordinary screens into something extraordinary to complement T.Y. Hilton.
Best Route: Go
Isabella was a pick-your-poison kind of guy when it came to his route tree. He was dominant on screens, incredibly efficient on hitch routes but was the only draft-class receiver who came close to Arcega-Whiteside's production on go concepts. On 22 targets, Isabella racked up 597 yards on 13 receptions, as every single one of his go route receptions moved the chains (seven first downs) or scored six points (six touchdowns). Isabella is more than just a slot weapon, and his downfield ability on go routes proves just such.
Isabella's new quarterback, and new starter in Arizona, Kyler Murray was seemingly unstoppable on go routes last year. Murray connected on 39 go route concepts for 925 yards while he threw 15 of his 29 big-time throws on the route. Murray has an innate ability to put touch and zip on the ball at the same time and despite targeted passes an average of 21.7 yards past the line of scrimmage on these routes, still fielded a ridiculous 62.0% adjusted completion percentage (PFF's metric that accounts for incompletions outside of the quarterback's control).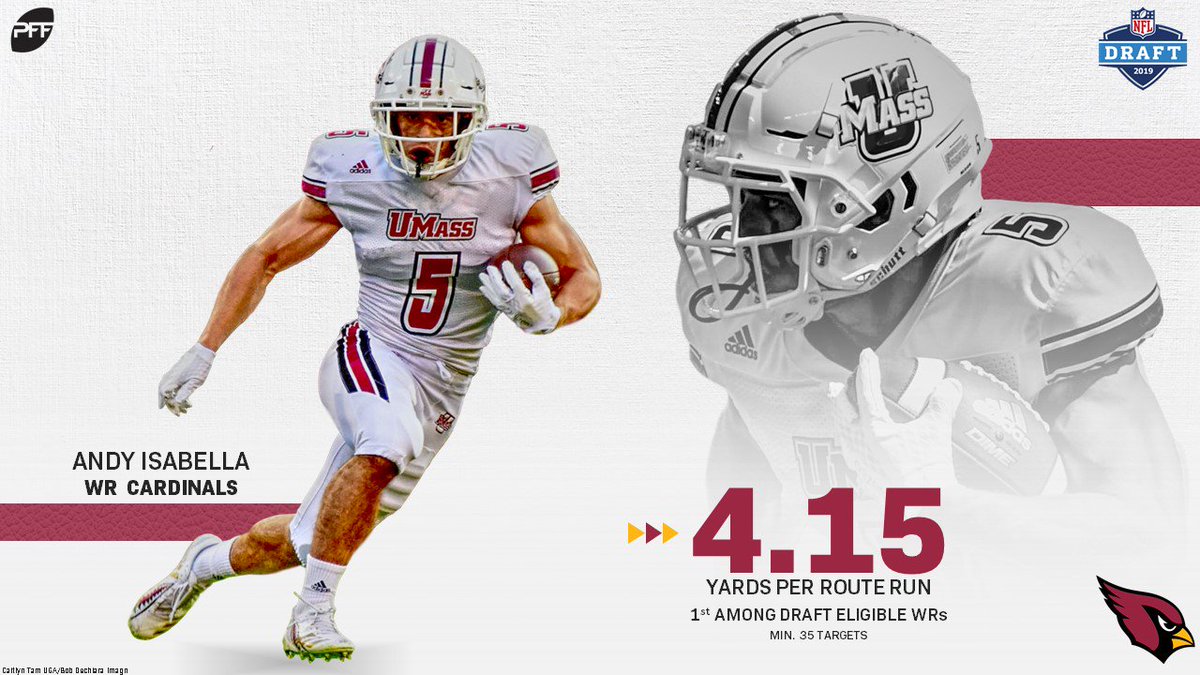 Best Route: Go
Widely documented that he lacked a full route tree coming out of Ole Miss, Metcalf's vertical route tree is something to behold. Within that was his ability on go routes and 100% of his go route receptions ended in a first down or touchdown last year. He averaged 44.7 yards per go route in 2018 and scored three touchdowns on such, coming down with one of the nation's more impressive highlight reels in the process.
Luckily for Metcalf, he landed in Seattle with a quarterback in Russell Wilson who has been as good as it gets when targeting the go route. Since 2016, Wilson has completed 39 go routes — tied for the most among quarterbacks in that span — for 1,245 yards and 28 big-time throws. His completion percentage of 39.4% on these routes ranks first among the 24 quarterbacks with at least 50 attempts since 2016, and his 103.0 passer rating on these throws ranks third.
Best Route: In
Not too dominant across many routes in 2018, Johnson's biggest successes came on in-breaking concepts, where beat his defender with a quick step at the break and located the ball nicely. Despite a downgrade in quarterback play from years past last season at Toledo, Johnson hauled in four first downs and two touchdowns on in routes, averaging a ridiculous 17.5 yards after the catch per reception.
Johnson's influence in the Pittsburgh lineup may help Ben Roethlisberger in 2019, as the longtime Steelers signal-caller threw more turnover-worthy passes on in routes than any other concept last season. His receivers did him no help on the route concept, though, as they combined to drop two of his 21 catchable in route targets, something Johnson has not done since early 2017 on in routes.
Best Route: In
Dominating from the slot, Hurd took to the position switch at Baylor very nicely after spending years at Tennessee as a running back. On in routes alone, he hauled in 13 receptions and 12 first downs while he forced four missed tackles in space. He's a threat to get open with his big frame on just about any route but he really showed that on in routes over the middle of the field that he's taking to the receiver position nicely.
On just limited time last year, Garoppolo still attempted 77 in routes and completed 51 of them for 714 yards. It was one of his higher-graded route concepts during his injury-shortened season and Hurd's insertion gives him now a legit threat over the middle from the slot.
Best Route: Go
McLaurin and Dwayne Haskins developed quite the rapport on the deep ball in Columbus a season ago, and they will look to do it again in the nation's capital. Haskins connected with McLaurin five times, each of which went for an explosive play of 15 yards or more as Haskins averaged 35.4 yards past the line of scrimmage on his nine go attempts to McLaurin. This connection was one of college football's most underrated combinations, but it hasn't taken long for the NFL world to recognize as they've now quickly become one of rookie minicamp's most polarizing stories.
Best Route: Go
Not afraid to use his big body to go up and get the tough 50-50 balls, Boykin was at his best on go routes in 2018. On 27 go route targets, he made 13 receptions, including six contested catches and recorded 11 explosive plays. Each one of his go route receptions moved the chains or scored a touchdown for the Fighting Irish, as his ability to read and process the ball in the air is almost uncanny.
Good news for Ravens fans here: There's only one way to go for Lamar Jackson's go route numbers from last season. He attempted all of eight go routes during his rookie season and completed just three with an interception in the mix. His 45.8 passer rating on the route showcases all one has to know, as 39.6 is the rating a quarterback gets for simply throwing the ball in the dirt instead.
Best Route: Crossers
Hockenson had one of the more impressive resumes on crossers in the entire draft class, even if he finished the year with just five receptions on the route concept. He turned those five receptions into 135 yards with a touchdown and four additional first downs. He was able to separate at the catch point better than most while his speed was demonstrated as he routinely ran by linebackers through the middle of the field and averaged 13.8 yards after the catch per reception.
Just another reason why Hockenson fits perfectly in Detroit, one of Matthew Stafford's best and most frequently targeted route concepts were crossers over the past three seasons as he's completed 109 of the 165 crossing routes he targeted. Despite 13 dropped passes on the route, he has still managed 1,520 passing yards and accompanied those with five big-time throws since 2016.
Best Route: Crossers
Just like his teammate above, Fant really showed what he could do by averaging 14.7 yards per reception on crossing routes. He scored two touchdowns and secured four first downs in the process as he saw a near-perfect 153.7 passer rating when targeted on crossers.
Joe Flacco attempted just 37 crossers a season ago but they've been a big part of his repertoire over the past few years, accounting for 12.5% of his passes since 2016. Last year alone, Flacco connected on 26 of the 37 attempts and finished with a respectable 81.1% adjusted completion percentage. Fant's big frame across the middle and speed to burn linebackers should pair nicely but only time will tell if Flacco's best days of crossing patterns are behind him or not.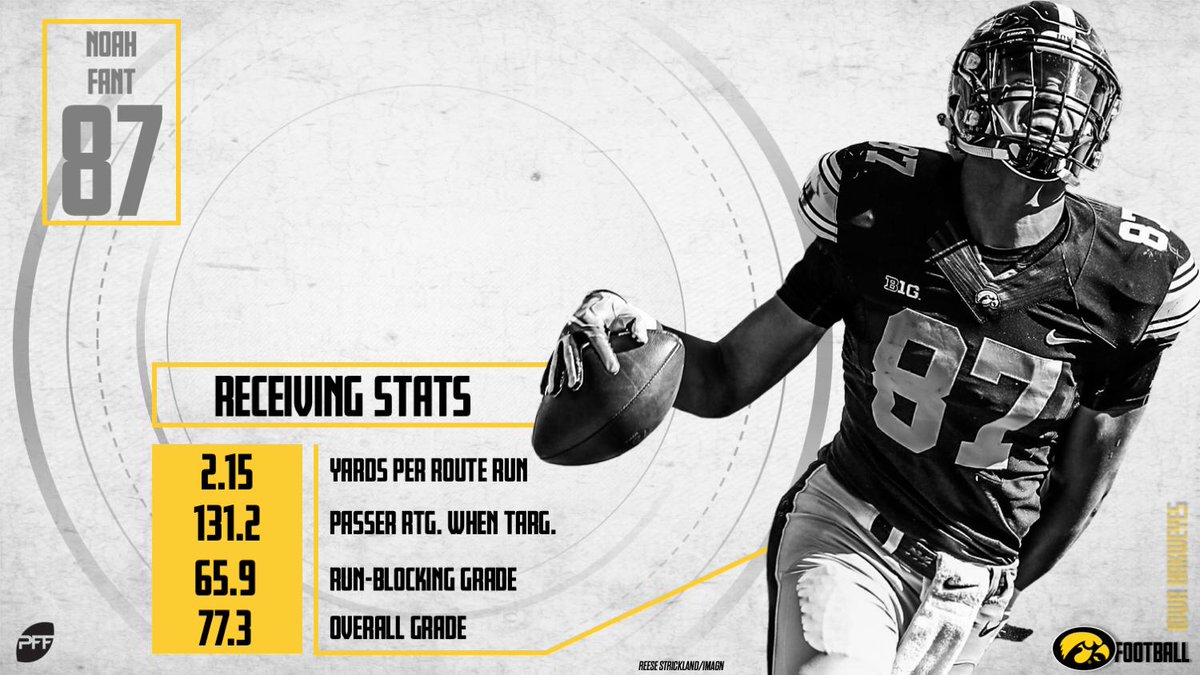 Best Route: Corner
Smith demonstrated an ability to run away from linebackers or slot defensive backs in coverage, as he was almost equally impressive on post routes as he was on corners. However, topping the charts for him was his grade on corner routes and post-corners as he hauled in 5-of-8 targets for 113 yards, three touchdowns and made two contested catches in the process. Tua Tagovailoa and Smith generated quite the rapport on the route as Tagovailoa routinely hit the open field where Smith used his speed to find and track the ball near perfectly.
Kirk Cousins launched three big-time throws on corner routes last year in his first season with Minnesota, connecting on 9-of-14 for 145 yards. With one of the league's top receiving duos occupying a lot of deserved attention, Smith may be free to run wild over NFL linebackers on corner routes as he's demonstrated in SEC play before.
Best Route: Hitch
This one was tough, as Sample was targeted only 35 times last season and made just 25 receptions. While his top route may be the hitch, his best skill is certainly his run blocking, but that isn't why we're here. Sample caught 28% of his total receptions on hitches and gained just 46 yards in the process. Still, he was able to separate at the top of his routes more often than not and if Andy Dalton could harness that as he has in the past, Sample could surprise with his receiving ability. Dalton completed 21-of-25 hitch routes last year for 178 yards and two scores.