The Chicago Bears entered Week 4 with PFF's top-ranked defensive unit and only solidified that standing with its 48-10 drubbing of the Tampa Bay Buccaneers on Sunday. The Bears' defense impressively leads the PFF rankings in both our run-defense and coverage grades while ranking second in pass-rush grade.
The offense's performance was not nearly matching that of the defense during their 2-1 start, which included a lost lead in Green Bay and two close, low-scoring affairs against Seattle and Arizona. That changed in a big way during Week 4, with the Bears' offense exhibiting an explosive performance. That unit was led by second-year quarterback Mitchell Trubisky, who easily posted the highest-graded performance of his young career, earning a 93.7 overall grade on the day.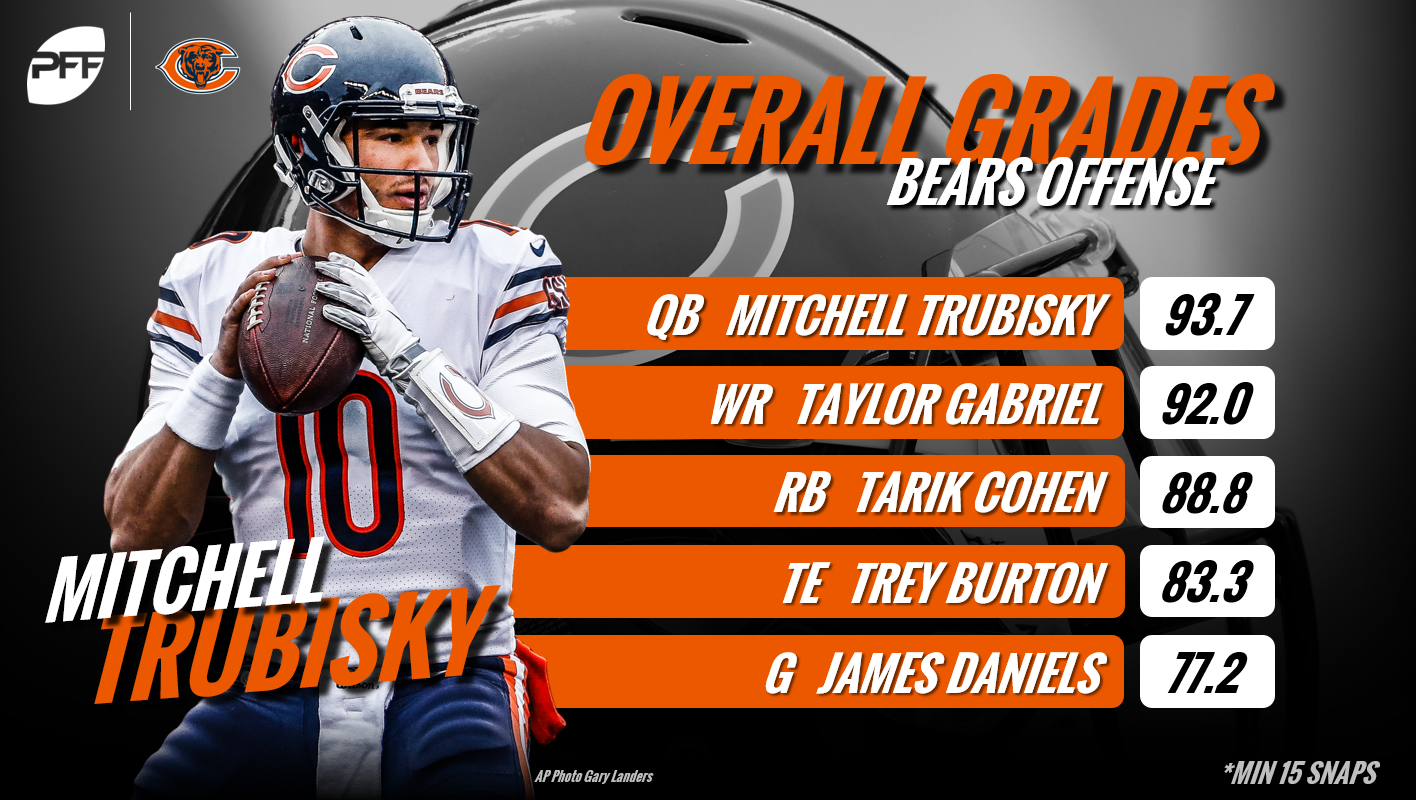 The Bears' personnel and coaching staff both went through wholesale changes this offseason, and it finally looks like new head coach Matt Nagy has taken the training wheels off of the second overall pick in the 2017 NFL draft, who is deploying Nagy's modern West Coast scheme while being surrounded by a much-improved supporting cast.
The potential of this 2018 iteration of the Bears' offense was flashed in a serious way on Sunday, with Trubisky throwing for 289 yards and five touchdowns in the first half alone. He finished with 354 yards and six touchdowns after entering the week with just two touchdown passes (and only nine in 15 career games).
This was truly a leap for Trubisky, who finished his 2017 rookie campaign with a 66.4 overall grade and entered this game with his season-high grade being a 52.6 earned against Green Bay in Week 1. He notably took advantage of the strong pass protection to take well-placed deep shots (20+ yards downfield), where he was seven-of-eight for 218 yards and three touchdowns, giving him the most deep completions and yardage of any quarterback in a game this season.
For good measure, Trubisky also tied for the team lead with 53 rushing yards across his one scramble and two designed runs, adding another dimension to the well-rounded Bears offensive attack.
It certainly helped that he was only pressured on four of his 28 dropbacks, giving him the lowest pressure rate of any quarterback this week. He was also facing an underwhelming Tampa Bay defense that is currently ranked 26th as a unit. Nonetheless, the 300-yard, six-touchdown performance stands out as an accomplishment that's only been done 31 other times in NFL history.
Time will tell whether this is an inflection point in Trubisky's career that propels him to the upper echelon with the likes of Jared Goff, who was the only signal-caller that earned a higher grade than Trubisky in Week 4 and is PFF's top-ranked quarterback through the first quarter of the season.
Similarly, Goff struggled as a rookie quarterback under an outdated coaching regime before taking quantum leaps forward in his first and now second season under a new, innovative head coach doubling as the offensive coordinator. With the Bears' dominant defense, the Bears may serve as the toughest competition to Goff's LA Rams in the NFC if Trubisky's emergence continues.