Strong contributions from your rookie class is something that is desired, but it is also considered a bonus of sorts. When undrafted free agent rookies make strong contributions, it is certainly considered a bonus. The Buffalo Bills hit on those undrafted free agents in 2018.
Rookie cornerback Levi Wallace led all Bills rookie defenders in overall grade at 83.5, while first-year wide receiver Robert Foster led all rookie offensive players on the team in overall grade at 72.1. It wasn't just team-wide that they ranked well, though; Foster ranked second among all rookie wide receivers in overall grade behind just D.J. Moore, and Wallace's 83.5 grade led all qualifying rookie cornerbacks.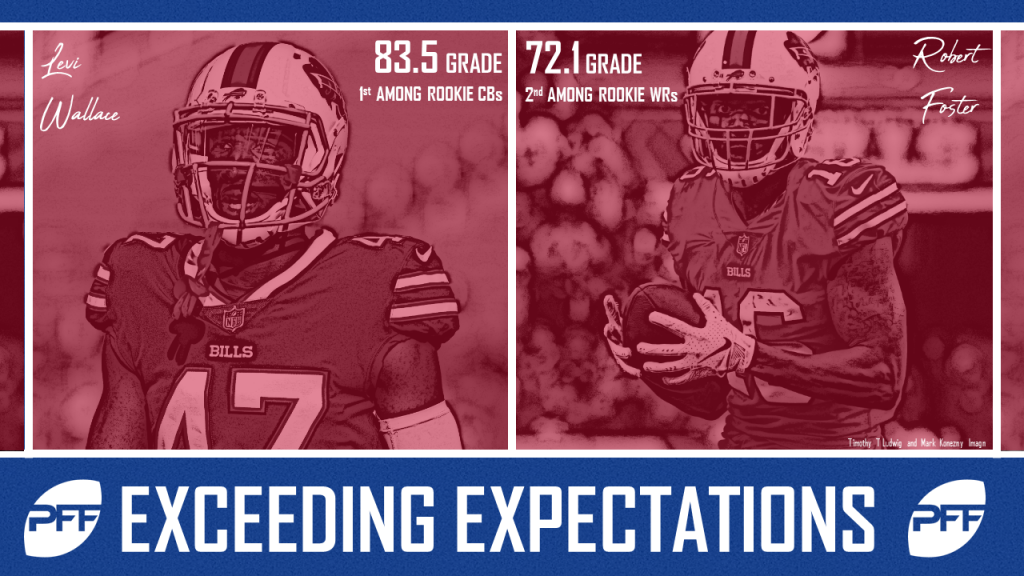 Two rookies out of Alabama, overlooked, came to the NFL to show that they deserved a draft selection with their play in Buffalo.
Foster is an interesting case coming out of Alabama – looking at his production and play on the field it isn't all that surprising that he went undrafted. In his first three seasons at Bama, Foster never played more than 105 offensive snaps in a season. In his 2017 senior season, his snap count jumped all the way to 499 offensive snaps, but his overall grade fell to 48.6. He had more run-blocking snaps (259) than he did routes run (240). He was only targeted 26 times, catching 14 of those while dropping another three.
Yet, his 6-foot-2 frame combined with 4.41 speed was enough to intrigue the Bills. A year later, they'll be glad that Foster is on their sideline rather than someone else's. He saw 15 or more snaps in each of the first four weeks of the season, but he didn't start seeing significant playing time until Week 10 – that is when he started to show how dangerous he can be. From that point on, only Zay Jones saw more snaps at wide receiver than Foster for the Bills. He was firmly established as one of the top two receiving options on the team and a favorite of fellow rookie teammate Josh Allen on passes deep downfield.
If you look at the leaders in deep receiving yards – otherwise known as receptions on passes 20 or more yards downfield – you can see just how prolific Foster was as a deep threat. From Week 10 through Week 17, this is the list of most receiving yards on such passes.
T.Y. Hilton – 430 yards
Tyreek Hill – 405 yards
Antonio Brown – 348 yards
Robert Foster – 304 yards
Tyler Lockett – 291 yards
Not bad company for a UDFA who had caught just 14 passes total in college the previous season.
Like Foster, Wallace didn't play a large role until the season prior to entering the draft. Unlike Foster, though, he did have a strong performance in his final collegiate season with an overall grade of 81.4. He allowed just 44.9% of the passes against him to be caught while notching 12 pass breakups and three interceptions in his final season at Alabama. Despite that, he too went undrafted, allowing the Bills to pick him up post-draft.
His NFL career didn't begin until Week 10 when he played 56 defensive snaps against the New York Jets, but Wallace made sure to make the most of his opportunity down the stretch. He played 416 defensive snaps over the last seven games. Over those seven games, Wallace routinely shut down his assignment, allowing fewer receiving yards per coverage snap (0.45) than any other NFL cornerback with at least 150 coverage snaps over that stretch. Part of that was that he simply wasn't targeted. Wallace went 10.9 coverage snaps per target, which was the fourth-highest mark in the league post-Week 10 behind Patrick Peterson, Richard Sherman and Casey Hayward Jr. Once again, not bad company to be keeping for an UDFA rookie.
Foster and Wallace exceeded expectations in their jump from 'Bama to the NFL. They'll look to build on that in their second season, having proved that they belong as rookies.