While the Baltimore Ravens' 2017 season ended thanks to an Andy Dalton-Tyler Boyd touchdown connection on fourth down in the season finale against their divisional rival Cincinnati Bengals, the Ravens struggled all season with issues on the other side of the ball.
Quarterback Joe Flacco was our 24th ranked passer in the NFL, but their issues on offense went well beyond the former Super Bowl MVP signal-caller. To their credit though, despite being fairly tight against the salary cap, they have made plenty of moves this offseason with a view of turning their offense around, both in the short term and the long term.
Wide Receivers
Mike Wallace was the team's leading receiver with 748 yards in 2017 and highlighting just how little the Ravens got out of their passing game, he was the only player on the roster to produce over 530 receiving yards. They added Jeremy Maclin prior to the start of last season, but after producing a PFF grade of just 73.3, they opted to release him after just one season in Charm City. Wallace, our 51st ranked receiver with a PFF grade of 74.5 wasn't re-signed either and with the struggles from former first-round draft pick Breshad Perriman, who dropped four of the 14 catchable passes thrown his way, the Ravens very quickly had open spots at their top three wide receiver positions.
They opted to address the need not through an early draft pick, rather through free agency. This made sense for a number of reasons. First off, the NFL draft didn't have a clear No. 1 wide receiver with Alabama's Calvin Ridley our highest ranked receiver on our big board at No. 23. Similarly, when the draft rolled around, D.J. Moore was the first wide receiver off the board at pick 24, while he and Ridley were the only two receivers drafted in the first round. Secondly, the Ravens have failed to draft a successful wide receiver in the first round of the NFL Draft since arriving in Baltimore in 1996. Injuries and on-the-field struggles meant that the trio of Travis Taylor, Mark Clayton and Perriman have failed to work out.
Instead, the Ravens brought in Michael Crabtree, John Brown and Willie Snead to fill the top three spots at the position. While neither of the three is going to scare opposing defenses like a true No. 1 receiver can, they all have the ability to be solid, productive receivers, with skillsets that complement each other well. While not a big-play threat, Crabtree has been productive with the ball in his hands, forcing 102 missed tackles on 621 career receptions.
Injuries caused Brown's career to stall, but if he can get back to his 2015 form, where he picked up 370 yards on throws 20-plus yards downfield, he is the type of downfield threat that can create big plays or at least give the Ravens the opportunity to pick up field-position-changing pass interference calls. During their Super Bowl run in 2012, the Ravens attempted 92 passes of 20 yards or longer in the regular season, while Flacco threw 11 touchdowns and zero interceptions on those throws. In 2017, he attempted just 47 throws of that distance. While Flacco's career is definitely trending down, giving the team the opportunity to make plays downfield is something they have to do a better job of in 2018, and Brown potentially does just that.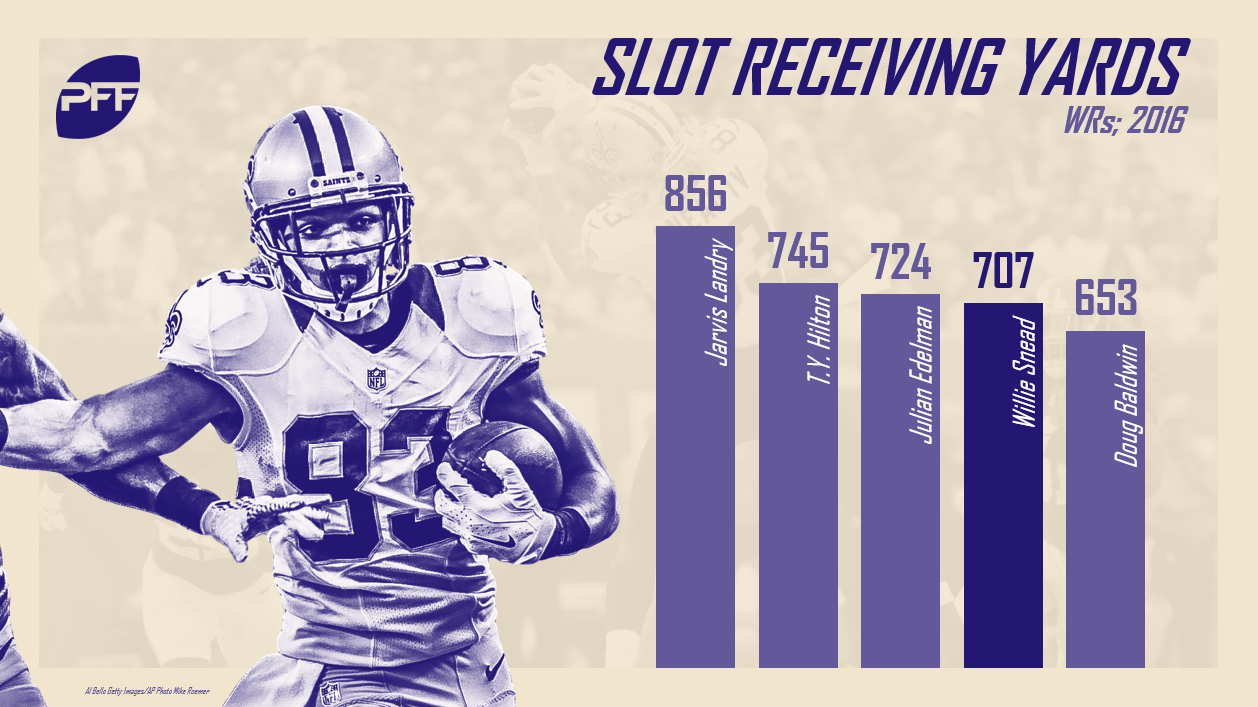 Finally, Snead joined the league as an undrafted free agent and while he is coming off a career low 56.0 PFF season grade, he impressed with an 84.1 grade in 2016 where he ranked fourth in the NFL with 707 yards when lined up in the slot. Ravens' fans will remember how much success they had with Anquan Boldin working out of the slot in 2012, so adding another strong slot receiver is a good way to go in trying to help out Flacco.
They also added New Mexico State's Jaleel Scott and UCLA's Jordan Lasley in the fourth and fifth rounds of the draft with the two ranking as the 162nd and 136th players on our big board respectively. While any initial production is likely to be limited, there is talent there to be developed.
Tight ends
The Ravens used two picks in the first three rounds on the tight end position, and both players figure to be see significant snaps in their rookie year, with skillsets that complement each other well. First-round draft pick Hayden Hurst was not a 'sexy' draft pick out of South Carolina and was drafted a little high based on our big board, but he does bring a safe pair of hands to Baltimore. He did not have a drop from 43 catchable passes in 2017 and he also excelled on contested targets, something that will be perfect for working with Flacco.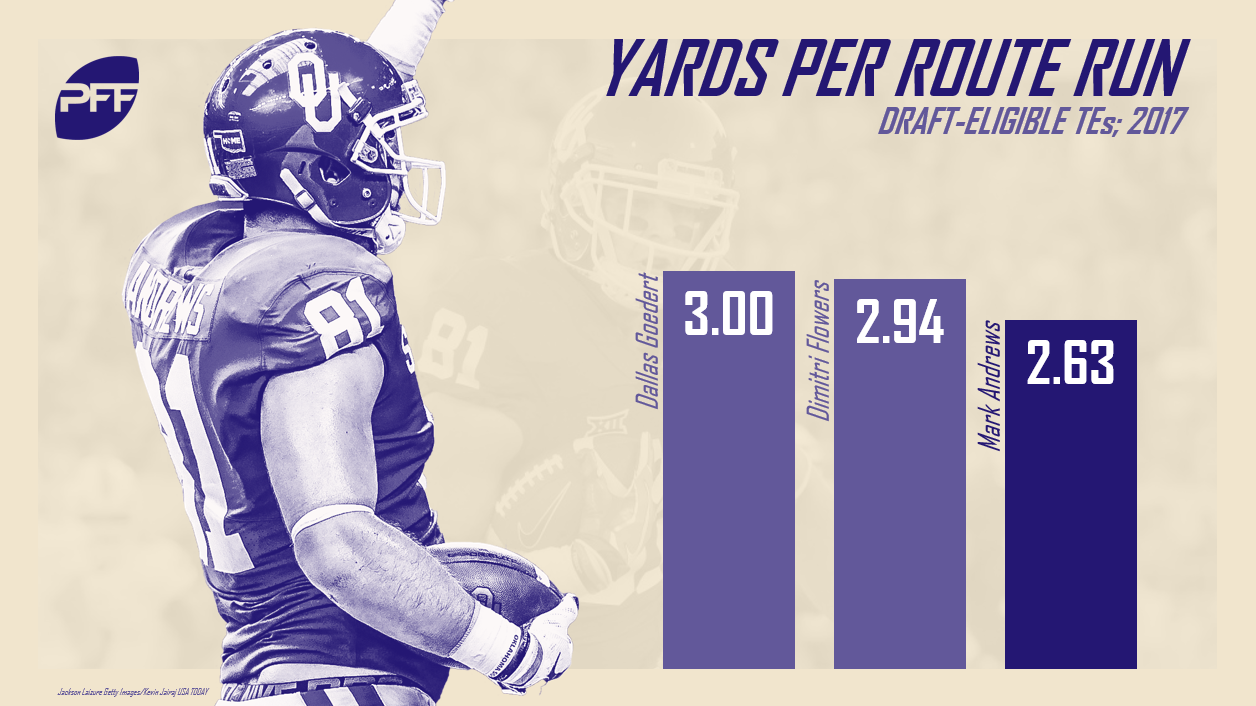 Third-round draft pick Mark Andrews is more of a move tight end than Hurst, and it's more likely that we'll see him spend time in the slot for the Ravens. Dynamic as a receiver as Oklahoma, Andrews averaged 2.63 yards per route run, the third-most among tight ends in the draft class. He wasn't quite as sure-handed as Hurst, with three drops from 65 catchable passes, but his hands are certainly not something to be concerned about.
Offensive Line
In recent years, the Ravens have lost the NFL's second-highest paid left guard in Kelechi Osemele, the second-highest paid right tackle in Ricky Wagner and as recently in this offseason, the NFL's highest paid center in Ryan Jensen through free agency. While Jensen was somewhat overpaid after being our 9th-highest graded center in 2017, that's still three players who ranked among the top 10 players at their position last season that the Ravens couldn't afford to, or chose not to, re-sign in free agency in recent years.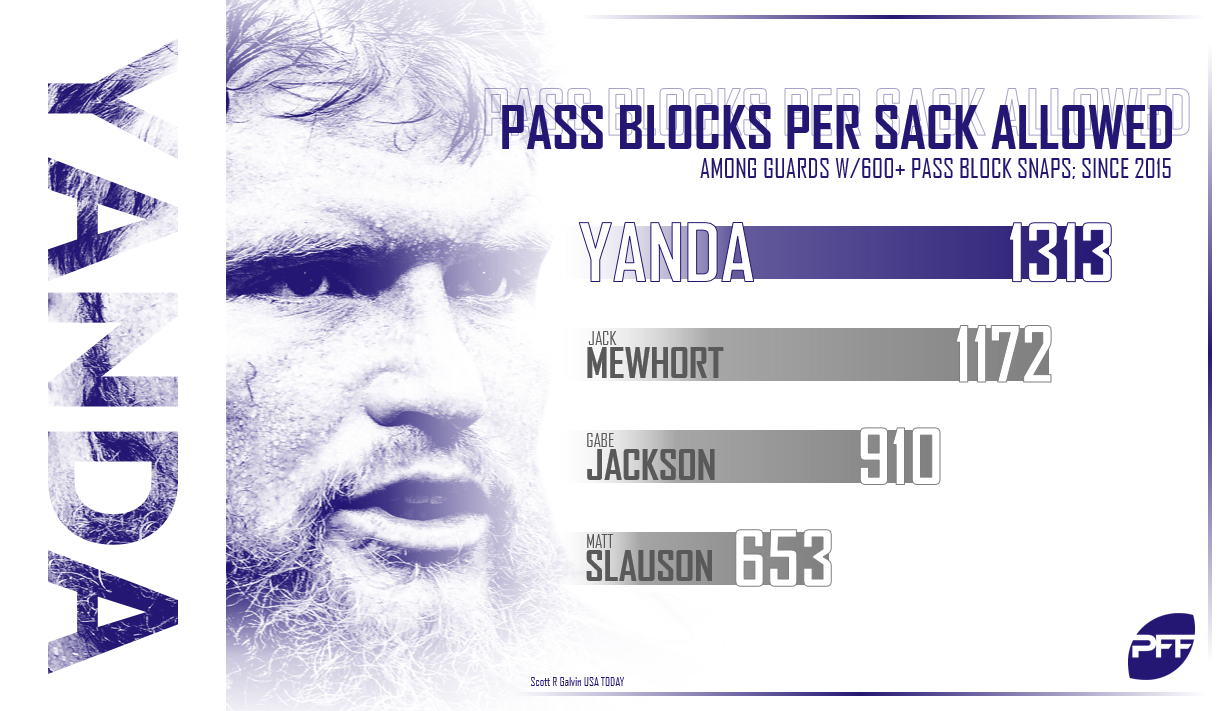 Right guard Marshal Yanda has enjoyed a Hall of Fame level career, but last season was cut short to injury after just 102 snaps. His return can't be overstated. Provided he's back to the level he has shown throughout his career, the Ravens are adding a top 10 player (per the PFF 50) in the NFL.
Right now it seems locked that left tackle Ronnie Stanley, Yanda and Alex Lewis (also returning from injury) will be starters, and if Lewis starts at left guard and not right tackle, it's paved the way for two rookies to start on the offensive line. Center Bradley Bozeman will likely compete with Matt Skura (37.3 grade in 2017) to start at center while Oklahoma's Orlando Brown could slot in at right tackle. Brown had a poor showing at the NFL combine, but ranked 10th in the draft class with a pass-blocking efficiency rating of 98.2, with just 11 pressures surrendered in 2017.
The future: Lamar Jackson
While much of this offseason was focussed on finding help for Flacco and the Ravens offense in the short term, the team took a dramatic look to the future when they traded back into the first round to select Louisville QB Lamar Jackson. Jackson is far from the finished product and missed too many throws in 2017, but there is a lot to work with. He showcased good zip to make tight-window throws and produced 849 yards, along with 10 touchdowns, on throws 20-plus yards downfield.
As PFF's draft lead analyst Steve Palazzolo wrote before the draft, Jackson is the type of quarterback you can – and should want to – build an offense around. His athleticism is beyond special and the fact that he can extend plays and then make big-time throws downfield is more than enough to make up for his inconsistencies as a passer. The big question will be how the Ravens adapt their offense to suit his playing style, and when they install him into the starting lineup.
Regardless, with hope for the future, and a lot of new faces for the 'right now,' the Ravens offense will be interesting to watch develop in 2018.