Denver Broncos CB Aqib Talib was recently named the winner of Pro Football Focus' Best Coverage Defender Award for the 2016 NFL season. To see the winner of every PFF award, visit our NFL awards page.
The 2016 Denver Broncos' roster featured one of the highest-graded cornerback tandems we've ever seen at Pro Football Focus. In fact, Chris Harris Jr. and Aqib Talib's combined grade was the highest we've ever seen since the mark set by Darrelle Revis and Lito Sheppard for the Jets in 2009 (although that was almost all Revis). Together, the Denver duo gave up fewer yards (750) than nine other individual cornerbacks this season. Picking between them for the top coverage player in the NFL was a near-impossible task, but in the end, Aqib Talib's stinginess around the goal line gave him the nod.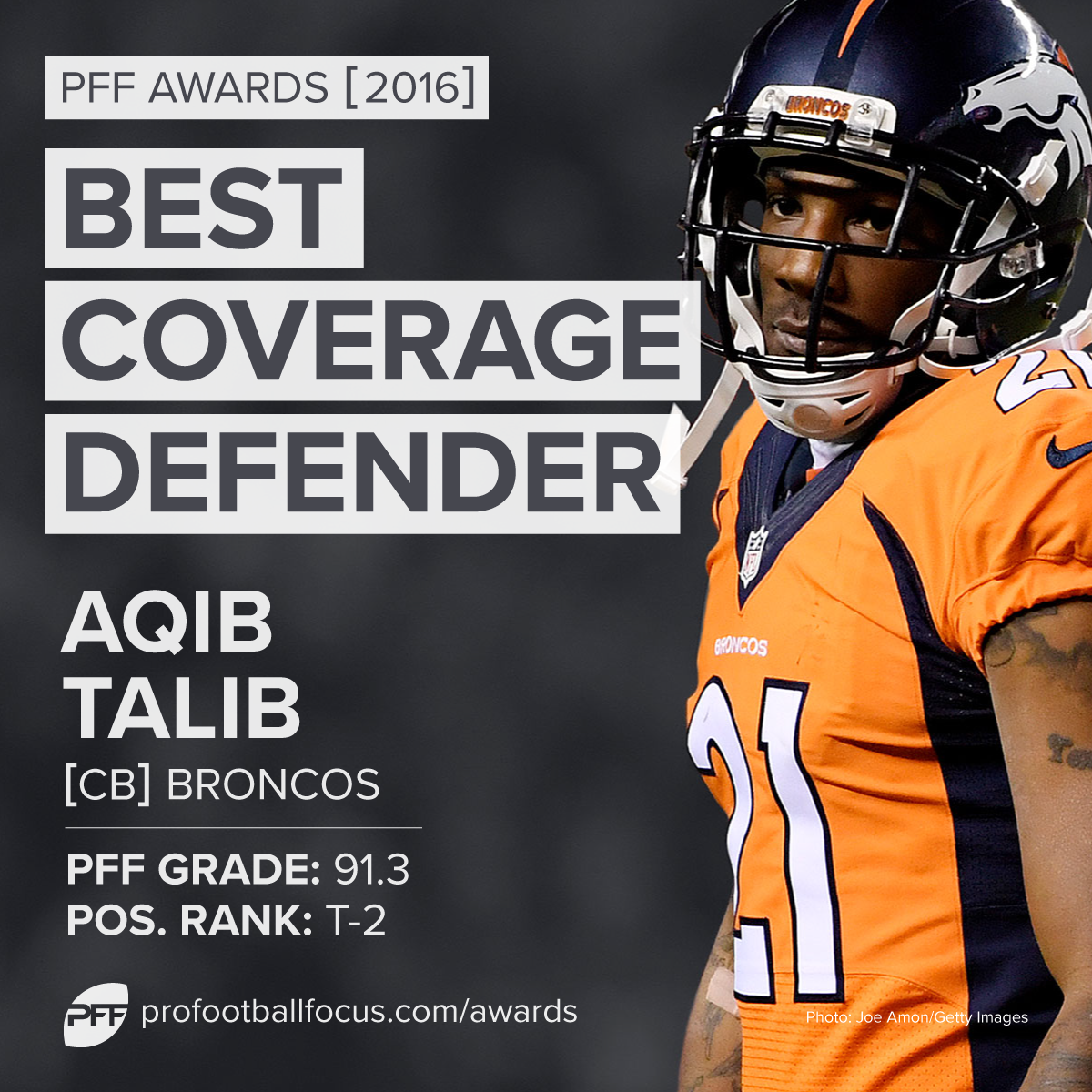 The former Kansas Jayhawk cornerback has been one of the most talented corners in the league ever since he first stepped onto an NFL field in 2008. Talib's week-to-week consistency, though, was always his biggest question mark. He would lock down an elite receiver one game, then get torched for 100+ yards the next. It really wasn't until this season in Denver that those lulls stopped, seeing the dominant talent that Talib possesses shine on a weekly basis.
Even at his absolute worst, Talib didn't allow more than 43 yards in a single game all season long. In eight of his 13 starts, he allowed two or fewer catches. He was also the only full-time starting cornerback not to allow a touchdown all season long. Those stats are nothing short of incredible, but they don't stop there. Talib would finish seventh in catch rate (53.0 percent) and second in passer rating against (49.5) for what was easily the most impressive statistical season for any corner this year.
While Talib didn't regularly follow opposing receivers this season, it wasn't like he had an easy go of things. The Broncos played man coverage on 48.8 percent of their defensive snaps this season, the fourth-highest rate of any team in the NFL. When Talib did play man, he was the definition of a lockdown corner. He allowed only 14 receptions for first downs on 39 such targets and one reception that went for 20 or more yards. Talib simply did not get beat down the field in 2016.
The jaw-dropping numbers for Talib go on and on. While teammate Chris Harris Jr. was his nearest competition, Patriots safety Devin McCourty and New York Giants cornerback Dominique Rodgers-Cromartie deserve recognition for their outstanding seasons as well. In the end, though, Talib's level of play on a snap-for-snap basis was too much for them to overcome. It's scary to think that Denver has their duo locked up through 2019—meaning the no-fly zone isn't going anywhere anytime soon.