Bigger. Faster. Stronger.
The foregone conclusion across many of today's sport is that the bigger your frame is, the faster you may be, the stronger you are, the better you will be. Long thought as the best receiver in football, Calvin Johnson embodied those traits.
Now, however, in today's pass-happy NFL, this is not necessarily the case.
Smaller-framed, shiftier receivers who can create even the slightest separation are the new prototype at wide receiver, and no one epitomizes this better than Pittsburgh Steelers WR Antonio Brown, PFF's top receiver for the 2017 season.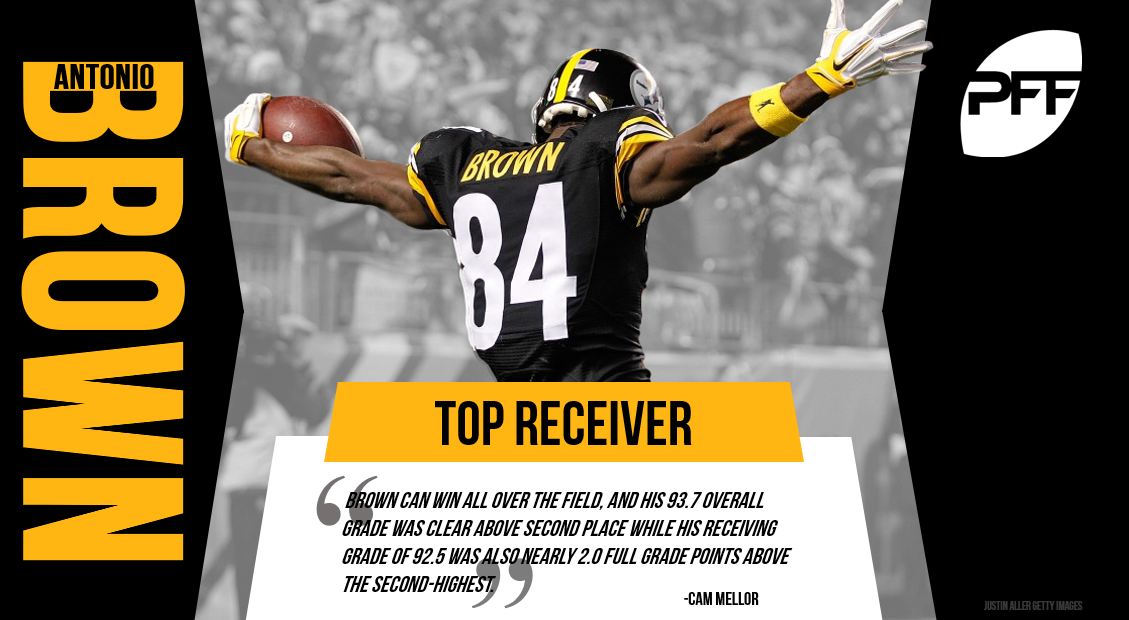 He may only check in at 5-foot-10, but Brown may as well cause as many nightmares for opposing defensive coordinators as a Calvin Johnson-, Julio Jones-type receiver does, if not more. His 93.7 overall grade was clear above second place (Jones, 91.6) while his receiving grade of 92.5 was also nearly 2.0 full grade points above the second-highest (Michael Thomas, 90.6).

He can win all over the field — he caught a touchdown pass from four different alignments on offense. The variation and utilization of Brown in the Steelers' offense is arguably what makes him so difficult to defend, but in the simplest of terms, Pittsburgh allows Brown to be his versatile, athletic self to exploit potential mismatches all across the field.
In 2017, Brown lined up at 10 different alignments, was targeted from eight of those positions and hauled in multiple receptions from five. He saw a total of 21 targets from the slot but did the majority of his work from outside, racking up 85 receptions for 1,295 from an outside receiver position.
However, what made Antonio Brown the best receiver this season was his prowess across the route tree.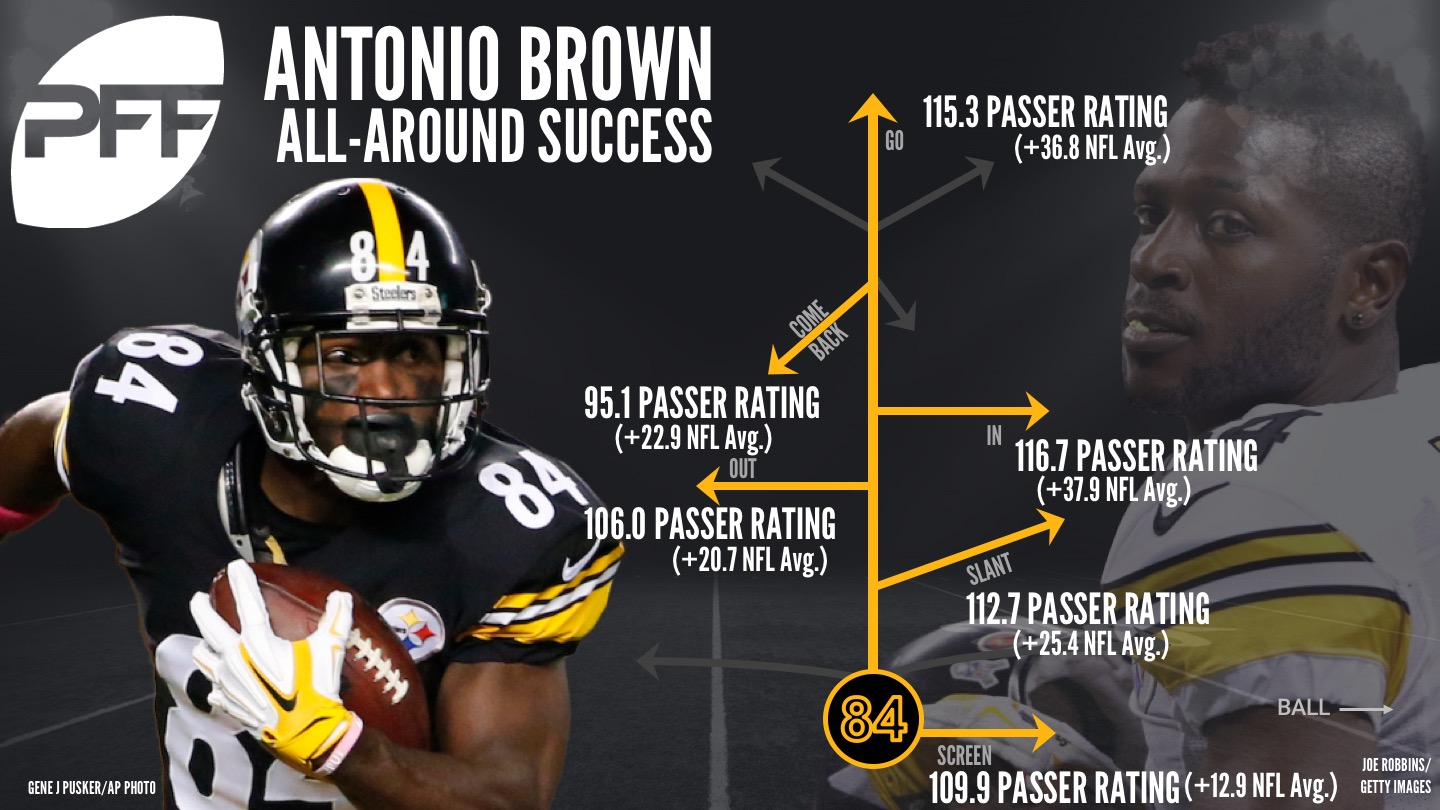 Brown was targeted at least two times on 11 different routes in 2017, and on seven different of those routes, he hauled in a passer rating that dwarfed the NFL average. On screens, quick outs, slants, outs, ins, comebacks and 'go' routes, he fielded a passer rating of at least 20.7 higher than the average across the league.
Most notably was his 'go' route success this season, a whopping 36.8 passer rating points higher than the league's average QB-WR combination, and it wasn't just because of a limited sample size. Brown was targeted 31 times on 'go' routes (the most of any route) and hauled in 392 of his yards and five of his nine touchdowns on them.
Additionally, Brown is known for his knack for big plays when his team needs them, and 2017 was no different. Perhaps most notably, with Pittsburgh tied late in the fourth quarter against the Green Bay Packers in Week 12, Brown hauled in a 23-yard toe-dragging reception with just 17 seconds remaining to spark the Steelers' offense and thwart the Packers' comeback attempt.
ANTONIO BROWN IS NOT HUMAN.

Incredible catch. #HereWeGo #GBvsPIT pic.twitter.com/DY6pskYGNB

— NFL (@NFL) November 27, 2017
He brought down a 17-yard reception on the very next play to put his team in position for the game-winning field goal, adding another notch to his resume of game-changing moments in his illustrious career.
Be it his ability across the offense, his prowess on a bevy of routes or his game-changing ability, no receiver was better this year than AB84, our top receiver for the 2017 season.