We're taking another deep dive into Pro Football Focus' exclusive signature stats as we examine the best (and surprising) players in key areas in the secondary.  As we grade every game, every play and every player, one of the many data points we collect are when a player's coverage area is targeted, thus allowing us to pull unique stats for those players over the course of a game and season.
Along with collecting that data, we combine it with our all-important player participation data that charts exactly where players line up so we can show who the cornerbacks are when covering the slot as opposed to an outside wide receiver.  Some familiar names will emerge at the top of important coverage stats.
With that said, we'll examine the cornerbacks as a whole and in the slot and will lump all safeties together (not splitting the difference between a deep/free safety and a strong safety).
(All stats include the playoffs)

Cornerbacks
Coverage Rating Against (minimum 222 snaps in coverage)
Most Notable: Xavier Rhodes, Minnesota Vikings
We've spoken about Rhodes in the past, notably missing from PFF's Top 100 players of 2017. Yielding a passer rating of 47.0 when targeted, Rhodes' stat line looks great – 36 receptions allowed on 75 targets, 429 yards, two touchdowns and five interceptions. Tack on three passes defended and Rhodes looks like an elite cornerback on paper. However, his coverage grades don't hold up to the stat line because he committed far too many penalties, and a 10.7 playmaker index percentage (interceptions + pass defenses / targets = playmaker index) only ranks 46th out of 110 in the NFL.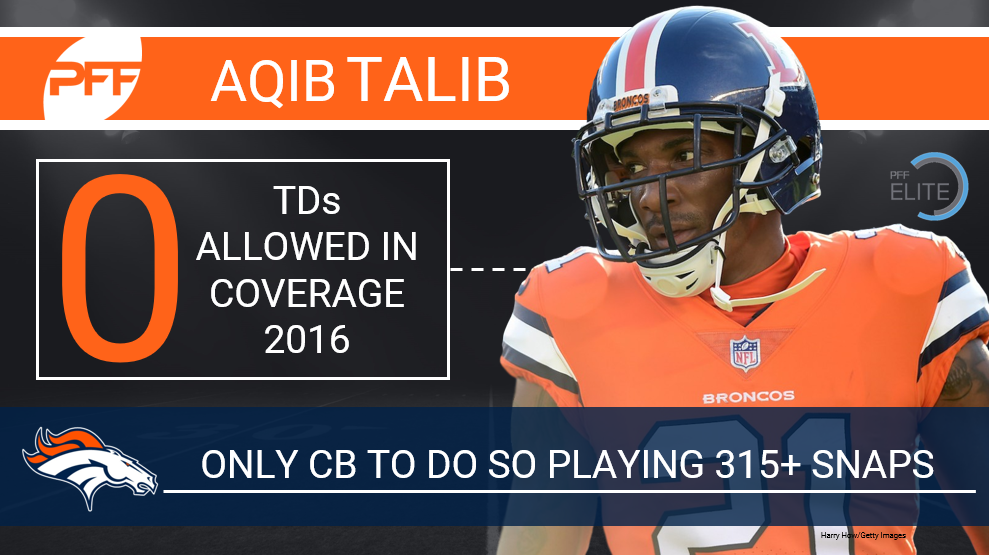 A player who's PFF grade and coverage rating against match-up much more closely is Denver's Aqib Talib as he turned in the No. 3 overall grade in 2016 and No. 2 coverage rating against with 49.5. Talib allowed zero touchdowns on the season and his 16.7 playmaker index percentage ranked ninth. Talib particularly excels on coverage in third down, making him one of the most feared cornerbacks in the league.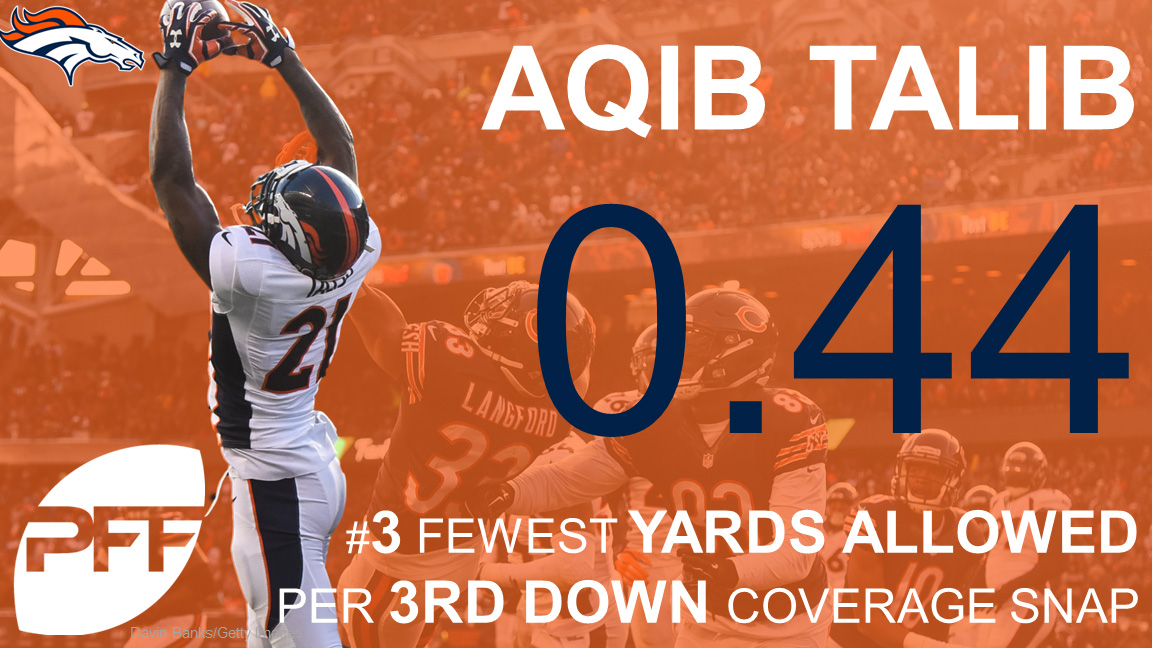 Los Angeles Chargers' Casey Hayward rounds out the top three yielding a passer rating of 53.4 as he allowed just one touchdown compared to hauling in seven interceptions and sporting the eighth best playmaker index percentage at 17.2.
The Green Bay Packers were highlighted several times in 2016 for their cornerback play and their three main starters all rank in the bottom 15 – Quinten Rollins (133.8, 109th), Damarious Randall (113.4, 100th) and Ladarius Gunter (112.4, 96th). Oakland's Sean Smith had a bit of bad luck in 2016 as he yielded a passer rating of 114.0 giving up eight touchdowns, but he was able to come in 14th in playmaker index percentage at 15.6 helping him to come in 15th in overall grades at 83.5.
Tackling Efficiency (minimum 231 snaps)
Most Notable: Desmond Trufant, Atlanta Falcons; D.J. Hayden, Detroit Lions (formerly with the Oakland Raiders)
Neither Trufant nor Hayden missed a single tackle in 2016 as Hayden racked up 30 tackles and 13 stops in the passing game with an additional five tackles and one stop in run defense. Trufant recorded 22 tackles, one assist and four stops in the passing game with five tackles and two stops in run defense. Both players failed to finish the season because of injury, but their ability to wrap up the ball carrier and bring him to the ground was noteworthy at their position.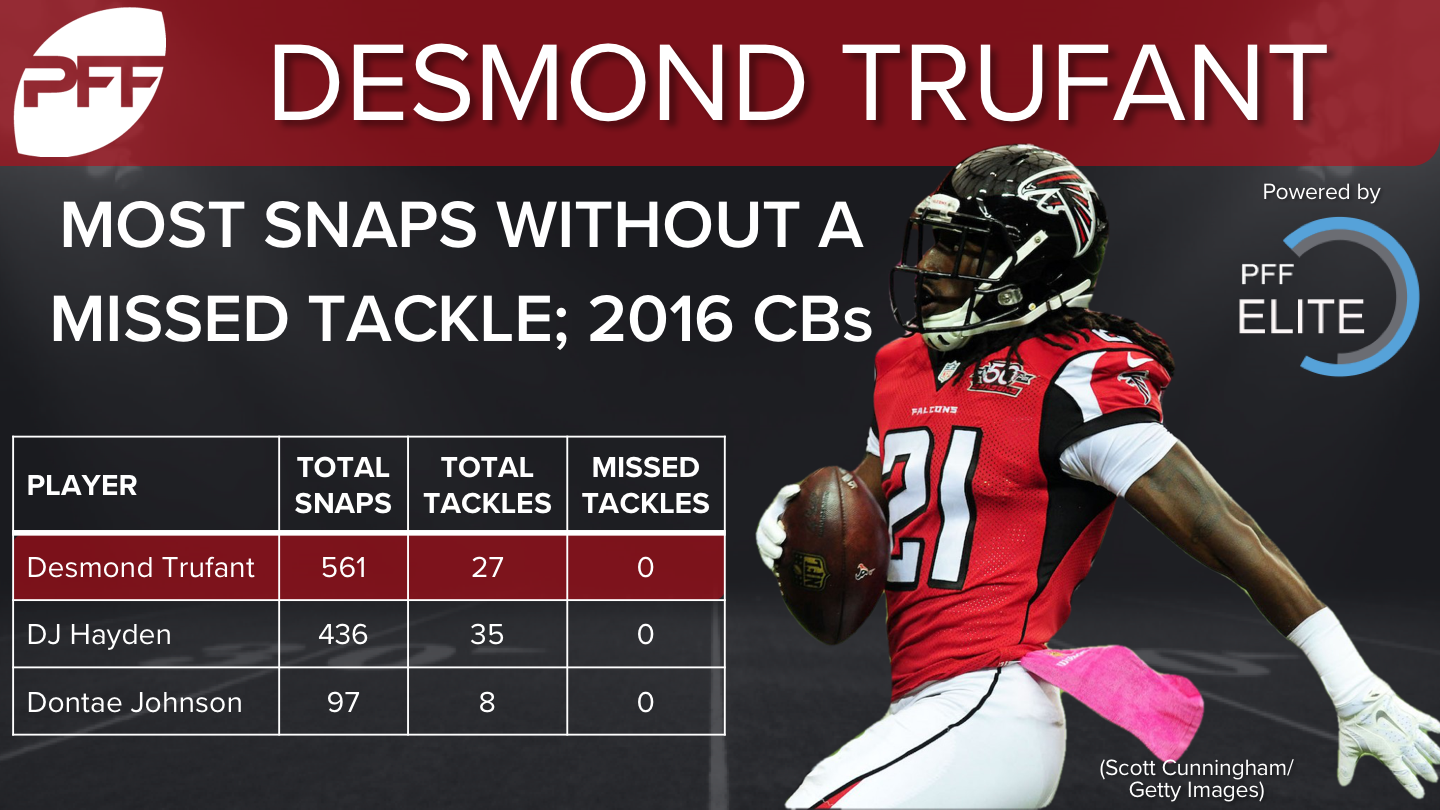 Another Viking makes the top three list and this time it's the former first-round draft pick Trae Waynes, as he missed just one tackle all season in the passing game while recording 35 tackles, six stops and two assists while adding nine tackles, three stops and an assist in run defense. Waynes' tackling ability has been great in the NFL as he's missed just four in two years and his 48.0 tackling efficiency rating highlights his first round selection.
PFF's top cornerback the past two seasons lands at No. 9 on this list. Denver's Chris Harris Jr. missed three tackles in 2016 – one in the passing game, two in run defense – racking up 45 tackles, 24 stops and an assist in the passing game with additional 15 tackles, four stops and three assists in run defense. Tennessee's (with New England) Logan Ryan was very impressive as he recorded 81 tackles, 22 stops and five assists in the passing game while missing just a single tackle. Surprisingly, he missed four tackles in the run game, resulting in a tackling efficiency of just 7.0 in run defense contrasting his outlandish 87.0 in coverage.
A few notable bad tackling numbers include the Cleveland Browns unit as a whole in the passing game. Current free agent Tramon Williams (4.7, 114th out of 117), Briean Boddy-Calhoun (5.5, 106th) and Joe Haden (5.7, 103rd) all didn't help in terms of their tackling ability to prevent the Browns from a 1-15 record. Tampa Bay Buccaneer rookie Vernon Hargreaves III missed 13 tackles in the passing game and his 5.2 tackling efficiency ranked 109th while Kansas City's Marcus Peters' 6.1 tackling efficiency in the passing game was 97th as he missed eight. Also notable for Peters was that he didn't miss a tackle in run defense.
Slot Performance (minimum 141 snaps in slot coverage)
Most Notable: Bryce Callahan, Chicago Bears
Callahan barely makes the cut as he logged exactly the minimum number of snaps in slot coverage. Perhaps benefitting from the few number of snaps, he was excellent when utilized as a slot defender as he allowed a league low 72.9 passer rating while also a league best mark of allowing one reception every 15.7 snaps in coverage. Callahan showed improvement from his rookie season recording five passes defended, up from just two, but has yet to record an interception in his young career.
The best cornerback in the game makes another appearance as Harris Jr. yielded a passer rating of 74.1 when targeted out of the slot. Harris' advanced stats are pretty gaudy out of the slot as he allowed a paltry and NFL-best 0.59 yards per cover snap – 0.13 better than Dallas Cowboys' Byron Jones – and one reception every 14.6 cover snaps (third). Rounding out the top three is Los Angeles Rams' (in Buffalo) Nickell Robey-Coleman as he yielded just 74.9 passer rating against.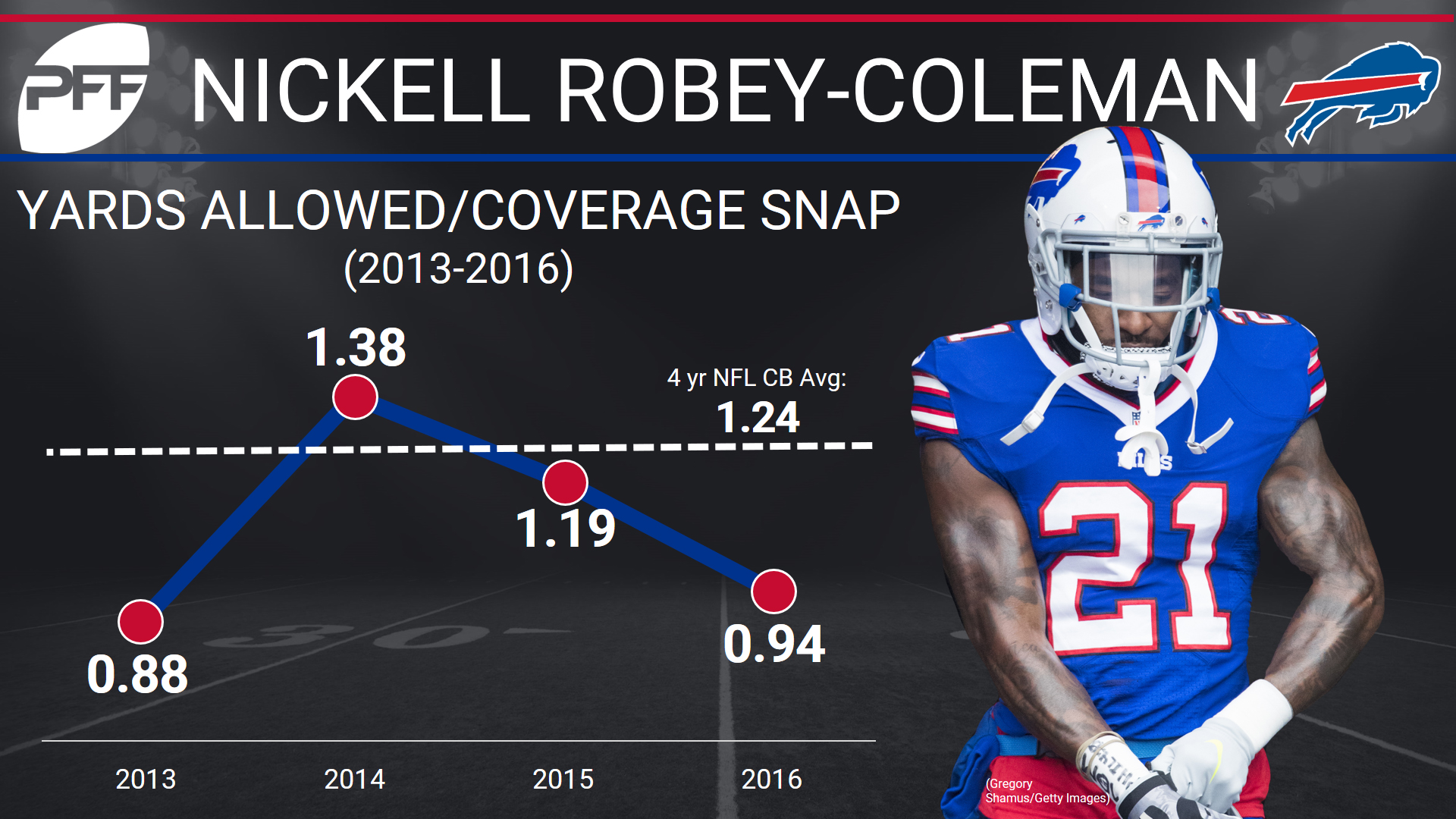 Returning from a major knee injury was difficult for Arizona Cardinals' Tyrann Mathieu as he yielded the worst passer rating out of the slot at 130.2 allowing 23-of-28 targets to be caught for 287 yards, three touchdowns and just one interception. Now in Buffalo, former Green Bay CB Micah Hyde yielded a passer rating of 107.3 ranking 38th of 49 eligible defenders, highlighting the Packers' secondary woes from 2016.
Safeties
Run Stop Percentage (minimum 129 run snaps)
Most Notable: Michael Griffin, free agent (with Carolina); Tony Jefferson, Baltimore Ravens (with Arizona)
PFF's exclusive signature stats and player participation allows us to take a look at all run plays and isolate when a safety is lined up within eight yards of the line of scrimmage at the snap, which is a good indicator if the player is looking to defend the run first and thusly has a greater chance at making a play in run defense.
Michael Griffin edged Jefferson in the total snaps category as the former Panther notched a run stop on 8.3 percent of all run snaps while Jefferson came in at 7.8 percent. Where Jefferson shined was playing in the box as he led all safeties with a 10.5 run stop percentage as he logged the third most run stops with 25. Cumulatively, Jefferson has had the highest run stop percentage among safeties since 2012.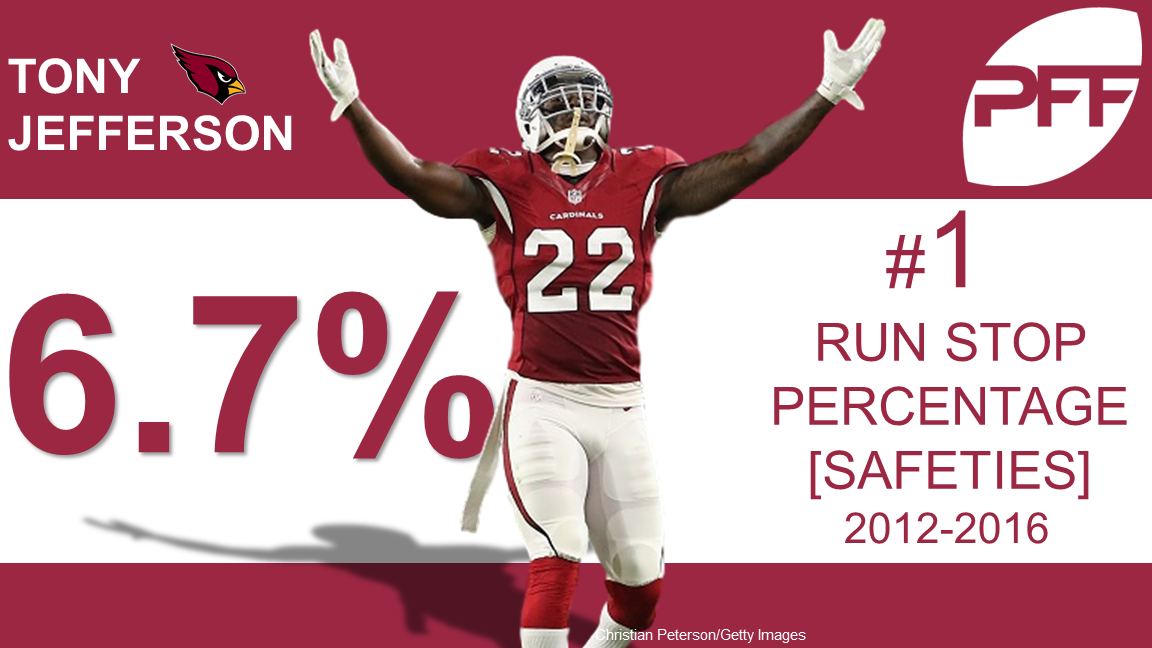 Seattle's Kam Chancellor comes in at No. 3 in total run snaps at 6.9 while the Chargers' Jahleel Addae stood out in the box with the second best run stop percentage mark there at 9.9. Kevin Byard impressed in the box as well at 9.6 run stop percentage as the Tennessee Titan rookie ranked third.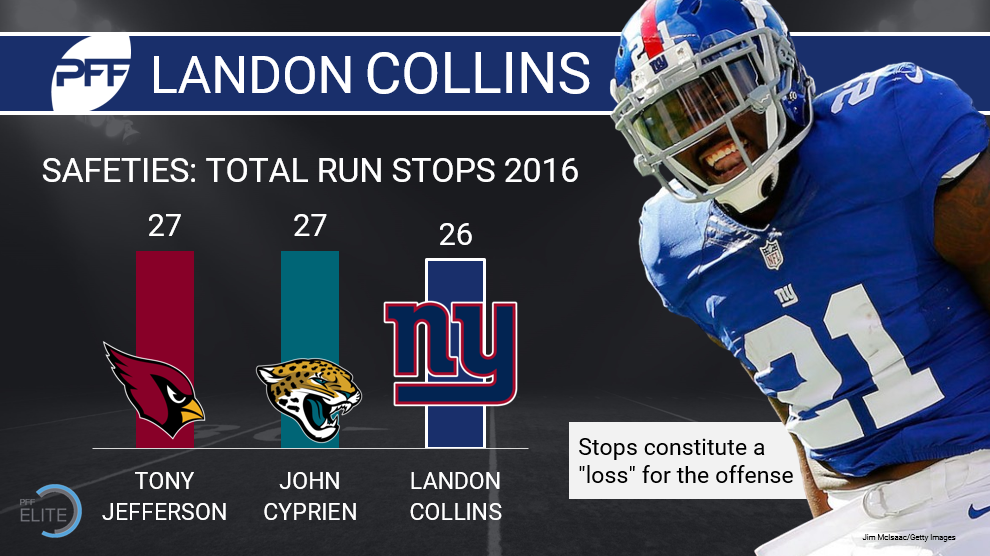 Giants' Landon Collins had the fourth best run stop percentage mark in the box at 9.4, the Vikings' Smith was stout against the run with a 8.4 run stop percentage that ranked 10 when lined up within 8 yards of the LOS and Ravens' Eric Weddle also impressed in the box ranking 14th at 7.8.
Tackling Efficiency (minimum 225 snaps)
Most Notable: Justin Simmons, Denver Broncos
Simmons logged over 200 snaps in coverage last year and was sure on all 14 of his tackle attempts. The rookie out of Boston College missed two tackles in the passing game in his final season in college and carried that consistency over into the NFL.
New York Jets' Rontez Miles also impressed as a tackler missing just one tackle all year in run defense while making 23 tackles, 12 stops and 13 assists and missing not a single tackle in the passing game while recording 14 tackles, six stops and two assists.
Green Bay finally has some positivity in the secondary as Ha Ha Clinton-Dix missed just two tackles all year, both in the passing game and racked up 40 tackles, four stops and four assists in the passing game. He also accrued 36 tackles, 11 stops and nine assists in run defense. The Ravens' Weddle missed three tackles all season (one in run defense, two in the passing game) and Raiders' rookie Karl Joseph impressed with a tackling efficiency of 23.7 as he missed just three tackles on the season, all in the run game.
As I continue to pile it on Cleveland, Kindred's 4.5 tackling efficiency tied for fourth worst in the NFL out of 103 eligible safeties. Earl Thomas surprisingly lands at No. 97 with a 4.8 rating as he missed 12 tackles, 8 in coverage and 4 in run defense.