If you were to believe the pre-draft reports, the Washington Redskins' war room heading into the draft resembled a scene from Game of Thrones. Owner Dan Snyder was allegedly assuming control for the first round with his hand on the trigger, ready to pull at any moment for his quarterback. In actuality, Washington had one of the most level-headed drafts of any team in the NFL, and they came away perfectly set up to survive their nightmarish quarterback situation.
Alex Smith's injury and the guaranteed money on his contract is the giant elephant in the room at the moment, as the Redskins will effectively be working with $20-million less cap space than every other team in the NFL over the next couple of seasons. Competing for a Super Bowl with that kind of disadvantage is nearly impossible, while even making the playoffs will be a tall task. Instead of trying to power through and pump up the current roster, the Redskins got long-ranging value. They didn't buy into the rumor mill and stood pat as Ohio State quarterback Dwayne Haskins fell all the way to 15.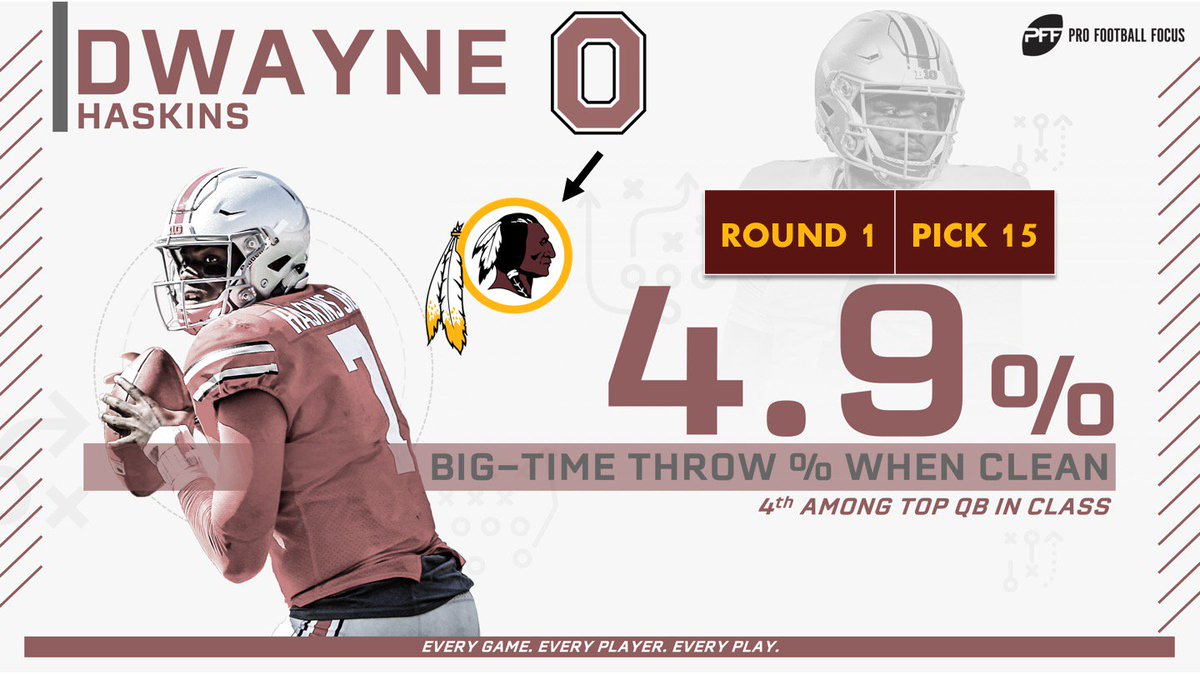 Haskins NFL-readiness is a question mark with one season of starting experience and a 'college-y' offense at Ohio State, but they don't need him to be ready. It won't be until 2021 until the Redskins can realistically get out from under the Smith contract and be on an equal playing field with the rest of the NFL. That's also the point where Haskins should be either entering his prime on a rookie deal or shown that he's probably not the guy – allowing them to explore other options.
Chances are that the former is more likely than the latter with Jay Gruden's history of developing quarterbacks. Haskins has a quick snap release and showed NFL-level accuracy to all levels of the field. His biggest flaws were throwing into tight windows and handling pressure – things that should improve with more playing time and coaching at the next level. He won't have to start right away with Case Keenum on the roster, but it isn't like he needs a whole year on the bench to get up to speed.
After the Haskins pick, the Redskins stocked up on more premium positions. The value of Montez Sweat falling to Pick 26 was too much for them to pass up, and even though we don't advocate throwing away a 2020 pick, it's understandable if they viewed him as a top-10 talent. His skillset very closely resembles that of Preston Smith's, and he should seamlessly fill that role in the defense.
All in all, we loved the Redskins' picks on Day 1, Day 2, and Day 3. Ohio State wideout Terry McLaurin is a legit deep threat, the kind of which they haven't had since DeSean Jackson. Stanford running back Bryce Love's 2017 tape was first-round worthy, and if he's back to full strength, he's worth way more than a fourth-rounder. NC State wide receiver Kelvin Harmon has some of the best possession-receiver traits in this class, while James Madison cornerback Jimmy Moreland was our favorite slot cornerback coming out of college. There's a ton of picks to get excited about for the Redskins in a draft where they absolutely needed an infusion of talent up and down the roster.