The Amari Cooper that torched a Washington Redskins secondary for 180 yards and two long touchdowns on Thanksgiving Day is the same Amari Cooper that was cast as an afterthought in the Oakland Raiders' offense a few short weeks ago. The Dallas Cowboys' new wideout hasn't developed any new tricks or skills in Dallas; he's just finally being used right.

Though the plan was to make Cooper a "focal point" in his offense, Raiders coach Jon Gruden failed to follow through with his intentions. Cooper accounted for just 12.2% of the team's total targets and saw passes in his direction on just 14.4% of his routes in Weeks 1-8 with Gruden & Co., which ranked 101st and 137th among all NFL pass-catchers, respectively. Four other Raiders pass-catchers (Jalen Richard, Martavis Bryant, Jared Cook, Seth Roberts) were targeted on a higher percentage of their routes than Cooper in the eight-week span.
That hasn't been the story in Dallas – not in the slightest.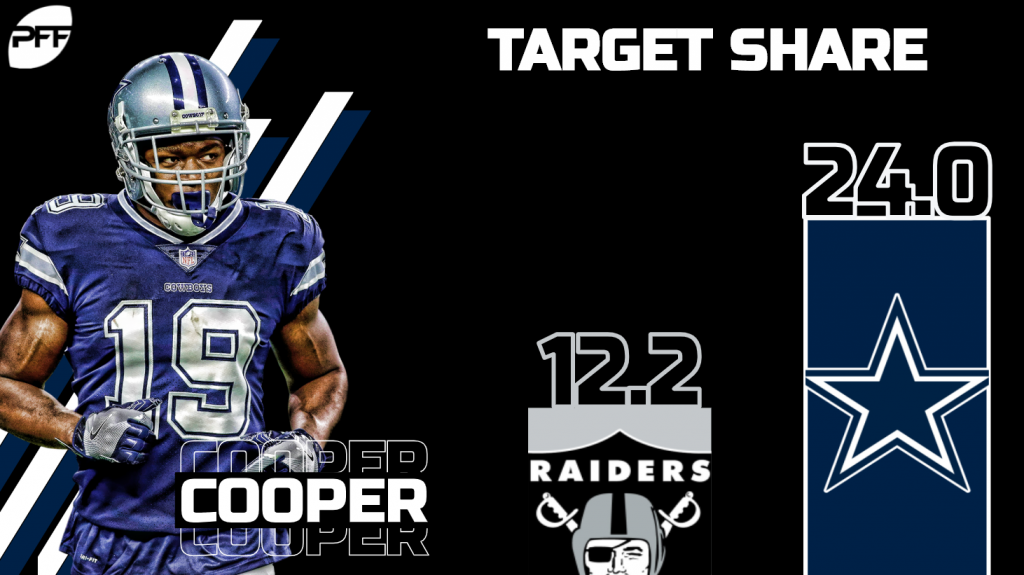 In Weeks 9-12 (four games), Cooper's target share has nearly doubled compared to his days in Oakland, as he's accounted for 24.0% of the team's total targets and has been targeted on 21.3% of his routes. He's also averaged 7.25 targets per game with Dallas, which is another strong increase compared to his 5.0 targets per game average with the Raiders earlier in the season.
Cooper's target share hasn't been above 18% since his career year in 2016 when he turned a 24.6% target share into 1,153 yards, 42 first downs and five touchdowns. Yes, after a career year in Oakland, he accounted for fewer than 20% of the Raiders' total targets in 2017.
The increased target share with Dallas, as expected, has led to an increase in production.
In his four games with the Cowboys, Cooper has caught 22-of-29 targets for 349 yards, 16 first downs and three touchdowns. He's averaged 2.57 yards per route run and recorded a 135.6 passer rating when targeted, ranking fifth and 11th, respectively, among the 54 pass-catchers with 75-plus routes run in Weeks 9-12. He also has zero drops since joining Dallas and ranks third among qualifiers in percentage of targets resulting in a first down or touchdown (65.5%).
Cooper, of course, has had his fair share of spectacular routes with the Cowboys that have garnered national attention, as his ability to create separation on short and intermediate routes has been on full display in Dallas. But that's nothing new for Cooper; his elite route-running has always been a part of his game.
With Oakland in Weeks 1-8, Cooper had a step or more of separation on 80% (24) of his 30 targets, the second-highest percentage among the 84 wide receivers with 25-plus targets in the eight-week span. In Dallas, Dak Prescott has forced the ball to Cooper in more situations where he's had less separation, so his open target percentage has actually dropped to 51.7% in Weeks 9-12.
Cooper will continue to put on a show with his elite route-running ability as he has done his entire NFL career. He's just finally getting rewarded with a proper amount targets for his efforts in Dallas.