After he ran a blazing fast 40-yard dash at the NFL Scouting Combine in Indianapolis, the first name people thought of when you mentioned an Ole Miss wide receiver was D.K. Metcalf. Granted, Metcalf did put on a show in just over four seconds, but could his teammate A.J. Brown wind up being the better pro?
On our latest PFF Big Board, Brown ranks as the 20th-best player available in the 2019 NFL Draft, just behind Metcalf at number 17. While Metcalf has the speed, Brown showcased an ability to make people miss in the open field on his way to being the only receiver in the class to produce back-to-back seasons with at least 1,200 receiving yards in 2017 and 2018.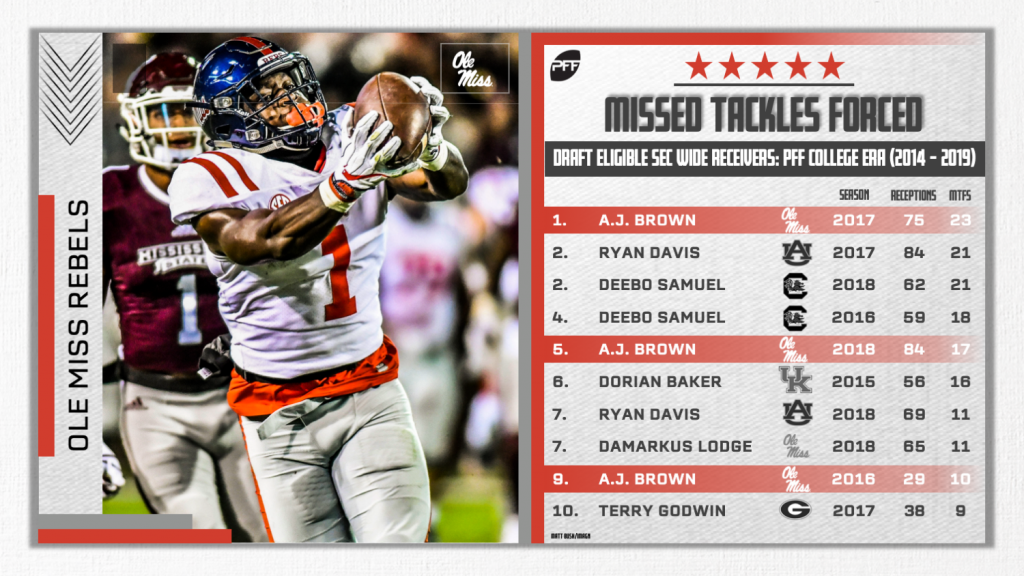 Brown tied for 17th in the nation with 17 missed tackles forced on 84 receptions in 2018, and when you watch him play, it's easy to see why. He might not be a burner, but he runs with such power that he is tough to bring down once he builds up a head of steam. Against Vanderbilt alone, he forced four missed tackles, including this one on an in route where he just powers through the tackle attempt by the safety.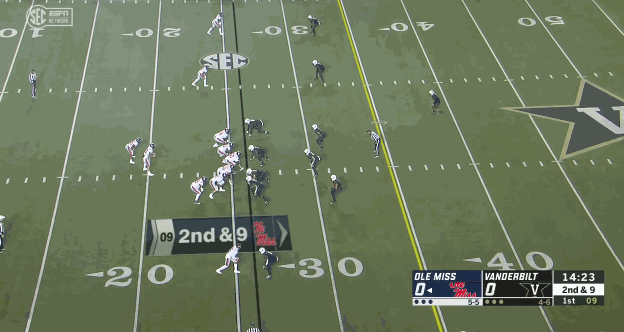 In three years at Ole Miss, Brown forced 50 missed tackles on 188 receptions, and it was that ability to run through tackles and cut away from players that helped him reach such lofty yardage totals. Between 2016 and 2018 he averaged 15.8 yards per reception, but a whopping 7.6 of those yards came after the catch.
The other major plus for Brown is how good he has been at holding onto the ball throughout his college career. He dropped just five of the 89 catchable passes thrown his way in 2018, and he averaged a drop once every 14.4 catchable targets throughout his college career. Perhaps even more impressively, he had just one fumble on 188 receptions over those three years at Ole Miss.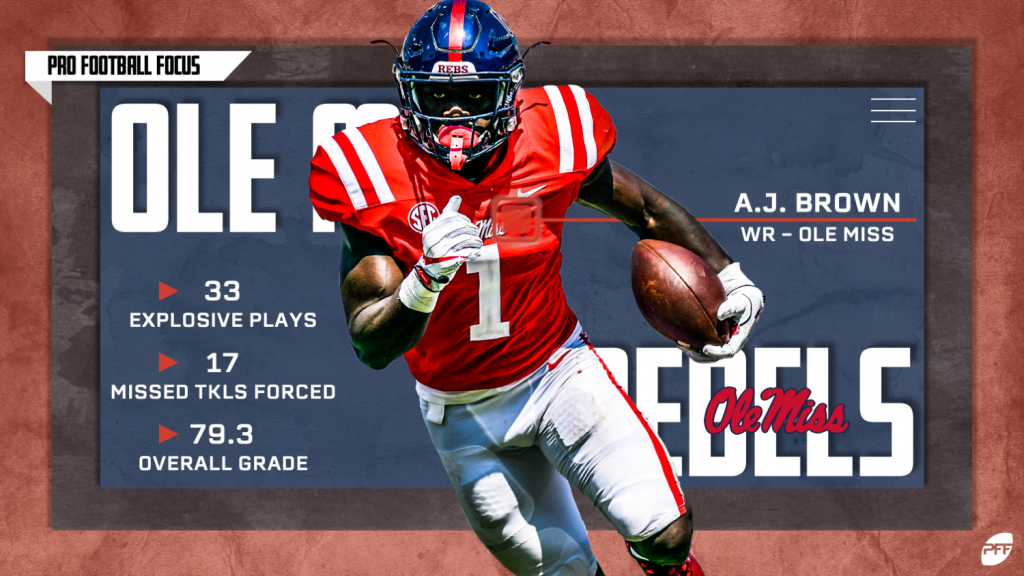 Brown wasn't necessarily a dominant downfield threat in 2018, with just 10 receptions on throws targeted 20-plus yards downfield, but he still made plays, averaging 38.7 yards per catch on those 10 deep grabs. It's also important to note that there were plenty of talented downfield threats at Ole Miss, so opportunities were shared, with Brown, Metcalf, and DaMarkus Lodge all producing over 330 deep receiving yards in 2017 and both Brown and Metcalf topping the 300-yard mark again in 2018.
Through the first eight weeks of the 2018 season, Brown was primarily used out of the slot, with just two snaps split out wide. In that span, he ranked second in the nation behind Hawaii's John Ursua with 798 receiving yards from the slot. After Metcalf's injury in Week 7, Brown was moved to the outside, and over the final four games of the season, he saw just five snaps from the slot. Over those final four games, Brown racked up 511 yards which trailed only Oklahoma's Marquise Brown and Massachusetts' Andy Isabella. As we have seen, Brown is a great fit as a slot receiver in the NFL — and we know that's very valuable in today's NFL — but this past season, he was also able to showcase his ability to win on the outside in Metcalf's absence.
Brown's athletic testing was good, not great, which is why he isn't getting a lot of hype, but when you look at his production over the past two seasons, it's clear that he is a wide receiver with the potential to produce at the next level. A safe pair of hands and a playmaker that is tough to bring down in the open field once he gets going, he is good enough to be drafted among the top 20 on draft night, but he could represent great value if he slips into the second round.