The most throwaways by a quarterback that we have recorded at PFF in a single season since we began charting back in 2006 came two years ago when Philip Rivers notched 46. Rivers has been the king of the throwaway since entering the league; in the past 12 years, he has led the NFL in throwaways six times and finished inside the top five in the league another four seasons.
This season, one quarterback appears to be in a position to not only surpass Rivers' mark of 46 throwaways in 2016, but he is on pace to absolutely shatter it. That quarterback is Aaron Rodgers.
Rodgers has amassed 32 throwaways through his first seven games. At that pace, he is set to throw the ball away 73 times in a 16-game season. To put that in perspective, Ben Roethlisberger has thrown the ball away 73 times in the regular season since the start of 2012.
The amount of balls that Rodgers has thrown away has undoubtedly been on an upward slope in recent seasons. After averaging roughly 19 per season from 2008 to 2014, his count the last three years has been 32, 31, and 16 in seven games last season (on pace for 37 in a 16-game season). That is nothing compared to this pace this year, however, as he already has 14 more throwaways than the next closest quarterback.
Any time you see a player with a lead like that, it prompts a question – why are they so far ahead of everyone else? The answer that makes sense in the case of Rodgers this season is the knee sprain he suffered in the Week 1 opener against the Chicago Bears.
Rodgers has said, "If I'm completely healed, I don't need to wear a brace…So if it's not on, that means I'm feeling great. And if it is, that means I'm just not quite all the way back." The brace was on last week in their hard-fought loss to the undefeated Los Angeles Rams, so that means the Green Bay Packers' signal caller still isn't 100% confident in his knee.
Seeing as how that has been the case all of this year, it makes sense that Rodgers has been more willing to get rid of the ball rather than taking a sack or attempting heroics outside the pocket. The only problem with that line of thought is that he has still been taking sacks. From 2013-2017, Rodgers was sacked on 6.0% of his dropbacks. This season, he has been sacked on 6.6% of his dropbacks, so that means the throwaways aren't reducing the number of sacks that Rodgers is taking.
What are they reducing? His turnover-worthy plays.
Among quarterbacks with at least 150 dropbacks, Rodgers has the fewest turnover-worthy plays with just two on 322 dropbacks. That turnover-worthy play rate of 0.6% also leads the league by a healthy margin. Rather than force a ball into a tight window or try to make a play late and risk a fumble, Rodgers has been content to live for another down. There have been a couple of turnover-heavy areas where that mentality comes through even stronger in Rodgers' numbers.
One such area is long-developing plays with a time to throw of more than 3.0 seconds. Time to throw is measured from the snap until one of three things happens: the quarterback releases the ball on a pass attempt, the quarterback crosses the line of scrimmage on a scramble, or the quarterback is sacked. Rodgers currently has the third-most dropbacks where it takes more than 3.0 seconds for one of those three things to take place, coming in with 105 on the season which slots behind only Deshaun Watson and Jared Goff.
Despite that, Rodgers has yet to register a turnover-worthy play on those long-developing plays. Instead, he has thrown the ball away 19 times in such situations (most) and taken 14 sacks (4th most). On those plays that take over 3.0 seconds, the average turnover-worthy play rate raises from the usual average of 2.7% this season to 3.3%. Rodgers has been avoiding situations where he could put his team at risk of a turnover and instead has opted to take sacks and throw his passes where no one can catch them.
Another area where this mentality is prevalent is when Rodgers has faced pressure. The average turnover-worthy play rate under pressure raises to 3.5%. Meanwhile, Rodgers is one of only two quarterbacks with 50 or more dropbacks under pressure to not record a single turnover-worthy play. Atop the leaderboard with him is the throwaway-happy Rivers.

This play from Rodgers demonstrates exactly what he has been doing all season. Rather than hold onto the ball for what would have surely been an unpleasant Aaron Donald and Ndamukong Suh sandwich, he got rid of the ball. Rather than force it into a smothered Jamaal Williams, he threw it to a coach on the Rams' sideline.
He hasn't been particularly great under pressure, but once again, that could have a lot to do with his knee not being 100% for nearly all of the season and his mobility being limited. Since 2013, Rodgers ranks fifth among qualifying quarterbacks in overall grade under pressure. This season that is down to 14th and he has averaged just 4.8 yards per attempt, a 30.7% completion percentage and a 56.3 passer rating when under pressure. Obviously, the abundance of throwaways will hurt all three of those metrics, but they all reside in the bottom-ten of the league.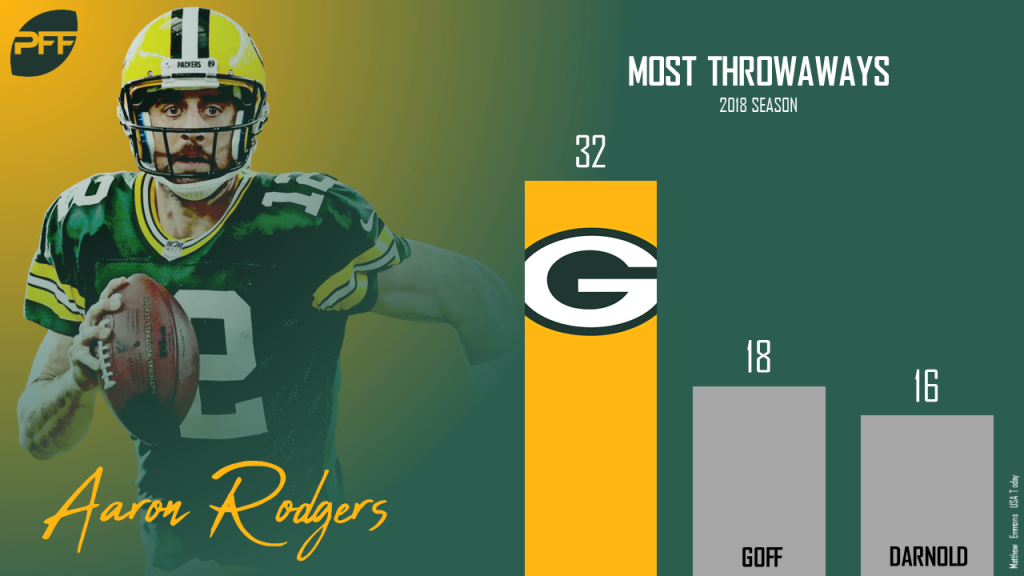 That being said, Rodgers hasn't once done one of the worst things a quarterback can do under pressure – give the defense a free chance to get him off the field. Despite any limitations he may have with the knee injury, his overall grade of 91.0 this season ranks fourth among quarterbacks. The unprecedented level of throwaways we have seen from Rodgers has worked for him so far. It remains to be seen if the live-for-another-down mentality will continue throughout the season for the Packers' offensive cornerstone, but if it does, records will be shattered.