Streamers and balloons from Aaron Jones' (long overdue) coming out party in Week 10 followed the second-year UTEP running back into Week 11, as he complimented his 172-yard, two-touchdown performance from a week ago with another stellar outing on Thursday Night Football. There's no denying it now; Jones is (finally) a focal point of the Green Bay Packers' offense.

The Seattle Seahawks' defense, most notably in the first half, didn't have an answer for Jones, as he totaled 103 yards, three first downs and two touchdowns from just 16 touches (6.44 yards per touch) on the night. He picked up 41.7% (43 total) of his yards after contact and forced five missed tackles, as well.
While he did fall out of the offensive game plan a bit in the second half, totaling just six touches in the final two quarters of play, Jones still played in a career-high 89.5% of the Packers' offensive snaps – a significant step in the right direction for Green Bay's brass after they cast him as an extra rather than a lead actor earlier in the year.
Jones served a two-game suspension to start the season, but Green Bay didn't make a concerted effort to involve him in the offense in his first four games back. He played in just 29.3% of the team's offensive snaps in Weeks 3-6 (four games) and laid claim to just 35.6% of total touches for Packers running backs.
The tables finally started to turn in Jones' favor following the Packers' Week 7 bye. Starting in Week 8 against the Los Angeles Rams, Jones played in at least 58% of the team's offensive snaps in all three of Green Bay's games prior to Thursday's loss to Seattle. He's also accounted for 71.6 percent of touches awarded to running backs in Weeks 8-10, the 11th-highest mark among all NFL running backs.
And the results were too good to ignore.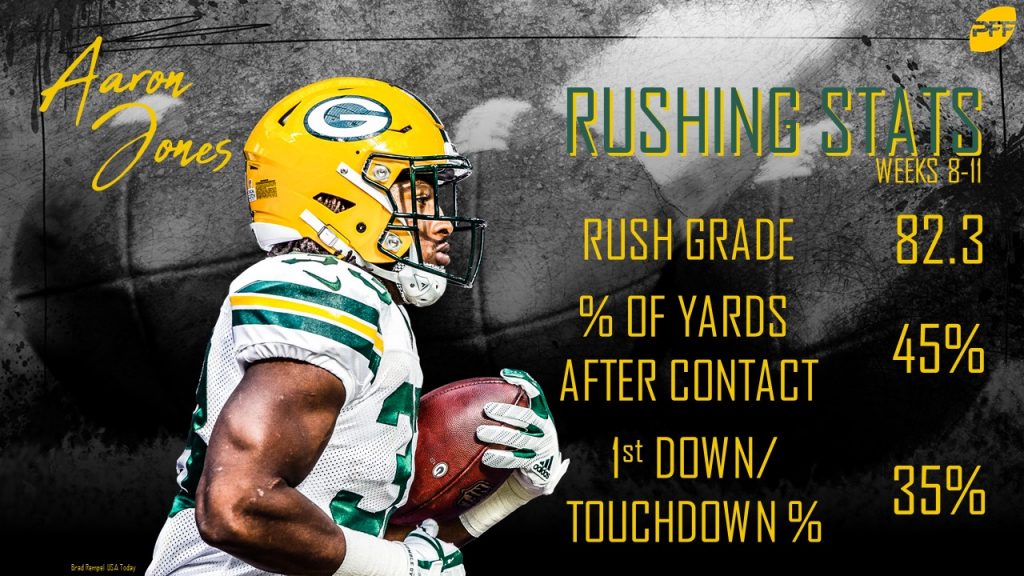 Jones totaled 344 yards from his 48 touches in the three-game span, which was good for the second-highest yards per touch average (7.17) among the 32 running backs with 30-plus touches in Weeks 8-10. Only Los Angeles Chargers superstar running back Melvin Gordon (7.20) ranked ahead of him. Jones also ranked tied for sixth in yards after contact per attempt (3.3) across his 41 carries.
Additionally, Jones' positive impact has extended beyond his play with the ball in his hands, as he's one of just five backs with 15-plus pass-block snaps that hasn't allowed a pressure this season. He's allowed zero pressures across 19 pass-block snaps on the year, ranking tied for first in pressure percentage allowed among the 50 running backs with 15-plus pass-block snaps.
Factoring in his Week 11 performance, Jones has earned a 75.8 overall grade and an 81.5 rushing grade across his last four appearances, which currently rank seventh and fourth, respectively, among qualifying backs.
Why Jones wasn't featured in the offense earlier in the season is still an unanswered question. But Green Bay's unwarranted affection for the team's other backs (Ty Montgomery, Jamaal Williams) has seemingly come and gone, leaving Jones right where he's always belonged: atop the depth chart.