Last season there really was no question who the best player in the game was, and what is remarkable is that he took his game to another level from an already ridiculous starting point. In 2018, Aaron Donald was the single most destructive force in the game from his interior alignment on the Los Angeles Rams' defensive line, earning an overall PFF grade of 95.0, the best of any player in the league.
In 2015, Donald pushed past Houston Texans' J.J. Watt for the PFF record for pass-rush win percentage in a single season for an interior defensive lineman. In 2016, he beat his single-season record set in the year prior. In 2017, he did it again. And he did it again in 2018. He's single-handedly rewritten the record books in each of the past four seasons, setting the standard for pass-rushing for interior defensive linemen.
Because of his unrelenting improvement and his proclivity to produce results that were once thought impossible, he's been named No. 1 on the PFF50 for the third straight year.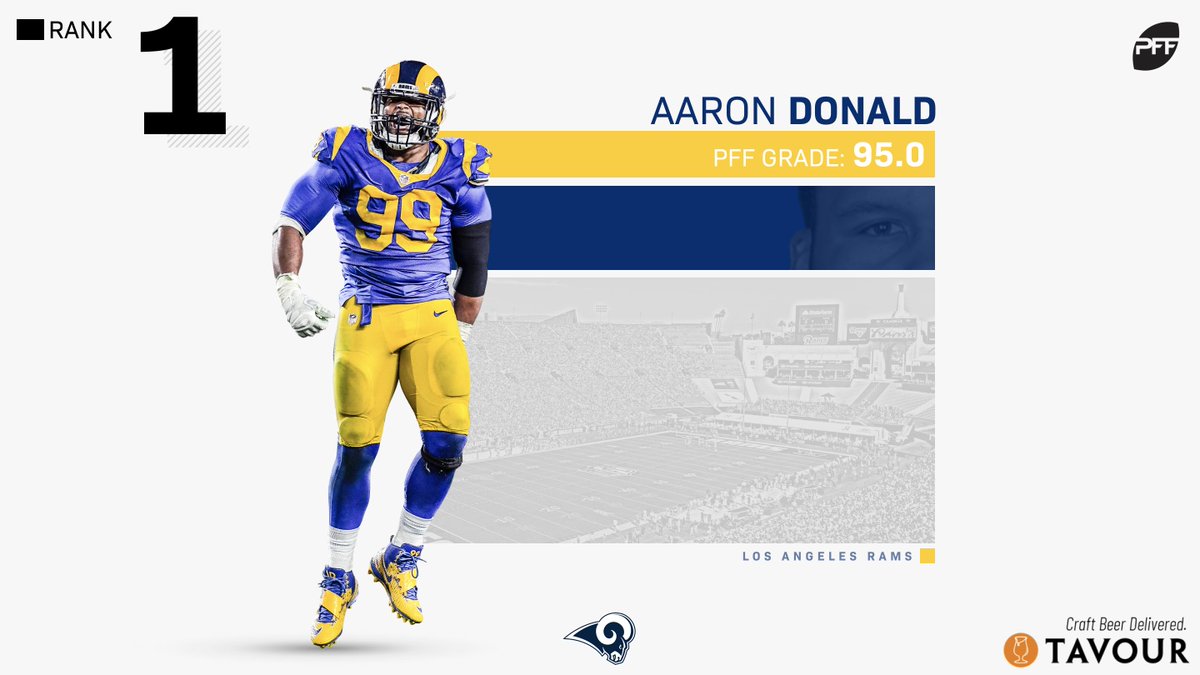 Donald finished the 2018 season as only the second person in the PFF era (2006-present) to record 100-plus total pressures over the regular season. He also led the NFL in sacks, but looking at the totality of pressure is a far more accurate reflection of how a player affected the quarterback. Even hurries are inherently valuable to a defense because a pressured quarterback typically suffers a 34-point drop in passer rating. Donald also led the league a year ago with 91 in just 14 games, but this year he was even better as a pass-rusher.
Edge rushers typically get more pressure than interior players when it comes to rushing the passer. They may have a greater distance to travel to get that pressure, but being largely out on an island against tackles and spending much of their time out of the quarterback's direct line of sight helps them apply that heat compared with interior rushers. Despite that, Donald had 28 more pressures than any edge rusher in the league this season. Saints rookie Marcus Davenport and Vikings star Everson Griffen each had just 28 total pressures on the season, and that's the distance Donald was ahead of any edge rusher.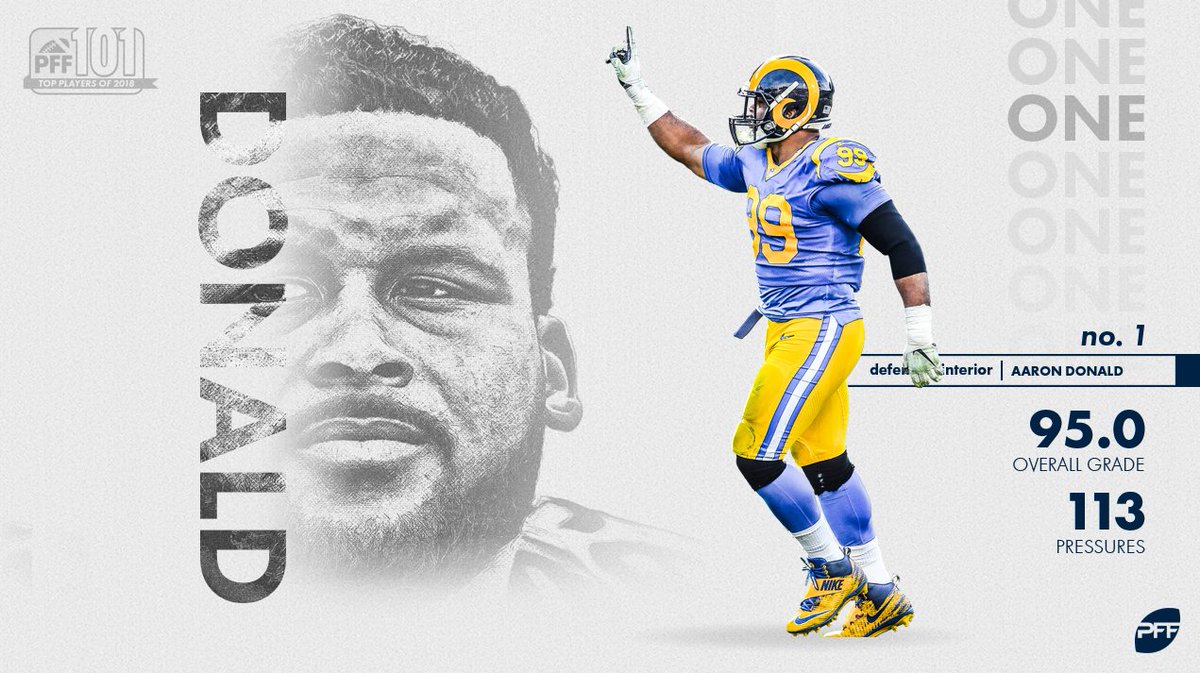 But the pressure number alone doesn't do Donald justice. He led the NFL in pass-rushing productivity with a score of 23.0, had the second-highest pressure percentage and the highest pass-rush win-rate of any player in the league. Only four other players had a win percentage higher than 20% over the year, and Donald was the only player above 25.0% (25.9%).
The most impressive piece of additional context though is just how much work teams were doing to try and slow him down. Donald was double-teamed on 61.4% of his pass rushes, and he still won at a higher rate than anybody else in the game. He is the best player in football, and terrifyingly, he appears to be only getting better.