Six years removed from a Super Bowl appearance, the San Francisco 49ers have been all but super. Still searching for their first above-.500 season since 2012, the 49ers have quietly drafted promising young stars, traded for their likely quarterback of the future and lured in dynamic free agents. Injuries in 2018 prevented the team from showing what it's fully capable of, but barring any major setbacks next season, the team's young nucleus could very well power it into the playoffs. Let's not get too carried away — but this team has a handful of younger players capable of performing among the best at their positions.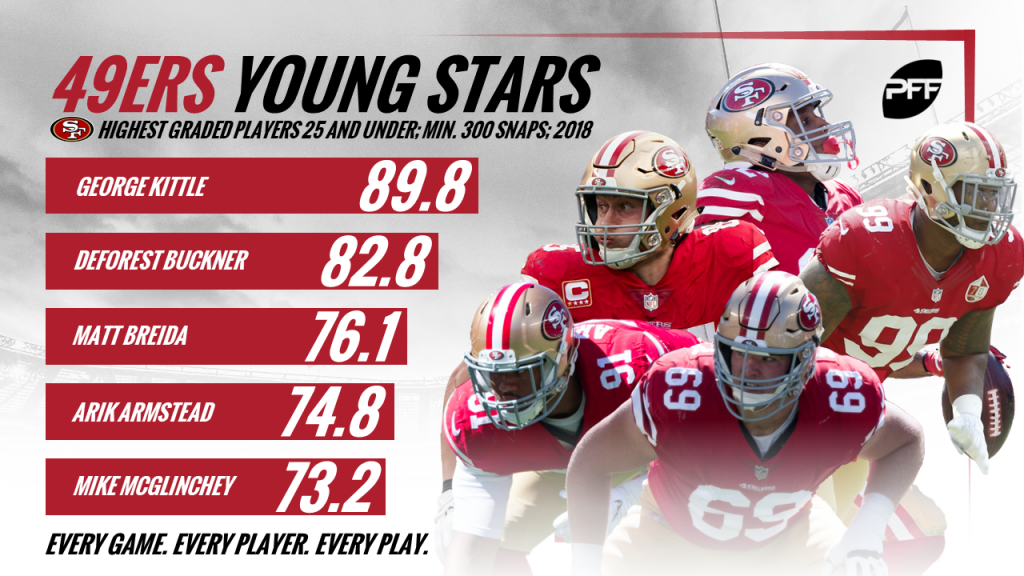 Not much needs to be said about second-year tight end George Kittle, who emerged as the NFL's best at the position in 2018 while breaking numerous receiving records. Just seven other players had more receiving yards than Kittle, and they are all wide receivers. And Kittle's 873 yards after the catch was 213 more than the next highest player — JuJu Smith-Schuster. Special players thrive under adverse conditions, and Kittle has done just that with C.J. Beathard and Nick Mullens taking most of the snaps at the helm for the 49ers' over the past two seasons.
While Kittle's explosive playstyle on the offensive end backs up his position-leading 89.8 overall grade, interior defender DeForest Buckner has held it down for the defense en route to 55 pressures, the second-most at his position. Buckner has improved each year since he was drafted in 2016, with higher grades and more pressures than the previous season. A player who is consistent week-to-week as Buckner has been (at least two pressures in every game in 2018) is someone you can build a defense around.
Then there's rookies Mike McGlinchey and Dante Pettis and second-year running back Matt Breida — all of whom posted strong numbers despite the team's 12 losses, five of which were by five or fewer points. McGlinchey finished the year as the highest-graded rookie tackle (73.2) and the second-highest-graded rookie offensive lineman. His run blocking was particularly potent, as he notched a 78.2 grade in the category, best among rookie offensive linemen.
Pettis shined as a punt returner in college, but he was also a heavy contributor on offense in his final two years, prompting the 49ers to select him in the second round. In his first season in the NFL, the big-play threat posted 17.3 yards per catch (second among rookie receivers) and a 125.7 WR rating (fourth). The receiving corps appears to be on track to cement its status among the league's best after being one of the league's worst just a few seasons ago.
Breida got the nod after Jerick McKinnon's ACL tear in the preseason, and he again flashed as he did a season ago. He proved to be a force in the passing game, where he was one of six running backs with 30 or more targets to not have a drop. His efforts earned him a 90.1 receiving grade, the highest at his position.
The argument that every NFL team rosters one or two solid players on both sides of the ball is a valid one. What makes the 49ers any different heading into 2019? With Kittle, Buckner, McGlinchey, Pettis and Breida, the 49ers have a group with unlimited potential where the oldest player is 25 years old. For comparison, the Los Angeles Rams have a talented young core that is arguably the best in the NFL, with numerous studs in the 27-to-28-year-old range. Interior defender Solomon Thomas, edge defender Ronald Blair III and edge defender Arik Armstead have also shown flashes of brilliance on defense (all with grades higher than 60.0). With each also being 25 years or younger, the 49ers' fountain of youth is never-ending. And with quarterback Jimmy Garoppolo and McKinnon returning in 2019 from injury, this team has all the tools needed to contend in the NFC.