When the confetti falls from the sky at the Mercedes-Benz Stadium on Sunday night, it will not only mark the winner of the Super Bowl, but it will also bring the close of the 2018 season. With that, the five quarterbacks selected in the first round of the 2018 NFL Draft – Baker Mayfield, Sam Darnold, Josh Allen, Josh Rosen, and Lamar Jackson – will all officially have one NFL season under their belts.
Here's a look at how each of the first-round rookies did in their first year in the NFL, using PFF's signature stats and grades:
[Editor's Note: All quarterback stats and screenshots in this story can be found in our QB Annual, released for PFF EDGE & ELITE subscribers. The QB Annual contains detailed profiles, exclusive signature stats, grades and much, much more. If you don't have EDGE or ELITE, you can sign up here, while existing subscribers can download the QB annual here.]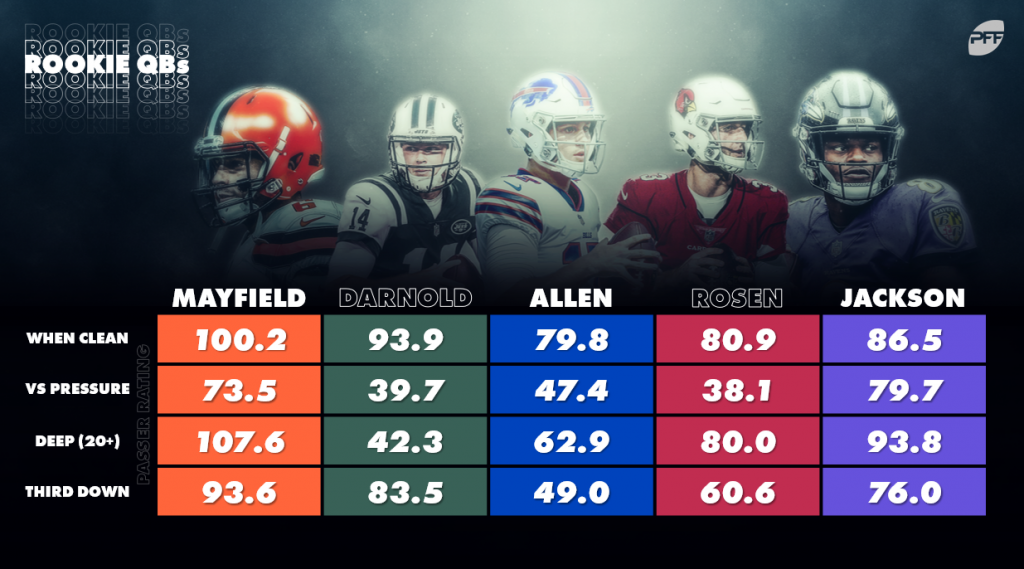 The Cleveland Browns failed to win a single game in 2017. In 2018, they won seven games and were in the playoff hunt right until the end of the year, and that was largely thanks to the play of Baker Mayfield, who earned the second-highest overall grade that we've ever given to a rookie quarterback.
Mayfield's 100.2 passer rating from a clean pocket fell just below the league average of 103.1, but it was still almost 10 points clear of the next rookie signal-caller, and it would have been even higher if not for the 24 dropped passes that were racked up by his pass-catchers throughout the year. All told, Mayfield completed 249-of-368 attempts from a clean pocket for 2,863 yards, 19 touchdowns, and seven interceptions, more impressively, however, is his big-time throw percentage of 7.3% which was third-best mark among all quarterbacks this year.
What made Mayfield's season special was his rare ability to throw down the field. He had 39 big-time throws, the third-most in the entire NFL, and that's a big reason why he broke the single-season rookie touchdown passes record with 27. On passes targeted at least 20 yards downfield, Mayfield notched 32 completions from 72 attempts for 1008 yards, 11 touchdowns, and four interceptions which were all good for a 10th-ranked 107.6 passer rating –  head and shoulders above his classmates. As he did from a clean pocket, Mayfield produced big-time throws with frequency when he was looking to stretch the field, and ended the year with the fourth-highest deep-passing grade and a big-time throw percentage of 36.1% that ranked second among all players at the position.
One of the most promising aspects of Mayfield's rookie campaign was his accuracy, which he took the next level after an already excellent final year at Oklahoma. Across his 486 pass attempts on the season, Mayfield put the ball in a perfect spot 21.4% of the time, dwarfing the NFL average, all while he limited the 'catchable, inaccurate throws' to a better-than-average rate.
Baker Mayfield last year at Oklahoma on the left vs. this year with the Browns on the right#PFFQBAnnual pic.twitter.com/sLpL5aE6ea

— Steve Palazzolo (@PFF_Steve) January 24, 2019
Darnold has had his fair share of ups and downs this year, but his performances down the stretch should give the New York Jets' fanbase hope for the future, as he recorded three of his highest single-game grades in the last four weeks of the season.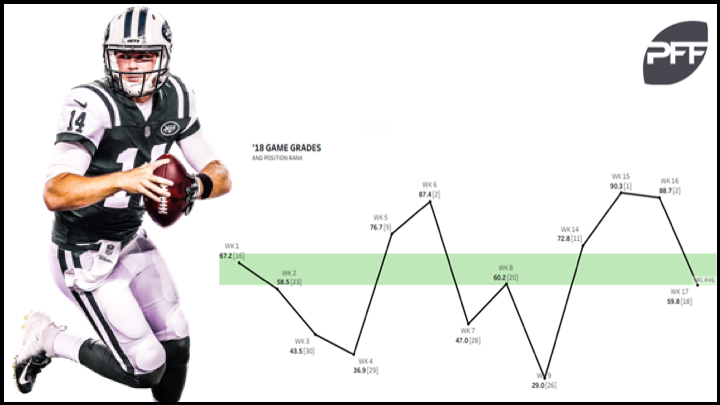 Looking at his season as a whole though, Darnold fell below the NFL average in most facets of play; his 93.9 passer rating from a clean pocket ranked 31st among qualifying signal-callers, his 39.7 passer rating under pressure was 37th, and his 42.3 passer rating on deep throws ranked 32nd. However, it's interesting to see the difference in performance when you look at his time to throw splits.
When he took less than 2.5 seconds to throw the ball, Darnold recorded a passing grade of 68.6, a passer rating of 92.9 and an adjusted completion percentage of 74.1% – not great, but not terrible. When he took 2.6 seconds or longer to throw the ball, his passing grade dropped to 56.8, his passer rating fell to 61.8, and his adjusted completion fell to 64.6% – the polar opposite to the aforementioned.
The former Wyoming quarterback put together some terrific performances this year, with his best throws being among some of the most impressive of the season. However, as we (and many others) predicted, accuracy was an issue at times, and he ended the year with an adjusted completion percentage of just 64.7%, putting him 38th among the league's 38 qualifying signal-callers.
Here's a look at Josh Allen's accuracy (using advanced pass location data) from his last year at Wyoming vs. rookie season with the Bills#PFFQBAnnual pic.twitter.com/qddShZQ30Y

— Steve Palazzolo (@PFF_Steve) January 24, 2019
On 320 attempts across his 12 games, Allen managed to put the ball in the perfect spot just 8.6% of the time, a staggering 6.5 percentage points below the league average and a marked step down from the figure he produced during his final season at Wyoming.
In addition to his poor accuracy, Allen was one of the league's most fascinating players to watch because of his inconsistency not just from game-to-game, but from play-to-play. No statistics encompass this more than his big-time throw percentage of 5.0% which tied with Andrew Luck for the 11th-best rate in the league, and his turnover-worthy play percentage of 4.7% with was the eighth-worst, which truly shows the peaks and troughs of Allen's game.
It's difficult to put a black and white evaluation on Rosen's rookie season, as he was never really put in a position to succeed. Since taking over from Sam Bradford in Week 3, Rosen was subjected to defensive pressure on 39.9% of his dropbacks – the seventh-highest rate among quarterbacks in that span – and struggled under that pressure, completing 53-of-126 pressured attempts for just 4.3 yards per attempt, a passer rating of 41.6 and a turnover play rate of 5.4%, all of which factored in to his lackluster overall grade.
Like Darnold, Rosen fell below the NFL average in most facets of play; his 80.9 passer rating from a clean pocket ranked 37th among qualifying signal-callers, his 38.1 passer rating under pressure was just 1.2 points above the passer rating given to a spike, and his 80.0 passer rating on deep throws ranked 22nd. However, something that can provide the Cardinals' fans with hope is his performance in the red zone.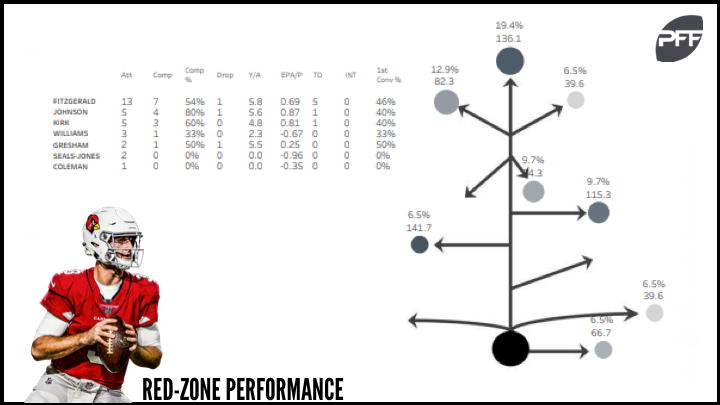 On 38 red-zone dropbacks, Allen completed 16-of-38 attempts for 146 yards, seven touchdowns, and zero interceptions, with three of those incompletions coming from dropped passes. Rosen's red-zone big-time throw percentage of 7.9% tied for the third-best mark among quarterbacks this year, while he was one of three quarterbacks (Matt Ryan and Aaron Rodgers being the others) to log at least 30 red-zone attempts without throwing a single turnover-worthy pass.
Jackson's ascent to Baltimore's starting job was an entertaining one, and the run-based offense that Harbaugh & Co. have built around Jackson could very well give defenses a fright as we head into the 2019 campaign. Since taking over from Joe Flacco in Week 11, Jackson was nothing short of lethal on designed runs, where he's racked up a staggering 425 rushing yards, 33 first downs and 16 runs of 10 or more yards.
His work as a passer, however, left a lot to be desired at times. On throws from a clean pocket – conditions that we've found to be the most predictive of quarterback performance – Jackson completed just 72 of his 120 attempts, for 790 yards, five touchdowns, two interceptions, and a 35th-ranked passer rating of 86.5. However, more concerning was the fact that he produced just one big-time throw on those dropbacks compared to six turnover-worthy plays, en route to a turnover-worthy percentage of 5.0% that was the third-highest rate in the league.
Lamar Jackson accuracy at Louisville vs. this year with the Ravens#PFFQBAnnual pic.twitter.com/6l3Wq7DiD6

— Steve Palazzolo (@PFF_Steve) January 24, 2019
As we can see from Jackson's accuracy chart above, Jackson took a step back in terms of accuracy during his first year in the NFL, putting the ball in the perfect spot on just 13.2% of his throws on the year, which is 1.8% percentage points lower than the NFL average and 2.7 percentage points shy of his 2017 college figure. The very same accuracy woes show up in his adjusted completion percentage, where his mark of 66.7% was good for 37th among 38 qualifying quarterbacks.