Entering Sunday's slate of games, the last cornerback to have five passes defensed in a game was David Amerson — nearly two years ago in Week 3 of 2016. But as Week 8's afternoon games came to a close, Green Bay Packers rookie cornerback Jaire Alexander managed to match that mark against the NFL's only remaining unbeaten team and its star quarterback, Jared Goff.

Alexander was the second cornerback taken off the board in the 2018 NFL Draft, but he's now making his case for the top rookie cornerback in the league. Against the Los Angeles Rams on Sunday, he had his best performance yet against an explosive offense.
Tasked with marking wider receiver Brandin Cooks, Alexander was in for his biggest test since dealing with Minnesota Vikings wide receiver Adam Thielen in Week 2. And while Alexander allowed three catches in coverage to Cooks, he broke up two passes against the speedy receiver, including a deep end-zone shot, and broke up another three against his other assignments throughout the game.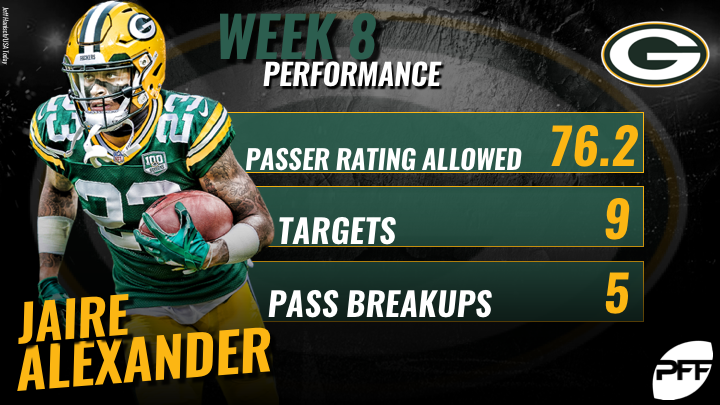 It wasn't a perfect game by any means, but it solidified Alexander's spot as a true contender in the Defensive Rookie of the Year race. He's currently the second-highest graded rookie cornerback through eight weeks at 81.1, behind only Cleveland Browns cornerback Denzel Ward. And while Ward has three interceptions on the year to Alexander's one, Ward has also allowed four touchdowns in coverage compared to just one for Alexander — however, that also has to do with missed games for Alexander leading to far fewer snaps.
The rookie cornerback has admittedly struggled against the deep ball, allowing five catches on eight targets for nearly 150 yards. But against intermediate and short throws, he's been nothing short of lockdown. On attempts of 10 yards or less, Alexander has allowed 10 completions on 17 targets in coverage for only 47 yards. To put that in perspective, he's the only cornerback in the NFL with 15 or more targets on those throws who has allowed less than 50 yards.
For a Packers' secondary that had the 31st overall coverage grade in 2017 at 54.9, Alexander has provided a needed spark. In 2018, the revamped Green Bay secondary is sixth in coverage grade at 80.5. That turnaround is due in large part to an injection of youth — cornerbacks Kevin King and Josh Jackson are in their second and first years, respectively.
In the first two weeks of the season, it looked as though Alexander would have a woeful 2018. He allowed 11 catches on 13 targets to go along with 107 yards and a touchdown for a rough passer rating of 126.6. Since then, it's been lights out to the tune of six receptions allowed on 18 targets for 123 yards and an interception — a passer rating of 35.2.
It's too early to tell if that success will hold true for the remainder of the year, but for now, Alexander is proving why he was selected in the first round. Ward is sitting tight at the top of the Defensive Rookie of the Year race as of now, but Alexander has a legitimate shot to top him if he can sustain his current play while also improving against the deep ball.