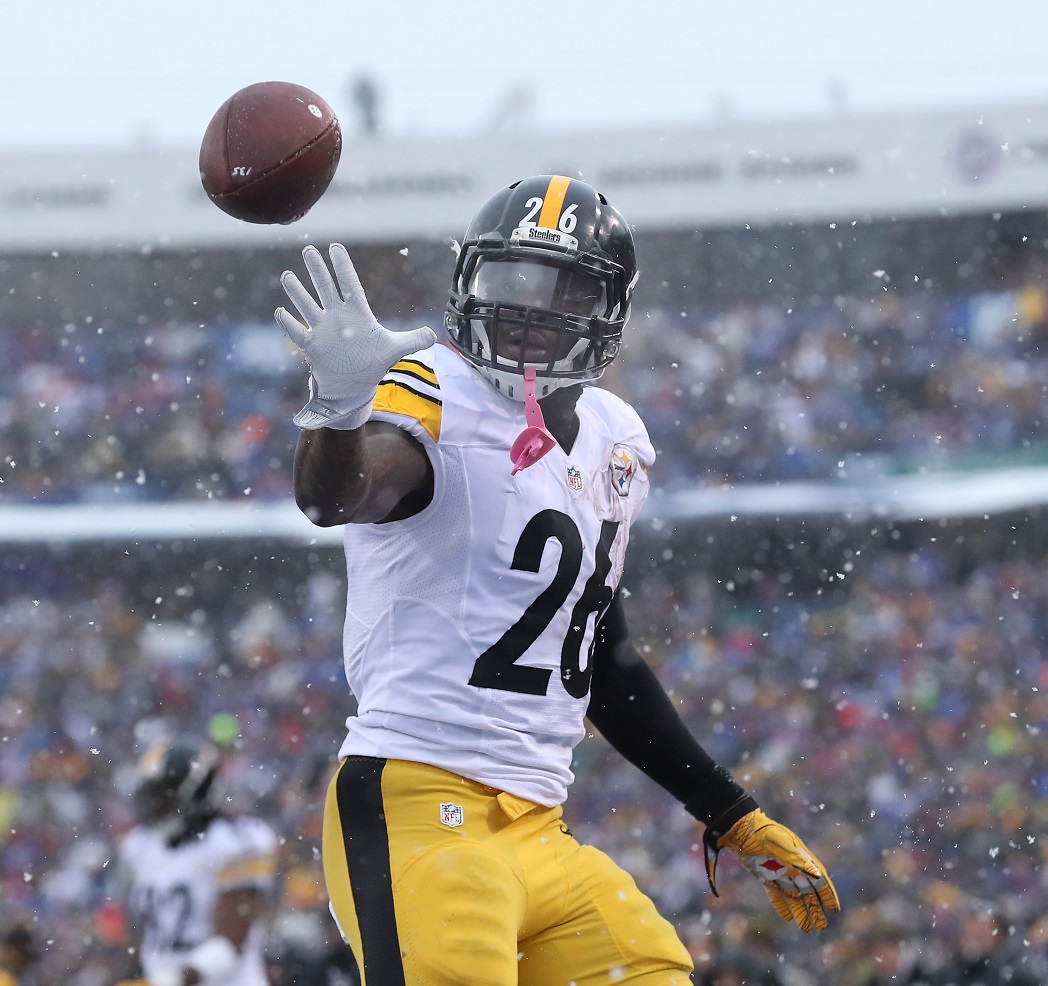 ORCHARD PARK, NY - DECEMBER 11: Le'Veon Bell #26 of the Pittsburgh Steelers gets the ball back from the official after scoring his third touchdown of the game during NFL game action against the Buffalo Bills at New Era Field on December 11, 2016 in Orchard Park, New York. (Photo by Tom Szczerbowski/Getty Images)
We're at a point in the offseason where retaining key free agents becomes a trickier proposition with each passing day. One tool that teams have at their disposal is the franchise tag, allowing them to hold onto one of their players each season using a pre-determined one-year contract based on his position and the number of times he's previously been franchised. Placing the franchise tag on a player has some risk, as failure to subsequently secure a long-term deal can often lead to a player being disgruntled, holding out, or leaving anyway via trade. Below are eight players who should receive the franchise tag if they are not signed to a long-term deal in the next month.
1. Le'Veon Bell, RB, Pittsburgh Steelers
At a little under $12.5 million for next season, Bell would be quite easily the highest-paid player at his position (assuming the Vikings move on from Adrian Peterson). If he is available for most of the 2017 campaign (a big if), he's likely worth that much, as he played over 90 percent of the snaps he was available for in 2016, producing more than 1,600 yards on the ground, with almost 1,000 after contact alone (including playoffs). His 5.0 yards per carry were a career high, and his additional ability to pick up yards through the air (619 last season) would make it next-to-impossible for the Steelers to replace if he were to leave this offseason.
2. Kirk Cousins, QB, Washington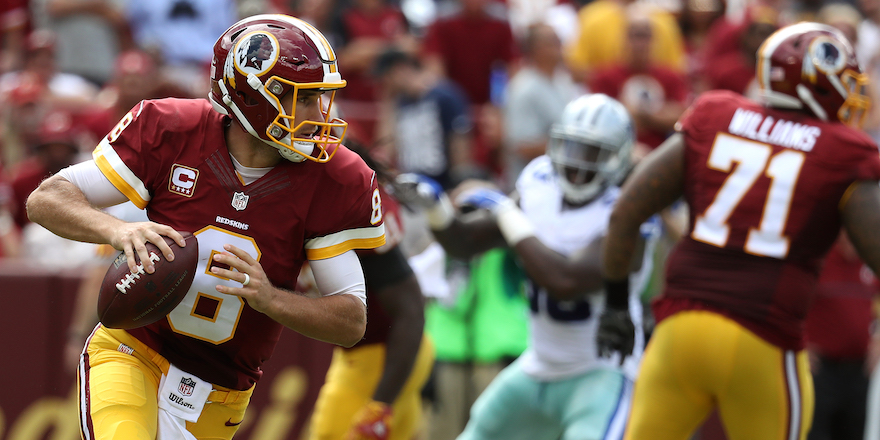 This would be the second year under the franchise tag for Cousins, coming with a guarantee of a little under $24 million for the 2017 season (which would make him the second-highest-paid signal-caller in the league on a per-year basis). There's a reason that quarterbacks of Cousins' caliber rarely make it to free agency, and while he struggled early on last season, he was third in our PFF Quarterback Rating (95.27) by season's end, trailing only Tom Brady and Matt Ryan. While it's clear a long-term deal would be preferable for Washington, the fact that such a deal would probably start at a lower rate than the $24 million per season makes the likelihood of either budging in the next month or so relatively low.
3. Kawann Short, DI, Carolina Panthers
While Short had a disappointing start to the 2016 season, the interior defender finished the season second among defensive tackles with a run-stop percentage of 11.9 and a pass-rush productivity of a respectable 10.0. With veteran Charles Johnson and up-and-comer Mario Addison heading into unrestricted free agency on the edge, it is imperative that Carolina settles this uncertainty in the middle of its defense. The third-highest-graded player at his position a season ago would earn a little under $13.5 million with the tag, putting him behind only four other interior players on a per-season basis. Like with Muhammad Wilkerson a year ago, a long-term deal should be likely here, but may take until after the application of the tag to get it done.
4. Terrelle Pryor, WR, Cleveland Browns
One of the Browns' few bright spots in a season full of rebuilding, Pryor's case is an interesting one. One could make the argument that his 2016 season (1,007 yards on 1.70 yards per route run) playing with an awful stable of quarterbacks projects well for the former signal-caller out of Ohio State. However, his age (27) is a bit high for a player with only one year of solid play to his name. If the Browns didn't have so much cap space, the one-year, $15.83 million deal might be less likely, but another year to prove it may be the best-case scenario for both Cleveland and their diamond in the rough.
5. Chandler Jones, ED, Arizona Cardinals
The position designation is weird here, since he's an edge player who can play outside linebacker (with a $14.75 million tag) in the 3-4 or defensive end ($16.96 million) in the 4-3. The Cardinals' base defense uses an odd-man front, meaning Arizona would likely get a deal with the former Patriot with the application of the tag. Even though standout end Calais Campbell is also an unrestricted free agent, Jones is younger and plays at a position for which the Cardinals have struggled for years. After grading out as our 31st- and 30th-highest-graded defenses with respect to pass rushing the last two seasons, the Cardinals elevated themselves to third a year ago, in no small reason due to Jones' 66 total pressures in 938 snaps. After trading a second-rounder for Jones last offseason, I don't see a scenario where they let him walk after one year.
6. Dont'a Hightower, LB, New England Patriots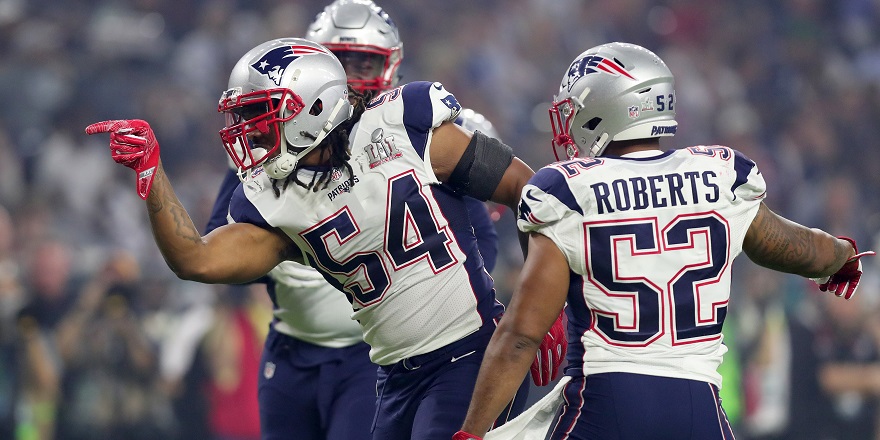 While the Patriots haven't used the tag much recently, the versatile Hightower might garner such treatment in 2017, as the Patriots go into the offseason with substantial cap space and a relative void remaining at the position, stemming from the midseason trade of Jamie Collins. Significant snaps were given to players like Elandon Roberts, Kyle Van Noy and Shea McClellin at the position after they moved on from Collins, but none of them could match the productivity of Hightower, who generated six sacks and 30 total hurries, while producing 39 stops in the process of playing both inside and outside linebacker. A one-year deal at $14.75 million for Hightower would make him the highest-paid traditional linebacker in the league, but would also give the Patriots time to evaluate players like Roberts (one of the highest-graded players at his position his last year at the University of Houston) for the future while competing for their third Super Bowl title in four years.
7. Eric Berry, S, Kansas City Chiefs
I'm on record saying the Chiefs should have re-signed Berry to a long-term deal last offseason, and after a year of fantastic play at the position, it will certainly cost the relatively up-to-the-cap Chiefs more money this time around to get it done. The second year of the tag will cost the Chiefs $12.96 million (highest among all safeties), with the likelihood that Berry will not report until the regular season, if at all, without a long-term deal. Be that as it may, the Chiefs' defense would not be the same without Berry, whose range and versatility allowed for Kansas City to get by with a series of injury-riddled players and street free agents at right cornerback and allow just the seventh-fewest points per game a season ago.
8. Stephon Gilmore, CB, Buffalo Bills
The situation reminds me of the Rams' situation a year ago with Trumaine Johnson — a tall (6-foot-0') corner with a relatively inconsistent track record demanding value in a league that continues to trend toward five- and six-defensive back personnel groupings on the majority of downs. While $14.28 million per season would make him the second-highest-paid cornerback in the league on a per-season basis, if he can return to his form from 2015, where he surrendered less than a 55 percent completion percentage into his coverage and had 12 pass breakups (eighth among all cornerbacks) he could turn into the No. 1 cornerback that teams covet. With the cap space available with the likely departure of Tyrod Taylor, the Bills would be smart to see if they can cultivate such a situation for their defense.