Contract holdouts are a fact of life with the limited career spans and lack of guaranteed contracts in the NFL. Players should always try to strike while the iron is hot and maximize earnings. At the same time, smart franchises have to pick and choose their spots on when to give into said demands. Just because you have a talented player, it doesn't mean that extending him is in the best long-term interests of your franchise. 
If you haven't heard by now, we here at PFF don't think the running back position is all that valuable. With our WAR numbers projecting out the value of what similar players to Gordon have done on their second contracts, we found that not only would a market-setting deal be crazy, but also that his current $5.6 million cap hit is about all we'd pay him. If anyone is offering the Chargers anything via trade, they'd be silly not to take it.
With two more years under team control, the Cowboys would be setting themselves up for problems down the road by rewarding Elliott's holdout. That kind of precedent could easily be used against them in future negotiations, especially as Elliott is already among the top-10 at the running back position in terms of average yearly salary. Even regardless of the running back value argument made in Gordon's section above, giving in to Zeke's holdout would be bad business.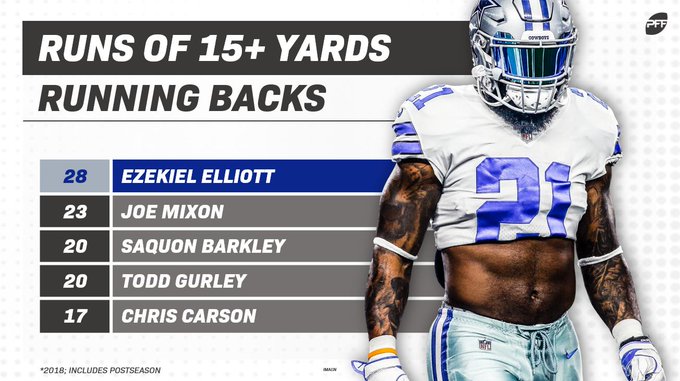 With Drew Brees and Sean Payton, the Saints will have a good passing offense. Brees has either thrown for over 4,400 yards or averaged over 8.0 yards per attempt in every single season with the Saints. They've treated a lot of receivers as expendable over that time, including Brandin Cooks most recently. Thomas is a different breed from what the Saints have had before though, and life after Brees is a real concern at the moment. In Thomas' three seasons he has grades of 86.4, 90.6 and 91.3. His presence would ease the transition to whoever is taking snaps behind center for the Saints when Brees finally hangs it up. This feels like one New Orleans has to get done and it's likely a market-setting deal.
This one is about more than money. Williams reportedly doesn't trust the organization and medical staff in Washington. He simply wants out. With the mess that Alex Smith's contract has created for the Redskins — and with the 31-year-old left tackle unlikely to be a cornerstone for any future plans — trading Williams seems far and away their best option. Despite his age, the market should 100 percent still be there for Williams' services. He's earned pass-blocking grades over 80.0 every year since 2012. The Texans and Browns should be on Line 1.  
GM jokes aside, the Texans are making a shrewd call here by not caving to Clowney's demands. Any market-setting deal would be grossly overvaluing what Clowney has brought to the table so far in his career. While he's become increasingly productive in recent years as the Texans have gotten more creative with his alignments, Clowney's still never even earned a pass-rushing grade above 80.0 in a single season for his career. While you don't pay for past performance, Clowney has never been a Khalil Mack-type of player that offenses have to alter their gameplans for, and paying him as such would be a big risk.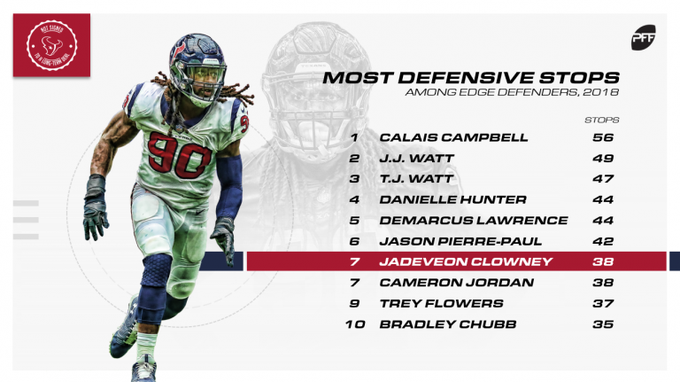 With Ngakoue's contract expectations reportedly in a more realistic realm than Jadeveon Clowney's, the Jaguars should gladly continue to keep their defensive line as one of their strengths. CBS' Pete Prisco believes a deal will get done somewhere in the neighborhood of four years at $20 million per. While Ngakoue's play slipped a tad in 2018, we have seen elite performance from him in the past. He earned an 88.2 pass-rushing grade and racked up 82 pressures including the playoffs back in 2017.