Ronald Darby has been a consistent performer both with the Buffalo Bills (2015-16) and in the last two years in with the Philadelphia Eagles (2017-18), earning 68.3-plus overall grades every year of his career.

Pro Football Focus will be running through 50-plus pending/soon-to-be free agents between January 7, 2019 and March 8, 2019 to offer a detailed analysis of the top players bound for new contracts and (possibly) new teams in 2019. We want to house all of the important grades, advanced stats and key analysis for each player, so you know exactly what your team is getting in free agency.
To review all of our free agent profiles in one place, please visit this page.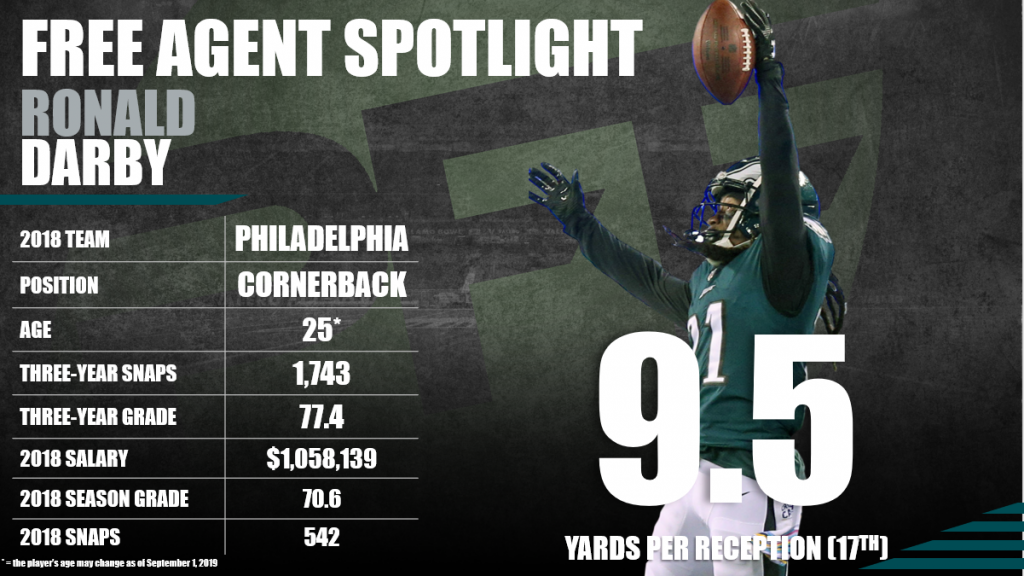 Darby earned a career-high 78.3 overall grade in 2017 and could return to such form if his health allows in 2019. He missed the final six weeks of the season and the Eagles' two postseason games with a torn ACL last year.
Subscribe to Pro Football Focus' ELITE subscription to research Ronald Darby's grades, advanced stats, snaps and more in Premium Stats 2.0.