After finishing up the four-year, $40 million contract he signed in the 2015 offseason, Cobb now enters unrestricted free agency on the heels of an injury-plagued 2018 campaign. This past season was the lowest-graded of his career (60.2) and also the fewest snaps he's played in a season since 2013 (466).


Pro Football Focus will be running through 50-plus pending/soon-to-be free agents between January 7, 2019 and March 8, 2019 to offer a detailed analysis of the top players bound for new contracts and (possibly) new teams in 2019. We want to house all of the important grades, advanced stats and key analysis for each player, so you know exactly what your team is getting in free agency.
To review all of our free agent profiles in one place, please visit this page.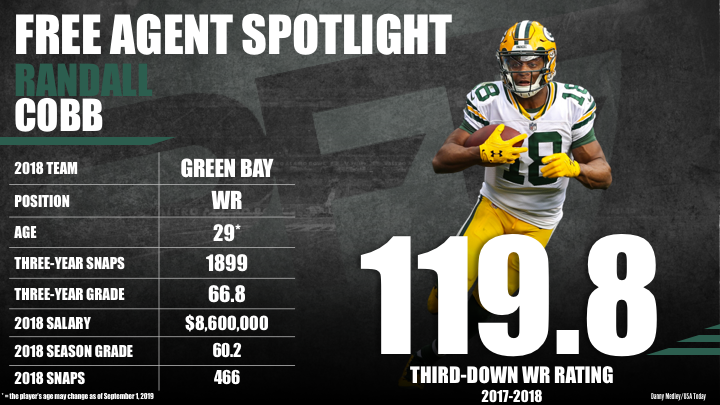 Peaking in 2014 (84.6 grade, 129.2 rating when targeted), Cobb has continually declined in overall grade and snaps played since. When healthy, he is still capable of performances like we saw in Week 1 this past season, a nine-catch on 10 targets for 142 yards and 152.1 passer rating when targeted game against the Bears. A slot-needy team could look to bring Cobb in on a low-risk contract hoping he can provide a dependable option (only six drops on 246 targets over the past three seasons) in that increasingly important position.
Subscribe to Pro Football Focus' ELITE subscription to research Randall Cobb's grades, advanced stats, snaps and more in Premium Stats 2.0.