Many of the Los Angeles Rams' offseason moves were talked about a lot more than giving their breakout safety Lamarcus Joyner the franchise tag. But Joyner entered the 2018 season as the second-highest graded player on the Rams' roster behind only PFF's (three-time) Defensive Player of the Year Aaron Donald. Joyner did come back down to earth after his breakout year in 2017. He went from the second-highest graded safety at 91.0 last year to the 28th-highest graded this season.

Pro Football Focus will be running through 50-plus pending/soon-to-be free agents between January 7, 2019 and March 8, 2019 to offer a detailed analysis of the top players bound for new contracts and (possibly) new teams in 2019. We want to house all of the important grades, advanced stats and key analysis for each player, so you know exactly what your team is getting in free agency.
To review all of our free agent profiles in one place, please visit this page.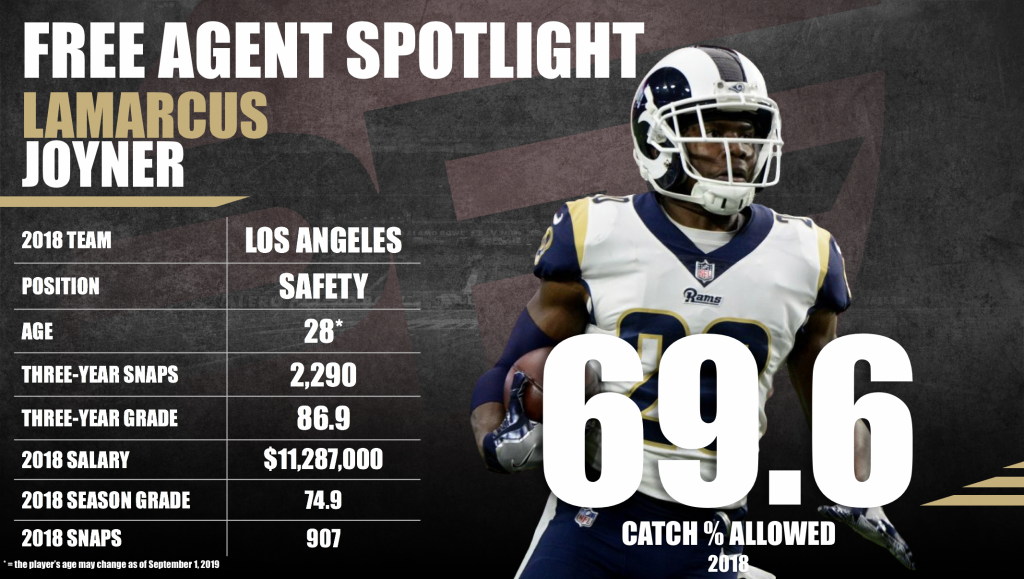 Joyner bet on himself with the franchise tag this season, only to have his grade drop just over 16 points, and the biggest reason for that was his coverage grade dropping over 20 points itself (91.3 in 2017 to 71.2 in 2018). His playmaker index went from among the best in the league last season at 38.5% to a mere 11.1% this year. The former slot cornerback turned safety allowed a passer rating of 73.1 (25th) in 2018 after allowing just 27.4 (5th) in 2017. However, Joyner did continue to show off his sure-tackling, especially in the passing game with only one missed tackle over the last two seasons (73 tackle attempts). It'll be interesting to see if a team pays for 2017 Joyner or this past season's Joyner.
Subscribe to Pro Football Focus' ELITE subscription to research Lamarcus Joyner's grades, advanced stats, snaps and more in Premium Stats 2.0.