Listed at 6-foot-7, 261 pounds, former Penn state tight end Jesse James brings good size to the table and untapped potential given his age (24) and serviceable athleticism. He's yet to break out as a true receiving threat at the position but offers immediate help with his ability to block both in pass protection and in the ground game.

Pro Football Focus will be running through 50-plus pending/soon-to-be free agents between January 7, 2019 and March 8, 2019 to offer a detailed analysis of the top players bound for new contracts and (possibly) new teams in 2019. We want to house all of the important grades, advanced stats and key analysis for each player, so you know exactly what your team is getting in free agency.
To review all of our free agent profiles in one place, please visit this page.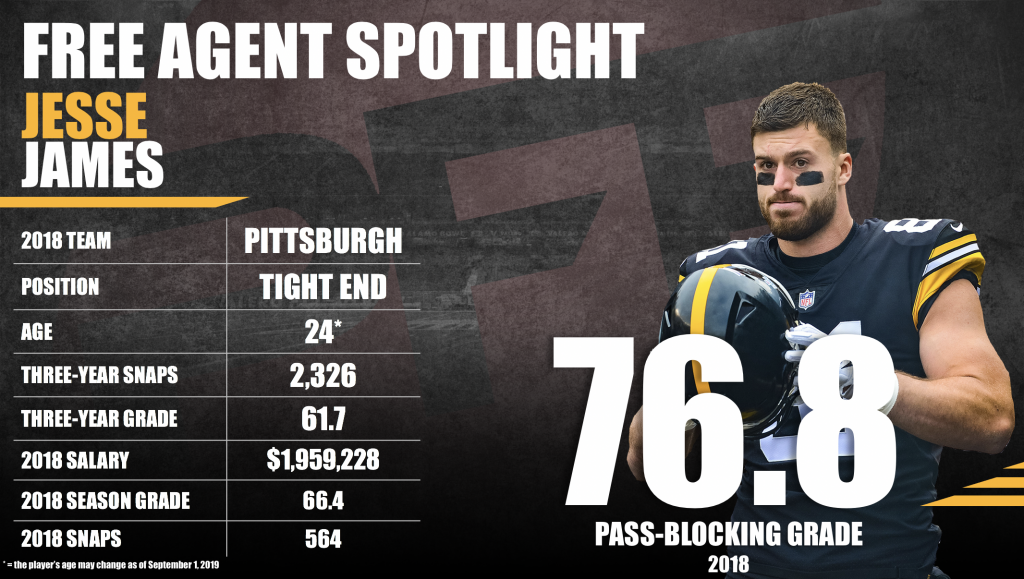 Investing in James as a top tight end in this league wouldn't be wise, but adding him as a depth piece with starter potential is the low-risk, high-reward free agency signing should be willing to make if tight end depth is a need heading into March.
Subscribe to Pro Football Focus' ELITE subscription to research Jesse James' grades, advanced stats, snaps and more in Premium Stats 2.0.