Jared Cook had one of the best years of his career with the Oakland Raiders in 2018, earning an impressive 75.7 overall grade in the process. He was a safety blanket for Derek Carr all year and thrived in that role, making it that much harder to believe Oakland lets him go this offseason.

Pro Football Focus will be running through 50-plus pending/soon-to-be free agents between January 7, 2019 and March 8, 2019 to offer a detailed analysis of the top players bound for new contracts and (possibly) new teams in 2019. We want to house all of the important grades, advanced stats and key analysis for each player, so you know exactly what your team is getting in free agency.
To review all of our free agent profiles in one place, please visit this page.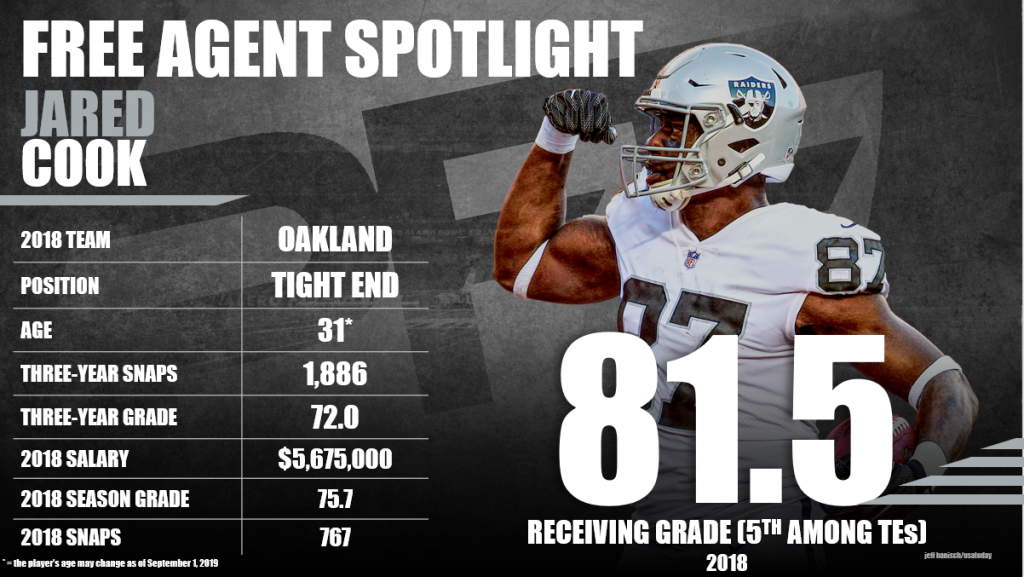 Cook hasn't been too consistent throughout his career, which warrants concern given that he's had just two years 75.0-plus overall grades. However, he still proved well worth another short-term deal with his production in 2018. 
Subscribe to Pro Football Focus' ELITE subscription to research Jared Cook's grades, advanced stats, snaps and more in Premium Stats 2.0.