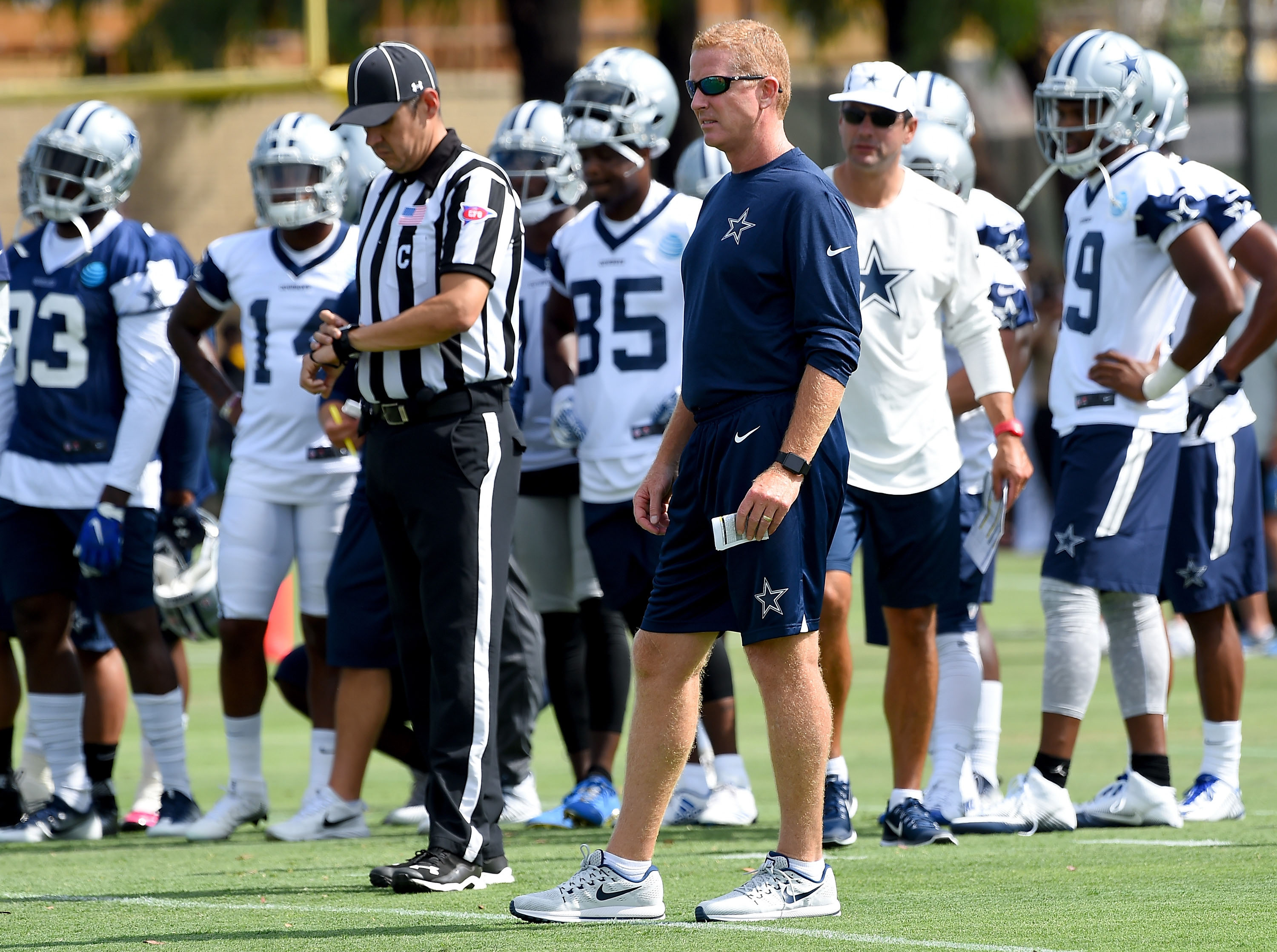 OXNARD, CA - JULY 24: Head coach Jason Garrett of the Dallas Cowboys runs the players through drills on the first day of training camp on July 24, 2017 in Oxnard, California. (Photo by Jayne Kamin-Oncea/Getty Images)
With the last days of July trickling past, the start of NFL Training Camps are upon us. Here at Pro Football Focus, we wait all year round talking football, watching football, analyzing football and July finally brings with it, some real football. At least, almost real.
NFL Training Camps are the first time in which veterans and rookie players all mesh with their coaching staffs for the upcoming season, and the first time in which battles for some intriguing positions take place across the NFL.
With the start of training camp, we bring you the most intriguing position battle for every NFC team to watch for over the next few weeks:
NFC East

BY JOSEPH YEVERA
With the departures of Brandon Carr and Morris Claiborne in free agency, there is an open spot across from CB Orlando Scandrick on the Dallas Cowboys defense.
The recent arrest of Nolan Carroll and Jourdan Lewis' legal troubles have veteran Anthony Brown along with rookies Chidobe Awuzie and Marquez White all seemingly in play for the cornerback position.
Veterans Carroll and Brown both struggled in pass coverage last year giving up a passer rating of 100.0 (77th among CBs) and 105.2 (95th), respectively, to passes thrown their direction.
As for the rookies, Awuzie and Lewis are arguably the best prospects on the Cowboy's roster both receiving nearly identical overall PFF grades in their last college season, Awuzie 84.3 and Lewis 84.4, which could warrant a look in their direction.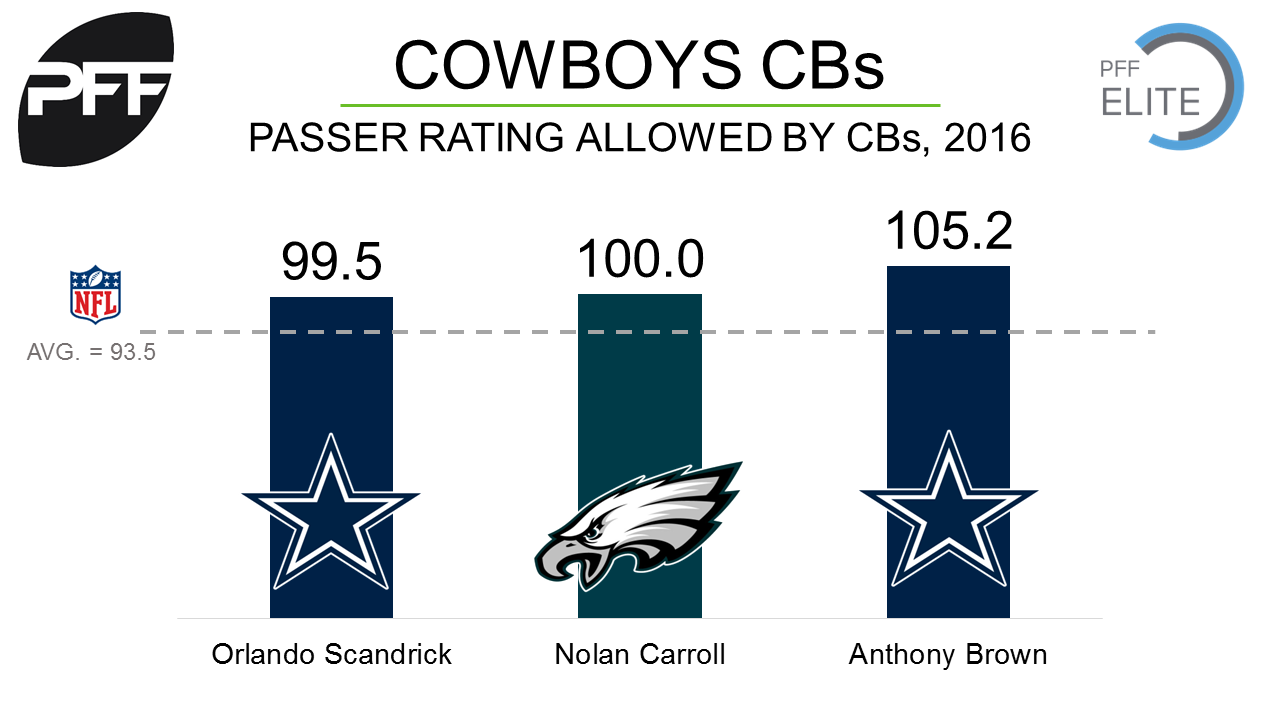 BY MIKE ALESSANDRINI
2016 third round pick Isaac Seumalo will enter training camp as the favorite to start at left guard, but will face competition from last year's starter Allen Barbre, veteran Stefen Wisniewski and free agent addition Chance Warmack. Given the lack of competition elsewhere on the offensive line, this will be a key position battle.
Seumalo made starts at three positions last season (left guard, right guard and right tackle), surrendering nine total pressures on 148 pass block snaps. He faired well in the run game, earning a 75.0 PFF grade in that department.
Last year's primary starter, Barbre earned a 95.8 pass-blocking efficiency, which ranked 49th out of 78 qualifying guards. His 82.7 run block grade was ranked 15th at his position, and his 82.2 overall grade was the highest among this training camp battle's key combatants. *He was traded to Denver  just at the start of the Eagles training camp, removing him from this position battle.
Wisniewski, another versatile lineman, earned the highest 2016 pass-blocking efficiency grade within this competition (97.0). This mark ranked him 16th out of 78 qualifying guards.
Warmack, a former Titans first-round selection, was limited to just 134 total snaps last year due to a torn tendon in his hand. He earned a 41.5 grade in his two starts. Warmack earned a 68.4 grade in 2015, surrendering 25 total pressures (including four sacks) in 501 pass block snaps.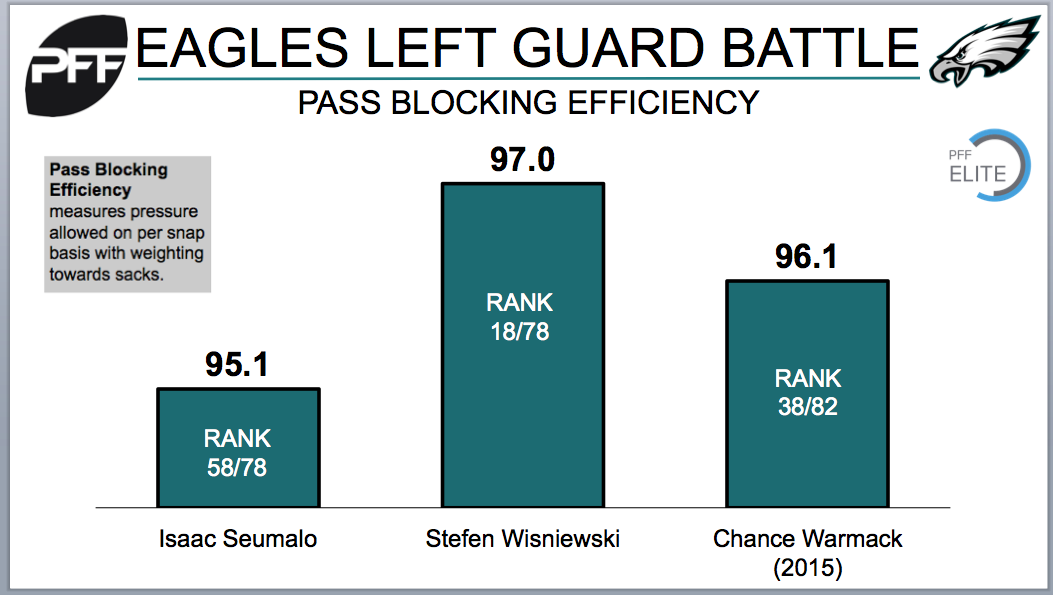 BY RYAN SMITH
The New York Giants return the large majority of their starters, but PFF's No. 1 secondary heading into 2017 still has free safety up for grabs between Andrew Adams and Darian Thompson – a pair of second-year players.
Last year's starter was Adams – an undrafted rookie – who had a very solid season, finishing with a 78.8 overall grade – the third-best mark among rookie safeties in 2016.
Thompson battled injuries (shoulder and foot) before ultimately being put on injured reserve after setbacks with his lisfranc injury. He played just 88 total snaps last year.
In his final year at Boise State, Thompson ranked seventh in the nation in run stop percentage (9.3 percent) among 338 safeties. He also nabbed five interceptions and had six pass deflections in coverage during his senior season.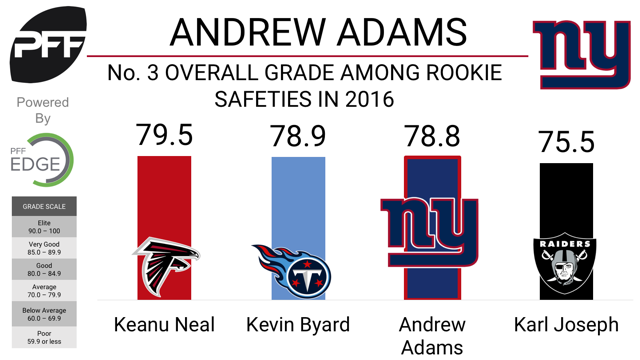 BY MARK CHICHESTER
As the Washington Redskins head to Richmond to start training camp, eyes will be on several positions on the defensive side of the ball as they seek to fix a third down defense that allowed the league's highest third-down conversion percentage (40.5 percent). Heading into camp, the inside linebacker position will be as hotly contested as any.
Zach Brown signed a one-year, $2.3 million deal with Washington in April after a season in Buffalo where he ranked 17th among 88 qualified linebackers with an overall grade of 84.0. Brown's 59 stops ranked third among all inside linebackers in 2016, and his 107 tackles ranked sixth. However, Brown's year was a tale of two seasons, as he tallied 43-of-59 stops in his first eight games, gaining just another 16 through the second half of the season, while receiving game grades below 40.0 in four of those eight games.
Defensive captain Will Compton ended the 2016 campaign with an overall grade of 41.8, ranking 76th of 88 qualifying inside linebackers. On his 936 snaps in 2016, he accumulated 33 total stops, which ranked 43rd, and he allowed a passer rating of 100.8 on throws into his primary coverage, ranking 44th. Compton missed 13 tackles on 93 attempts last year, giving him a tackle efficiency of 8.7, which ranked 47th of 64 linebackers with at least 165 snaps. In his three-year career, Compton has failed to register a PFF overall grade above 44.6.
Mason Foster is coming off a career-year, and was the ninth highest graded linebacker in 2016, with an overall grade of 86.3. He performed well while tackling, and missed just five tackles all season, ranking sixth among inside linebackers with a tackling efficiency rating of 24.2. He led both his team and all inside linebackers in the NFC East in tackles (92,) total stops (45), run stops (27) and run stop percentage (7.8 percent). In coverage, he allowed the lowest quarterback rating of all Redskins inside linebackers when targeted, allowing a passer rating of 94.4, a mark that ranked 13th in the league among his peers.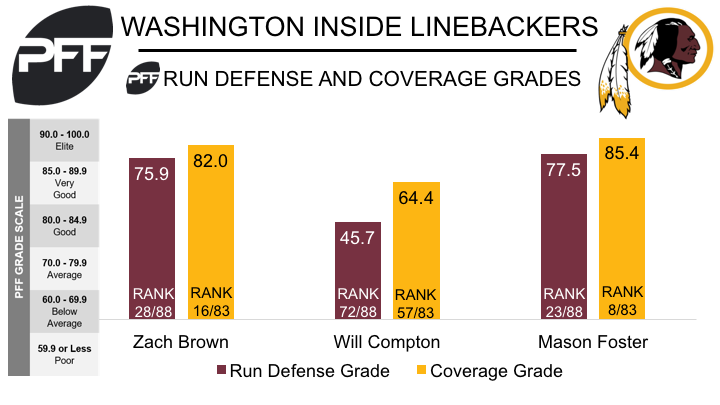 NFC North

BY LORIN COX
The Chicago Bears are looking to get quality out of quantity at the wide receiver position after signing Kendall Wright, Markus Wheaton and Victor Cruz as free agents this offseason.
These new veterans will be competing with the return of injured wide receiver Kevin White, while Cameron Meredith will be looking to build off of his breakout 2016 season that earned him a career-high 75.9 overall grade (51st of 115 qualified WRs).
Meredith leads the pack with 2.09 yards per route run, while Wright quietly finished in the top 20 last season in passer rating while targeted (108.9). Cruz is coming off of the lowest-graded season of his career (48.9 overall), and Wheaton is recovering from a shoulder injury that limited him to just 97 snaps in 2016.
Meredith and Wheaton are projected as the two top receivers, but the former Steeler spent the majority of his snaps in the slot in Pittsburgh (66.7 percent in 2015), the same role in which Wright and Cruz made a name for themselves on their respective teams.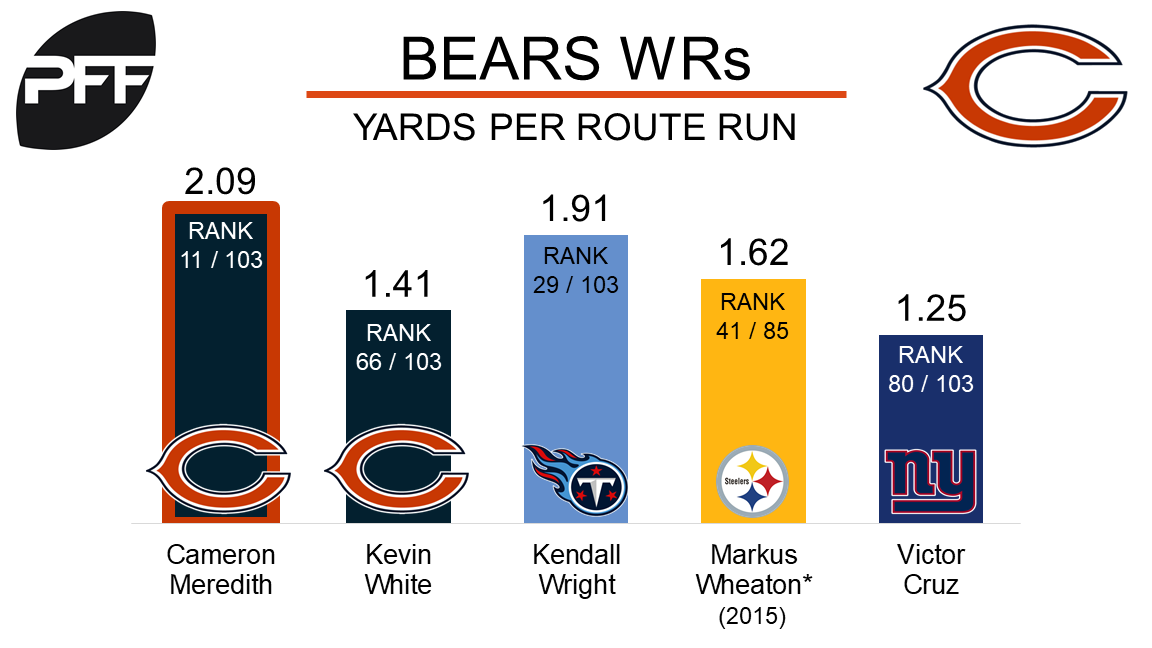 BY BRETT WHITEFIELD
With the Detroit Lions losing promising young left tackle Taylor Decker for a good chunk of the season, the Lions have a battle brewing for who will take his place as the starter. Following the news of Decker's injury, the Lions acquired Cyrus Kouandjio via free agency and Greg Robinson via a trade with the Rams. Robinson and Kouandjio will compete with Corey Robinson for the starting spot, who is entering his third season with Detroit and has experience at both left and right tackle.
With Kouandjio recovering from a hip injury and Corey Robinson seeming to fit better as a right tackle, Greg Robinson seems like the front-runner to win the job. Since entering the league in 2014, Greg Robinson has graded as one of the worst offensive tackles in the league earning grades of 47.1 in 2014, 41.6 in 2015 and 43.0 in 2016 which ranked 71st out of 77 qualifying tackles.
Pass-protection has been a consistent issue throughout Greg Robinson's career thus far and 2016 was no exception. His pass-blocking efficiency of 94.0 ranked 36th out of 61 qualifying tackles. He allowed 40 total pressures including eight sacks in 2016.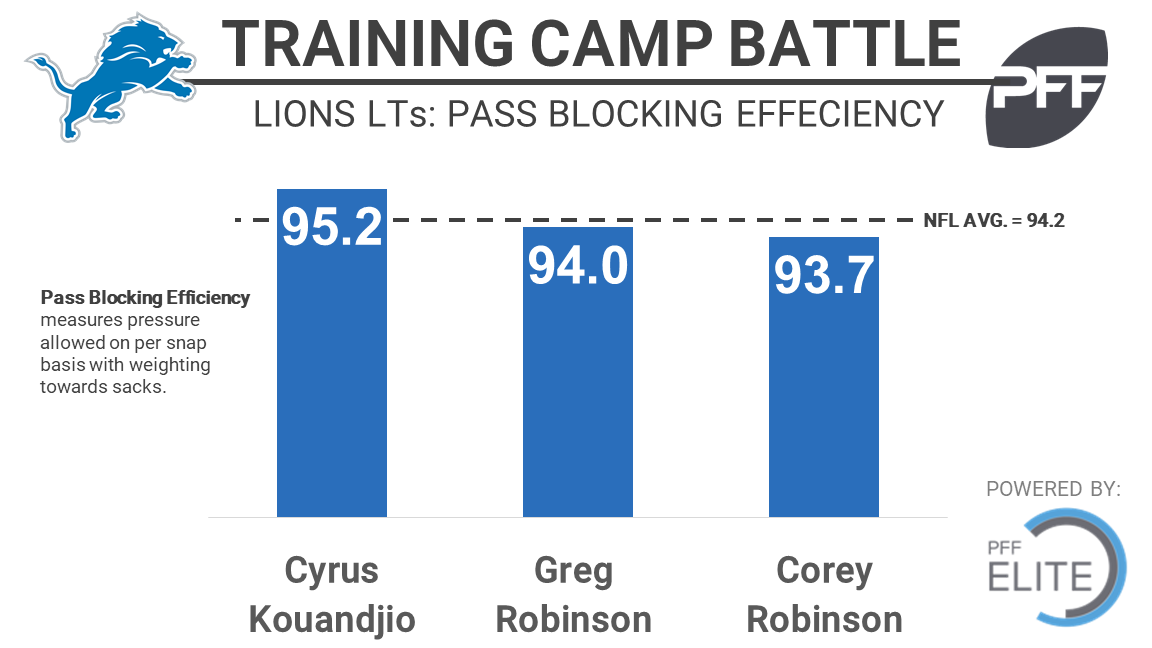 BY CYRUS GELLER
The Green Bay Packers will have a training camp battle at the cornerback position this year between Davon House, Quinten Rollins and Ladarius Gunter. The secondary was the biggest weakness of a playoff team last season, as they gave up the most yards per attempt (8.1) in the league, and the second most yards overall 4,308.
Last season, all three corners struggled, as Rollins led them with an overall grade of 46.2 (87th of 109 qualified CBs), followed by Gunter at 41.9 (97th) and House at 40.5 (would have been 100th, had he qualified).
Gunter allowed a passer rating of 101.6 when targeted last season, which ranked 135th out of 208 cornerbacks and he was 101st in yards per coverage snap at 1.23.
Quinten Rollins was 198th out of 208 players in opponent's passer rating, seeing a 135.4 passer rating when targeted, and he allowed seven touchdowns, which was tied for the second most among all cornerbacks in the league.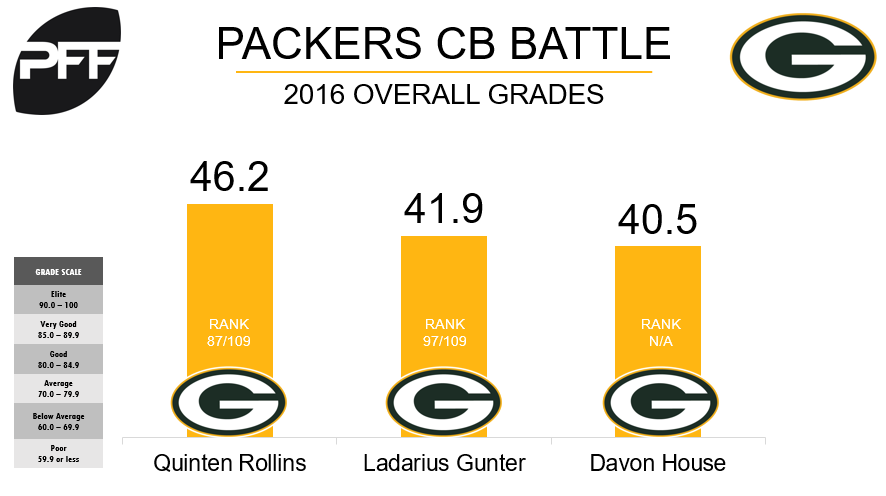 BY ANDREW ITES
The Vikings added two running backs this offseason in Latavius Murray and rookie Dalvin Cook who will compete with Jerick McKinnon for first team reps.
Mike Zimmer is notorious for keeping rookies on the bench, but Cook was outstanding at Florida State last season earning an overall grade of 89.5, and he led the nation in elusive rating (128.1) and broken tackles (91).
Murray brings a physical element to the run game as his 2.6 yards after contact per carry ranked 12th among qualifying running backs last season.
McKinnon is a better receiver than a runner earning a receiving grade of 67.4 last season opposed to his 50.8 run grade.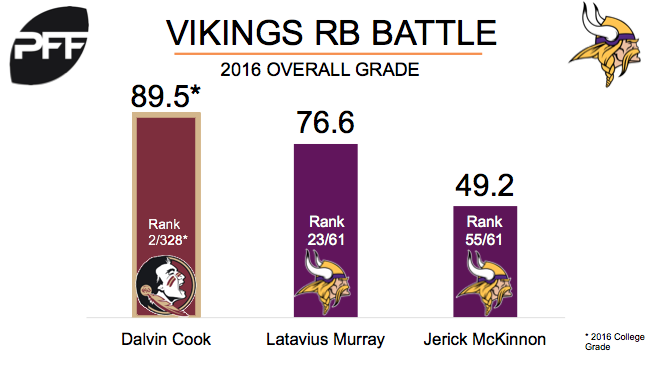 NFC South

BY SAM MONSON
With star CB Desmond Trufant set to return to the Falcons, the position in the secondary to watch heading into camp is the other starting spot on the outside where Robert Alford will look to hold off Jalen Collins.
Alford started last season, and received a big contract extension, but Collins earned the better PFF grade overall when he came into the line-up late in the year for an injured Trufant (81.5 to 76.7), and could push Alford to the slot in sub packages.
Collins posted the best completion percentage allowed (56.0 percent) and passer rating surrendered (77.1) among the Falcons' top four corners as well as posting the highest playmaker index of the group (18.0 percent of targets either intercepted or broken up).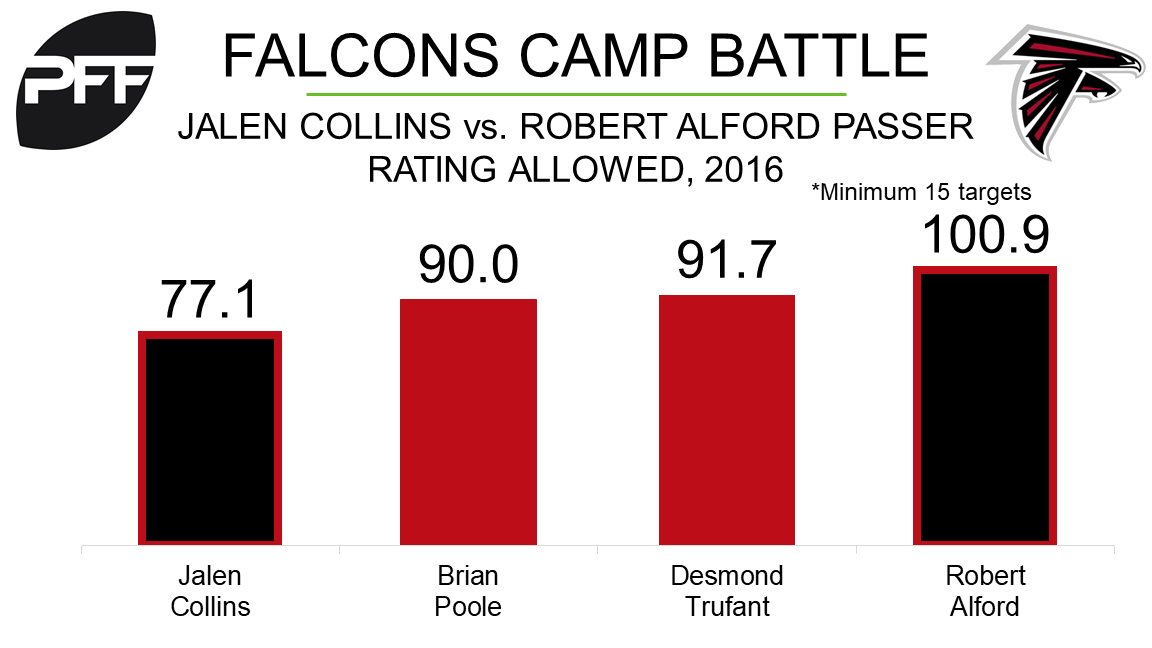 BY ZOLTAN BUDAY
While the Carolina Panthers appeared to have solved their left tackle position with the acquisition of Matt Kalil, it is still uncertain who will play opposite of him as incumbent starter Daryl Williams and rookie Taylor Moton seem to be competing for the right tackle position.
Williams took a small step in the right direction last season as his overall grade improved from 62.3 in his rookie year to 70.3 in 2016, which ranked 45th among offensive tackles in the NFL. While Williams allowed just one sack over the entire season, he did surrender 30 total pressures and was tied for 39th among 61 offensive tackles with a pass-blocking efficiency rating of 93.7 (pass-blocking efficiency measures pressure allowed on a per snap basis with weighting towards sacks).
While, admittedly, Moton faced lesser competition, he excelled in 2016 as he was PFF's eighth-ranked offensive tackle in college football with a grade of 83.5. The former Western Michigan Bronco was especially impressive in pass-protection as he did not allow a single sack all season and gave up just nine total pressures on 427 pass blocking snaps, which led to a pass blocking efficiency rating of 98.4, which ranked 13th in the nation.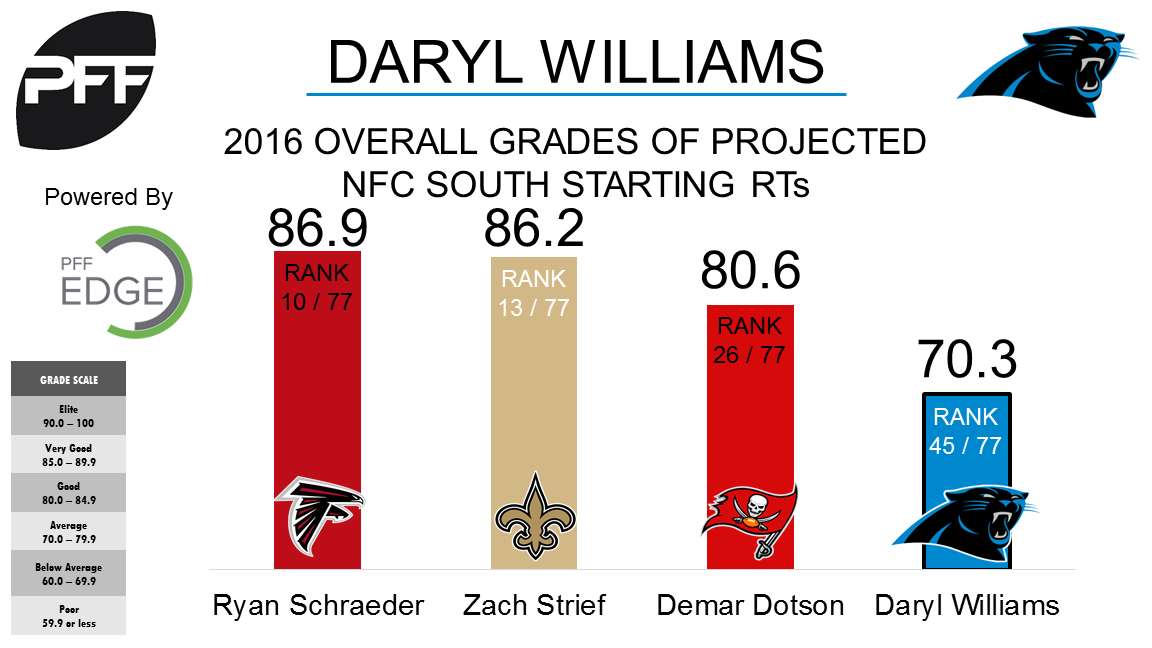 BY MIKE MANNING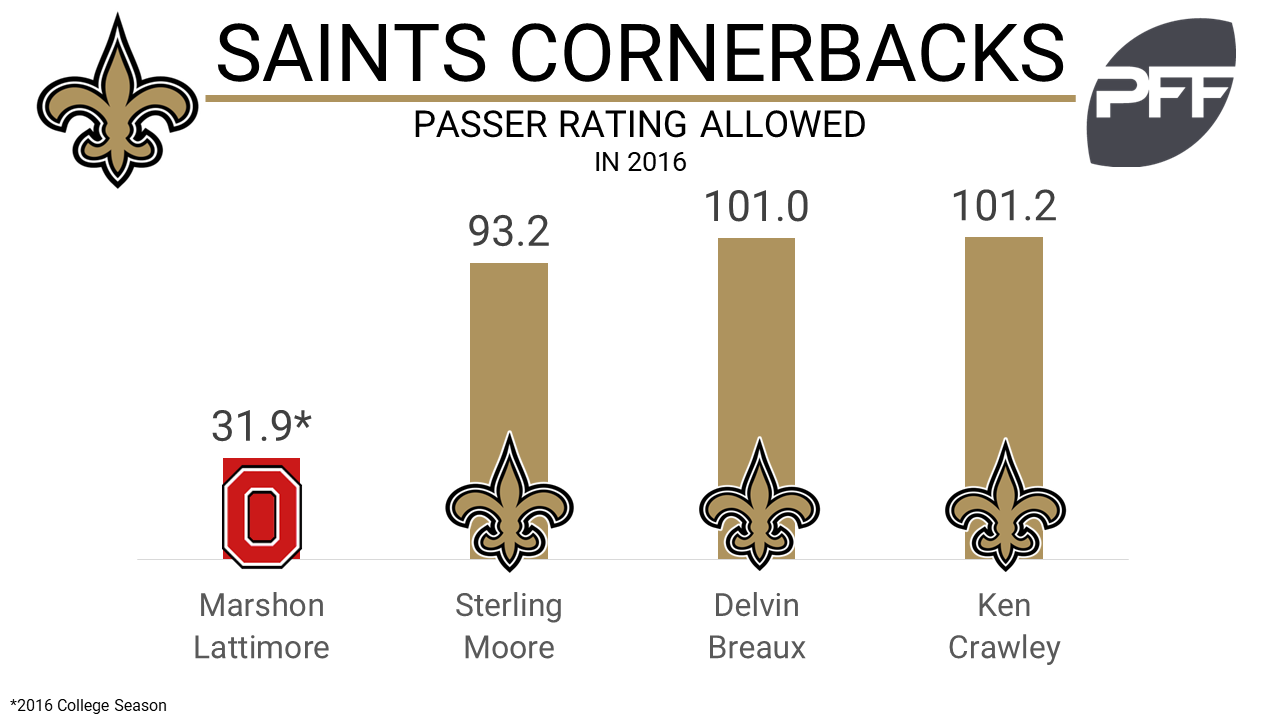 BY ROB HAMILTON
The Tampa Bay Buccaneers will head in to training camp with four players vying for two starting safety positions. The four are returning players Keith Tandy and Chris Conte along with free agent signee JJ Wilcox and rookie second round draft pick Justin Evans.
Tandy likely heads in as the favorite to lock up one of the two spots given his above average play in 2016. Albeit in limited snaps (402), he proved his versatility, earning PFF's 15th highest overall grade (84.7) and 15th highest coverage grade (84.0).
New addition JJ Wilcox showed marked improvement in 2016 during his fourth season with the Cowboys as he earned PFF's 23rd highest overall grade of 81.9 and 14th highest coverage grade of 84.3.
The incumbent veteran Chris Conte played the most snaps of the bunch in 2016 (717), but had the worst season of his career with an overall grade of 34.5, 89th out of 90 qualified safeties.
They will all have to hold off rookie Justin Evans of Texas A&M, who has received praise throughout the offseason thus far. Evans was PFF's fourth ranked safety prospect in the most recent draft after breaking up eight passes and hauling in four interceptions his senior season, but he will need to show improved tackling efficiency at the next level.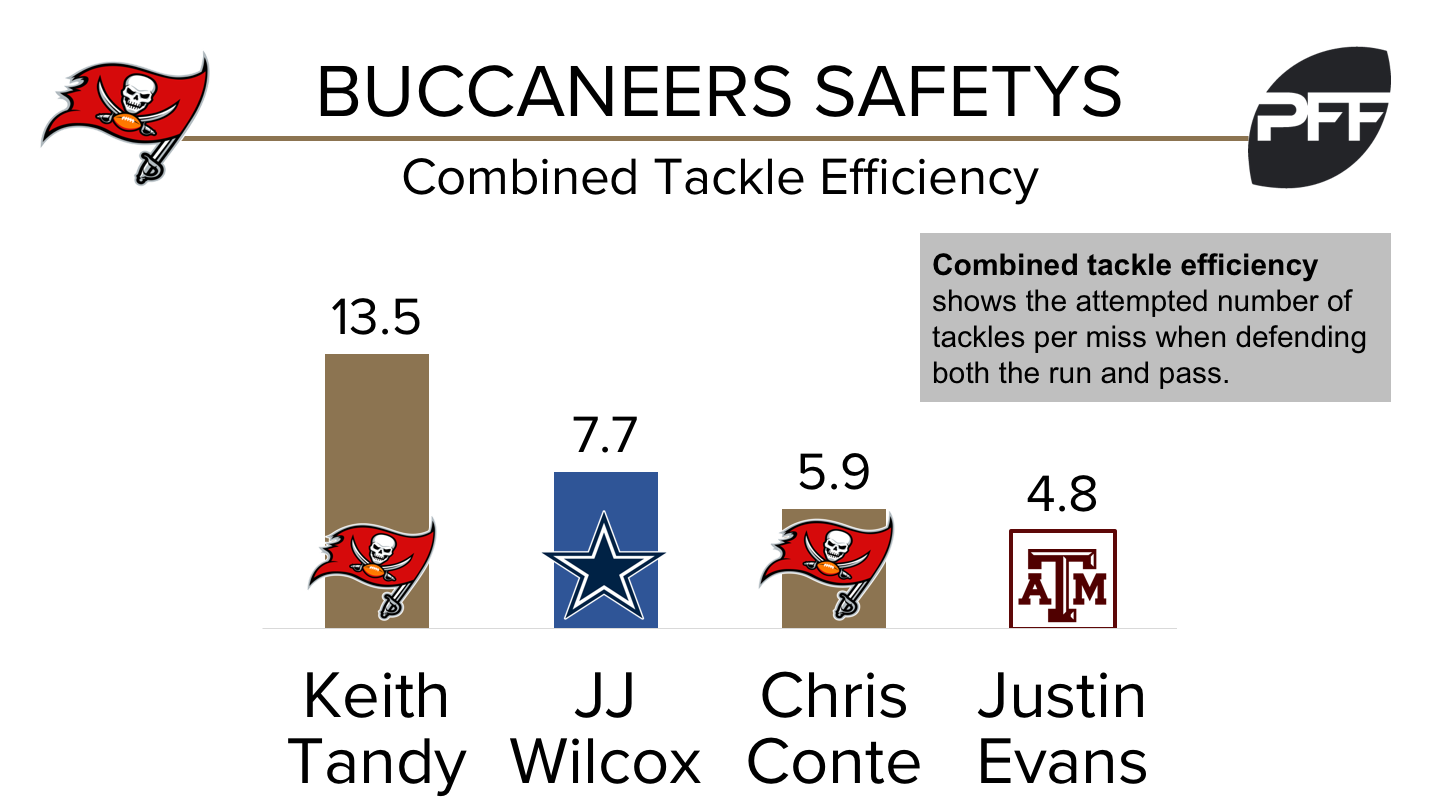 NFC West

BY MIKE GUERRELLI
The Arizona Cardinals are set at one cornerback spot in perennial Pro Bowler Patrick Peterson. With Marcus Cooper signing with the Bears this offseason, the starting job opposite Peterson in 2017 will likely come down to veterans Justin Bethel or Brandon Williams.
Bethel and Williams both had an opportunity to seize the job in 2016, but the Cardinals instead decided to trade for Cooper right before the season began. They will battle again this preseason along with Jumal Rolle, who missed the 2016 season with an Achilles injury, and 2017 draft pick Rudy Ford.
Bethel lined up at slot cornerback 120 snaps in 2016 and played on the outside 118 snaps. He was more effective outside as he allowed 1.90 yards per cover snap in the slot compared to only 1.46 in coverage outside.
As a rookie in 2016, Williams played 241 snaps and almost all of his snaps in coverage were on the outside. He was the most frequently targeted Cardinal cornerback at 3.7 cover snaps per target, and also allowed a team-high in yards per cover snap of 2.06.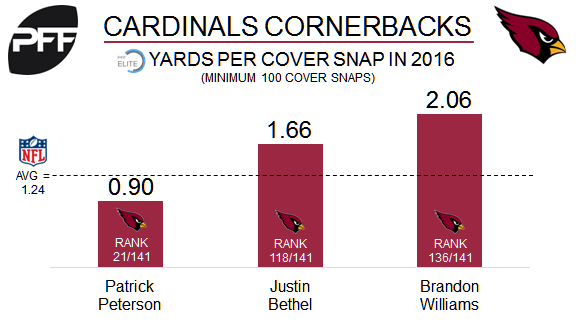 BY MIKE CAHILL
With rookie head coach Sean McVay moving fifth-year wide receiver Tavon Austin to the outside, the Los Angeles Rams enter camp with an open competition at slot receiver as rookie Cooper Kupp and second-year receiver Pharoh Cooper are expected to battle it out.
Kupp's 92.0 overall PFF grade in 2016 was the sixth highest among all players at any position in the 2017 draft class and second among receivers. In Cooper's final college season he earned an overall PFF grade of 85.2, which was 35th among all receivers in 2015.
Cooper's slot yards per route run in 2015 were 2.06 on 323 routes ran, while Kupp finished with 3.00 on 438 routes ran in his final season of college play.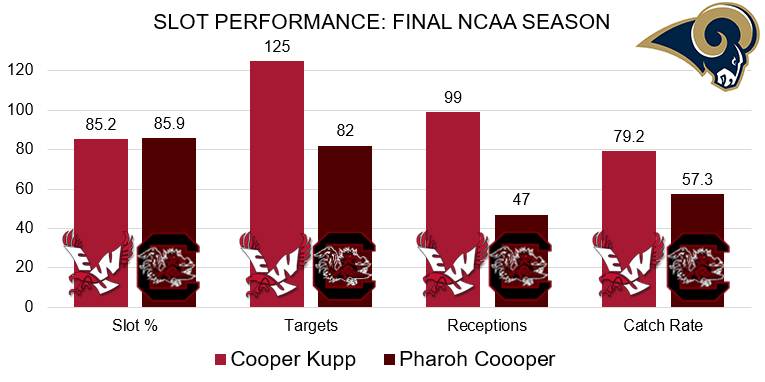 BY DAVID NEUMANN
After an offseason featuring significant roster turnover, fueled by the incoming new regime spearheaded by head coach Kyle Shanahan and general manager John Lynch, there are no shortage of roster spots up for grabs as the San Francisco 49ers enter training camp. The interior of the offensive line, however, is likely to be the most important of those battles.
San Francisco brings back all three starting interior lineman from a season ago in Zane Beadles, Daniel Kilgore and Josh Garnett, but none enter training camp with a starting job locked up. Newcomers Jeremy Zuttah, Tim Barnes and Brandon Fusco all figure to be in the mix at one or more positions. Zuttah and Kilgore will compete at center, but the odd man out could land at one of the guard spots, as both players have prior experience at the position. Beadles, Garnett, Fucso and Zuttah all spent time at guard during the 49ers' organized team activities.
However things shake out, the 49ers will need improved play out of this group if they hope to see significant improvement offensively in their first season under Shanahan. Beadles and Garnett both received 39.5 overall PFF grades last season, ranking them tied for 67th out of 73 guards with at least 350 snaps last season, while Kilgore's 71.5 overall grade ranked 28th out of 38 qualifying centers.
Pass protection was especially problematic in 2016. Only the Colts surrendered more quarterback pressures from interior offensive lineman than the 122 allowed by the 49ers.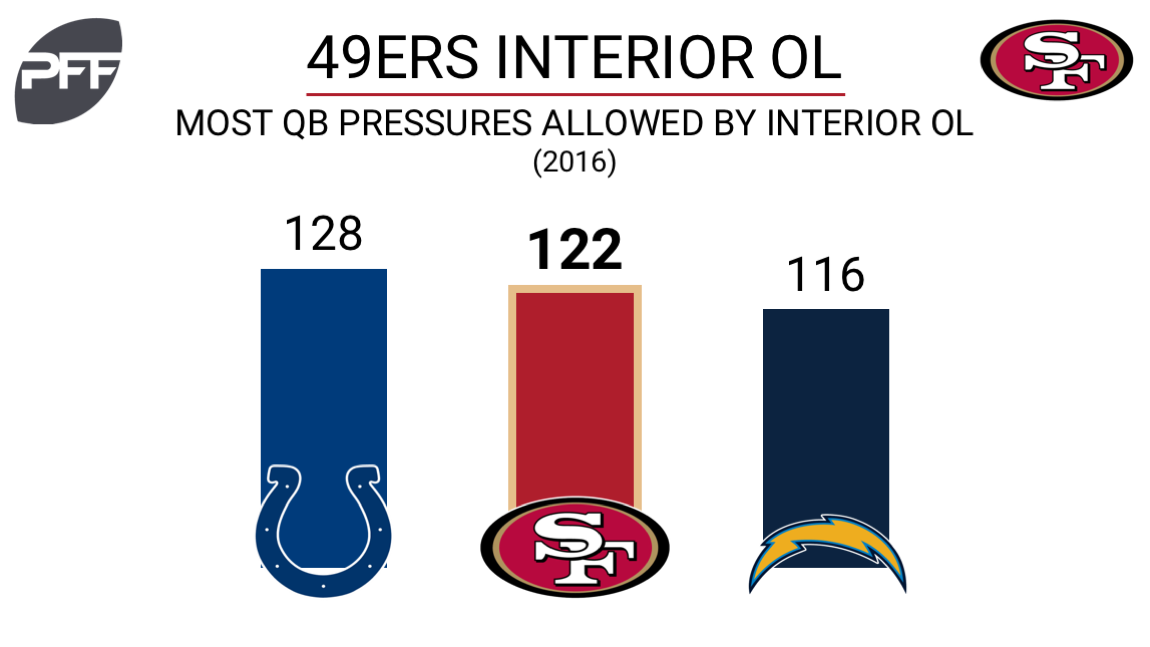 BY DANIEL COHEN
The Seattle Seahawks head into training camp with a few viable options at running back. RB Eddie Lacy, the newcomer, had some productive seasons with the Packers, and RBs Thomas Rawls and C.J. Prosise showed last year they have starting running back capability.
Lacy seems to be a clear choice in terms of a power running back. On 71 rush attempts, Lacy averaged 3.41 yards after contact per attempt last season. Prosise, who only recorded 30 attempts on the year, and averaged 2.57 yards after contact while Thomas Rawls averaged just 2.17 yards after contact on 109 attempts.
Lacy (82.8) and Rawls (81.7) both graded over 80 in 2016, while only Rawls playing enough snaps to qualify for a ranking at 10th overall among running backs. Prosise earned a grade of 71.2 in his 147 snaps last year, but his receiving grade of 78.7 together with his 2.54 yards per route run average shows his upside as a receiving threat out of the backfield.