All season long, PFF will be ranking the best performing NFL rookies as they race for Rookie of the Year. Below is our weekly rookie rankings after the Week 7 games.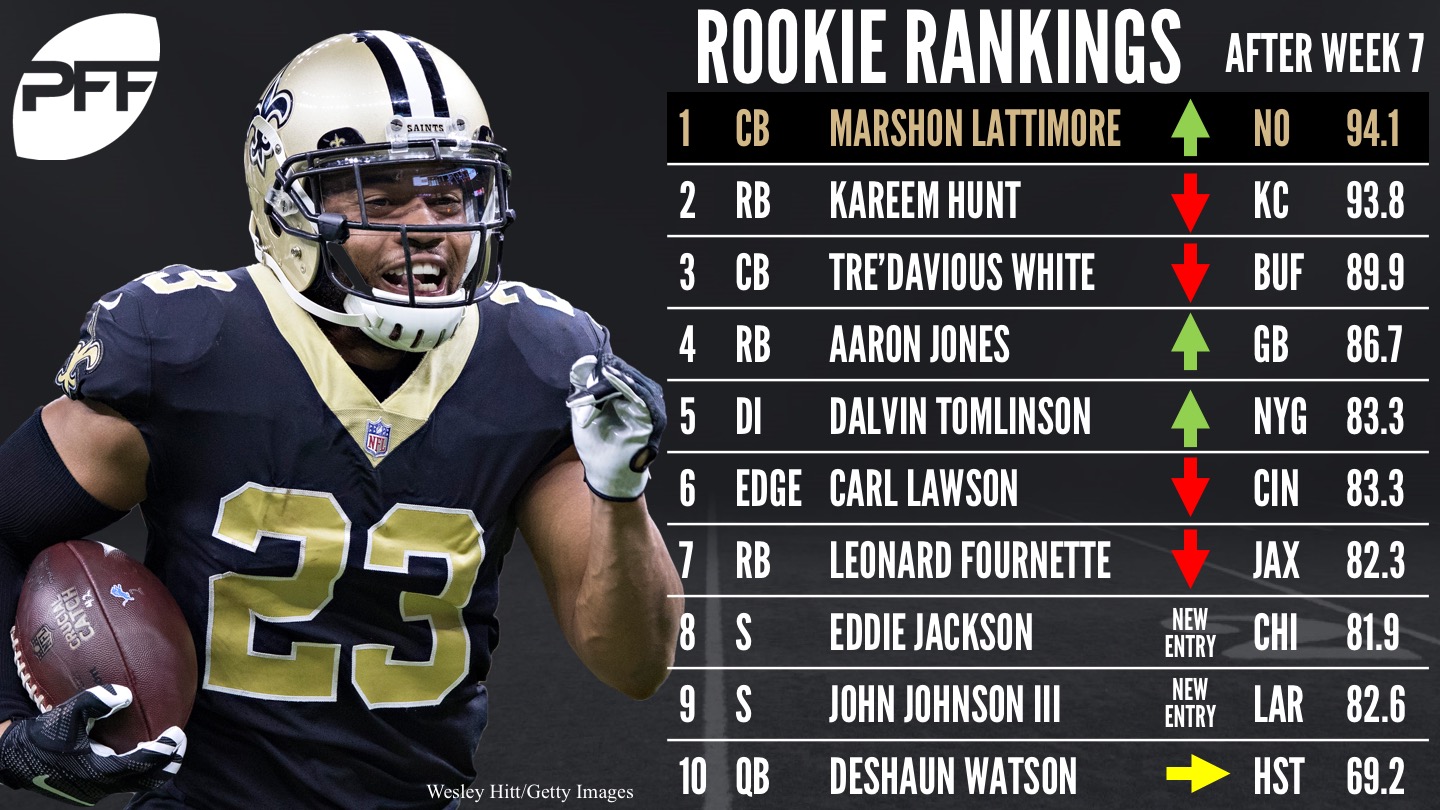 PFF Grade: 94.1
PFF Elite Stat: Lattimore has surrendered just 0.61 yards per coverage snap so far this season, the 11th lowest rate among 109 qualified cornerbacks.
Seven weeks into the season and we have a new leader in this 17-week long race! Lattimore's 94.1 overall grade is the highest grade we've ever seen for a rookie through the first seven-weeks of their career, what he's done thus far has been truly remarkable. Opposing quarterbacks have just a 50.2 passer rating when throwing into Lattimore's coverage and his lowest single-game grade since Week 2 was the 83.9 overall grade he earned in Week 6 against Detroit. Stud.
PFF Grade: 93.8
PFF Elite Stat: Hunt ranks third among all running backs with a 112.5 elusive rating.
Hunt dropping down a spot on this list is by no means an indictment on his performance thus far – he's still the owner of our seventh-highest grade for the season, regardless of position – but a testament to how truly amazing the guy ahead of him has been. What Hunt has been able to accomplish in his first seven games as a professional has been remarkable in it's own right; he owns the highest run grade of all running backs and is the only back with both a top-5 run grade and receiving grade, his average of 3.49 yards after contact per attempt ranks fourth and his 32.2 forced missed tackle percentage (missed tackles forced divided by total touches) ranks first.
PFF Grade: 89.9
PFF Elite Stat: There have been 41 cornerbacks who have been targeted at least 30 times this season, among that group White ranks fourth by allowing a reception just once per every 14 snaps spent in coverage.
White is just barely under the threshold in overall grade from being our third rookie on this list with the illustrious Elite tag (any grade of 90.0 or better is considered elite) as he slides down to third in this week's update. White joins Jason McCourty as one of two corners to rank within the top-5 in terms of coverage grade while also ranking within the top-35 in run-defense grade and despite not getting his hands on the ball in Week 7, he still ranks fourth among all cornerbacks with a 24.3 playmaker index (pass breakups combined with interceptions divided by the number of targets into his coverage).
PFF Grade: 86.7
PFF Elite Stat: Jones is one of just three running backs who've carried the ball fewer than 70 times this season to have at least five runs of 15 yards or more.
Jones has seen at least 43 snaps in each of the last three weeks (after not seeing a single snap prior to Week 4) and has graded at 87.8 or better in two of those three games. His 86.7 run grade ranks sixth among running backs and he's thrived right from the get-go in an area that typically gives rookie backs trouble: pass protection. Jones is one of 24 backs who've been asked to pass protect at least 20 times this season, he's allowed just one pressure and his 85.4 pass-blocking grade trails only C.J. Anderson.

PFF Grade: 83.3
PFF Elite Stat: Tomlinson leads all rookies with nine run stops (a stop is a solo tackle that results in a "loss" to the offense).
Tomlinson has excelled in run defense from the moment he first stepped foot on an NFL field, and when combining his skills with Damon Harrison's, the Giants have arguably the most formidable run-stuffing pair of interior defenders in the entire league. Tomlinson hasn't stuffed the stat sheet, but his consistent play has stood out. There have been 48 interior defenders who have been on the field for at least 100 plays in run defense this season, among that group Tomlinson has the 10th highest rate of positively graded plays while also owning the 10th lowest rate in terms of negatively graded plays.
PFF Grade: 83.3
PFF Elite Stat: Lawson ranks second among all edge defenders with a 15.9 pass-rush productivity rating (PRP measures pressure created on a per snap basis, weighted towards sacks).
The Bengals have been using Lawson primarily as a pass-rushing specialist through the first seven weeks, 83.4 percent of his defensive snaps have been on passing plays. He's rushed the quarterback on all of those except two, and his role has been one he's flourished in. His 85.6 pass-rushing grade ranks 10th among all edge defenders and he's tallied multiple pressures in every game of his career so far.
PFF Grade: 82.3
PFF Elite Stat: 215 of Fournette's rushing yards have come on runs that went for at least 15 yards, the second highest total among all running backs.
Fournette currently ranks ninth among all running backs in terms of overall grade and he joins Kareem Hunt as being one of just two backs to rank within the top-10 in terms of run grade while also owning a receiving grade north of 75.0. While his success as a runner hasn't come as much of a surprise, not many saw his receiving success coming. Jaguars quarterbacks have a 116.7 passer rating when targeting Fournette this season, the seventh-highest rating among all running backs who've run at least 80 routes this season.
PFF Grade: 81.9
PFF Elite Stat: Jackson has been targeted just once per every 21.9 snaps he's spent in coverage so far this season, the 18th best rate among 82 qualified safeties.
The second player to make his debut this week, Jackson currently ranks 20th among all safeties in terms of overall grade. Jackson is one of 24 safeties to have gotten his hands on the ball at least three times via pass breakup or interception and he's teamed up with Adrian Amos (90.9 overall) to give the Bears one of the top safety tandems in football.
PFF Grade: 82.6
PFF Elite Stat: Johnson has surrendered just 0.25 yards per coverage snap so far this season, the 13th lowest rate among safeties.
Johnson currently ranks 18th among safeties in terms of overall grade (his spot below Jackson on this list due to snap count, Jackson has been on the field for 246 more snaps than Johnson) and his 84.2 coverage grade ranks 19th. Opposing quarterbacks have just a 69.9 passer rating when targeting Johnson in coverage and he's one of five safeties who've surrendered at least four catches so far this season to limit those receivers to a total of 15 yards after the catch or less.
PFF Grade: 69.2
PFF Elite Stat: Watson's average time to throw of 2.91 seconds is the slowest among 34 qualified quarterbacks this season.
The biggest thing holding Watson down right at the moment is his accuracy, he has the fourth highest percentage of negatively graded throws this season and his 66.1 adjusted completion percentage is second-to-last among qualified quarterbacks. His ability to make plays with his feet and step up in big moments is truly special but if he wants to take that next step and get into the conversation for PFFs rookie of the year award by the end of the season, his accuracy – and consistency – as a thrower is going to need to improve. I highly encourage anyone who's reading this and puzzled by Watson's place on this list to read senior analyst Steve Palazzolo's detailed breakdown of the Watson's season so far.
Honorable Mentions:
Zach Cunningham, LB, Houston Texans
Shaquill Griffin, CB, Seattle Seahawks
Joe Mixon, RB, Cincinnati Bengals
Desmond King, CB, Los Angeles Chargers
Kendell Beckwith, LB, Tampa Bay Buccaneers
Jourdan Lewis, CB, Dallas Cowboys
Cooper Kupp, WR, Los Angeles Rams
T.J. Watt, Edge, Pittsburgh Steelers