Only six weeks into Houston Texans quarterback Deshaun Watson's career and the rookie is instilling hope into the Houston fan base.
His stats look excellent, both from a counting standpoint (15 touchdowns led the NFL prior to Houston's Week 7 bye) and when using traditional passer rating (101.1 rating ranks sixth in the NFL). There are a number of plays from Watson that certainly pass the "eye" test, from his spectacular 49-yard run in Week 2 against the Cincinnati Bengals to his fourth-quarter downfield strike to WR Will Fuller for a 48-yard touchdown against the Kansas City Chiefs in Week 5. However, Watson's 69.2 overall grade checks in at 28th in the league through seven weeks, so let's take a look at where the grades and stats differ.
*This is not a projection of how Watson will play going forward and certainly not an attempt to bury what he's done through six weeks of his career. It's simply about adding context, as Watson's stats are excellent, but his PFF grade is not matching the stats in the early going.
Overview
The first point that must be driven home is that we're still early in the season and in small-sample-size territory, meaning grades can fluctuate during the first half of the season. That said, it's Watson's poor opening-week game against the Jacksonville Jaguars – one of the worst we've graded all season – that is doing the most damage to his grade. Taking out that game in which he relieved Tom Savage in the second half, Watson is grading at 77.6 overall as a starter, a number that would rank 16th in the NFL. That's likely an easier pill to swallow, but one that still needs explaining when comparing to his 15 touchdowns and No. 6 passer rating.
There are four big numbers that tell the story to this point:
Fourth-highest percentage of negatively graded throws
Ninth-highest percentage of turnover-worthy plays
Lowest drop rate in the league by receivers, only two drops
Charged with four sacks, tied for seventh among quarterbacks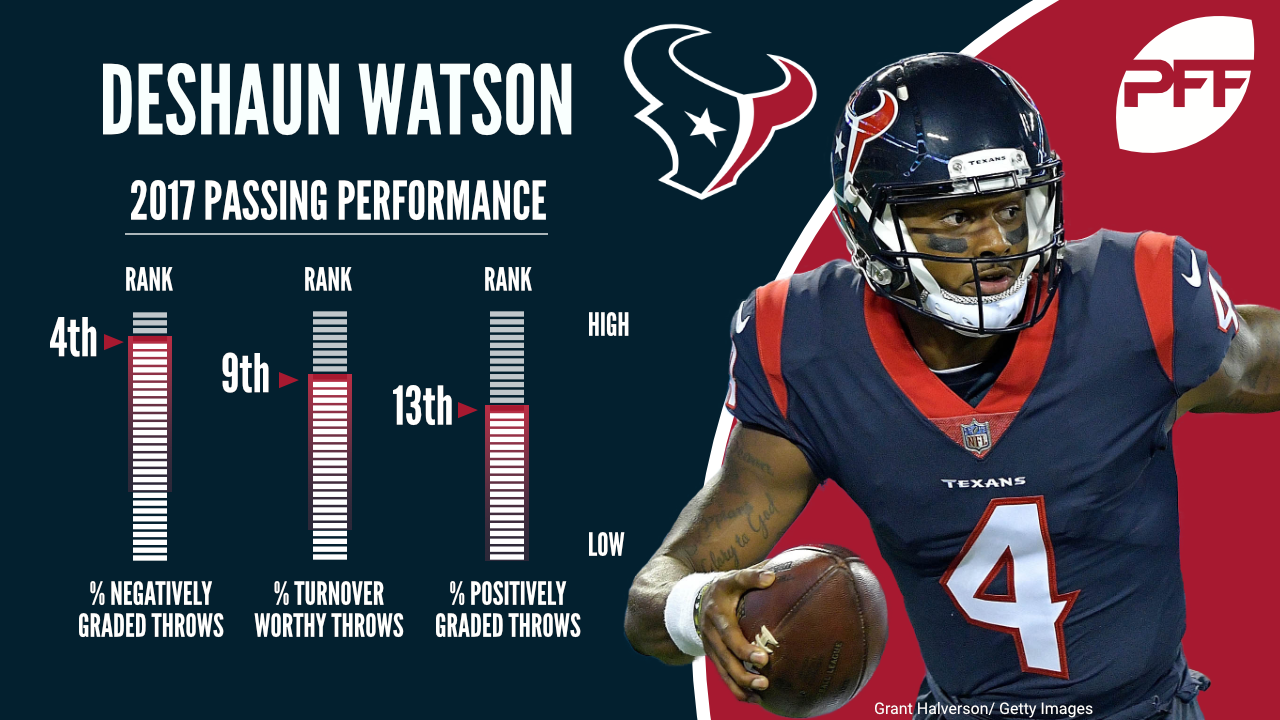 Watson is simply missing too many throws, as evidenced by an adjusted completion percentage of 66.1 percent that ranks 33rd out of 34 qualifiers. His completion percentage of 61.5 percent ranks 24th in the league, and that's aided by his having only two drops all season. The four sacks charged to Watson (as opposed to blockers) were made even worse by two fumbles due to poor ball security, but those plays do not show up in his stats and they're rarely separated out in other metrics.
Let's unpack the turnover-worthy plays.
Turnover-Worthy Plays
The "eye" test should be renamed the "highlight" test, as the brain often remembers the highlights and it's easy to push aside plays that were significant from an evaluation standpoint but perhaps didn't have a major impact on a game.
Every quarterback puts the ball in harm's way, and every quarterback throws interceptions, but there are varying degrees of fault in both of these scenarios. Of Watson's 10 turnover-worthy plays, a number of them were on the lowest end of our grading spectrum (easier turnovers for the defense), yet they didn't have a major impact on either Watson's stats or the particular game. These are bad plays that are easy to dismiss because of the lack of negative consequences.
Week 4 vs. Titans: Watson throws an errant pass nowhere near his intended receiver in the end zone for an interception at the end of the first half, but the Texans win the game 57-14 in an otherwise-brilliant outing for Watson.
Week 2 vs. Bengals: Early in the first quarter, Watson misreads the coverage and fires a pass that hits Bengals' cornerback Darqueze Dennard in the hands who drops the clean pick-six opportunity.
Wrote up Deshaun Watson and why stats/grades aren't matching right now

One reason: his worst throws have had little consequence this season pic.twitter.com/R7AMdmj75R

— Steve Palazzolo (@PFF_Steve) October 24, 2017
Week 6 vs. Browns: Watson fires a pass directly to CB Jason McCourty along the sideline while trying to throw the ball away under pressure. Potential interception is broken up by WR Deandre Hopkins
Week 3 vs. Patriots: Watson doesn't feel pressure and fumbles in the pocket with OT Chris Clark falling on the ball for the recovery.
Week 1 vs. Jaguars: Watson misreads the coverage in the red zone and throws an interception right to linebacker Myles Jack, but the play is negated by an illegal hands to the face penalty by the Jaguars.
It should be noted that Watson does have one unlucky interception, as he had a pass picked off in the end zone on a Hail Mary against the Patriots in Week 3. That certainly does not count as a turnover-worthy play.
Final word
Let's wrap it up on a positive note. Watson has three years of strong college grading under his belt and we saw his playmaking ability throughout his college career. It's been on display early in his pro career as he currently ranks ninth in the league in big-time throw percentage and 13th in percentage of positively graded throws. Watson is also ranked fourth among quarterbacks with a rushing grade of 85.3, so he's added plenty of value to the Houston offense. He's also had interception luck, sure-handed receivers, and questionable work in the pocket that has either padded or gone unnoticed on the stat sheet. When you add it all up, Watson has been a mid-tier quarterback since taking over as a starter back in Week 2 after a disastrous debut in Week 1 that is still dragging down his overall PFF grade.