All season long, PFF will be ranking the best performing NFL rookies as they race for Rookie of the Year. See where all of our rookies racing to finish with the highest grade found themselves on our mid-season All-Rookie Team. Below is our weekly rookie rankings after the Week 14 games.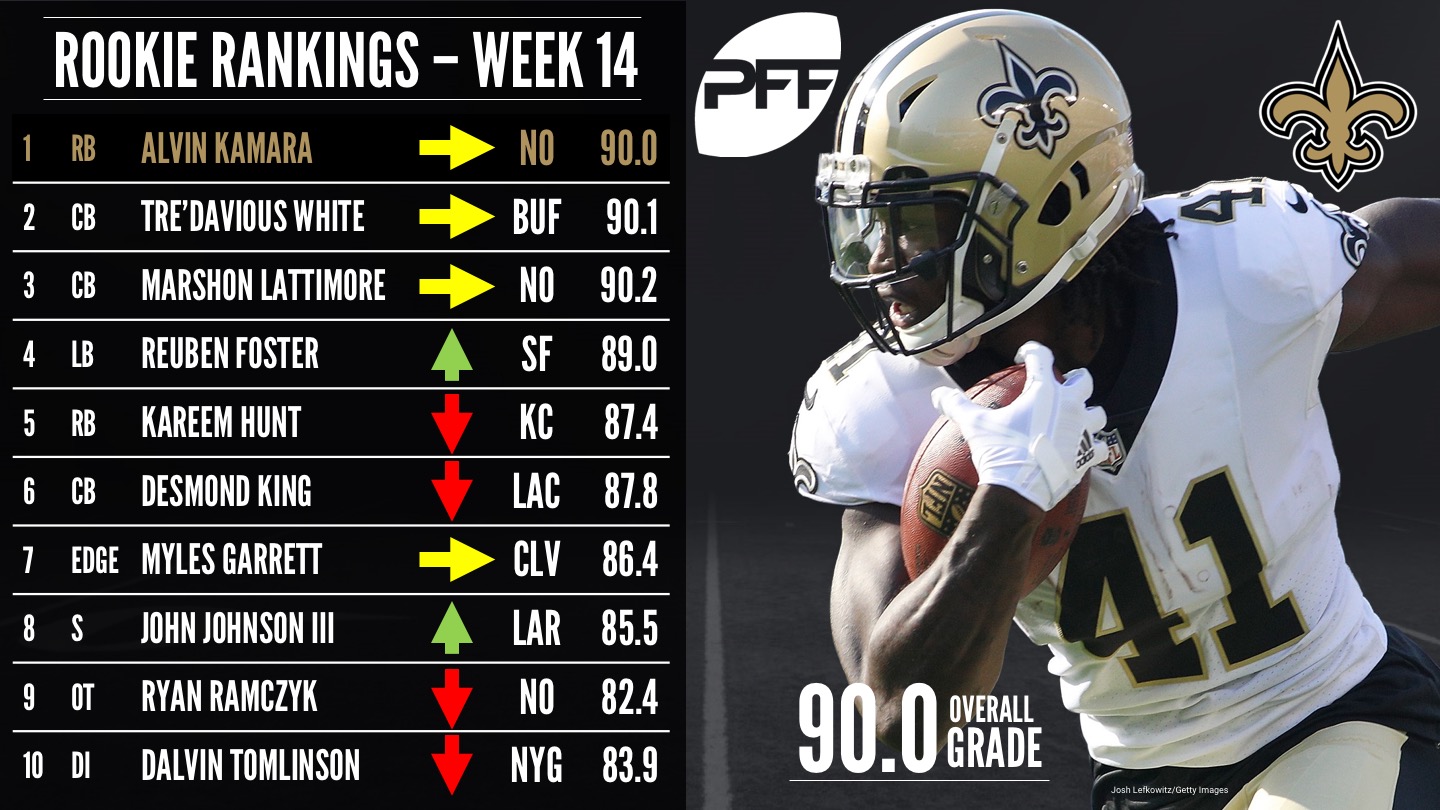 PFF Grade: 90.0
PFF Elite Stat: Kamara leads all running backs with a 137.4 elusive rating.
Kamara leads all running backs this season in terms of overall grade and prior to Week 13 he had finished five straight games with a grade of at least 80.0, with four of those being over 85.0. Kamara leads all RBs with a 32.2 missed tackle rate and he ranks second with an average of 4.26 yards after contact per attempt. The third-round pick has been sensational to start his career, hopefully we'll get to see him healthy out there in Week 15.
PFF Grade: 90.1
PFF Elite Stat: White has surrendered a catch just once per every 15.3 snaps spent in coverage, the 13th-best rate out of 120 qualified cornerbacks.
White holds onto the second spot as we round the corner into the final three weeks of the season. The former LSU star ranks sixth among corners in terms of overall grade and few corners have been as good at him when it comes to getting their hands on the football: White ranks seventh among corners with a 20.3 playmaker index (interceptions + pass breakups per targets into their coverage). White has some tremendous competition right on his heels in this race, will he be able to hold them off for three more weeks to potentially take home PFFs Defensive Rookie of the Year award?
PFF Grade: 90.2
PFF Elite Stat: Opposing quarterbacks have a 45.3 passer rating when targeting Lattimore in coverage this season, the third-lowest surrendered by a corner.
Lattimore ranks fifth among corners in terms of overall grade: Yes, that's one spot ahead of Tre'Davious White who is obviously one spot ahead of Lattimore on this list. White ranks ahead of Lattimore here because the difference in their grade is razor-thin and White has been on the field for 343 more snaps. Thursday night's game against the Falcons was Lattimore's first game-action since an injury knocked him out of New Orleans' Week 11 contest, and he came out of TNF with his lowest game-grade of the season. The first-round pick finished every game from Week 2-10 with a grade of at least 75.0 (and he was over 80.0 in six of those games), if he can get back to that level for the next three weeks we very well could see the Saints take home both offensive and defensive rookie of the year honors.
PFF Grade: 89.0
PFF Elite Stat: Foster ranks third among linebackers with an 11.5 run stop percentage.
Foster continues his ascension up this list – moving up two spots, into the top-five – after another strong game this past week (84.3 overall grade against Houston). The 31st overall pick currently ranks fifth among linebackers in terms of overall grade for the season and he's been near-elite in run defense (89.9) while also grading well in coverage (80.7). Since returning in Week 9, Foster has finished 4-of-5 games with a grade of at least 80.0 and his 22 total stops over that stretch are tied for the third-most by a linebacker. The rookie out of Alabama has earned a positive grade on 21.7 percent of his run defense snaps this season, that's the best rate among all linebackers and he's the only linebacker to be over double the league average of 10.5 percent.
PFF Grade: 87.4
PFF Elite Stat: Hunt has forced 49 missed tackles on the ground this season, no other running back has even forced 40.
Hunt steadied the ship a bit in Week 14, but he gets bumped down one spot because the guy just ahead of him is currently on a tear. Hunt ranks fourth among running backs in terms of overall grade and along with Kamara, he's one of just two running backs to currently rank within the top-10 in both run grade and receiving grade. The Toledo product ranks second among backs with 14 runs of at least 15 yards this season and when it comes to how he's getting things done in the passing game, he's not just being used as a dump-off option behind the line of scrimmage. His 2.0 average depth of target ranks 10th among running backs and is nearly triple the league average of 0.7. Can the third-round pick rediscover his early season form and challenge Kamara down the stretch?
PFF Grade: 87.8
PFF Elite Stat: King ranks second among cornerbacks with 19 stops in coverage. He's the only cornerback to have recorded at least nine stops in coverage without missing a tackle.
Trust me Chargers fans, I get it. It feels like blasphemy that King isn't higher on this list, and honestly, I feel for him a bit (not that he need's my sympathy). King made his first appearance here back in Week 8, debuting in the No. 6 spot with – at that point – an 84.0 overall grade. Since then, his grade has risen steadily and he's currently ranked 10th among 118 qualified corners in terms of overall grade. Let's set the record straight: King has been fantastic – and not just for a rookie – this season, the fact that he finds himself sixth here is purely a consequence to this being an outstanding rookie class. The rookie out of Iowa is one of just 10 cornerbacks to have spent at least 300 snaps covering the slot this season, among that group he's one of only two players to have not surrendered a touchdown out of the slot and opposing quarterbacks have just an 82.5 passer rating when targeting his coverage in the slot, the second-lowest.
PFF Grade: 86.4
PFF Elite Stat: Out of 125 qualified edge defenders, Garrett is one of just 13 to be on the field for at least 100 snaps in run defense this season and not miss a tackle.
The first overall pick ranks 14th among edge defenders this season in terms of overall grade and he places within the top-17 in both pass-rush grade (84.5, 17th) and run defense grade (86.0, 11th). Garrett has earned a grade of at least 74.0 in all but one game he's played in (Week 10 in Detroit) and he's also tallied at least three pressures in every game but one, the exception being a 19-snap debut in Week 5 against the New York Jets where he was still able to grab two sacks. After missing a good chunk of time to start the season, Garrett has been on the field for at least 70 percent of Cleveland's defensive snaps in each of the last five games. Will be exciting to see if he can make a Foster-like run over the last three weeks of the season.
PFF Grade: 85.5
PFF Elite Stat: Johnson is one of 54 safeties who've lined up within eight yards of the line of scrimmage on at least half of their snaps and among that group he ranks eighth with an 8.7 run stop percentage.
Johnson had one of his best games to-date in Week 14 against the Philadelphia Eagles (87.8 overall grade) and as a result he jumps from a spot on the bubble back into the top-10 in this week's edition. Last week was Johnson's fourth game of the season with a grade over 80.0 and he's finished 8-of-10 games since Week 4 (the first game where he saw any significant playing time) with a grade of at least 73.0. For the season now, the third round pick out of Boston College ranks 12th among safeties in terms of overall grade and he's one of just 10 safeties to have a grade of at least 80.0 in both coverage (85.2) and in run defense (80.6).
PFF Grade: 82.4
PFF Elite Stat: Ramczyk ranks 13th out of 80 qualified tackles with a 96.4 pass blocking efficiency rating.
14 weeks into the season and Ramczyk currently sits with the ninth-best overall grade among tackles, with Dion Dawkins (77.5) being the only other rookie tackle to even rank within the top-30. Ramczyk has been solid in pass-protection but where he's shined is as a run blocker, his 84.0 run blocking grade is sixth-best among the position. The first-rounder has played at least 50 snaps in every game to start his career and he's finished just three games with a grade below 70.0 (to go with five games with a grade of at least 80.0).
PFF Grade: 83.9
PFF Elite Stat: Out of 125 qualified interior defenders, Tomlinson is one of just six who have recorded at least 20 run stops without missing a tackle in run defense.
The level of run defense in which Tomlinson has been able to consistently play over the first 14 weeks of his NFL career is fairly remarkable when you compare him to his rookie peers. There are 11 rookie interior defenders whom we consider "qualified" based on their snaps played. Among those 11 interior defenders, they've combined to post a grade of at least 70.0 in run defense in 43 separate games through the first 14 weeks (with a minimum of 10 snaps in run defense in that game), Tomlinson alone accounts for 23 percent of those. He has earned a run defense grade of at least 70.0 on 10 separate occasions this year, no other rookie interior defender has done it more than six times.
Honorable Mentions:
Carl Lawson, Edge, Cincinnati Bengals
Christian McCaffrey, RB, Carolina Panthers
Budda Baker, S, Arizona Cardinals
Joe Mixon, RB, Cincinnati Bengals
Marlon Humphrey, CB, Baltimore Ravens
Leonard Fournette, RB, Jacksonville Jaguars
Takkarist McKinley, Edge, Atlanta Falcons
Marcus Williams, S, New Orleans Saints
Cooper Kupp, WR, Los Angeles Rams
Jourdan Lewis, CB, Dallas Cowboys