All season long, PFF will be ranking the best performing NFL rookies as they race for Rookie of the Year. See where all of our rookies racing to finish with the highest grade found themselves on our mid-season All-Rookie Team. Below is our weekly rookie rankings after the Week 13 games.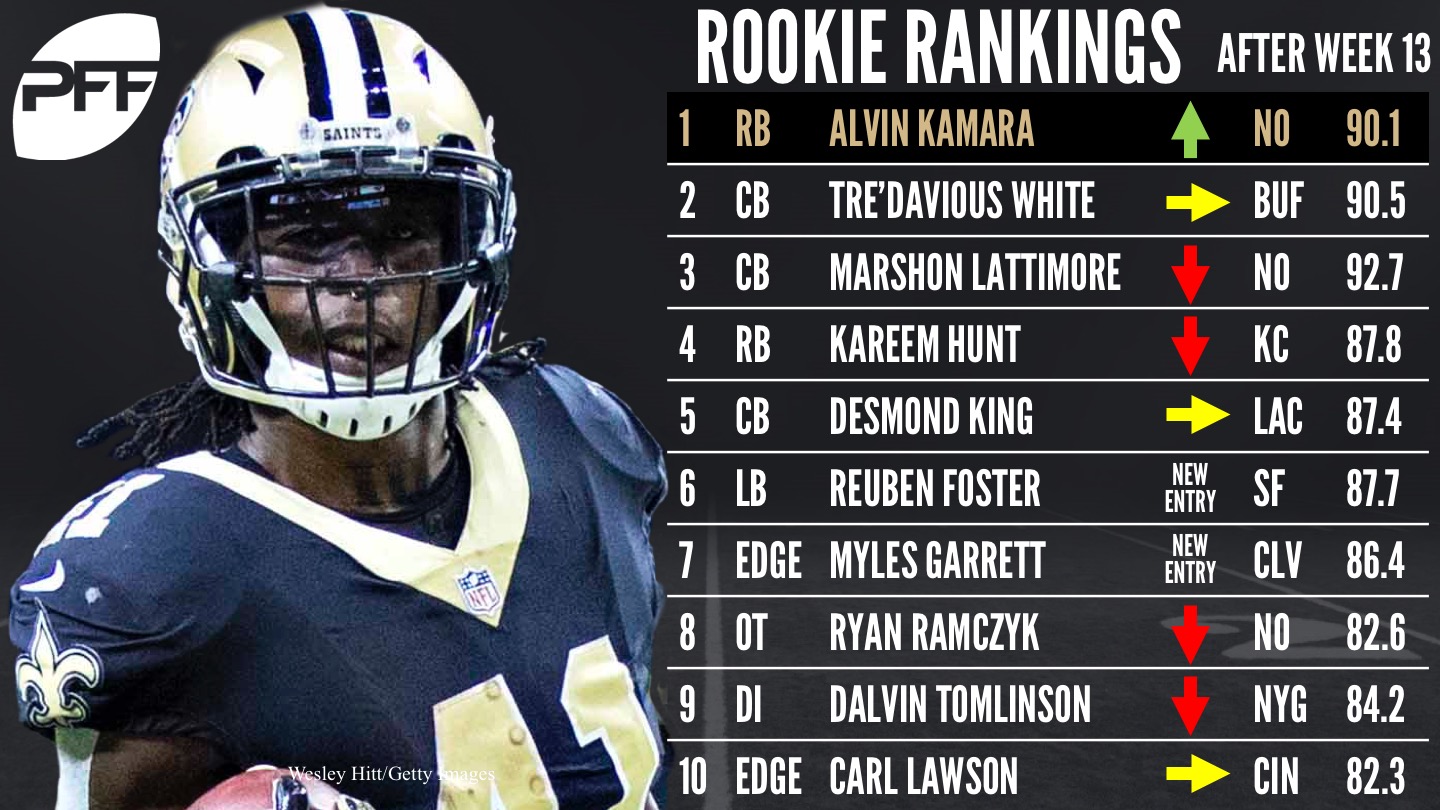 PFF Grade: 90.1
PFF Elite Stat: Kamara leads all running backs with an 134.6 elusive rating.
Ladies and gentlemen, for the first time all season someone not named Kareem Hunt is your offensive leader in the PFF race for rookie of the year. Kamara has exploded since the Saints came out of their bye week – a week in which they traded Adrian Peterson out of their backfield – in Week 6. Prior to New Orleans' Week 5 bye, Kamara had played in over 40 percent of the Saints offensive snaps in just one game; in the eight games since, Kamara has broken that 40 percent mark seven times and he leads all running backs over that stretch with a 93.7 overall grade. He's finished six of those eight games with a grade of at least 80.0, and he was north of 85.0 in five of them. Kamara is averaging 4.24 yards after contact per carry – a rate that ranks second among running backs – and his 32.4 forced missed tackle rate leads the league. Also, no running back in football is even in the same stratosphere as Kamara right now when it comes to moving the chains for his team: Kamara has gained either a first down or touchdown on 38.4 percent of his carries. Only one other running back has a conversion rate over 30 percent (Duke Johnson at 33.9) and Kamara's rate is double the league average of 19.0 percent.
PFF Grade: 90.5
PFF Elite Stat: White has allowed a reception just once per every 14.5 snaps he's spent in coverage, tied for the 14th-best rate out of 119 qualified cornerbacks.
White has officially joined the illustrious PFF Elite Club as he's one of just 35 players to own an elite overall grade after 13 weeks of the season. The first-round pick has graded below 70.0 in just one game all season and he's really turned it on as of late, finishing three of his last four games with grades north of 80.0 (he's finished seven games this season with a grade of at least 80.0). White has been directly responsible (whether it be via pass breakup, interception, hitting a receiver and knocking the ball loose, proximity of his coverage) for an incompletion on 23.8 percent of the targets thrown into his coverage, the second-best rate among the 32 cornerbacks who've spent at least 400 snaps in coverage this year. White jumps over Lattimore this week because even though Lattimore has a slightly higher grade, both have been elite, and White has been on the field for 334 more snaps.
PFF Grade: 92.7
PFF Elite Stat: Opposing QBs have a 47.4 passer rating when targeting Lattimore in coverage this season, the third-lowest rate among corners.
Lattimore slides behind White due to some missed playing time but a big game this Thursday against the Atlanta Falcons could vault him back up into the top-2 if he's able to return. Lattimore still sits with the third-highest overall grade among cornerbacks this season and he's just behind White with an average of 14.4 coverage snaps in coverage per reception allowed (16th-best rate among corners). The race for PFF's defensive rookie of the year is really starting to heat up with a couple of new appearances into the top-10 this week. Will Lattimore make it back onto the field and reclaim the top spot he's held down for a good chunk of the season?
PFF Grade: 87.8
PFF Elite Stat: Hunt has 12 rushes this season that have gone for at least 15 yards, tied for the most among all running backs.
After the first few weeks of the season, many thought that Hunt was – pardon the pun – going to run away with this race, but alas, here we are 13 weeks into the year and the rookie out of Toledo has lost his spot on the podium as he sits right outside the top three. There is still time for Hunt to get back into the mix – and even re-contend for his top spot – but he's going to have to find the magic he possessed in the first seven weeks of the season (a stretch where he finished just one game with a grade below 80.0). If things keep going the way they have lately though – he hasn't graded over 80.0 in a game since Week 7 and he's been over 70.0 just once – we could see him slip even further.
PFF Grade: 87.4
PFF Elite Stat: King has recorded 17 stops in coverage this season, the second-most among cornerbacks.
A bit of a "down" week for King, who posted a (still above-average) 75.4 overall grade against the Cleveland Browns in Week 13 as he hangs onto his top-5 here. King has now finished every game but one since the start of Week 7 with an overall grade of at least 75.0, and in four of those games he surpassed the 80.0 mark. The rookie from Iowa has absolutely thrived in the slot where he's one of just 14 qualified cornerbacks to have not allowed a touchdown from all season (his 292 coverage snaps from the slot lead that group) and he's also been one of the best in the game at limiting the production gained from receptions: as mentioned above, his 17 coverage stops are the second-most among corners, he's one of two corners to have at least 10 coverage stops while also not missing a tackle.
PFF Grade: 87.7
PFF Elite Stat: Foster ranks fourth among linebackers with an 11.7 run stop percentage.
Foster sits just outside of the top-5 as he makes his long-anticipated debut in this 17-week long race. The 31st overall pick in this year's draft ranks fifth among linebackers in terms of overall grade and he cracks the top 15 in both run defense grade (87.8, ranks sixth) and coverage grade (81.5, 13th). After playing in just 64 snaps in the first eight weeks of the season, Foster has been on the field for 99.2 percent of San Francisco's defensive snaps since and over that four-game stretch he's finished three games with an overall grade of at least 80.0 and in two of them he finished over 85.0.
PFF Grade: 86.4
PFF Elite Stat: 111 edge defenders have played at least 200 snaps this season, Garrett is one of just 14 who are yet to miss a tackle.
Garrett is now up to 13th among edge defenders in terms of overall grade and he ranks within the top-20 in both run defense (86.4, ranks 16th) and as a pass-rusher (84.3, 17th). Garrett has finished his last three games at 79.9, 90.9 and 80.1, respectively and he's graded below 74.0 just once all season. The first overall pick has recorded multiple pressures in every game he's played so far as a pro and he's tallied at least three pressures in each game except for his debut in Week 5, where he still notched two (both sacks) on just 15 pass-rush snaps.
PFF Grade: 82.6
PFF Elite Stat: Ramczyk ranks 14th among 81 qualified tackles with a 96.3 pass blocking efficiency rating.
Ramczyk ranks eighth among tackles in terms of overall grade and ranks within the top-20 in terms of pass blocking grade (79.5, 19th). Where he's really thrived this season is as a run blocker, as his 84.6 grade ranks fourth among his peers. The final pick of the first round has finished 10 out of 13 games this season with an overall grade of at least 70.0 and he's eclipsed 80.0 in five of them (including three of his last four games).
PFF Grade: 84.2
PFF Elite Stat: Tomlinson ranks 16th out of 127 qualified interior defenders with 19 run stops this season.
Tomlinson is now ranked 25th among interior defenders in terms of overall grade and his 86.3 run defense grade ranks 16th; Larry Ogunjobi is the only other interior defender to rank within the top-50 in terms of run defense grade (81.8, 36th) and he's been on the field for 134 fewer run defense snaps than Tomlinson through the first 13 weeks. Tomlinson ranks ninth out of 38 interior defenders who've been on the field for at least 200 snaps in run defense with a 23.9 positive impact rate against the run (the percentage of plays in which he's received a positive grade).
PFF Grade: 82.3
PFF Elite Stat: Lawson ranks third among all edge defenders with a  14.5 pass-rush productivity rating.
After seeing at least 32 defensive snaps in each of his three games prior to Week 13, Lawson made it onto the field for just 24 snaps against the Pittsburgh Steelers on Monday Night Football this week; but never fear, the rookie pass-rush specialist was still able to keep his multiple pressures streak alive with three (two hurries and a hit). Lawson leads all rookies with 52 total pressures this season and impressively, the second-most from a rookie edge defender this season has been Derek Barnett with 35. If Lawson can maintain this pace for four more weeks, we're going to have a new record holder for most pressures from a rookie edge defender in the PFF era.
Honorable Mentions:
John Johnson III, S, Los Angeles Rams
Christian McCaffrey, RB, Carolina Panthers
Budda Baker, S, Arizona Cardinals
Joe Mixon, RB, Cincinnati Bengals
Marlon Humphrey, CB, Baltimore Ravens
Leonard Fournette, RB, Jacksonville Jaguars
Takkarist McKinley, Edge, Atlanta Falcons
Marcus Williams, S, New Orleans Saints
Cooper Kupp, WR, Los Angeles Rams