All season long, PFF will be ranking the best performing NFL rookies as they race for Rookie of the Year. See where all of our rookies racing to finish with the highest grade find themselves on our mid-season All-Rookie Team. Below is our weekly rookie rankings after the Week 11 games.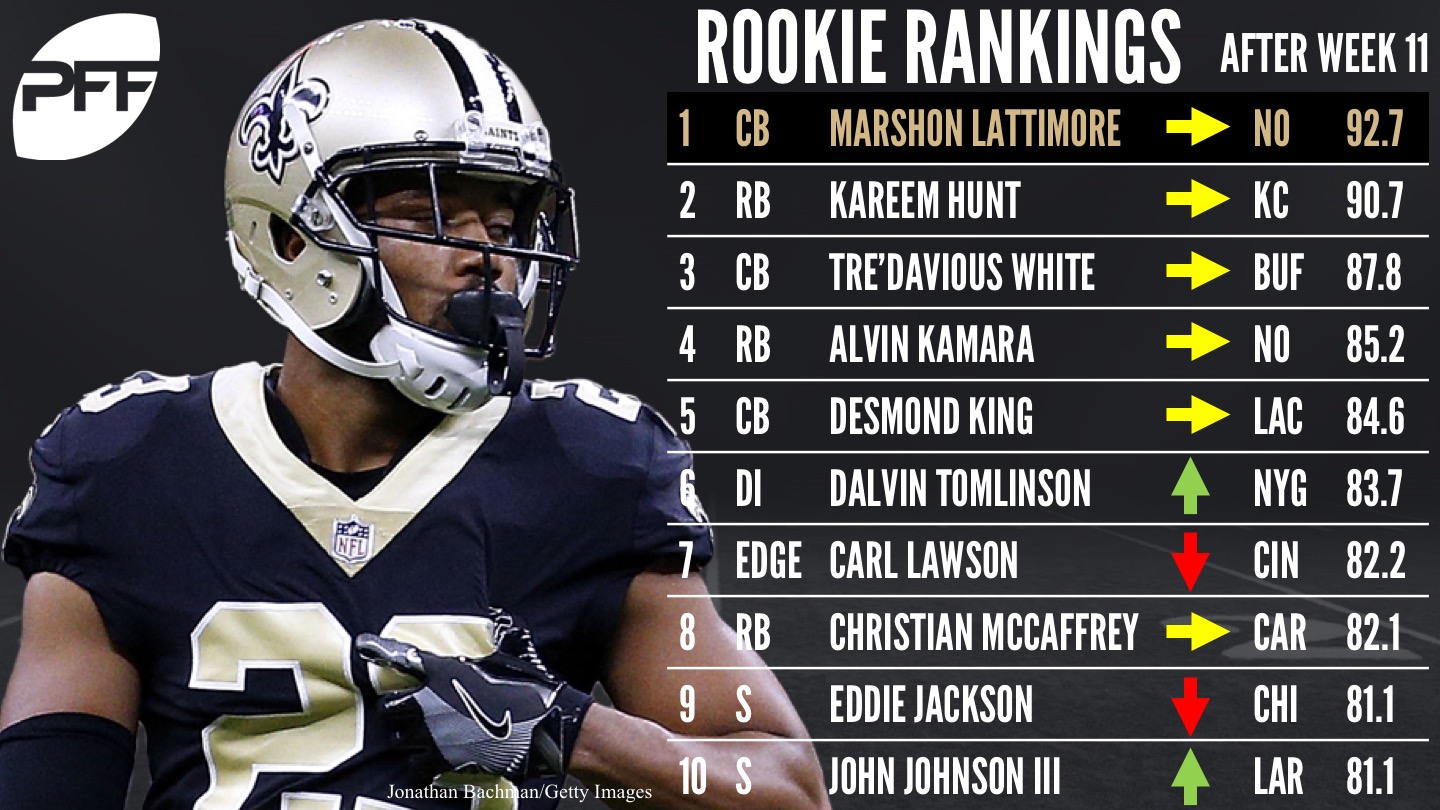 PFF Grade: 92.7
PFF Elite Stat: Lattimore has allowed just 0.74 yards per coverage snap this season, the ninth-lowest rate among 118 qualified cornerbacks.
Lattimore continues to lead the race for our Rookie of the Year award as we close the book on Week 11. He's one of just 33 NFL players to currently possess an elite overall grade (90.0 and above is considered elite), a status he's held for a month now. Opposing quarterbacks have just a 47.4 passer rating when throwing into Lattimore's coverage, the fifth-lowest rating allowed by a corner this season and his 288 snaps spent in coverage are the seventh most among cornerbacks who are yet to allow a touchdown this season.
PFF Grade: 90.7
PFF Elite Stat: Hunt ranks third among running backs with an 89.4 elusive rating.
After struggling for the past two weeks, Hunt bounced back a bit in Week 11 and posted an overall game grade north of 80.0 for the seventh time in 10 games this season. He's currently our No. 1 graded running back for the year, and he's been an absolute nightmare for defenders trying to tackle him: Hunt has forced 60 missed tackles this year, while the running back with the next highest total is Le'Veon Bell with 36.
PFF Grade: 87.8
PFF Elite Stat: White has allowed a catch just once per every 13.9 snaps he's spent in coverage this season, the second-best rate among rookies.
White holds onto his third spot on this list for another week, though he better look in the rear-view mirror because the guy right behind him is closing the gap. White currently ranks 10th among cornerbacks in terms of overall grade for the season and consistency has been key for the rookie out of LSU. He's finished just one game all season (Week 9 against the Jets) with a game-grade below 70.0. White has been directly responsible (whether it be from a pass breakup, interception, the proximity of his coverage) for an incompletion on 27.3 percent of the passes targeted into his coverage, the seventh-best rate among all cornerbacks this season.
PFF Grade: 85.2
PFF Elite Stat: Kamara ranks third among running backs with an average of 2.39 yards per route run.
The second Saints rookie within the top four on this list, Kamara has really taken off since New Orleans traded Adrian Peterson to the Cardinals during their bye week. Since Week 6, Kamara has finished four out of six games with an overall grade of at least 80.0, eclipsing the 85.0 mark in three of them. The third-round rookie ranks fourth – just trailing Kareem Hunt – among running backs with an 86.5 elusive rating and simply put, good things happen when the Saints hand him the ball. Kamara has gained either a first down or a touchdown on 40.3 percent of his rush attempts, the best rate among running backs by a significant margin.
PFF Grade: 84.6
PFF Elite Stat: King is one of just four cornerbacks to have spent at least 200 snaps covering the slot without allowing a touchdown.
King is currently our 15th ranked cornerback in terms of overall grade, and he's finished three of his last four games with an overall grade north of 80.0 (including a career-best 90.5 grade earned in Week 8 against New England). Something we've highlighted here in the past few weeks – and Josh Liskiewitz and Jordan Plocher have discussed in further detail on the PFF Draft podcast – is the efficiency at which King is making stops in coverage. King is one of just 13 cornerbacks to have made at least 10 stops in coverage this season, and among that group, only him and Jason McCourty have yet to miss a tackle. The average number of missed tackles for that group (including King and McCourty) is 3.8.
PFF Grade: 83.7
PFF Elite Stat: Tomlinson ranks 18th among 121 qualified interior defenders with 16 run stops.
Tomlinson ranks 26th among interior defenders through 11 weeks in terms of overall grade, boosted by a great 85.8 run defense grade that ranks 16th. Tomlinson posted a game grade below 79.0 for just the second time all season in Week 10, but he responded to that with his best game to date in Week 11, posting an 86.4 overall grade (and a near elite 89.5 run-defense grade) against a Chiefs team coming off a bye week. The big rookie out of Alabama has received a negative grade on just 7.9 percent of his plays in run defense this season, a rate that ranks as seventh-best among 91 interior defenders who've spent at least 100 snaps on the field in run defense.
PFF Grade: 82.2
PFF Elite Stat: Lawson ranks third among edge defenders with a 14.4 pass-rush productivity rating.
Death, taxes, and Carl Lawson racking up multiple pressures in a game, I believe those are the three things Ben Franklin once said were the only certainties in the world. The edge rusher out of Auburn tallied four pressures in Cincinnati's Week 11 matchup vs the Broncos (two hurries, a hit and a sack) to bring his streak now up to 10 straight games with multiple pressures to start his career. In half of those games, he brought the quarterback to the ground (whether it be via hit or sack) at least twice.
PFF Grade: 82.1
PFF Elite Stat: There have been 22 running backs who've seen at least 30 targets this season, among that group McCaffrey ranks second with a drop rate of 1.72, he's dropped just one out of 58 catchable targets.
McCaffrey is the only running back who currently owns an elite receiving grade (92.0), and there's quite a bit of ground between him and Duke Johnson Jr., who's 87.3 receiving grade ranks second within the position. McCaffrey has been targeted on 30.5 percent of the snaps in which he's run a route (the seventh-highest rate among running backs) and he's not just catching screen passes or swings out of the backfield: his average depth of target of 1.9 yards is more than double the league average (0.6) and 29 percent of his targets have come when he's lined up either out wide or in the slot. Yes, McCaffrey has had some struggles running the football (if you want to read up more on those I highly suggest you read Austin Gayle's article on it from earlier this week) but he's more than made up for it with his impact catching the football. If he was running the ball with similar effectiveness, we'd be looking at arguably one of the best running backs in football.
PFF Grade: 81.1
PFF Elite Stat: Jackson ranks 10th among 67 safeties who've been targeted at least 10 times as the primary defender in coverage with an average of 32.6 coverage snaps per every reception surrendered.
Jackson takes a bit of a slide from his seventh spot in last week's update after having one of his worst performances to date against the Lions in Week 11. Last week was the first time since Week 2 that he posted a sub-50.0 game grade; from Week 3-10 he finished below 73.0 just once and that stretch was highlighted by an 88.8 overall grade earned in Week 7 against the Panthers. Jackson has been directly responsible for 26.7 percent of the incompletions into his coverage area this season, the fourth-best rate among safeties who've seen at least 10 targets into their coverage.
PFF Grade: 81.1
PFF Elite Stat: Johnson ranks sixth among safeties who've been targeted at least 10 times as the primary defender in coverage with an average of just 0.29 yards surrendered per coverage snap.
Johnson ranks 17th among safeties for the season with an 83.9 coverage grade and he's finished 5-of-7 games since Week 4 (the first week he really started to see playing time) with an overall grade of at least 73.0. Johnson is currently tied with Eddie Jackson with a 26.7 forced incompletion rate, they share the fourth-best rate among safeties who've seen at least 10 targets into their coverage.
Honorable Mentions:
Reuben Foster, LB, San Francisco 49ers
Marlon Humphrey, CB, Baltimore Ravens
Myles Garrett, Edge, Cleveland Browns
Leonard Fournette, RB, Jacksonville Jaguars
Zach Cunningham, LB, Houston Texans
Marcus Williams, S, New Orleans Saints
Takkarist McKinley, Edge, Atlanta Falcons
Adoree' Jackson, CB, Tennessee Titans
Ryan Ramczyk, T, New Orleans Saints
Derek Barnett, Edge, Philadelphia Eagles