Carolina Panthers rookie running back Christian McCaffrey, formerly one of college football's most dominant players, has been far less so as the PFF data would suggest, in his first season in the NFL through Week 11.
The 2017 NFL draft's eighth overall pick ranks only 30th in elusive rating (35.7) among the 49 NFL running backs with 55 or more attempts this season. Fueling his low rating, he has averaged just 2.04 yards after contact per carry (47th) and forced just 11 missed tackles on the ground (T-33rd).
Conversely, the version of McCaffrey that took the field for Stanford just a year ago could do no wrong. Among draft-eligible running backs last season, he ranked within the top-20 in elusive rating (73.8), yards after contact per attempt (3.39) and forced missed tackles on the ground (44).
McCaffrey's decline in production has pushed some to prematurely question the high draft selection of the 21-year-old back. However, unlike other disappointing rookie running backs in years past, the root of his slow start may not be ability but instead a notable shift in scheme from Stanford to the Panthers.
With Stanford in 2016, McCaffrey carried the ball on either a counter or power run concept on 51 percent of his 253 carries in 2016. With Carolina, only 27.5 percent of his carries have come on power/counter concepts.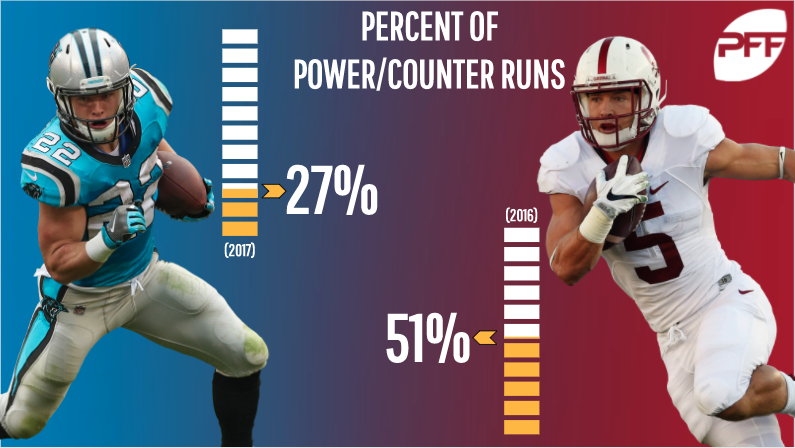 Additionally, McCaffrey has carried the ball on power/counter concepts from the traditional tailback position behind a quarterback under center on just six of his 69 carries (8.7 percent) this season, while 27 percent of his carries were of such nature at Stanford.
Of course, McCaffrey wouldn't be the first back to have been drafted into a new offensive scheme and forced to adjust his style of play at the next level. However, given the Panthers' approach to the ground game in 2016, one would have thought the McCaffrey-Carolina pairing was a match made in heaven.
The Panthers' four-headed monster in Jonathan Stewart, Mike Tolbert, Cameron Artis-Payne and Fozzy Whitaker ran either the power or counter concept on roughly 41 percent of their carries last season. Now, Carolina's top two backs (Stewart & McCaffrey) have run power/counter just 27 percent of the time, a difference of 14 percent between the two years. McCaffrey was a perfect match for the 2016 Panthers offense, but the 2017 iteration has shifted away from that scheme.
As expected, the transition away from following pulling offensive linemen and tight ends to more zone concepts has had a negative effect on both McCaffrey and Stewart's ability to find any running room in 2017.
Stewart has averaged a career-low 3.3 yards per carry on his team-high 138 attempts this season, while McCaffrey falls even further below at 3.0 YPC. The two are averaging just 2.43 and 2.04 yards after contact, per carry.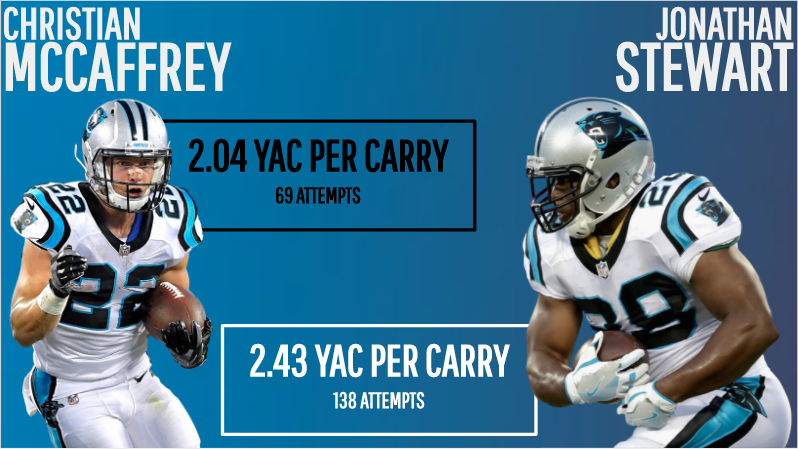 By comparison, McCaffrey averaged 6.2 yards per carry during his career at Stanford en route to becoming the Cardinal's third-ranked all-time rushing yards leader (3,922).
To recapture the McCaffrey of old, Carolina could look to turn back the clock to 2016 and run more power/counter concepts in an effort to set up their star back for success moving forward.