Right as the Miami Dolphins looked to be poised to take a step forward into the playoffs, the wheels completely came off. Ryan Tannehill regressed, Joe Philbin was fired, and Ndamukong Suh couldn't transform a porous defense despite his best efforts. Now with more tempered expectations, the 2015 season will require development from young skill players to be an effective one. Tannehill, Jay Ajayi and DeVante Parker among others will be asked to take large steps forward to be able to power their offense if they are going to be competitive in the AFC East.
[More: Be sure to check out PFF's ranking of all 32 NFL QB situations, offensive lines, running back units, receiving corps, secondaries, and defensive front-sevens. Catch up on all the team previews here.]
Ryan Tannehill needs to right his regression from a season ago
Quarterbacks: 21st in PFF's season preview rankings
Tannehill has always struggled with some of the more minor aspects, like pocket presence, of the quarterback position. In 2015 though, Tannehill started to even look shaky in the things he used to do well. His downfield accuracy wasn't nearly the same as it had been in the past. Some of that can obviously be attributed to seeing pressure on 38.8 percent of his dropbacks – the highest rate of his career. At the same time though, he could have coped with the weak offensive line by holding onto the ball less and improving his processing speeds, but he's still struggling with that aspect of his game. It's cliché to say, but this offense goes with Tannehill and if he can't take a legitimate step forward this year they may have to look elsewhere.
Miami's running game an enormous question mark
Running backs: 30th
Their ranking here is nothing more than a lack of information. Their top three running backs have a combined 484 snaps in the NFL. Jay Ajayi looks to be the featured back this season with the departure of Lamar Miller, and the Boise State product impressed in his 49 carries as a rookie. No other first-year player had a higher grade per touch than Ajayi last season, although he does benefit from the small sample size. A ridiculous 86.8 percent of his yardage came after contact a year ago. Behind him, Kenyan Drake should fill in nicely as a third-down back and showed such receiving prowess at Alabama that he could even split out to the slot if need be.
(PFF Fantasy Insight: Our Dan Schneier thinks Ajayi is a solid running back who holds the job all to himself. This despite running behind one of the least fantasy-friendly lines in the league. Ajayi is currently the No. 18 running back in our staff consensus rankings.)
A lot of potential in the WRs, but little is proven
Receiving corps: 25th
Gone are Rishard Matthews and Greg Jennings, leaving a very young yet talented group of playmakers on the outside. Much like their running back ranking, this receiving corps could easily end up much higher than their 25th overall ranking, but they simply need to prove it first. Jarvis Landry is their most productive player so far and was basically their whole underneath passing game a year ago. To have a consistent passing game though, there needs to be production from the outside receivers and Landry took well over 80 percent of his snaps from the slot in 2015. Kenny Stills got a rude awakening in Miami going from Drew Brees to Ryan Tannehill. Utilized often as a deep threat, Stills' catch rate went from 78.8 percent in 2014 to 45.8 percent last season. The two names though, that will likely decide how good this receiving group can be are second-year player DeVante Parker and third-round pick Leonte Carroo. Parker came on strong toward the end of the season with the 14th-best yards per route the last three weeks of the season, while we saw Carroo as a borderline first-round value.
New additions could help revamp a weakness
Offensive line: 19th
This was easily the offensive sticking point in Miami the past few seasons and it finally looks as though it may be addressed. The guard position was beyond a liability a year ago and they brought in multiple veteran free agents to address it. Laremy Tunsil was easily PFF's highest-rated tackle in the draft and has all the skills necessary to play inside early on. Jermon Bushrod and Kraig Urbik are far from Pro Bowlers, but even slightly below-average play at this point is a massive upgrade there. Miami had the lowest-graded run-blocking offensive line in 2015 even though they barely ran the ball. If they can all stay healthy, there is a chance that the offensive line could even be a strength by year end.
Once a strength, the front-seven is now full of questions
Front-seven: 22nd
What looked like one of the most formidable groups in the NFL on paper at the start of last season has quickly evaporated. Ndamukong Suh is truly the only player you can point to and say he'll be an impact player this season. Cameron Wake is 34 and coming off an Achilles tear. Mario Williams is 31 and coming off easily the worst season of his career. Earl Mitchell and Jordan Phillips were completely ineffective against the run at nose tackle. Kiko Alonso was one of the top coverage linebackers in the NFL as a rookie, but he has played only 481 snaps since then and couldn't be trusted to play the run in Philadelphia last year. Koa Misi is solid against the run on the strong side, but has to be protected in coverage. And finally Jelani Jenkins has never been able to sustain his flashes of high-level play. It's a hodgepodge mix that unfortunately looks like a step backward from a year ago.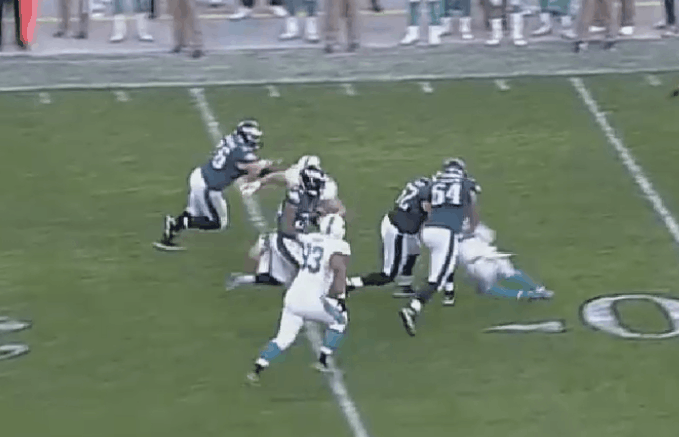 The secondary has improved, but should still be shy of elite
Secondary: 18th
Miami likely has upgraded here, but much like the front-seven, it's hard to see any impact players outside of Reshad Jones. Byron Maxwell's struggles are a tad overstated and he's still good enough to be a starting cornerback in the NFL, but his 1.52 yards per coverage snap was 95th-best in the league a year ago. Opposite him they'll either be looking at second round pick Xavien Howard or second year player Tony Lippett to take a hefty amount of snaps. Howard was seen as a developmental prospect here at PFF and might be a few years away from his raw physical skill set translating to the field. Lippett might be the frontrunner though as he only saw the field on 137 snaps last year, but came away with a +1.9 overall grade. At safety, Isa Abdul-Quddus was one of PFF's favorite under-the-radar signings in free agency. The former Lion has only 1,668 career snaps to his name, but in every seasons where he's played 150 snaps (4) he's graded out positively.