[Editor's note: This article was originally published on July 22, 2016, and updated on Sept. 8, 2016.]
Prior to the 2015 season, owner Jimmy Haslam made a promise to the Cleveland Browns fan base that he would not "blow things up." Optimism and hope was at its highest since 2007 – the only winning season in the past 14 seasons – after a 7-9 2014 season that saw Cleveland in legitimate playoff contention in November. Fast forward five short months and Haslam did indeed fire everyone and was on a search for a new staff. Sashi Brown was promoted to executive vice president of football operations, Hue Jackson was hired as head coach, and Paul DePodesta left a World Series team to become chief strategy officer. As soon as DePodesta was hired, the Browns were labeled as the Moneyball of football and analytics was king. While they are using analytics, it's only one tool in the box.
[More: Be sure to check out PFF's ranking of all 32 NFL QB situations, offensive lines, running back units, receiving corps, secondaries, and defensive front-sevens. Catch up on all the team previews here.]
Will Robert Griffin III (or Cody Kessler) finally solve Cleveland's QB issues?
Quarterbacks: 31st in PFF's preseason rankings
The Browns head into training camp with a QB competition. Browns fans know all too well how this has worked for the team the past 17 years. The jersey of shame currently holds 24 names and 2016 could mark the 25th and 26th quarterbacks the Browns will have started since 1999. The presumptive starter is Robert Griffin III, as the former rookie of the year signed a two-year, $15 million deal with Cleveland.
The last time we saw RG III in the regular season was 2014, with Week 2 that year being his last positively graded game. RG III is one of the most accurate QBs in the league when healthy, but his issues stem from decision-making under pressure. He still ranked in the top five in adjusted completion percentage when facing pressure, but when forced to go through progressions and throw late, he struggles. When throwing under/over 2.5 seconds per dropback, Griffin's passer rating drops from 99.9 (under 2.5 seconds) to 66.4 (over).
If Hue Jackson can't fix RG III, Cody Kessler or Josh McCown will be called upon. Based on how the team has operated this offseason, Kessler seems the most likely to be that guy. McCown is a veteran leader, but playing him over Kessler wouldn't help anyone's progress unless Kessler just isn't ready. Kessler was extremely accurate the past two years under 20 yards and was top four in adjusted completion percentage under pressure in college in both 2014 and 2015. Regardless of who wins this competition, Cleveland will forever be looking for the next franchise quarterback until someone takes that mantle.
Can Duke Johnson and Isaiah Crowell give the Browns a 1-2 punch akin to Cincinnati?
Running backs: 20th
Duke Johnson quietly had one of the best rookie seasons we've seen from a running back since 2007. Of rookie backs with a minimum of 150 touches, Johnson had the third-highest receiving grade, third-highest forced missed tackle percentage, and fifth-highest elusive rating. Of those categories, only Johnson made an appearance in more than one in the top five, and that list of backs includes Marshawn Lynch, Adrian Peterson and Jonathan Stewart. If Johnson can continue his electric play as a receiver and show that same ability as a runner, the Browns' 20th-ranked unit will start sniffing top-10 status. Isaiah Crowell should be better utilized in Hue Jackson's power running attack, as Crowell's vision and elusive ability is limited. He hits the hole hard but doesn't do much after contact – has just 30 career missed tackles on 333 carries.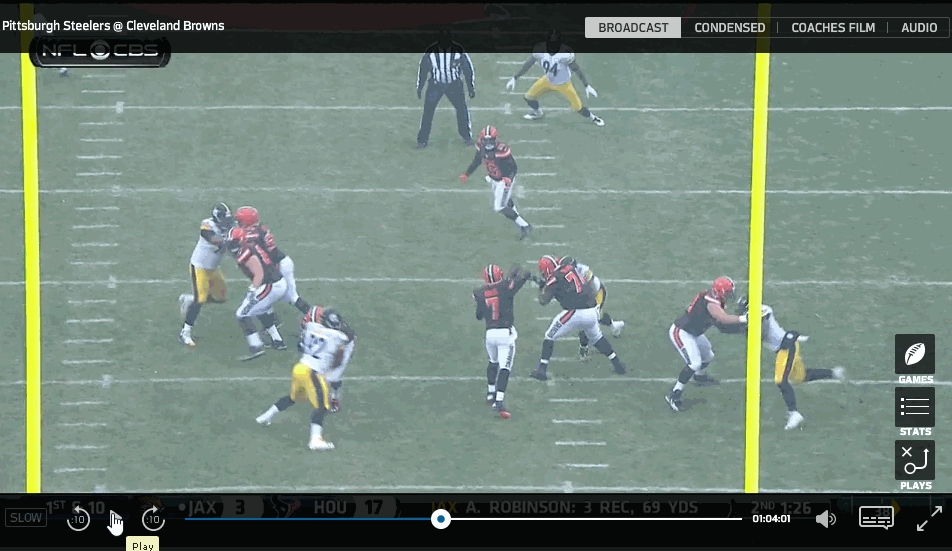 (PFF Fantasy Insight: Mike Tagliere likes Duke Johnson to take a step forward in 2016, and likes him over Ryan Mathews, for one name. Crowell, meanwhile, isn't nearly as tempting. The two backs rank 28th and 36th, respectively, in our staff consensus rankings.)
Corey Coleman (and more rookies) to the rescue
Receiving corps: 30th
The Browns navigated the first round of the draft and picked Baylor's Corey Coleman, which started a drastic departure of how this front office views the importance of the position. The receiving corps has been depleted the past few seasons with former GM Ray Farmer's ignorance of the need. Coleman was PFF's top WR in the draft class while Colorado State's Rashard Higgins wasn't too far behind at No. 7. Coleman was easily the most explosive WR in the class, while Higgins was arguably the best route runner. Both were extremely productive and graded top 10 in the class in 2015 – in fact, fourth-round pick Jordan Payton was also a top-10-graded receiver. Rookies will have growing pains and their potential is sky-high, but until they prove it against NFL cornerbacks, potential is just that.
Replacing Alex Mack and Mitchell Schwartz is a tall order
Offensive line: 21st
If the Browns had a group to feel good about last season, it was the offensive line, as they had one of the best units heading into 2015. Joe Thomas did Joe Thomas things and had one of the best seasons of his Hall of Fame career. Joel Bitonio was injured for several games and never regained his excellent rookie form. John Greco took a big step back and had his worst season of his career and it ended in injury. Alex Mack never truly recovered from his broken leg that ended his 2014 season, and Mitchell Schwartz had his best season of his career. Schwartz has departed for Kansas City while Mack opted out of his contract to play for Kyle Shanahan again in Atlanta.
Replacing Mack will be Cam Erving, the 2015 first-round pick, who played at guard in 2015 and graded as the third-worst in the NFL. While he was out of position, it's not an encouraging sign. Either Alvin Bailey, rookie Shon Coleman or rookie Spencer Drango will take Schwartz's spot at right tackle. During training camp, the Browns rotated through three different players at right tackle before settling on Austin Pasztor. Pasztor has never graded well in his four-year career and most likely won the job because of his experience rather than good play, even though he logged his best preseason to date. Drango graded as one of the best tackles in college the past two years, allowing just two sacks and three hits (zero sacks in 2015), while Coleman allowed just three sacks and one hit the past two years.
Can Danny Shelton build off second-half improvement?
Front-seven: 32nd
The Browns front-seven will be reliant on rookies to step up and second-year players to make a sophomore leap. Last year's first-round pick, Danny Shelton, needs to lead that charge and continue to play at a strong level. From Weeks 10 to 17, Shelton graded as the third-best rookie defensive tackle and 18th in the league, with strong play against the run. The slimmed-down Shelton (he reportedly dropped down to 330 pounds) will need to start disrupting the quarterback, as he only recorded eight hurries in 2015. While we at PFF liked what they did to improve their pass rush in the draft with the selections of Emmanuel Ogbah, Carl Nassib, Joe Schobert and Scooby Wright, that many rookies being able to make an immediate impact is unrealistic. New defensive coordinator Ray Horton will blitz the QB frequently, which can help a young defense as they adjust to NFL speed. A lot of players' successes will hinge on Shelton being able to clog running lanes and creating interior pressure.
A healthy Joe Haden elevates the whole secondary
Secondary: 25th
Haden struggled (compared to his first four seasons) in former head coach Mike Pettine's man press scheme where he was asked to do too much shadowing the opposing team's No. 1 WR. Injured heading into the 2015 season, Haden was consistently out of position, which led to the former Florida Gator getting torched for four touchdowns on just 31 targets and grading as the worst cornerback last year. Haden can be a top-10 cornerback in the NFL when healthy, but he tends to give up too many catches to reach elite status. Ray Horton allows his cornerbacks to press or play off man, which suits Haden better, allowing him to switch up his technique based on the flow and feel of the game. Haden will struggle early in the season as he recovers from his offseason ankle surgery, but if he can get back to even his 2014 levels, the rest of the secondary has an easier job.